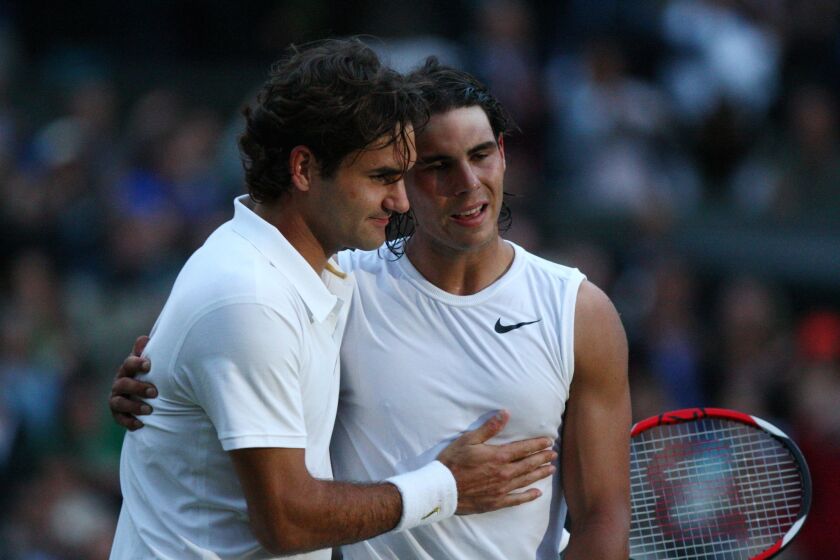 Reporting from wimbledon, england —
Nobody knows if the latest chapter of Roger Federer versus Rafael Nadal will be an instant classic, but their Friday semifinal certainly is priced that way on the secondary ticket market.
As of Thursday afternoon, the lowest-priced Centre Court ticket was $7,335, or about 10 times as expensive as comparable tickets for the women's semifinal matches.
Although this will be the 40th match between the two, Federer and Nadal have not played each other at Wimbledon since the 2008 final, regarded by many people as the greatest match in the history of the sport.
"Some of it was the quality from a stat-sheet perspective, but a lot of it was just the context," said author Jon Wertheim, who chronicled the epic 2008 final in his book "Strokes of Genius: Federer, Nadal, and the Greatest Match Ever Played."
"It was [Nos.] 1 versus 2 at Centre Court in the Wimbledon final, and there was so much heft to what winning and losing meant. Every single set was close. Every single set score was one break or no breaks. You can play a brilliant match, but if it's on a Tuesday night at Stuttgart, I'm not sure if it's the best ever."
Nadal owns a 24-15 advantage in their previous meetings, with most of his victories in the matchup happening on clay. Federer has won two of their previous three meetings on grass courts. The two played each other last month in the semifinals of the French Open, with Nadal winning. But Federer won their previous five meetings.
Wertheim said Friday's semifinal has all the ingredients for another hugely memorable showdown, even though Federer is almost 38, five years older than Nadal.
Sign up for our daily sports newsletter »
"Both of them have played brilliantly," he said. "The weather has been nice. Neither of them has been injured. … This isn't the old-timer coming up for his last at bat. You could argue they're every bit as much in the prime of their career now as they were 11 years ago."
By Wertheim's estimation, few rivalries if any compare to Federer-Nadal.
"It's [Peyton] Manning-[Tom] Brady if there weren't 10 other guys around them," he said. "Muhammad Ali and Joe Frazier had a rivalry, but they only fought each other three times. This is No. 40 for these guys.
"Federer-Nadal is like Camaro versus Mustang."
And costs almost as much.
---