Arizona's Sean Miller paid player $10,000 a month, a former assistant alleges in wiretap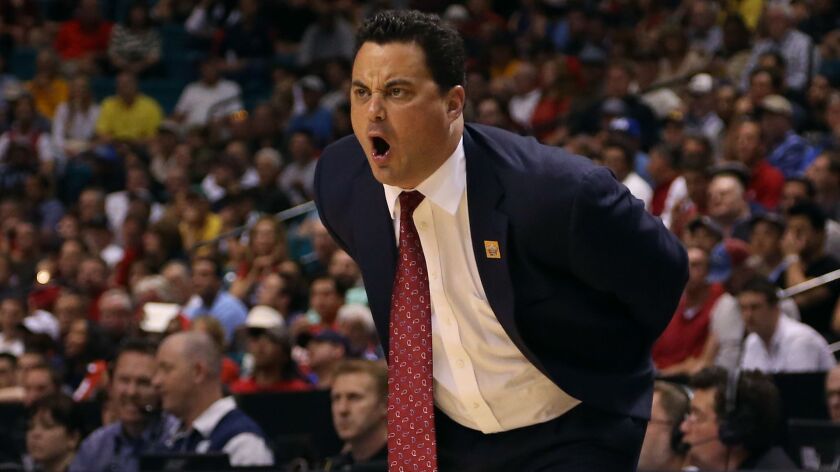 There was a gathering on a yacht in June 2017, complete with expensive scotch, undercover FBI agents posing as investors in a planned sports management company and an envelope stuffed with cash.
There were discreet meetings a month later between the CEO of a fledgling sports management company, an Adidas employee and a half-dozen prominent college basketball assistant coaches in a Las Vegas hotel suite.
There was a pair of shoes purchased at the hotel, filled with $11,000 and sent via FedEx to a top college player.
And Wednesday, a week and a half of testimony into the college basketball corruption trial in U.S. District Court in Manhattan, another revelation: Prosecutors played a wiretapped call between former Arizona assistant Book Richardson and aspiring sports executive Christian Dawkins where Richardson alleged that head coach Sean Miller was paying star Deandre Ayton $10,000 a month.
"You know what he bought per month?" Richardson said of Miller.
"What he do?" Dawkins responded.
"I told you, 10," Richardson said, an apparent reference to $10,000.
Later in the conversation, Dawkins said of Miller: "He's putting up some real money for them …"
Ayton went on to become the No. 1 overall pick by the Phoenix Suns in last year's NBA draft.
Arizona responded Wednesday evening with an emailed statement: "The University of Arizona takes the information presented in court today very seriously and remains committed to the highest standards of integrity and ethical conduct which includes competing within the rules of the NCAA and the Pac-12 Conference. We will continue to cooperate fully with the NCAA and with other ongoing investigations into this matter in the best interest of the university and the men's basketball program."
Sign up for our daily sports newsletter »
When allegations first surfaced last spring that Miller paid players, the coach issued an emphatic denial: "I have never paid a recruit or prospect or their family or representative to come to Arizona. I never have and I never will. I have never arranged or directed payment or any improper benefits to a recruit or prospect or their family or representative and I never will."
Miller hasn't been charged in the long-running federal investigation into college basketball that became public with a series of arrests in September 2017.
Steve Haney, the attorney for Dawkins, subpoenaed Miller and Louisiana State coach Will Wade to testify. But Judge Edgardo Ramos ruled last month that testimony from the coaches would be "irrelevant to the case."
Dawkins and former Adidas employee Merl Code face six charges that include conspiracy to commit bribery and honest services wire fraud in connection with allegedly bribing coaches to steer players to use the sports management company fronted by Dawkins when they turned professional.
Three former assistants charged in the case — Richardson, USC's Tony Bland and Oklahoma State's Lamont Evans — have pleaded guilty and will be sentenced later this spring.
On the stand Wednesday, Dawkins assailed rules keeping college players from receiving money because of their athletic ability.
"So there is a need for them to receive some kind of income," Dawkins testified. "And because the players can't receive it from the — the obvious reasons, ticket sales, money being made off their name, whatever the case may be, there has to be a third-party person that come in that can kind of bridge them until they can actually make real money."
Dawkins said he pocketed an envelope of cash provided by an undercover FBI agent posing as an investor and intended as a bribe for an associate of former USC player De'Anthony Melton in August 2017.
The Times previously reported that surveillance footage of the meeting at a hotel near Los Angeles International Airport and bank records showed Dawkins kept the money, contradicting the government's account.
"No, he never received a penny," Dawkins said of Melton.
Dawkins said he also met with the father of Taeshon Cherry, then a USC recruit who ended up at Arizona State after the corruption investigation became public.
Dawkins testified he kept the bulk of a $13,000 bribe provided for Bland by an undercover FBI agent during a meeting in Las Vegas in July 2017, also previously reported by The Times. The assistant got between $1,000 and $2,000 to use for a bachelor party the same night.
"It was just money I had in my pocket basically," Dawkins testified.
His testimony is scheduled to continue Thursday.
Twitter: @chewkiii
---
Get the latest on L.A.'s teams in the daily Sports Report newsletter.
You may occasionally receive promotional content from the Los Angeles Times.