Judge rules evidence is enough for Kings' Slava Voynov to stand trial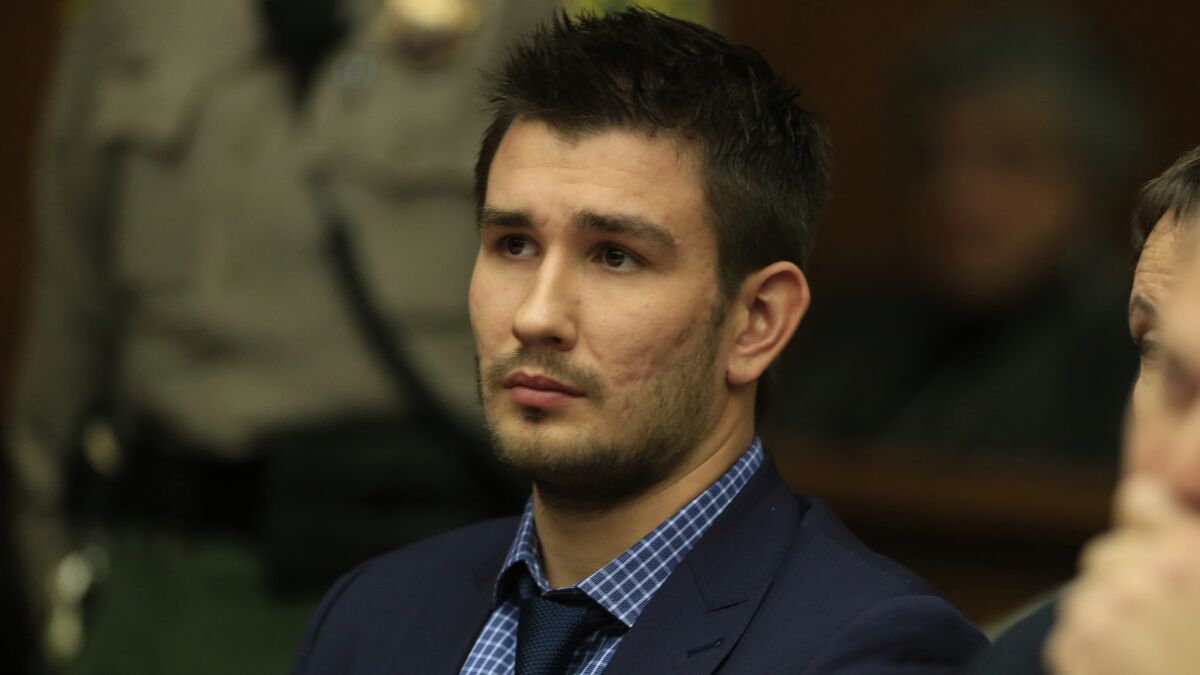 There is sufficient evidence for suspended Kings defenseman Slava Voynov to stand trial on a felony domestic violence charge, a Los Angeles Superior Court judge ruled Monday.
The preliminary hearing provided the first public account of the alleged incident between Voynov and his wife, Marta Varlamova.
Redondo Beach Police Officer Gregory Wiist, the lone witness at the hearing, testified that Varlamova was bleeding and distraught when he interviewed her in the early hours of Oct. 20 at Providence Little Company of Mary Medical Center in Torrance.
"She was crying, sobbing," Wiist said. "I saw tears running down her face. She was an emotional wreck."
The officer noted a 1.2-inch cut near Varlamova's left eye that required eight stitches to close and "bruising, red marks, scratches" on her neck.
According to Wiist's account, Varlamova told him during two recorded interviews that night that Voynov hit her in the face during an argument at a Halloween party and the conflict continued at their Redondo Beach home.
"He threw her to the ground multiple times," Wiist said. "On the ground, he repeatedly kicked her all over her body in addition to choking her approximately three times."
Voynov then pushed Varlamova into a flat-screen television mounted on their bedroom wall, the officer testified she told him, which opened a cut that required the stitches.
Wiist said that when he toured the bedroom later that night, he saw blood "everywhere" including covering a comforter, around the bed, in a trail leading to the bathroom and in the shape of a bloody handprint on the floor.
Among the recorded comments attributed to Varlamova were "he kicked me here" and "here he pushed me."
As Wiist testified, Voynov watched impassively in the Torrance courtroom, his head slightly bowed as a translator whispered in his left ear.
Wiist said that he asked Varlamova to squeeze his arm with the same strength that Voynov allegedly used on her throat.
"She grabbed my arm with quite a bit of force," Wiist said.
Attorneys for Voynov and Varlamova have previously characterized what occurred as an "accident."
Deputy District Attorney Frank Dunnick told Judge Hector M. Guzman that "there's evidence to suggest prior domestic violence" involving Voynov. He did not elaborate.
Varlamova didn't attend the hearing but her attorney, Michael Walsh, expressed concern to the judge that "undignified photographs" of her injuries that were examined Monday would become public.
Voynov's attorneys, Pamela Robillard Mackey and Craig Renetzky, declined comment following the hearing as they rushed with their client to a black sport utility vehicle surrounded by television cameras in front of the courthouse.
The judge denied their motions to dismiss the case and reduce the charge to a misdemeanor. He also refused to allow a letter Varlamova wrote to the district attorney's office describing the alleged incident as an "accident" to be admitted into the record.
Mackey, a Denver attorney known for representing Kobe Bryant against sexual assault charges in Colorado that were later dropped, questioned Wiist about the circumstances of his two recorded interviews with Varlamova and that night's timeline of events. At one point, Mackey read an excerpt from Varlamova's transcript when she asked that Voynov be allowed to join the interview with the officer.
"He can help me," Varlamova said, "because I don't speak English."
Wiist declined the request.
Voynov, who hasn't played for the Kings since Oct. 19, is scheduled to be arraigned Dec. 29. He faces a maximum of nine years in state prison if found guilty.
NHL Deputy Commissioner Bill Daly said that the terms of Voynov's indefinite suspension with pay would not change because of the hearing.
Times staff writer Lisa Dillman contributed to this report.
---
Get our high school sports newsletter
Prep Rally is devoted to the SoCal high school sports experience, bringing you scores, stories and a behind-the-scenes look at what makes prep sports so popular.
You may occasionally receive promotional content from the Los Angeles Times.