Sparks star Nneka Ogwumike wants to make the WNBA a global brand. But how?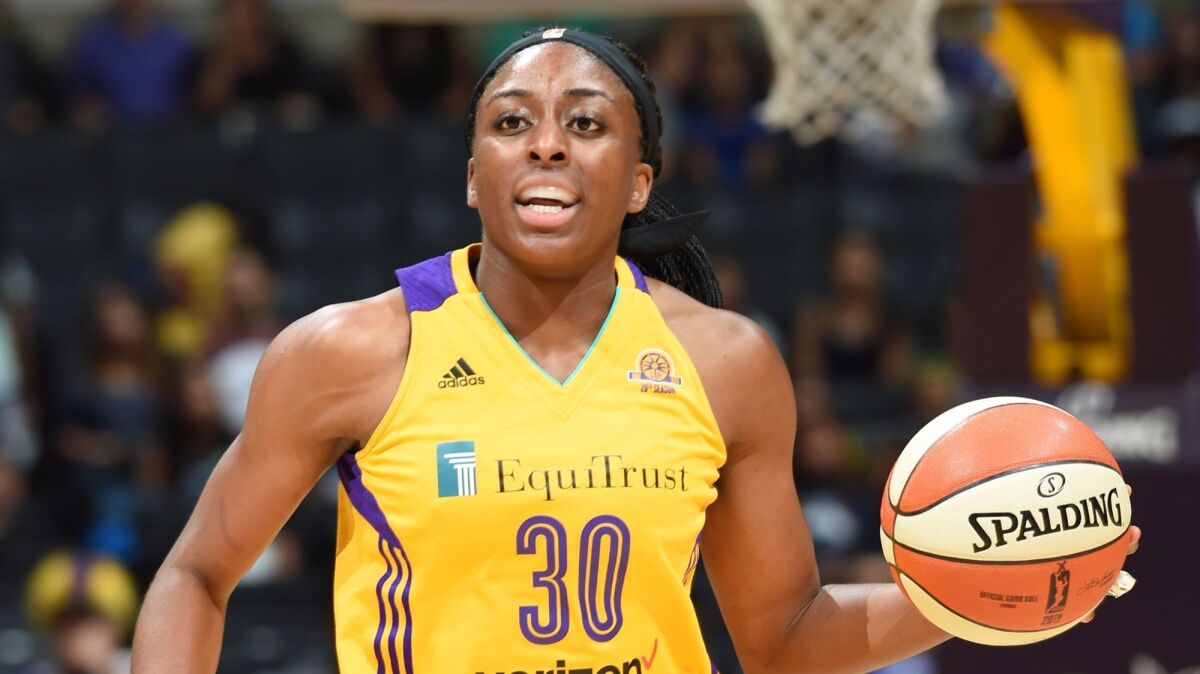 In just six seasons, Los Angeles Sparks star Nneka Ogwumike already has amassed a career's worth of WNBA accomplishments. In the last year alone, she won a most valuable player award and drained a championship-clinching shot in the league Finals.
This season she is tops in scoring (18.7 points), shooting percentage (55.8) and free-throw percentage (88.3) for the playoff-bound Sparks, who improved to 20-8 with Wednesday's 95-62 win at Washington.
But what lies ahead, beyond the playoffs, is her biggest challenge yet: elevating the WNBA in prominence.
A Stanford graduate who contemplated a career in medicine, Ogwumike was unanimously elected president of the Women's National Basketball Players Assn. last fall. And she has big plans for the league, especially as the WNBA heads toward what could be an industry-defining collective bargaining agreement after the 2019 season.
Her vision is that of a global brand, with NBA-sized followings in markets worldwide. But to accomplish that goal, she says, the new CBA must address critical elements such as marketing, player housing and travel, ticket sales and in-arena entertainment.
"Sometimes I feel like the WNBA puts [itself] in a box, and we need to jump outside of the box," she said during a recent interview. "But I think that's the fear, is that if we jump outside the box then we're really going to be, I guess, pushed to the side. But I feel like we behave as if we are pushed to the side already. I don't think there's anything to lose."
Since peaking at 10,864 in 1998, the league's average per-game attendance has steadily dropped, hitting a low of 7,318 in 2015. Last year's average rose slightly, to 7,655, but televised games draw audiences less than 20% of the size of an NBA game, on average, and half of the league's 12 teams lose money.
Much of the problem, Ogwumike said, is that WNBA players aren't recognizable figures. With the maximum WNBA salary at $109,500, the game's top stars play abroad in Russia, Turkey or China for most of the year, where salaries can reach seven figures. Ogwumike, for example, spends seven months playing in Russia each year, making it difficult to focus on building a public profile in either part of the world.
Until the league and its players join in an offseason promotional effort, attracting and retaining new fans will continue to be an uphill climb, Ogwumike predicted. But she hinted that some of the league's players don't see the value of collaboration.
Promoting her agenda will take time — especially while attempting to maintain her standing as the best player for a pair of teams that compete on different continents — but Ogwumike has plenty of experience in juggling responsibilities.
She captained her high school basketball, volleyball and track teams and the Stanford basketball team for three seasons while serving on the Cardinal Council, the university's student-athlete representative body.
Tamika Catchings, the previous WNBA players union president, said Ogwumike was an obvious candidate to be her successor but initially balked at the opportunity.
"The thing that I loved the most was just that she, obviously on top of being smart, was super-engaged," Catchings said. "And a lot of our younger players, not to knock any of them, don't see the value of getting involved in the union and what it stands for. … But she really stepped up."
The oldest of four sisters, Ogwumike is used to taking on responsibility. Playing big sister to Chiney, who stars for the Connecticut Sun, and Erica and Olivia, who play in college at Rice, taught her to be compassionate and nurturing, qualities key to her leadership style.
Candace Parker, a two-time league MVP who is among Ogwumike's closest teammates, said her friend has a take-charge personality.
"I always tease with her that you know you can tell she's an older sibling of four," Parker said, "because Nneka is always in charge, and always knows what she wants, and makes sure to take care of everybody and makes sure everyone else is good."
The defending league-champion Sparks, who own the league's second-best record, have responded to Ogwumike's leadership. But she knows that changing the perception of the league is a wholly separate challenge.
For most of the WNBA's 21-year history, the league has been dismissed as a low-quality sideshow to the NBA. However, as more young women commit themselves to basketball the league's talent level is rising.
The WNBA also might be the most outspoken of American sports leagues when it comes to issues related to social injustice, and that's where Ogwumike sees potential being realized.
The biggest key to the WNBA's growth, she said, won't be athletic feats or major sponsorship deals. It will be how well fans can relate to the humans on the court, something players around the league have come to recognize.
Last year, as vice president of the union, Ogwumike helped coordinate how teams responded to #BlackLivesMatter becoming a nationally polarizing social media hashtag. She worked with Catchings to spark a wave of activism that saw half of the league's teams don "Black Lives Matter" T-shirts. Players from four teams refused to respond to media questions unrelated to police brutality, and members of three teams knelt while the national anthem was played during the playoffs.
"I think that we come from incredibly humble beginnings, and we might still be in that stage," Ogwumike said. "But I think that everyone in the WNBA is just really good at being themselves, and I think that's what generates the authenticity of our support."
Get our high school sports newsletter
Prep Rally is devoted to the SoCal high school sports experience, bringing you scores, stories and a behind-the-scenes look at what makes prep sports so popular.
You may occasionally receive promotional content from the Los Angeles Times.