Ball hog: USC's Michael Pittman Jr. is eating up receiving yards and scoring touchdowns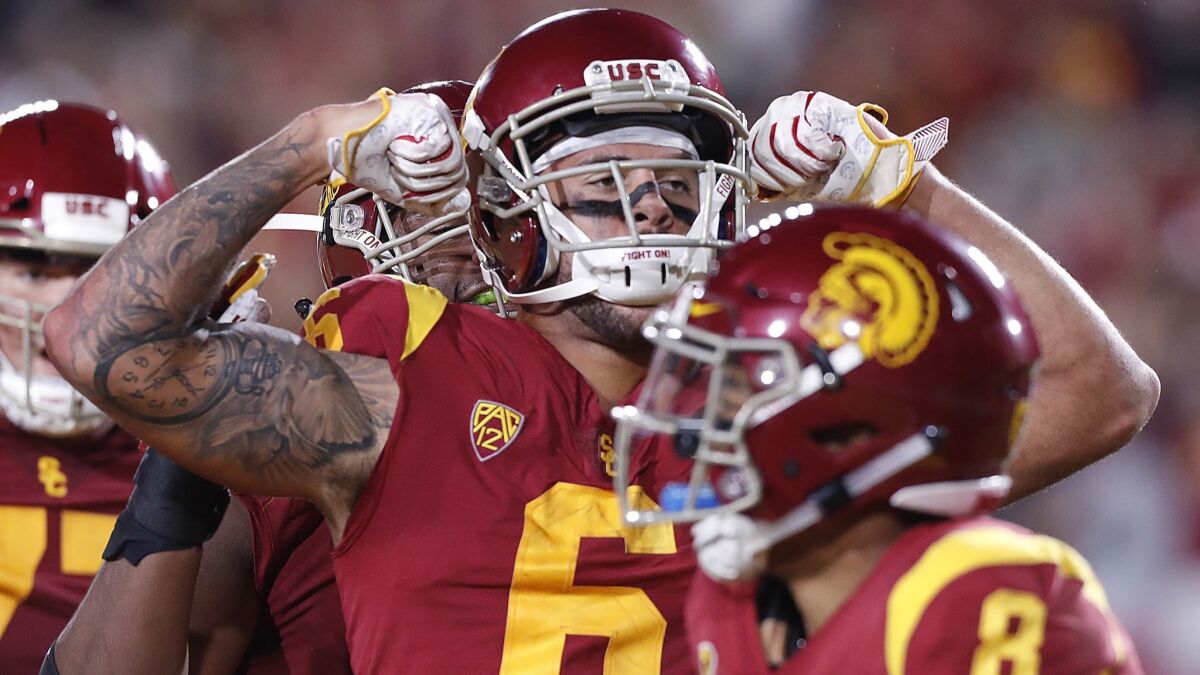 Michael Pittman Jr. didn't stay down for long.
As the junior wide receiver exploded off the line of scrimmage at USC practice Tuesday, he faked his defender so hard he slid to the ground, kicking up clumps of grass. Pittman's hands were still hoisting his body up when Jack Sears released a pass in his direction.
Pittman popped back up just in time to snag the throw.
Pittman dived after passes and reeled in a catch with his fingertips in the corner of the end zone during Tuesday and Wednesday practices. He blocked field goals on consecutive days and scooped up the football both times, streaking down the field with his prize as cornerback Iman Marshall followed, joining the celebration.
That, coach Clay Helton said, is what separates Pittman — his consistent intensity at practice.
"You always just felt that he was ready to break out," Helton said.
On a Trojans team with major issues on offense, Pittman has been a rare bright spot. He had a career-high 155 receiving yards against Colorado, with two touchdowns. In a loss last week at Utah, Pittman had 107 of USC's 132 yards receiving.
He is third on the team with 21 receptions, but his average of 22.4 yards a catch is easily the best on the team. He also leads in touchdown catches with four.
Mycah Pittman relishes his brother's success. The senior at Calabasas High strives to follow Michael's path, from breaking high school records to matching his work ethic. They compete in video games and argue about who is the better football player.
"I am the best in our family," Michael said. "And, like, if you could write that down in the article so I could show him that."
Said Mycah: "I'm always telling him, 'Whatever you do, I'm gonna do better.' "
Pittman Jr. is one of the few Trojans who has not struggled to beat opponents in one-on-one matchups. In fact, he welcomes them. Against Utah, he reached over two defenders who were in position to intercept the pass and made a catch for a 34-yard score.
"I feel like I'm faster and stronger than every DB I go against," Pittman said. "It's no disrespect to them. It's just I have that confidence."
Pittman approaches those matchups with an extra physicality that makes him uniquely difficult to defend, Marshall said.
Pittman has flashed that competitiveness at practice since high school.
"He never took plays off," said Bill Redell, who coached Pittman when he was a junior at Westlake Village Oaks Christian.
Last season, Pittman fought just to earn starts. He missed the Trojans' first three games after spraining an ankle.
His father, former NFL running back Michael Pittman Sr., tweeted about his frustration at his son being sidelined. Mycah simmered in silence.
"I want to see my brother succeed more than I want to succeed," Mycah said.
Pittman remained focused. He grinded at practice and treasured his time in games, soaking up knowledge from quarterback Sam Darnold, now the New York Jets' starter. He ended up starting six games and finished with 23 receptions for 404 yards and two touchdowns. His best game came in the Pac-12 title game against Stanford when he made seven catches for 146 yards with one score.
He blocked one punt and returned another for a 72-yard touchdown, helping him to earnAll-Pac-12 first-team honors as a special teams player.
Pittman sought to build on that success in the off-season, until he suffered a sprain in his left shoulder. Two weeks after he recovered, he sustained a broken nose and a right shoulder sprain.
The rest of the Trojans developed in spring training. Pittman watched.
"That kind of set me back," Pittman said.
When he could finally return in the summer, he tried to make up for lost repetitions by working with JT Daniels. He ran extra routes after practice with his new quarterback and bonded with Daniels during their down time.
At first, the result fell short of Pittman's expectations. After USC's narrow win over Arizona, Pittman spoke to Daniels about their failed connections — missed throws that should have been completions.
"I just went to him and I was like, 'We have to fix this,' " Pittman said. " 'We've just got to do whatever we can to fix it.' "
The pair used the extra time offered by a week off to renew their dedication to building trust. Behind a final wave of extra effort came Pittman's breakthrough, consecutive games with more than 100 receiving yards.
Pittman finally achieved what he has spent two years striving for — becoming a prime target for his quarterback.
Etc.
Daniels (concussion) and tight end Tyler Petite (shoulder) did not practice Wednesday. Daniels failed his daily concussion test and must pass by Friday in order to play. Helton said linebacker Cam Smith had fluid drained from his knee and received PRP and monovisc injections on Tuesday. He probably will not play Saturday against Arizona State but could return next week, Helton said.
---
Get our high school sports newsletter
Prep Rally is devoted to the SoCal high school sports experience, bringing you scores, stories and a behind-the-scenes look at what makes prep sports so popular.
You may occasionally receive promotional content from the Los Angeles Times.