Texas improves to 2-1 and drops USC to 1-2 after the Longhorns' decisive 37-14 win. The Trojans are going backward. After a lackluster 43-21 win in the season opener over Nevada Las Vegas, USC has looked unprepared and uninspired in losses at Stanford and Texas. The Trojans don't have a lot of time to make things better. They host Washington State on Friday at 7:30 p.m. Another Pac-12 loss could knock USC out of contention in the South Division before the end of September.
They shouted racial slurs as he ran into the record books. The story behind USC's 1956 win against the Longhorns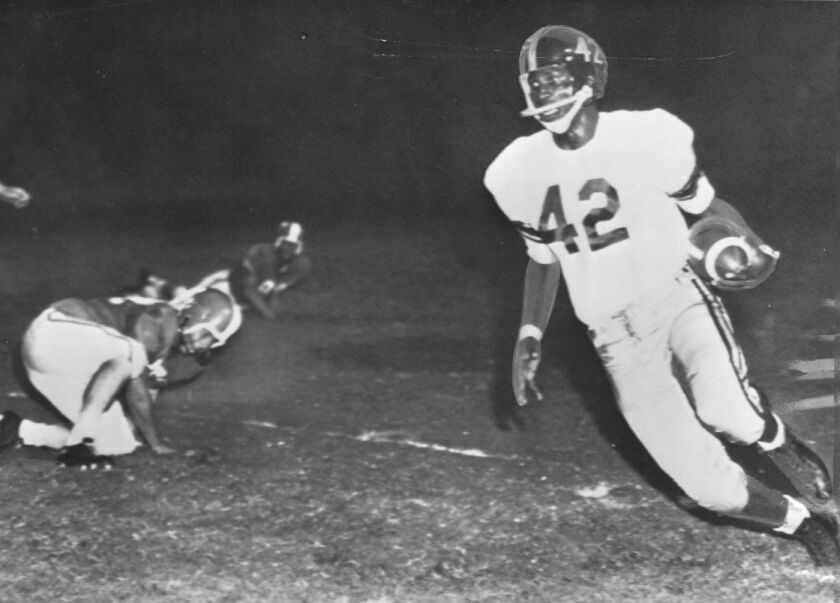 C.R. Roberts is most comfortable when he's on the move. Even at 82, he defaults easily to his natural pose, weight shifted forward to the balls of his feet in a fighter's stance.
Roberts wasn't a boxer. He was a running back who sparred with the world around him. On this July afternoon, he walks across the second floor of USC's Heritage Hall, trying to remember his greatest battle. It comes with a story that stayed buried in his memory for nearly six decades — at least the part he finds interesting.
Roberts' mind, drifting from the effects of age and dementia, isn't sparked by discussing the 1956 USC-Texas matchup in Austin. Sure, he ran the ball 12 times for 251 yards, a Trojans single-game record that stood for 20 years. But he doesn't see the importance of that anymore.
For so long, Roberts would tell people how he had something to prove that night. He may have mentioned that African Americans from around Austin came to the USC team hotel to get a glimpse of him, but that's about as far as he usually went.