Must Reads: They shouted racial slurs as he ran into the record books. The story behind USC's 1956 win against the Longhorns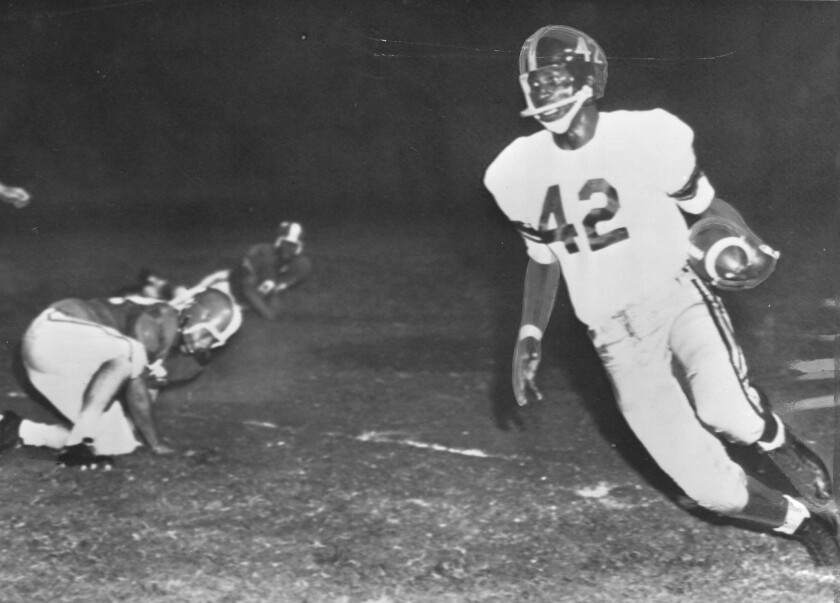 C.R. Roberts is most comfortable when he's on the move. Even at 82, he defaults easily to his natural pose, weight shifted forward to the balls of his feet in a fighter's stance.
Roberts wasn't a boxer. He was a running back who sparred with the world around him. On this July afternoon, he walks across the second floor of USC's Heritage Hall, trying to remember his greatest battle. It comes with a story that stayed buried in his memory for nearly six decades — at least the part he finds interesting.
Roberts' mind, drifting from the effects of age and dementia, isn't sparked by discussing the 1956 USC-Texas matchup in Austin. Sure, he ran the ball 12 times for 251 yards, a Trojans single-game record that stood for 20 years. But he doesn't see the importance of that anymore.
For so long, Roberts would tell people how he had something to prove that night. He may have mentioned that African Americans from around Austin came to the USC team hotel to get a glimpse of him, but that's about as far as he usually went.
"All the time I was growing up," says his daughter, Cathy Creasia, "it never was really put in this context of a civil rights story, even though in its essence it is. And it became one of those stories that kind of got lost."
It may have remained hidden if not for a USC football fan, documentary filmmaker Jeremy Sadowski. Three years ago, he stumbled across a quote from Roberts while researching a project about USC's first black player, Brice Taylor, from the mid-1920s. Sadowski wondered: Who was this C.R. Roberts?
"I consider myself a pretty knowledgeable USC football fan," Sadowski says, "and I had never heard of him before."
Roberts was not aiming for attention on Sept. 22, 1956. He just wanted the right to play a football game with his teammates in another state and not have to fear for his life to do it.
"We broke the law and got away with it," Roberts says proudly. "They had sharpshooters in the stands."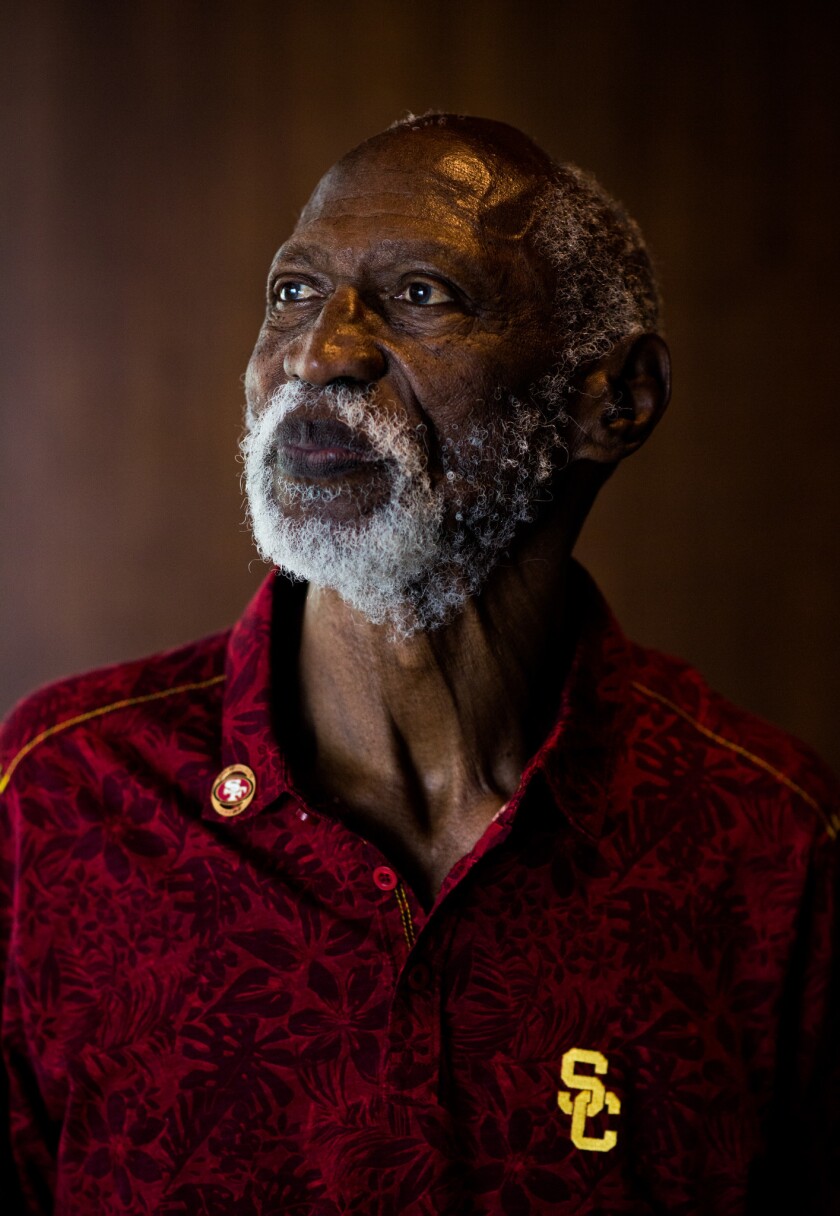 Now that he's sharing his unvarnished story, it can grow with each telling. Roberts does not know for a fact that there were observers with guns marking him in the stands, but that is how it felt as Texas fans yelled the N-word at him and his fellow black teammates, Lou Byrd and Hilliard Hill.
That night, Jim Crow still ruled in the Texas state capital, but racial dynamics were starting to change.
In 1950, Sweatt vs. Painter, a U.S. Supreme Court case, successfully overturned the "separate but equal" doctrine of racial segregation that had been established in 1896 in Plessy vs. Ferguson. Heman Marion Sweatt was a black man who had been denied admission to the University of Texas law school because the state constitution outlawed integrated education.
Throughout the South, the civil rights movement was in its postwar infancy. In August 1955, a 14-year-old boy named Emmett Till was lynched to death in Mississippi. In Dec. 1955, Rosa Parks, a black woman from Montgomery, Ala., was arrested for refusing to give up her seat on a public bus. In the fall of 1956, the University of Texas enrolled its first black students.
On Sept. 16 of that year, 17-year-old Leon Holland left his home in San Antonio and arrived in Austin, where he and his fellow first-year black students moved into dorms that had been World War II barracks. They were not allowed to participate in extracurricular activities nor to dine with white students except in one building, the Texas Union. They could attend Longhorns football games, though, and Holland procured a ticket to that Saturday's opening game against USC.
"I had never been to a college football game before," says Holland, now 79. "We were all excited about going."
From the stands, Holland saw an all-white Texas team and an integrated USC team. Los Angeles seemed like a faraway paradise. It wasn't that simple for C.R. Roberts, although it beat his early years in segregated Tupelo, Miss., watching his father, Cornelius, pick cotton for a white boss.
After his family moved to California, Roberts became a star tailback at what was then Oceanside-Carlsbad High. He could have played anywhere in college. Most of the best black players had gone to UCLA over the years, including Jackie Robinson, and Roberts was told that a black player would never carry the ball at USC.
For Roberts, it was settled right then. He would be a Trojan. He remembers a prominent couple, both USC alumni, convincing him that he should come to their school because they wanted the team to further integrate.
During the summer before the trip to Texas, USC's coaches floated the idea that he should consider not traveling to Austin. Roberts told them he would rather quit the team. As the game approached, Roberts was told that the custom in Austin, where blacks could not stay in white hotels, would be for him to stay with a black family on the city's east side. Roberts remembers teammates saying they would not go if he, Byrd and Hill did not stay in the team hotel.
Pat Reagan, a guard on the 1956 USC team, did not experience this tense buildup to the Texas trip.
"There was never any mention about the significance of this game, no team meeting about, 'OK, we're gonna go down here and play in the first integrated game in Texas' stadium,' " says Reagan, 82. "There was absolutely zero amplification of that."
We broke the law and got away with it. They had sharpshooters in the stands.
C.R. Roberts
In Austin, the Trojans took two buses to a hotel. All Reagan recalls is that, after a brief stop, USC Coach Jess Hill got back onto the bus and the team went to another hotel. Reagan said there was no announcement as to why.
It was no mystery to Roberts.
In Sadowski's documentary, "Breaking Down Barriers: The C.R. Roberts Story," which is still in development, USC quarterback Frank Hall recalls that the concierge at the prearranged hotel told Hill and Hall that the three black players would have to stay in another residence. Hill replied that USC would have nothing to do with their hotel.
The Trojans next tried the Commodore Perry Hotel, which also did not allow black guests. As the story goes, through some manner of persuasion, the hotel became integrated right then and there. Word quickly spread among the black employees of the hotel, and a crowd started to build outside. People wanted to see Roberts, Byrd and Hill with their own eyes.
By the time the Trojans got to the stadium, where they would play in front of 47,000 fans, Roberts' nerves were on fire.
"That night," he says, "I didn't give a damn who we played. We were going to beat them. Everybody had a chip on their shoulder. We played our best game. The other games were … anticlimactic."
Texas led 7-0 late in the first quarter when Hill put Roberts into the game. On Roberts' first carry, new Texas student Holland looked on as a black USC player wearing number 42 rumbled down the left side of the field for a 73-yard touchdown. In the second quarter, Roberts carried again for a 50-yard touchdown to give the Trojans the lead.
"All of a sudden," Holland recalls, "the crowd began this chant of using the N-word, 'Kill that N.' We were sort of startled, being surrounded by that kind of outburst in the stadium. Needless to say, we went there with the hopes of having the UT Longhorn spirit, but we definitely began to pull for USC."
On Roberts' last carry of the game, in the third quarter, he burst for a 74-yard touchdown. Holland did not know number 42's name and wouldn't learn it until he read recaps in the newspapers.
"Just seeing an African American player do so well, it brought pride to you," Holland says. "When you're a part of something like that, you don't think of it as historic. Of course, being at the University of Texas, that was one of the first demonstrations of what was in store for us later, because when we started classes, there was a whole lot of negative experiences."
For Reagan, Roberts' performance was unforgettable even without the context he missed being in the middle of it.
"It just appeared to me late in the game that these [Texas] guys had given up on the chance of stopping him," Reagan says, laughing, "and he pretty much had a free ticket to 251 yards."
Near the end of the game, some people who attended recall a group of Texas fans giving Roberts a standing ovation. Reagan's lasting memory of the Longhorns reaction came later in the hotel elevator, when a man told him, "Well, I want to say you boys can come back down here to Texas anytime, but leave that boy C.R. at home."
"There was no racial connotation," Reagan says. "They realized they had seen a hell of a running back and let it go at that."
Back on campus in Los Angeles, the Daily Trojan headline read, "Roberts Romps as SC Clubs Texas 44-20." The game recap said, "If the season ended Saturday, C.R. Roberts would unanimously win the Heisman award as the best football player in the country."
Roberts did not win the Heisman that year. He split carries with Jon Arnett, hurting both players' chances of standing out. If Roberts had, it might not have taken so long for the background of his big night in Texas to be revealed and relished in college football lore.
Roberts didn't become a star at USC or as a pro. He played a few seasons with the San Francisco 49ers before retiring. After returning to Los Angeles with his first wife, Joyce, and their three children, he became a teacher at Lawndale High.
You hear about C.R.'s courage of telling the team that if he couldn't come to play, he would quit the team; that's inspiring.
Leon Holland
He always saw himself as an activist.
"All my life I've been fighting racism," he says. "Every job I had, I was the first black guy there."
When Sadowski asked him to be the subject of a documentary, it took a year of "negotiation" to convince Roberts that Sadowski could be trusted with an honest look at his history-making day.
Sadowski often wonders how Roberts' story could have been overlooked. Part of the answer is Roberts' fiercely conflicted feelings about sharing it. Another part is that Roberts' performance didn't lead to an obvious shakeup in the status quo at Texas. The Longhorns did not integrate their football team until 13 years later, in 1969.
Austin is a much different place now. The Texas campus is viewed as a liberal bubble in a region of fiery-red conservatives. With USC playing at Texas again Saturday night, C.R. Roberts will get to see that for himself. The Texas athletic department plans to honor Roberts and Longhorns students like Holland who integrated the school in 1956 either before or during the game.
Col. Leon Holland, who went on to a career in the Army Medical Service Corps, hopes to meet Roberts after all this time.
"You hear about C.R.'s courage of telling the team that if he couldn't come to play, he would quit the team; that's inspiring," Holland says. "We were all very proud to be a part of that."
Last weekend, Roberts and some family members got to see the progress of Sadowski's film at the Burbank International Film Festival. His daughter says that after watching the premiere, Roberts stood and offered an admission: "I was totally against this film from the beginning, and I was wrong!"
"It's helped clarify some things," says Creasia, a director at USC's Rossier School of Education. "It's also brought him a little bit of peace in knowing that it was something important and helpful, not just to himself, but to others."
Twitter: @BradyMcCollough
---
Get the latest on L.A.'s teams in the daily Sports Report newsletter.
You may occasionally receive promotional content from the Los Angeles Times.