After blocked punt, USC pulls to within 34-21 on Matt Fink pass to Tyler Petite
After Michael Pittman blocked a Utah punt, the Trojans recovered it at the Utah 9-yard line.
Matt Fink, who entered the game for JT Daniels, threw a 3-yard touchdown pass to Tyler Petite.
USC trails 34-21.
The rout is on in Salt Lake City after another Tyler Huntley touchdown pass gives Utes a 34-14 lead
The rout is on in Salt Lake City after another Tyler Huntley touchdown pass gave the Utes a 34-14 lead over the USC Trojans.
This time, Huntley found Demari Simpkins for an 11-yard toss on third-and-goal.
Tyler Huntley hits Solomon Enis for a 27-yard touchdown, Utes lead 27-14
Utah opened the second half with a 27-yard touchdown pass from Tyler Huntley to Solomon Enis.
After falling behind 14-0 on a couple big plays from USC, the Utes have scored 27 unanswered.
Gay FG gives Utes 20-14 lead at halftime
After USC kicker Michael Brown missed a 39-yard field goal wide right, Utah drove the field and set up Matt Gay for a 30-yard field goal to give the Utes a 20-14 lead.
Tyler Huntley's Houdini act ends with Utah touchdown and 17-14 Utes lead
Clay Helton referred to Tyler Huntley as "Houdini" this week, and the Utah quarterback has backed up that comparison thus far.
He avoided a sack and found Brant Kuithe for a 27-yard completion to the USC 5-yard line. Huntley carried it in himself two plays later from three yards out to give the Utes a 17-14 lead.
After Daniels interception, USC's defense holds Utah to field goal, holds 14-10 lead
Backed up at its own 5-yard-line, facing third-and-15, USC opted to go for a pass to move the chains. JT Daniels threw behind Amon-ra St. Brown, and his pass was picked off by Chase Hansen after being tipped.
USC's defense stopped Utah, though, forcing a 33-yard Matt Gay field goal to bring the Utes within 14-10.
Utah answers with Huntley pass to Covey for 46-yard touchdown
Utah answered USC's back-to-back touchdowns quickly. Tyler Huntley found Britain Covey over the middle, and Covey ran past Ajene Harris and Talanoa Hufanga for a 46-yard touchdown.
USC leads 14-7.
After fourth-down run stop, JT Daniels hits Michael Pittman Jr. for improbable touchdown
The USC defense stuffed Utah running back Zack Moss on fourth-and-2, giving USC the ball at the 50.
After a Utah facemask penalty gave USC a first down, JT Daniels shrugged off a sack and chucked a prayer deep down the left side to Michael Pittman Jr. Two Utah defenders had a beat on it, but the ball found Pittman's hands behind them for a 34-yard touchdown.
USC leads 7-0.
John Houston sack and strip leads to Jay Tufele 48-yard fumble return for a touchdown
John Houston sacked Utah quarterback Tyler Huntley, popping the ball out, and USC defensive tackle Jay Tufele scooped it up for a 48-yard touchdown return to give the Trojans a 14-0 lead.
Tufele is a Utah native.
USC vs. Utah: A look at how the Trojans and Utes match up
USC (4-2, 3-1) at Utah (4-2, 2-2)
Saturday, 5 p.m. PDT, Rice-Eccles Stadium. TV: Pac-12 Networks. Radio: 1110, 99.1.
Marquee matchup
USC linebackers vs. Utah quarterback Tyler Huntley and running back Zack Moss. Even if USC entered this game full-strength in its linebacker corps, the Trojans' matchup against the tough-minded and efficient Utah running game would be the key to victory. But without "predator" outside linebacker Porter Gustin (out for the season because of a broken ankle) and possibly without middle linebacker Cameron Smith (a game-time decision because of a mild hamstring strain), it deserves even more of a pregame spotlight. True freshman Palaie Gaoteote stepped in for Smith against Colorado and spent a big part of the game in the Buffaloes' backfield. He had nine tackles before exiting the game in the third quarter with concussion symptoms. Gaoteote has been medically cleared to play Saturday, which gives the Trojans hope of slowing down the Utes as they did Colorado.
Palaie Gaoteote listed as starter at middle linebacker, Cameron Smith dressed
Cameron Smith was considered a game-time decision by USC coach Clay Helton for Saturday night's game at Utah. All we know so far is that Smith is dressed out and doing warm-ups.
USC listed Palaie Gaoteote as the starter at middle linebacker. But Smith could be available.
Stay tuned.
Trojans will be looking to make a statement against the Utes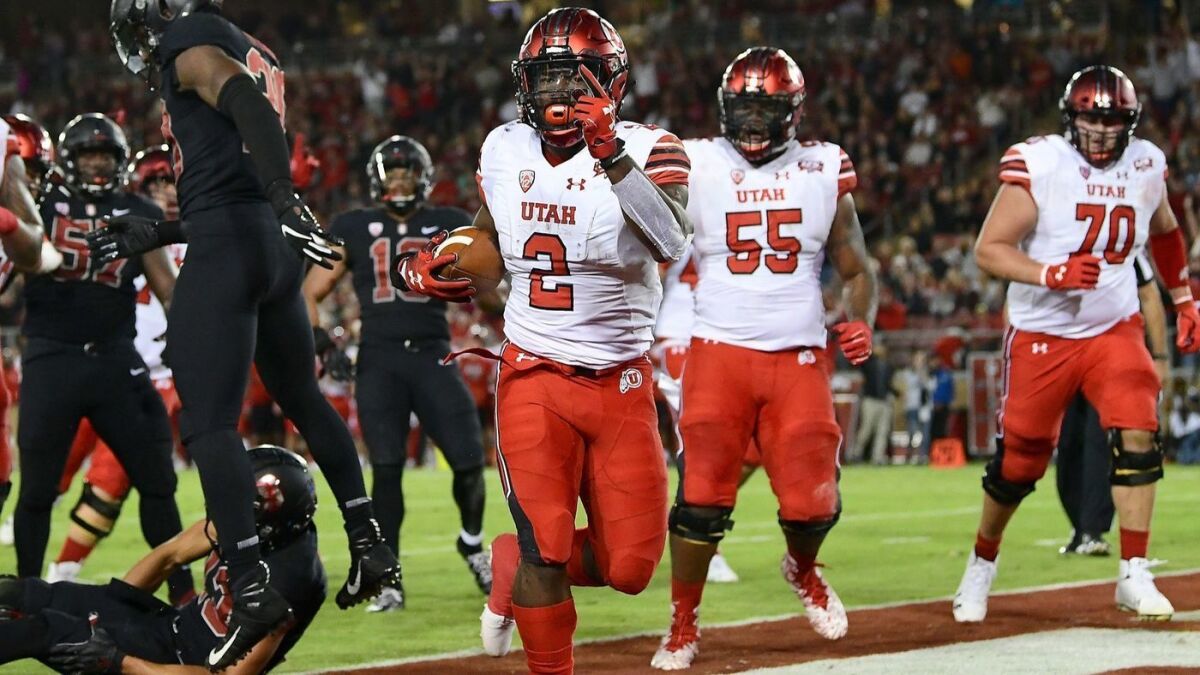 Clay Helton looked down and quickly shook his head.
"Sixteen seconds," he said, forcing a half-chuckle.
The last time the Trojans played at Utah, in 2016, was unforgettable for the USC head coach — and not just because his team blew a 10-point fourth-quarter lead and lost on a touchdown pass from Troy Williams to Tim Patrick with 16 seconds left.
For several other reasons, that night served as a signpost for the Helton era: It was Sam Darnold's first start at quarterback after USC started 1-2. It was the Trojans' last defeat of the season before running off nine straight wins, including a Rose Bowl victory over Penn State. To this day, it marks the only time USC has lost a Pac-12 South Division game under Helton, and it cost the Trojans a chance to play against Washington in the league championship game for a potential berth in the College Football Playoff.
The loss was painful, but Helton felt stubbornly strong about that team and where his program was going in the aftermath.
"If they compete like they did tonight," Helton said then, "they're going to win a lot of games."
Helton has made similar proclamations about this year's team, which also started 1-2. The Trojans, while still striving to put together a complete performance in 2018, have run off three wins in a row and sit atop the Pac-12 South standings at 4-2 and 3-1 in the league. This year's visit to Rice-Eccles Stadium won't be the spark of a major turnaround, but, set in the middle of the conference slate, it will be the best litmus test yet as to whether these Trojans are headed toward another scintillating stretch run or a fall filled only with frustration.