Another trip to Utah offers USC another chance for a statement win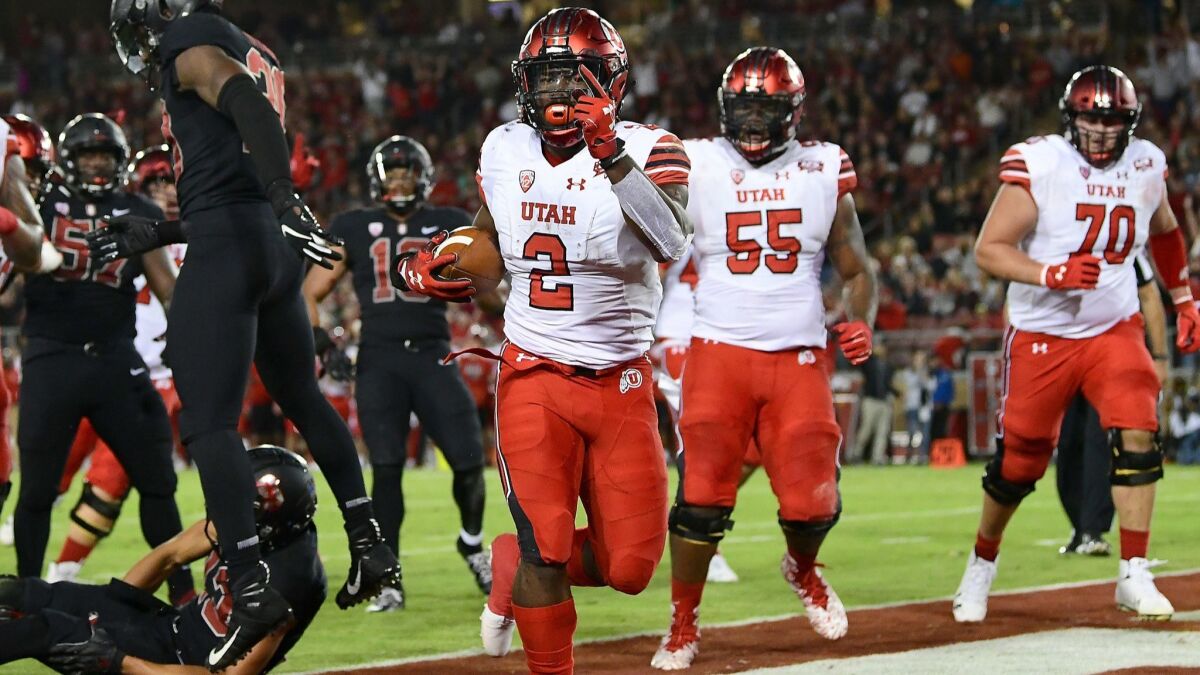 Reporting from Salt Lake City —
Clay Helton looked down and quickly shook his head.
"Sixteen seconds," he said, forcing a half-chuckle.
The last time the Trojans played at Utah, in 2016, was unforgettable for the USC head coach — and not just because his team blew a 10-point fourth-quarter lead and lost on a touchdown pass from Troy Williams to Tim Patrick with 16 seconds left.
For several other reasons, that night served as a signpost for the Helton era: It was Sam Darnold's first start at quarterback after USC started 1-2. It was the Trojans' last defeat of the season before running off nine straight wins, including a Rose Bowl victory over Penn State. To this day, it marks the only time USC has lost a Pac-12 South Division game under Helton, and it cost the Trojans a chance to play against Washington in the league championship game for a potential berth in the College Football Playoff.
The loss was painful, but Helton felt stubbornly strong about that team and where his program was going in the aftermath.
"If they compete like they did tonight," Helton said then, "they're going to win a lot of games."
Helton has made similar proclamations about this year's team, which also started 1-2. The Trojans, while still striving to put together a complete performance in 2018, have run off three wins in a row and sit atop the Pac-12 South standings at 4-2 and 3-1 in the league. This year's visit to Rice-Eccles Stadium won't be the spark of a major turnaround, but, set in the middle of the conference slate, it will be the best litmus test yet as to whether these Trojans are headed toward another scintillating stretch run or a fall filled only with frustration.
Beating then-No. 19 Colorado last week at the Coliseum was an encouraging step, but the Trojans are automatic at home under Helton, and the Buffaloes had not played a legitimate opponent in running up a 5-0 record. Winning at Utah, 4-2 overall and 2-2 in the Pac-12, represents a much stiffer challenge. Kyle Whittingham's Utes are favored by 7.5 points, and USC is 1-10 under Helton as an underdog. Saturday, then, represents a chance for Helton's program to show some bona fide backbone in Year 3.
"It feels like last week to me," Helton said. "Last week I thought was a playoff, championship mentality game that whoever won that game was going to take a step ahead of everybody, and it feels that way this week again. Going to be an electric atmosphere, a fun game."
As long as the Trojans keep winning, no matter how dissatisfying the wins may be to Helton's critics among the USC fan base, the comparison to 2016 will live on. The Utah game was a crucial part of that narrative.
"It was like the beginning of when we saw a change in the team," USC defensive lineman Christian Rector said. "And Coach Helton kind of said, 'No more.' We hit our stride after that point."
Rector was asked how similar the vibe feels entering this trip to Salt Lake City.
"I feel like we're clicking more as a defense, as a team," he said. "Trust is a big thing for us, being assignment sound, and being able to trust the offense is going to get their job done and the defense is going to go get stops and get off the field."
Against Colorado, when the offense started the game with five unsuccessful drives, the defense dominated the Buffaloes and kept the game tight. When the defense allowed Laviska Shenault's 49-yard touchdown run, the offense responded with an aerial assault that gave the Trojans a 21-7 halftime lead. When the offense couldn't add to the lead in the third quarter, the defense went out and got points on Ajene Harris' interception return for a touchdown.
Those instances can build the trust Rector mentioned, but the fibers of trust break down very quickly in an environment such as Rice-Eccles.
"It's a very hostile atmosphere," USC running back Aca'Cedric Ware said. "Their fans are crazy. It's loud, but it's also exciting. So yeah, I can't wait to play there again. Last time didn't go so well. Hopefully we can make a change this time."
Twitter: @BradyMcCollough
---
Get the latest on L.A.'s teams in the daily Sports Report newsletter.
You may occasionally receive promotional content from the Los Angeles Times.