At its essence, StubHub Center is simply a field. A sleek, manicured space in Carson surrounded by some 27,000 seats, a place fans gather to celebrate triumphs or commiserate over losses and watch seasons march onward.
To Gyasi Zardes, who grew up in Hawthorne, StubHub Center is infinitely more than a patch of grass. It has been the backdrop for many key events in his life and his professional soccer career, including his first start for the U.S. men's national team in a friendly against Panama on Feb. 8, 2015. He was a homegrown player, developed by the Galaxy, and he hoped to stay as long as his many skills would allow.
"I've achieved a lot of things at that stadium. I got my first MLS game at that stadium. I won the MLS Cup at that stadium. I graduated college at that stadium," said Zardes, who began his studies at Cal State Bakersfield and got his degree at Cal State Dominguez Hills. "I used to go to games at that stadium with my dad growing up. That stadium means a lot to me, and to just be able to play in it means something very special."
His family is still here, and so are the futsal courts the Galaxy helped Zardes bring to life at Memorial Park. A piece of his heart will always be here too, but StubHub Center is no longer his home field.
Zardes, who scored an impressive 16 goals for the Galaxy in 2014 but only two in an injury-marred and disjointed 2017 season for him and the team, was traded to the Columbus Crew on Jan. 20 for forward Ola Kamara. On Saturday he will be a visitor at StubHub Center, a new experience. That he's returning as one of MLS' top goal scorers is a happy reversal of fortune.
Often used on the wing and occasionally at right back last season with the Galaxy, Zardes, 26, was restored to his preferred striker position by Crew coach Gregg Berhalter and has thrived in a system that stresses cohesion and makes the striker the focal point of the offense. Zardes is tied for second in MLS in goals with 11 in 19 games.
Somehow, he wasn't chosen an All-Star. "Absolutely he should be," said Berhalter, who was a Galaxy player and assistant coach but wasn't there when Zardes was. "To me it's how he's performed this year, not just scoring goals, but the work he does for the team has been outstanding. I think he's one of the top strikers in the league."
Preparing for the Crew's friendly against Deportivo Saprissa of Costa Rica on Tuesday in Columbus — a 2-0 victory in which Zardes scored the first goal — prevented him from thinking ahead to his return to L.A.. Asked about the circumstances of his departure, he was frank. "I knew the team had to make some changes and that was one of them, which is perfectly fine. That comes with the sport," he said in a phone conversation this week.
"I've had a lot of success this year, and I'm thankful that the coaching staff here in Columbus has faith in me and are utilizing me at my best position. As a striker it's great to have that confidence. Just having that confidence from the coaching staff and teammates means a lot to a player.
"I have no hard feelings against the Galaxy. At the end of the day, it's a business, and I thank that organization for everything they've done for me, everything they've done for the kids, everything they've done for the kids in my community. It was more than about just playing soccer for that team. They really helped out my hometown and built two amazing fields so kids can play soccer and not participate in negative things. So I have nothing against that club. I have so much respect for everybody there and I'm just really excited to be able to play on that field and in front of family and friends."
Berhalter said he knew Zardes' skill set would fit the Crew's style. Berhalter didn't know Zardes would also be a good fit in the locker room.
"Right from the beginning he showed what he can bring. He embraced the way we play. He embraced his teammates. And they did the same," Berhalter said. "They became close very quickly. And he's a great guy. I think that's the important side of it. He really wants to learn. He wants to improve. He's always trying to get better and he has a tremendous work ethic in doing so."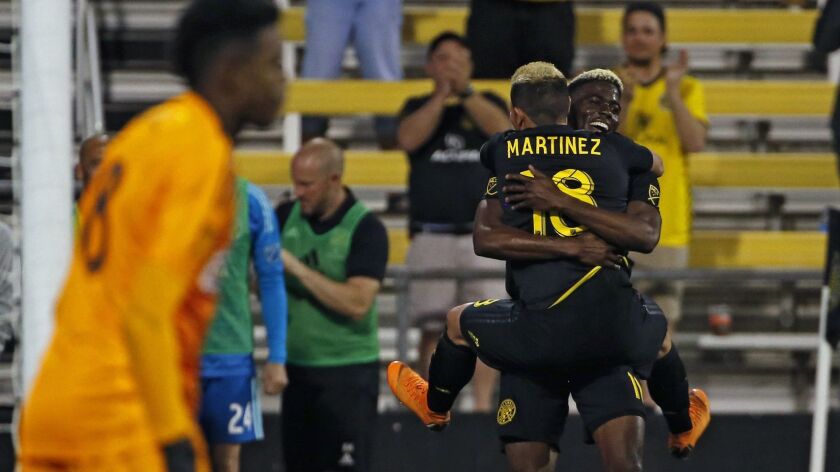 Zardes and his wife Madison, who met as student-athletes in Bakersfield, became parents for the third time two weeks ago when she gave birth to their second daughter. "Me and my wife, we always say wherever we are together is home, so we've adapted the Ohio lifestyle, and my kids, they love it," he said. "There are so many activities they're involved in out here. My son, he's playing soccer, baseball. My daughter is doing swimming, gymnastics. It's incredible the amount of things they have for families here."
Someday, the pull of family probably will bring them back to Los Angeles or Bakersfield. While the Crew is in town, especially Saturday, StubHub will be home to him again. "All my family and friends live in Los Angeles, so I'm sure a lot of people are coming out to the game," he said. "I think I'll feel great."
Follow Helene Elliott on Twitter @helenenothelen
---