Slide show: Photos from UFC 218 in Detroit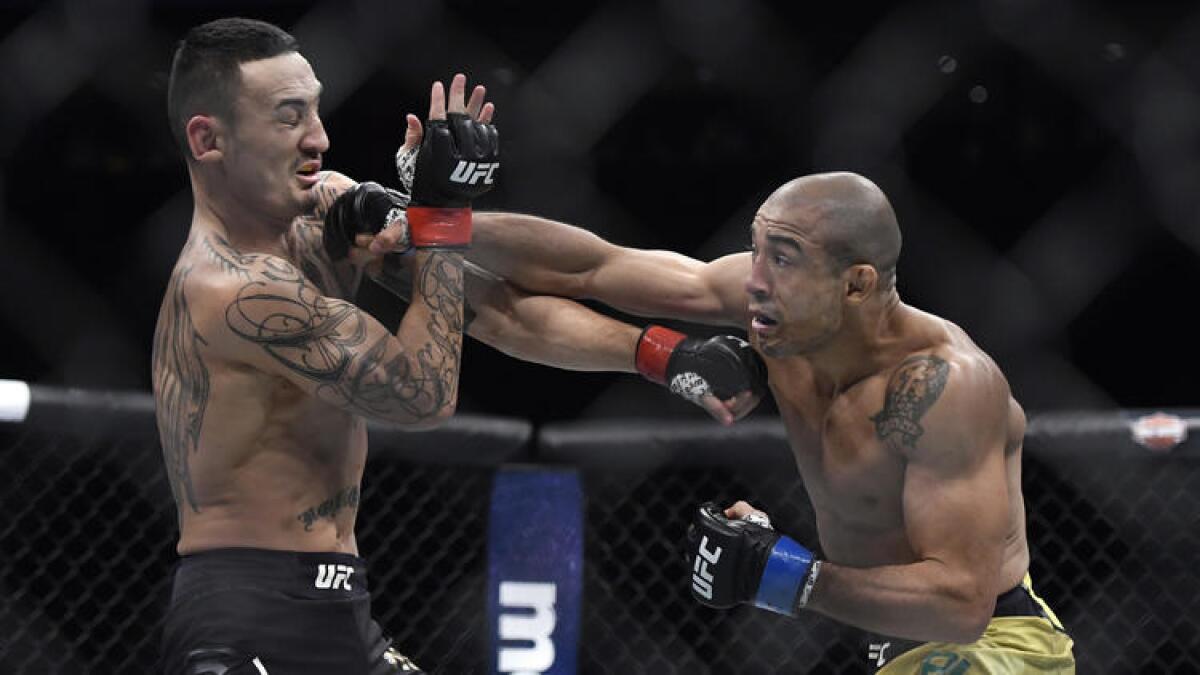 UFC featherweight title: Max Holloway vs. Jose Aldo live round-by-round coverage
Max Holloway won the unified UFC featherweight title in June, beating Jose Aldo. Now Aldo has a chance to avenge that loss and recapture a title he controlled for years.
Round 1. Holloway comes out with a few punches to start. Aldo mostly backs away and measures Holloway. Holloway slaps Aldo and taunts him a little. Aldo begins opening up, winging heavy looping punches. Aldo hasn't connected with much of note thus far. Aldo connects with a big uppercut at the close of the round. 10-9 Holloway.
Round 2. Aldo lands a hard leg kick early. He follows with a two-punch combination. They trade jabs. The pace continues to be deliberate with both fighters careful not to open themselves up to the other's power. Aldo connects with a leg kick and Holloway answers back with a couple of punches and a spinning back kick. Holloway opens up late, throwing at a much higher rate and forcing Aldo to answer back. 10-9 Holloway.
Round 3. After some feeling-out, Holloway opens up about two minutes in. Holloway fires a series of power punches from different angles including a few that land well. Aldo's face is not in great shape. Aldo does retaliate with power punches of his own, preventing Holloway from getting too comfortable. In an exchange, both men connect with big shots. Holloway nicely mixes in elbows with his punches and is attacking the body and head. Holloway backs Aldo against the cage and opens up. Holloway's caution is gone as he is just all offense. Aldo pulls guard and Holloway lands a series of punches on the ground. Holloway is landing shot after shot and it is finally stopped.
Winner: Max Holloway, TKO, round 3.
That was an impressive performance from Holloway. He exercised caution early with Aldo and then when he smelled blood, he went all in for the finish. He's clearly one of the best pound-for-pound fighters in the sport, improving so much fight to fight in recent years.
Alistair Overeem vs. Francis Ngannou live round-by-round coverage
Alistair Overeem is one of the most accomplished heavyweights in the history of the sport. A former Dream, Strikeforce and K-1 champion, he has fought a who's who of the best fighters of all time. He has won six of his last seven with a more cautious style built around avoiding danger to his vulnerable chin. Francis Ngannou is one of the biggest knockout artists in the sport and will be looking to catapult himself into title contention. A win over Overeem would be easily the biggest of his career.
Round 1. Overeem charges in with a hook. Overeem then clinches and looks for a takedown. They separate and Ngannou lands a couple jabs. Ngannou knocks Overeem out cold with a massive left hand and adds another on the ground for good measure.
Winner: Francis Ngannou, KO, round 1.
Francis Ngannou has some of the scariest power we've ever seen and he showed it there again. That was an absolutely brutal finish of a dangerous foe, a punch that will surely be on Ngannou's highlight reel until the end of his career. It looks like Ngannou is next for heavyweight champion Stipe Miocic and that's an intriguing fight.
Henry Cejudo vs. Sergio Pettis live round-by-round coverage
Henry Cejudo is an Olympic gold medalist in wrestling whose striking has been evolving at a rapid pace. He is looking to get another shot at the UFC flyweight title. Sergio Pettis, the brother of former lightweight champion Anthony Pettis, has won four straight and wants his first title shot.
Round 1. Cejudo gets a takedown a minute in and quickly transitions into side control. Pettis rolls out as Cejudo takes his back and looks to sink in his hooks. Pettis avoids that well. Cejudo regains top position in Pettis' guard. Pettis works to get up at the end of the round. 10-9 Cejudo.
Round 2. Pettis lands a few kicks early. Cejudo gets another takedown. Cejudo lands a few punches but isn't terribly active while Pettis closes his guard and holds on. Pettis gets back up to his feet in the final minute of the round but is cautious there even down big. 10-9 Cejudo.
Round 3. Cejudo opens up with his boxing a little and Pettis fires back. Cejudo grabs another takedown with ease. Cejudo lands some punches and works into side control. Pettis tries to get up but Cejudo stops that and ends up on top back in Pettis' guard. Pettis finally gets up late but just like in the second he doesn't go for it with no time left. 10-9 Cejudo, 30-27 Cejudo.
Eddie Alvarez vs. Justin Gaethje live round-by-round coverage
Eddie Alvarez, the former UFC and Bellator champion, is known for his tough Philadelphia style where he is willing to take a punch to give one. That description fits Justin Gaethje perfectly. The undefeated former WSOF champion is known for crowd pleasing fights and delivered a classic in his UFC debut against Michael Johnson. These two coached on the most recent season of the Ultimate Fighter and are expected to deliver a thriller.
Round 1. Gaethje comes out throwing leg kicks. Gaethje lands a nice hook and Alvarez a solid uppercut. Gaethje keeps hammering Alvarez's lead leg. Alvarez catches a kick and takes Gaethje down but Gaethje quickly gets back up. Alvarez lands three punches to the body as Gaethje focuses on defending the head. Alvarez lands some hard punches to the head after that as well. Gaethje's pace has slowed as Alvarez opens up with his punches. 10-9 Alvarez.
Round 2. Alvarez lands a hook to the body and then head. Gaethje answers with a leg kick and hook. Gaethje utilizes a strong uppercut. Now both men are bleeding from the face. Alvarez opens up with a series of punches in the middle of the round, connecting well. Alvarez appears to hurt Gaethje with punches to the body. Alvarez follows with a big punch to the head but Gaethje keeps firing back so Alvarez can't go for the kill. Alvarez attacks the body with punches. Gaethje goes for a takedown but Alvarez pushes him off and lands a kick. There is a massive growth on the cheek of Alvarez; something is really wrong there. 10-9 Alvarez.
Round 3. Gaethje starts with another leg kick and then some punches. Gaethje lands two more leg kicks and Alvarez limps a little. Gaethje attacks the leg again and Alvarez goes down. Alvarez's boxing is still on point but Gaethje is repeatedly attacking that leg. Alvarez goes for a takedown but can't get it. Gaethje lands an uppercut. Gaethje is now focusing his attention heavily on that leg while Alvarez attacks Gaethje's head. Gaethje blocks a takedown attempt. Alvarez drops Gaethje with a knee to the head and lands a few punches before the fight is stopped.
Winner: Eddie Alvarez, TKO, round 3.
That fight was expected to be a great one and it delivered for sure. It was a violent war with both men showing great heart to the end.
Tecia Torres vs. Michelle Waterson live round-by-round coverage
Tecia Torres and Michelle Waterson are top strawweight contenders looking to earn a title shot. Torres is 9-1 in official MMA competition with great movement and cardio. Waterson comes from a karate background and has a very good ground game as well.
Round 1. Waterson gets an early takedown. Torres stands up but Waterson takes her back in the process. Torres gets Waterson off her back. They separate and Torres throws a bunch of quick punches. Torres adds some knees to the body and attacks the head with punches. Waterson tries to get her kick game going but Torres' pressure is preventing Waterson from fighting on her terms. Torres clinches late and lands some more punches. 10-9 Torres.
Round 2. Waterson gets a takedown. She is in half guard while Torres appears to be looking to push Waterson off and stand back up. Waterson lands some punches from the top. Torres looks to set up a triangle choke from the bottom but doesn't come close. Torres looks to switch to an armbar but doesn't get it and Waterson moves into side control. Torres stands up at the end. 10-9 Waterson.
Round 3. Torres throws some kicks from the outside. Waterson clinches and the fighters grapple for control in the clinch. They separate and Torres lands some punches immediately. Torres grabs a body lock and looks to take Waterson's back. Torres gets the back and lands a series of punches to the head on the ground. Waterson rolls over to prevent the fight from being stopped. Waterson gets out at the end. That's a supremely easy fight to score. 10-9 Torres, 29-28 Torres.
Charles Oliveira vs. Paul Felder live round-by-round coverage
Charles Oliveira is one of the most skilled lightweight fighters with dangerous striking and an excellent ground game. However, he has generally fallen short against the best opponents of his career. Paul Felder is a tough, gritty striker who is durable and keeps coming even against more dangerous opponents. They're fitting opponents for each other.
Round 1. Oliveira ducks down and secures a takedown. Felder gets up but Oliveira pulls him back down. Oliveira looks for a guillotine choke and then a D'Arce choke. Oliveira can't lock in the D'Arce so he gives it up. Oliveira then takes the back and looks for the rear naked choke. Felder throws him off and takes top position on the ground. Felder lands some punches from the top until the conclusion of the round. 10-9 Oliveira.
Round 2. Oliveira clinches. Felder lands a strong elbow and Oliveira goes to the ground. Felder lands some punches from top position. Oliveira looks to set up submissions but doesn't come close on anything while Felder occasionally gets in a hard punch from the top. Felder lands a series of elbows, Oliveira taps, and the fight is stopped.
Winner: Paul Felder, submission, round 2.
Paul Felder's mental toughness was the difference in that fight, as it often is. He survived the early danger that Oliveira presented and just kept landing shots until Oliveira had enough.
Alex Oliveira vs. Yancy Medeiros live round-by-round coverage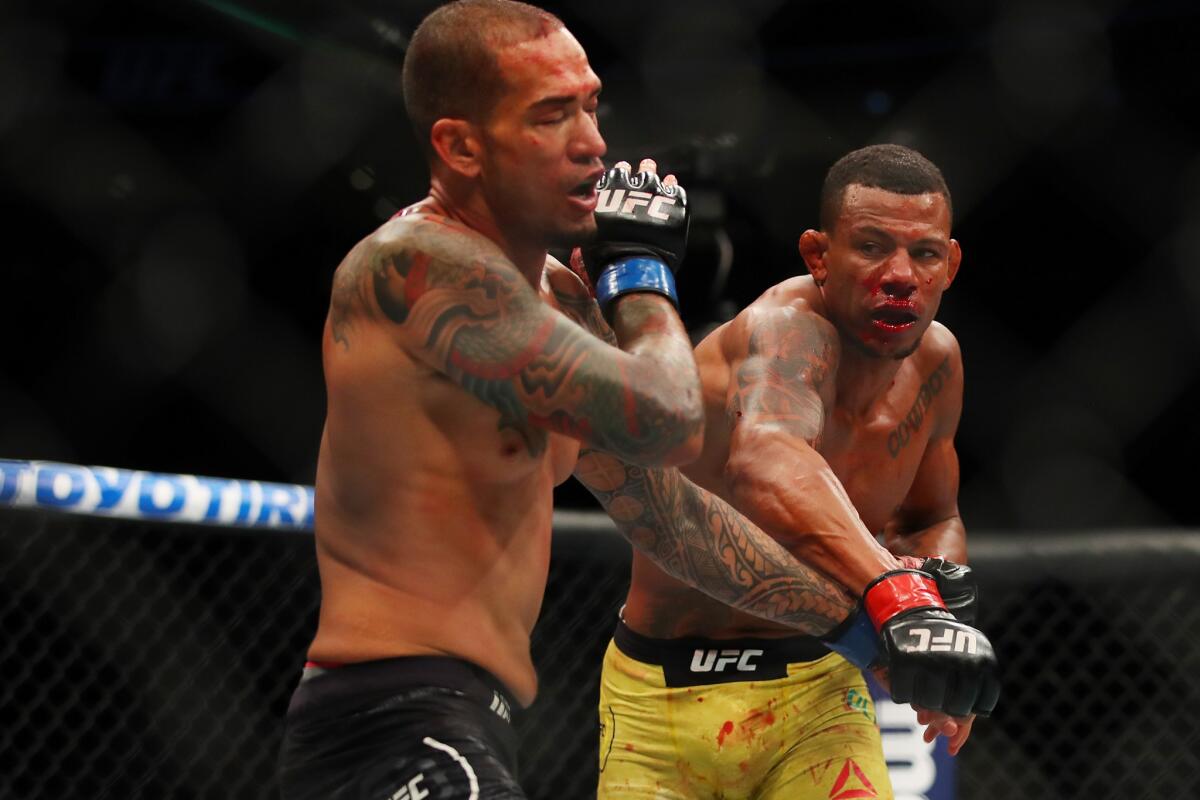 Alex Oliveira is surging in the UFC with 7-1 record (1 no contest) in his last nine fights. He is a dangerous striker. Yancy Medeiros is an action fighter from Hawaii known for his exciting fights.
Round 1. Oliveira comes out aggressively with some big shots. However, Medeiros catches him with a massive punch that drops Oliveira to the ground and busts up his nose. Oliveira recovers and gets back into the fight. Oliveira drops Medeiros and looks to finish but Medeiros survives and answers back. Oliveira drops Medeiros again and once again looks to finish. Oliveira pours it on while Medeiros looks to fire back as much as he can. Oliveira has Medeiros in huge trouble but Medeiros just refuses to give in. That was one of the best rounds of the year. 10-8 Oliveira.
Round 2. Oliveira is supremely confident as he just wades in throwing heavy shots. Oliveira eats a big counterpunch and stumbles back looking to recover. Medeiros attacks the body as well. Oliveira clearly has tired. Medeiros gets a takedown and takes mount. He drops own some heavy elbows and is pouring it on late. 10-9 Medeiros.
Round 3. Oliveira comes out aggressively, throwing big punches and attacking Medeiros ferociously. It remains to be seen whether that's a wise strategy given his energy level in the second. Oliveira gets a takedown. He briefly has Medeiros' back but doesn't secure control and Medeiros rolls into top position. They return to the feet and Oliveira is struggling to move and see. Medeiros attacks by the cage with punches and that's it. That was an epic fight.
Winner: Yancy Medeiros, TKO, round 3.
That fight was Yancy Medeiros in a nutshell. He's not the most skilled fighter and his chin can betray him but he's as tough as they come, keeps coming and has a thrilling style. He took a tremendous beating from Oliveira, refused to give up, and secured a classic come from behind victory.
David Teymur vs. Drakkar Klose live round-by-round coverage
David Teymur and Drakkar Klose are in similar positions, coming off surprising wins over rising young stars. Teymur is 3-0 in official UFC competition after an impressive decision win over Lando Vannata. Klose is 2-0 after a split decision over Marc Diakiese.
Round 1. Klose presses the action early, moving forward and taunting Teymur. Teymur is more of a counterstriker and doesn't seem fazed by Klose's games. Teymur is throwing plenty of kicks and lunges in with a straight punch. Not a lot is happening. Klose lands a double leg takedown late. Teymur stands back up. 10-9 Teymur.
Round 2. The action continues to be slow. Klose is frustrated but he has to respect Teymur's striking and can't become too aggressive. Teymur's top weapon continues to be his kicks, particularly low. Teymur goes for a takedown but it is blocked. Klose then attempts a takedown but it too is stopped. Teymur gets a takedown late. 10-9 Teymur.
Round 3. Teymur lands a few strong kicks early. Teymur adds a strong straight punch. Klose has become much more passive in the third after getting countered when he moves in the first two rounds. Klose gets a takedown in the final two minutes. Teymur fights hard to return back to his feet. Teymur looks for a late takedown but it is blocked. 10-9 Teymur, 30-27 Teymur.
Winner: David Teymur, unanimous decision (30-27, 30-27, 29-28).
It wasn't exciting, but Teymur clearly took that fight. Klose had to have left incredibly frustrated.
Felice Herrig vs. Cortney Casey live round-by-round coverage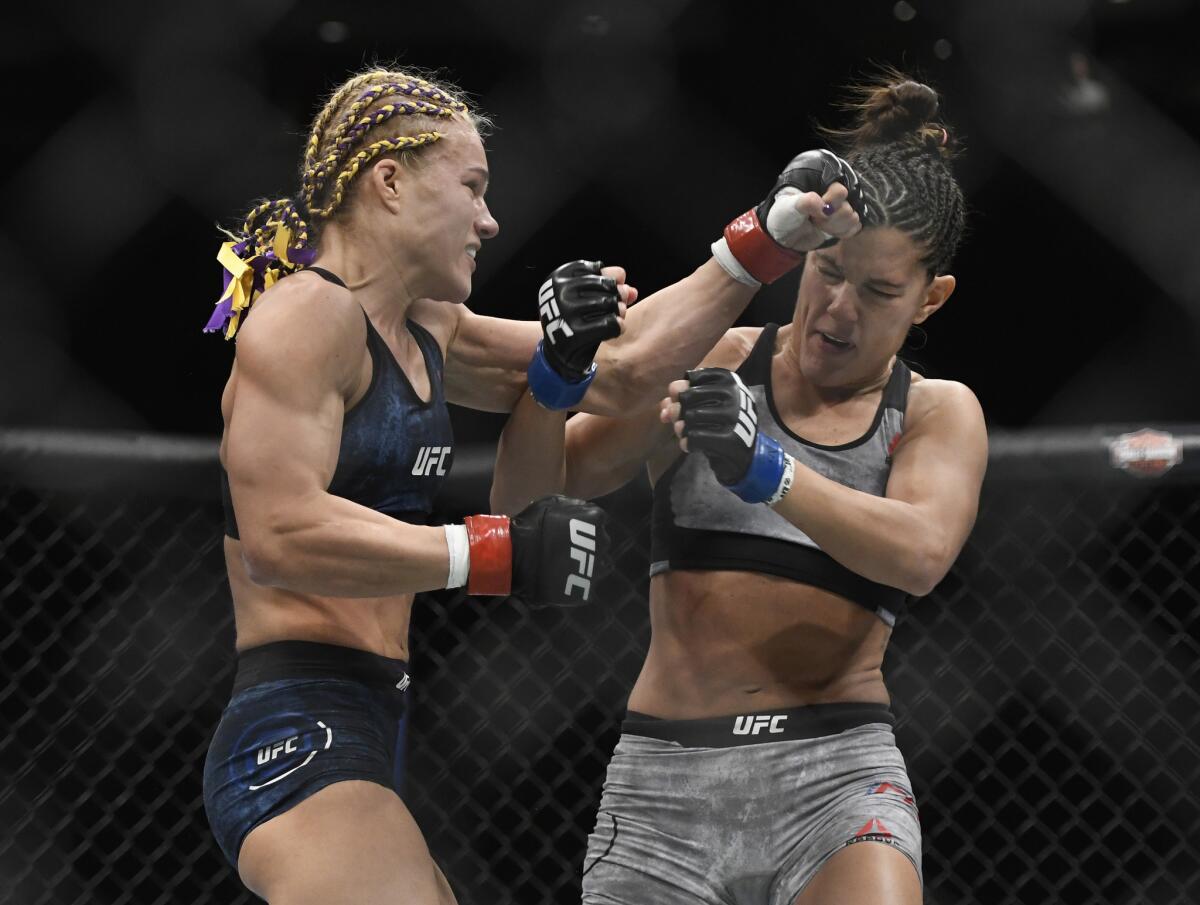 Felice Herrig, a veteran of the sport, has moved into contention with three straight wins. Cortney Casey has won three of four in her own right and is fighting with a full training camp for the first time in the UFC.
Round 1. Herrig is the aggressor early, moving in with punches. Casey catches her with some nice counters as she moves in. Herrig lands a solid left hook. Casey answers with a two-punch combination at which point Herrig clinches by the cage. Herrig gets the takedown. Casey uses a kimura to reverse position and take the top, at which point the fighters return to their feet. They openly trade as the round ends. 10-9 Casey.
Round 2. Like in the first, Herrig is the one moving forward but Casey is landing the better punches as she counters. Herrig lands a hard left hook. She follows with a strong right hand. Herrig is being more cautious but that's allowing Casey fewer opportunities. Herrig connects on a nice hook. 10-9 Herrig.
Round 3. Herrig charges in and lands a left hand then backs out and looks for another opening. Casey looked she had much better timing in her striking early but that has changed as Herrig has been more careful. The fight has settled into a pattern with Herrig moving in, the fighters both trying to land punches, and Herrig then backing out. The fighters begin taunting each other and making vulgar gestures. Casey lands a few big shots late. 10-9 Herrig, 29-28 Herrig.
Winner: Felice Herrig, split decision (29-28, 28-29, 29-28).
Casey makes a big production out of her aggravation with the decision, but she allowed Herrig to dictate the pace for pretty much the entirety of the fight and it looked like Herrig did more damage. It was a close fight that could have gone either way.
Amanda Cooper vs. Angela Magana live round-by-round coverage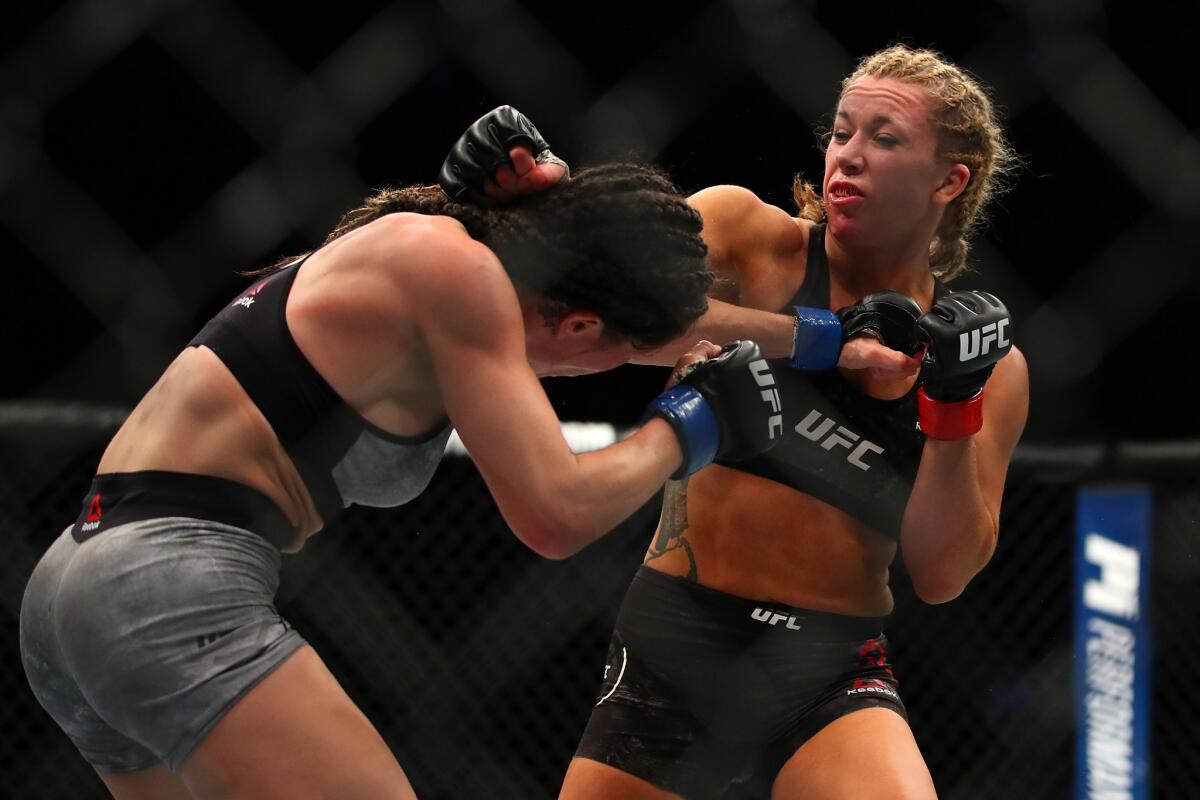 Amanda Cooper is 2-3 in MMA with 3 submission losses while Angela Magana is 11-8 with 4 straight losses. Both badly need a win here.
Round 1. Magana lands a knee early. Cooper clinches and goes for a takedown. Magana grabs the fence to prevent it, an illegal tactic. Cooper then gets Magana down but Magana quickly stands up. Finally, Cooper gets the takedown and ends up in full mount. Magana turns her back and Cooper lands some punches while looking to set up a rear naked choke. Cooper loses the position and ends up back on top in Magana's guard. Cooper lands a series of punches and elbows from the top. Cooper regains full mount and goes to work with punches until time rounds out. 10-8 Cooper.
Round 2. Cooper gets another takedown early. Cooper dictates the action and works into side control. Cooper goes for a rear naked choke but Magana can't avoid it. Cooper gets the back again and continues to look for that choke. Cooper can't get it but she keeps working with punches and Magana is able to do little other than defend. The fight is finally called off.
Winner: Amanda Cooper, TKO, round 2.
That was surely a rewarding win for Cooper, who was a popular figure in her native Michigan and controlled the fight pretty much from beginning to end against an overmatched opponent.
Sabah Homasi vs. Abdul Razak Alhassan live round-by-round coverage
Sabah Homasi is a finisher who trains out of the American Top Team camp. He dropped his UFC debut to Tim Means and will look to score his first UFC victory this time out. Abdul Razak Alhassan was 7-0 with no opponents having survived the second minute when he dropped a split decision to Omari Akhmedov in May. He looks to return to winning ways here.
Round 1. Homasi lands a nice looping right hand early. Alhassan then catches Homasi with a right hand of his own. Alhassan follows with another big right punch. Alhassan moves in looking to finish. Homasi clinches and recovers. Homasi lands some strong knees and punches from the clinch and takes Alhassan down. Homasi opens up with a series of heavy punches on the ground but Alhassan then just powers right back up to his feet. They end up back in the clinch, presumably gathering energy given how much power both men are putting behind all of their shots. They open up with heavy hooks by the cage. Homasi goes down and referee Herb Dean stops the fight. It looked like a premature stoppage for sure.
Winner: Abdul Razak Alhassan, TKO, round 1.
It's a shame the fight ended that way because it was a thrilling back and forth battle. Homasi competed well throughout and deserved better than that. Alhassan put in a strong performance in and rose his stock even if he would have liked the fight to end without controversy.
Jeremy Kimball vs. Dominick Reyes live round-by-round coverage
Jeremy Kimball is a striking specialist with a 1-1 record thus far in the UFC. Of his 15 wins, 11 have come via KO/TKO, while of his 6 losses, 5 have come via submission. Dominick Reyes is an undefeated powerhouse with 12 wins between his professional and amateur experience. He won his UFC debut in 29 seconds and will look for another short night at the office here.
Round 1. Kimball charges in with punches and looks for a takedown. Reyes threatens with a guillotine choke briefly but gives it up. Kimball gets Reyes to the ground momentarily but Reyes pops back up. Kimball continues to work for the takedown. Reyes ends up getting the takedown himself. Reyes immediately has side control position but Kimball secures full guard. Reyes drops a few heavy punches and takes Kimball's back as Kimball looks to get up. Reyes controls Kimball with a body triangle and lands punches and elbows to the side of the head. Reyes locks in the rear naked choke for the submission.
Winner: Dominick Reyes, submission, round 1.
Reyes was the heavy favorite there and he showed why. Reyes controlled the action throughout and his strikes had real power behind them. Reyes looks like he could be a player in his division.
Justin Willis vs. Allen Crowder live round-by-round coverage
UFC 218 kicks off with a heavyweight bout pitting Justin Willis against Allen Crowder. Willis, nicknamed "Big Pretty," is 5-1 and won his UFC debut in a lackluster fight. Allen Crowder is 9-2 and earned this opportunity by winning a fight on Dana White's Tuesday Night Contender Series.
Round 1. Willis catches a couple of kicks early and uses the opportunity to land punches. Willis moves forward with some heavy punches and a knee by the cage. Willis staggers Crowder with a left hook and then moves in looking to close. He drops Crowder with another left hook and that's it.
Winner: Justin Willis, TKO, round 1.
That was a great win for Justin Willis. After an unimpressive UFC debut, he showcased power and accuracy, dominating this contest.
Max Holloway looks for another victory over former champion Jose Aldo
Max Holloway claims that for the sake of self-motivation he needs to summon short-term memory loss about his June 3 knockout victory over Jose Aldo.
"I have no idea what you're talking about. I'm lost. I have to be Dory," Holloway says, referring to the forgetful "Finding Nemo" character.
After Holloway (18-3) landed 128 strikes to Aldo's 56 to become featherweight champion by third-round knockout in Aldo's home country of Brazil, the new champion has to meet Aldo (26-3) again Saturday night in the main event of the UFC 218 pay-per-view card.
"He's saying he's coming with new tricks. I know I'm coming with new tricks," Holloway, 25, told the Los Angeles Times this week. "It's a different fight. A new me, a new him and I can't wait to do this thing. I'm getting ready for the best Aldo, but I hope he better be ready for the best me.
"It's a passing of the torch, and I'm going to be running with it for a long time."
Aldo has claimed "this fight's going to be different" after he wasn't feeling right before the loss, but has "now recovered," prompting Hawaii's Holloway to respond, "You can't lie when you get in there."
Aldo stepped in for Holloway's scheduled opponent, Frankie Edgar, when Edgar was fallen by an injury.