Andre Ingram signs 10-day contract with the Lakers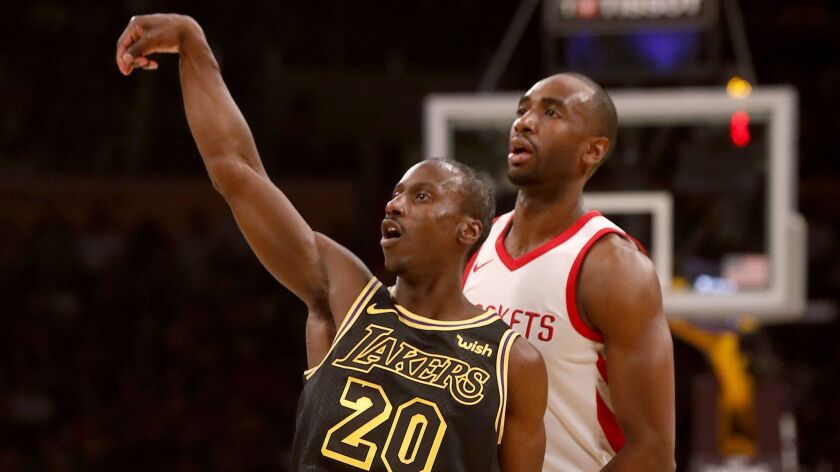 The Lakers signed South Bay Lakers guard Andre Ingram to a 10-day contract Monday, coach Luke Walton said.
Walton said that Ingram would join the Lakers for a five-game trip that begins Tuesday night with a game against the Chicago Bulls and will also includes stops at Toronto, Detroit, New York and Milwaukee.
Ingram was one of the feel-good stories in the NBA last season when the Lakers signed him after he had toiled in the G-League since 2007 without a single NBA opportunity. He played in two games with the Lakers — one on national television — and averaged 12 points.
The 33-year-old is the G-League's all-time leader in three-point baskets and has averaged 10 points, three rebounds and 1.5 assists in 11 G-League seasons while making 45.1% of his three-point shots. This season he became the G-League's all-time leader in games played.
He has averaged 8.6 points and 2.6 rebounds in 35 games with South Bay this season.
"Well, I loved his attitude," Walton said. "He doesn't complain. He works hard no matter what. You talk to the G-League coaches, whenever they need him, he's ready to play. And for us, when we played him in the short games, he spaced the floor for us. He knocked down shots. We've got other guys that are going to get their opportunities. But, if we're having a game again where … we need someone to knock down [shots] and space that floor, then we feel confident he can do that."
Injuries have severely depleted the Lakers roster. They decided last week that Brandon Ingram (blood clot in his arm) and Lonzo Ball (ankle sprain) will not play again this season.
At least Andre Ingram gives the Lakers a sound body.
"He's been someone that's been committed that long and like I said, never complains about anything and then gets to show the NBA world what he can do was something to be proud of him," Walton said. "We're excited to get him back for another 10-day."
Status of Kyle Kuzma and LeBron James
Walton said that Kyle Kuzma, who sat out the last two games because of a sprained right ankle, "looked better" while completing a full practice Monday. Kuzma has been listed as questionable for Tuesday's game.
"We'll see how he feels after this long flight, how he feels tomorrow," Walton said. "But he was a full participant in practice today."
Sign up for our Lakers newsletter »
Walton also said that there will be ongoing discussions with LeBron James about his playing time on the trip.
Walton said that James' availability will be decided on a game-by-game basis. The Lakers play games on consecutive nights Thursday at Toronto and Friday at Detroit.
"It can always be adjusted, it is nothing set in stone," Walton said, "but it is more of a conversation with the training staff. LeBron wants to play and he is playing. But the training staff is the group that a lot of times is making those decisions. Can it be changed? Absolutely. It is not something that is set in stone, but for now that is what it is."
Up next for Lakers: At Chicago
When: 5:00 p.m., Tuesday.
On Air. TV — Spectrum SportsNet, ESPN; Radio: 710, 1330.
Update: The Lakers are looking to break a five-game losing streak. The Bulls, at 19-49 and with the third-worst record in the Eastern Conference, have lost two in a row but recently defeated the Philadelphia 76ers. Guard Zach LaVine leads the Bulls in scoring at 23.8 points a game and is followed by forward Lauri Markkanen, who averages 19.2.
Follow Tania Ganguli on Twitter @taniaganguli
---
All things Lakers, all the time.
Get all the Lakers news you need in Tania Ganguli's weekly newsletter.
You may occasionally receive promotional content from the Los Angeles Times.