Timing of Anthony Davis trade might hamper Lakers' signing of third star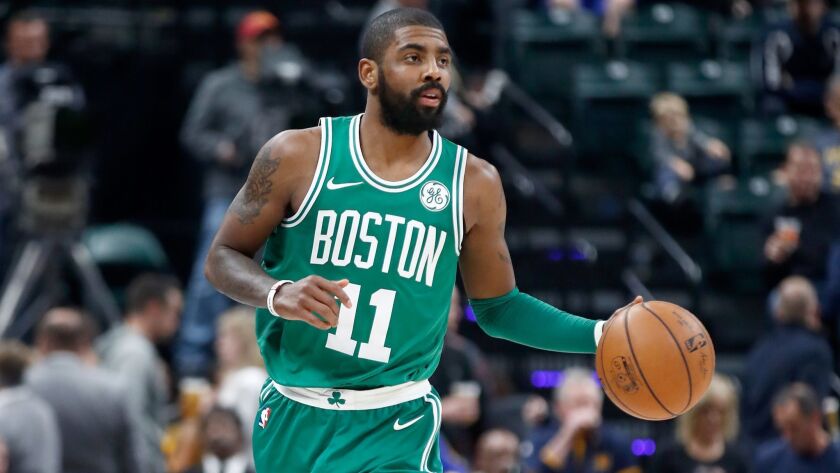 The details of the blockbuster trade that will make Anthony Davis a Laker are still being sorted out. Chief among them: the timing of the trade.
For now, the plan is to execute the trade on July 6, right after the moratorium ends on the start of free agency — and while both sides are open to moving the date, it's unlikely that will change.
July 6 is the soonest the trade can be legally completed, and would require the Lakers to trade the draft rights of the No. 4 pick, rather than the player's contract. It would also leave the Lakers without enough salary cap space to sign another free agent to a maximum contract. If Davis declines to waive his $4-million trade kicker, it would leave the Lakers with a little more than $23 million in salary cap space.
On the other hand, because of salary cap rules, if the trade is consummated in late July, the Lakers would have the space to add another maximum contract. That cap space could used on players such as Kyrie Irving or Kemba Walker, All-Star point guards who will be free agents.
That scenario would require the Lakers to draft the fourth overall pick for the Pelicans, or whatever team has its rights by the time of the draft, then sign that player as quickly as possible. League rules do not allow a signed draft pick to be traded for 30 days, which would make July 20 the earliest date the trade could be consummated.
Although the Pelicans are open to working with the Lakers and delaying the trade, it's unlikely that will happen, according to multiple people familiar with their thinking. New Orleans' priority will be to make the fourth pick as attractive as possible to another team in hopes of acquiring a veteran player. It's likely that whatever team they trade the fourth pick to will want the player in their building as quickly as possible, and will want him to play at the Las Vegas Summer League, which will be held from July 5-15. If the Pelicans opt to keep the pick, they might also want him to participate in Summer League.
Sign up for our Lakers newsletter »
Whenever it happens, the Lakers will be sending a massive bounty to the Pelicans. In addition to the fourth overall pick, they are sending two first-round picks and the right to swap another with the Pelicans. They will also send Lonzo Ball, Brandon Ingram and Josh Hart — all of whom were selected in the first round — to New Orleans. The Pelicans also have the first pick in this year's draft, presumably former Duke forward Zion Williamson.
It will leave the Lakers in dire need of guards. The only guard on their roster with a guaranteed contract for next season is Isaac Bonga, whom they selected in the second round last year. They also remain in need of shooters.
Last summer the Lakers entered the offseason in need of shooters as well, but they didn't add any during free agency. Although they drafted Svi Mykhailiuk for that purpose, they traded him to Detroit at the trade deadline, acquiring Reggie Bullock, whose shooting percentage dipped after he became a Laker.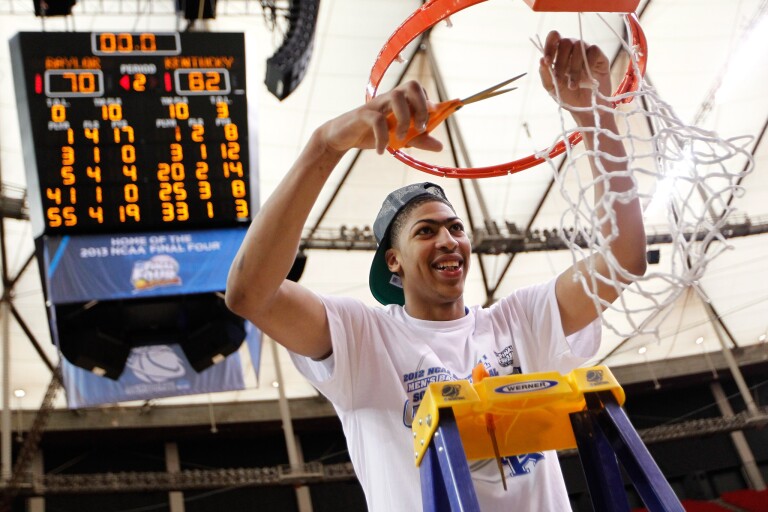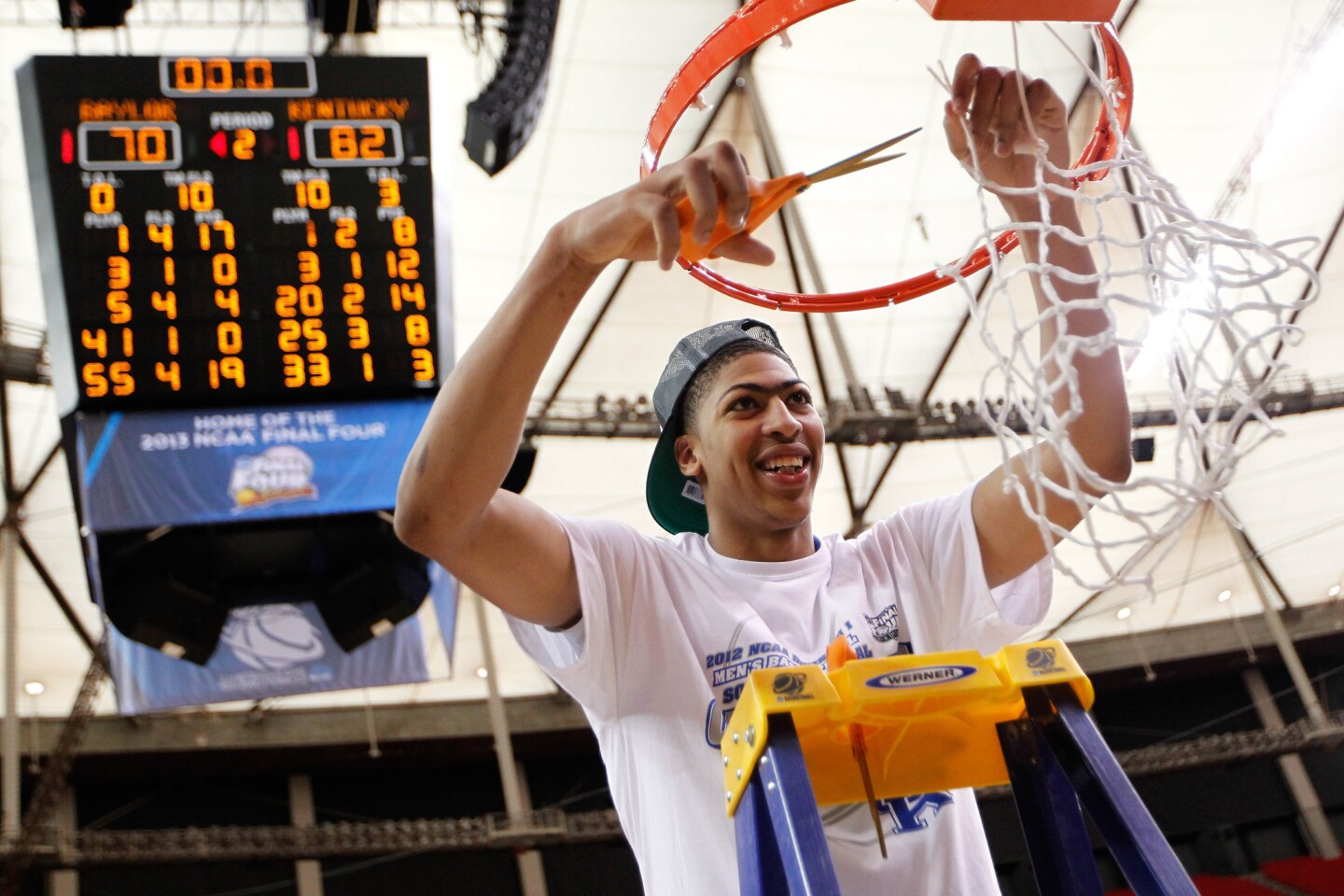 Anthony Davis cuts down the net after Kentucky defeated the Baylor 82-70 in the NCAA tournament South Regional final on March 25, 2012, in Atlanta.
(Streeter Lecka / Getty Images)
Kentucky head coach John Calipari and Anthony Davis embrace after defeating Kansas 67-59in the NCAA tournament final on April 2, 2012, in New Orleans.
(Charles Bertram / MCT)
Kentucky's Anthony Davis reacts late in the second half against the Louisville Cardinals during the 2012 NCAA semifinals.
(Ronald Martinez / Getty Images)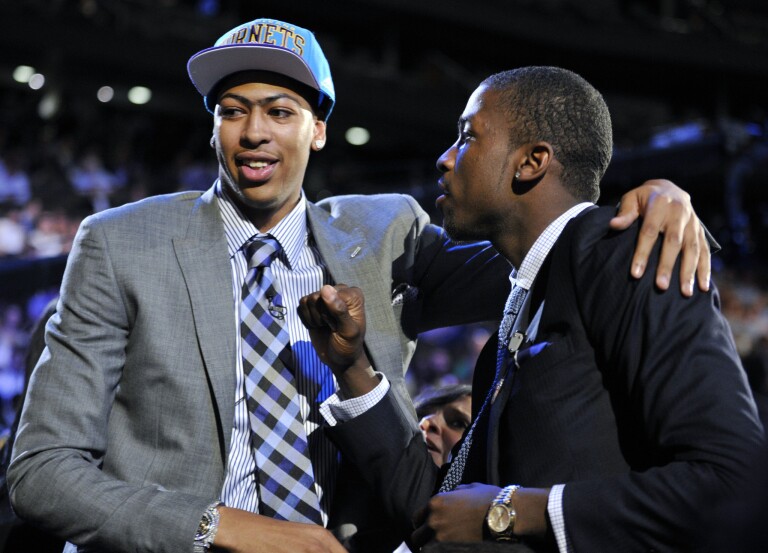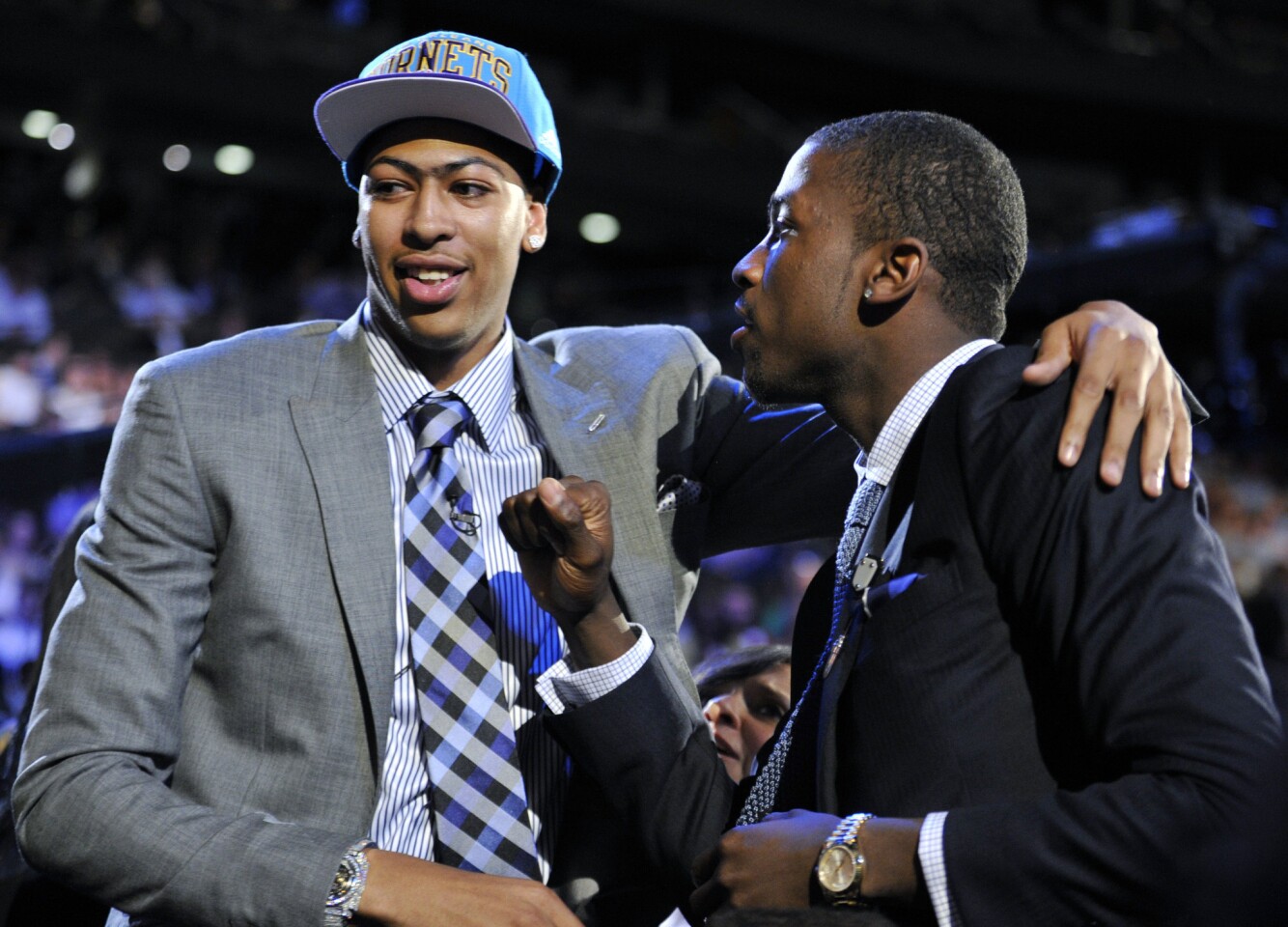 Kentucky's Anthony Davi is congratulated by former teammate Michael Kidd–Gilchrist after Davis was selected the No. 1 overall draft pick by the New Orleans Hornets on June, 28, 2012.
(Bill Kostroun / Associated Press)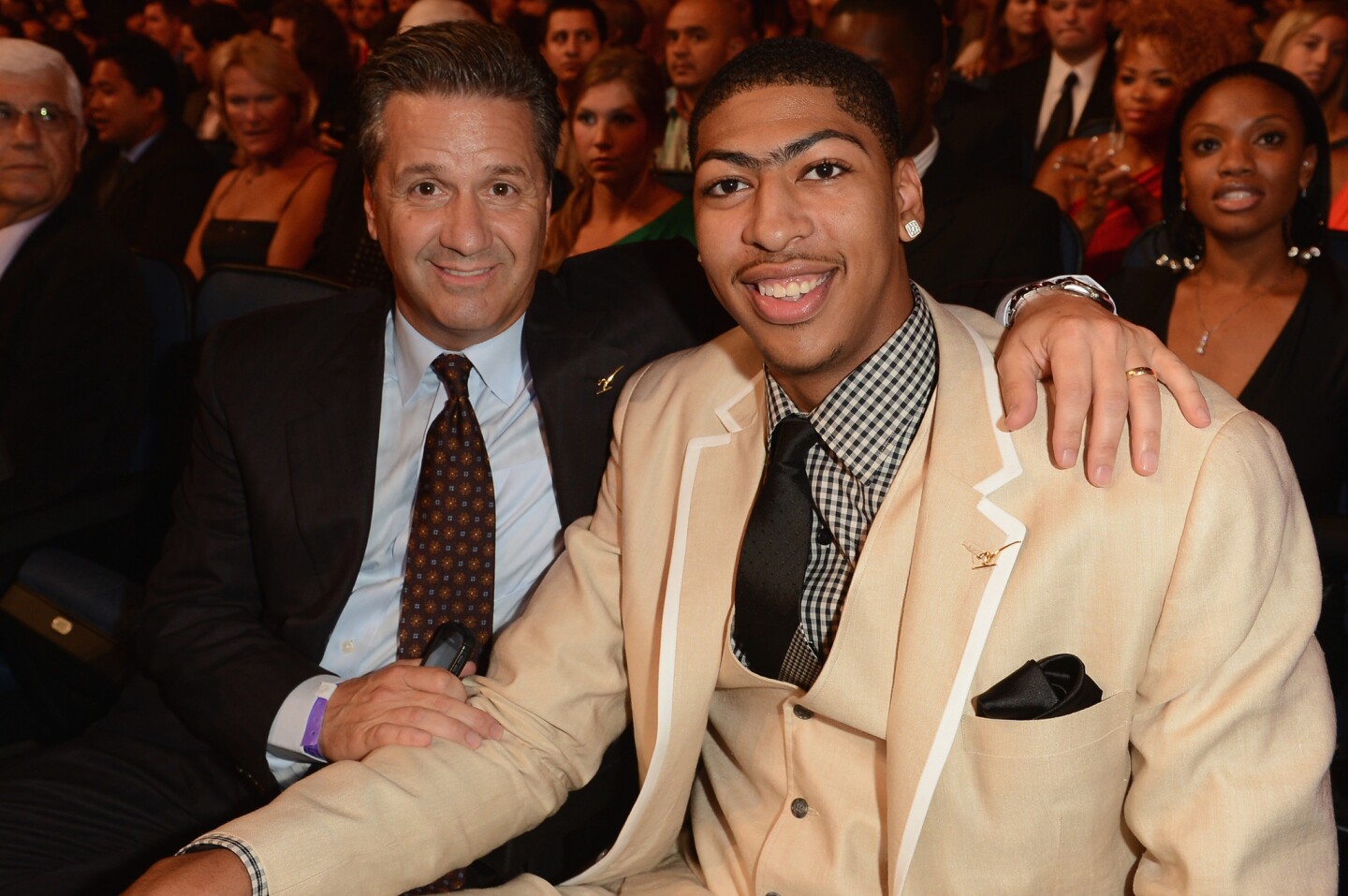 Kentucky coach John Calipari and Anthony Davis in the audience during the 2012 ESPY Awards at Nokia Theatre on July 11, 2012.
(Jason Merritt / Getty Images)
Hornets forward Anthony Davis knocks the ball from the grasp of Lakers forward Pau Gasol during a game in 2013.
(Robert Gauthier / Los Angeles Times)
Hornets forward Anthony Davis battles Wizards forward Martell Webster for a rebound.
(Associated Press)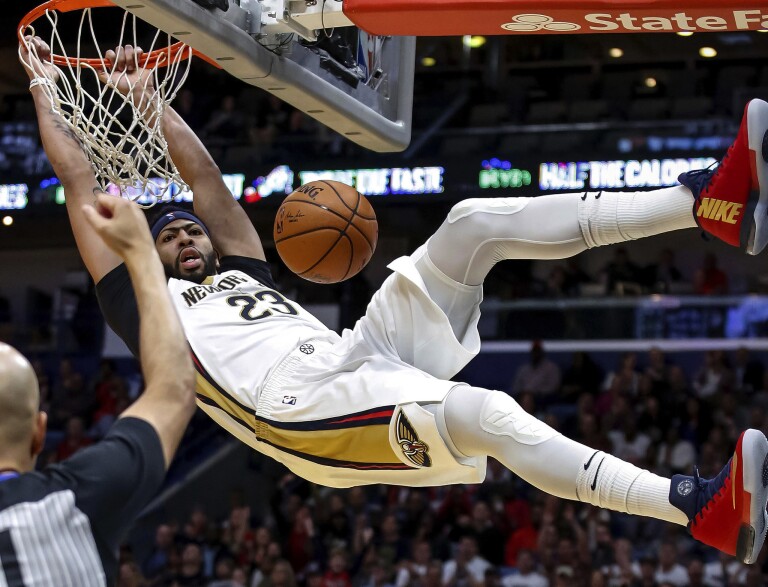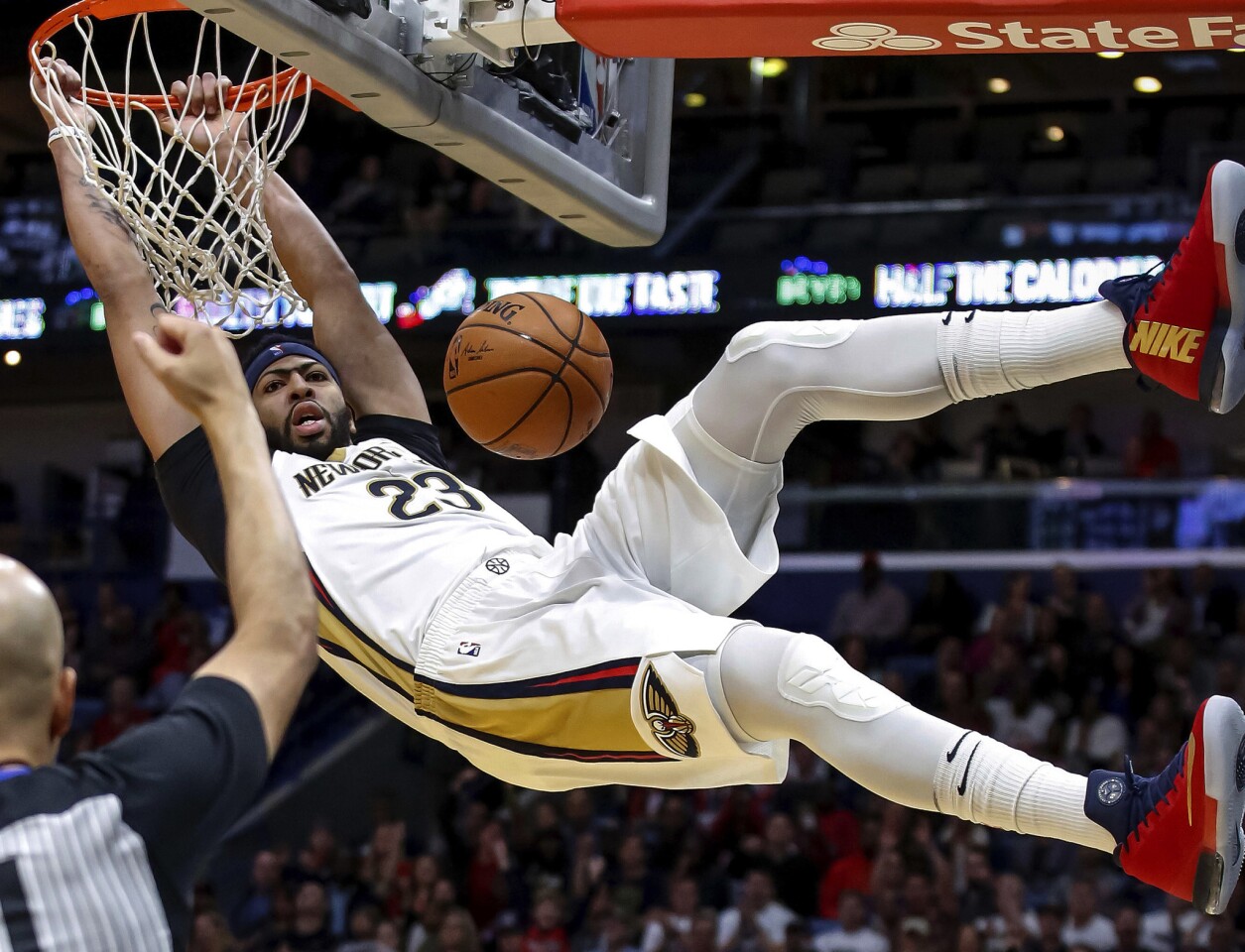 Pelicans forward Anthony Davis dunks against the Clippers during a game on Nov. 11, 2017.
(Scott Threlkeld / Associated Press)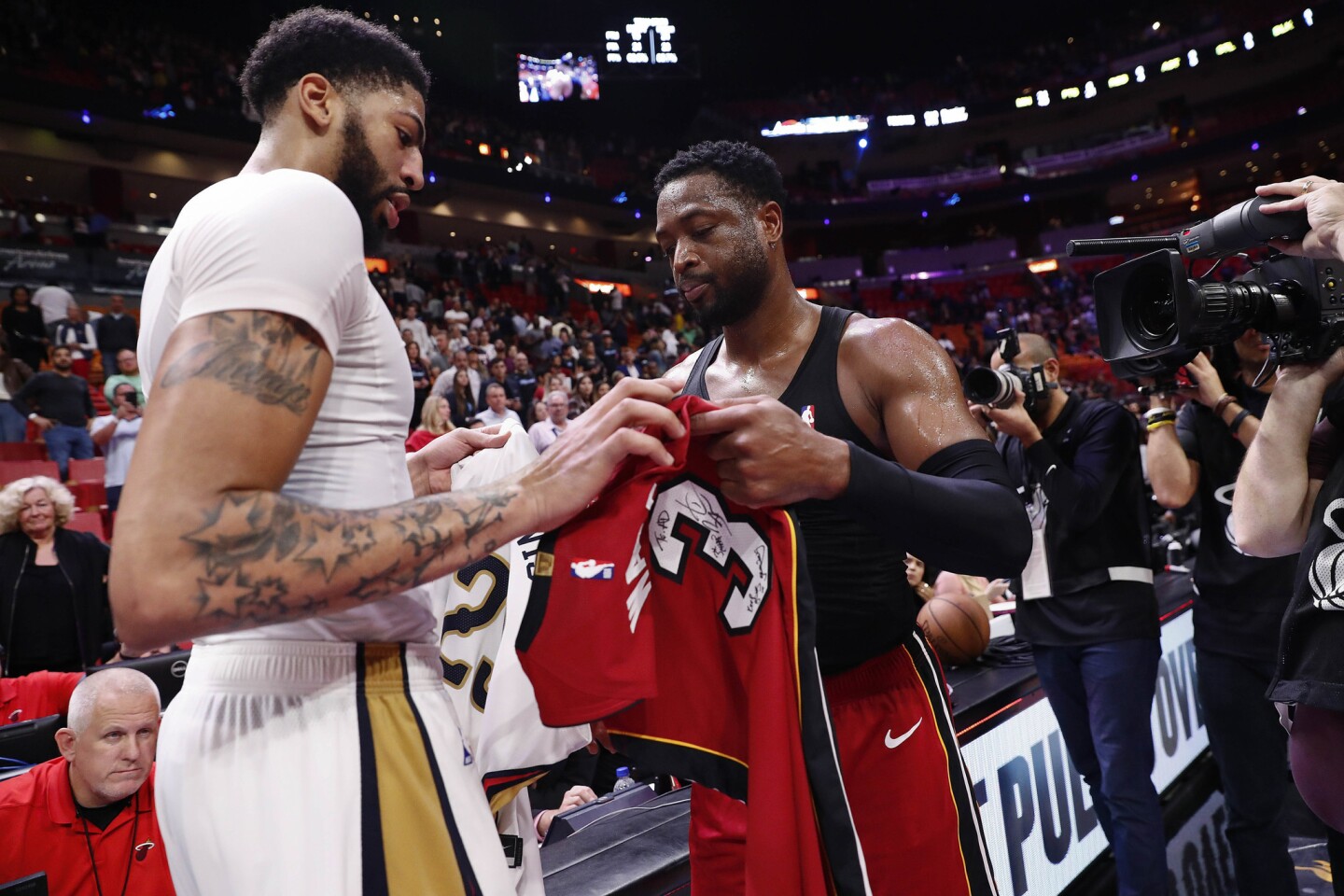 Pelicans forward Anthony Davis and Miami Heat guard Dwyane Wade trade jerseys after a game Nov. 30, 2018, in Miami.
(Brynn Anderson / Associated Press)
Pelicans forward Anthony Davis tries to grab a rebound from Clippers center DeAndre Jordan on March 6, 2018.
(Wally Skalij / Los Angeles Times)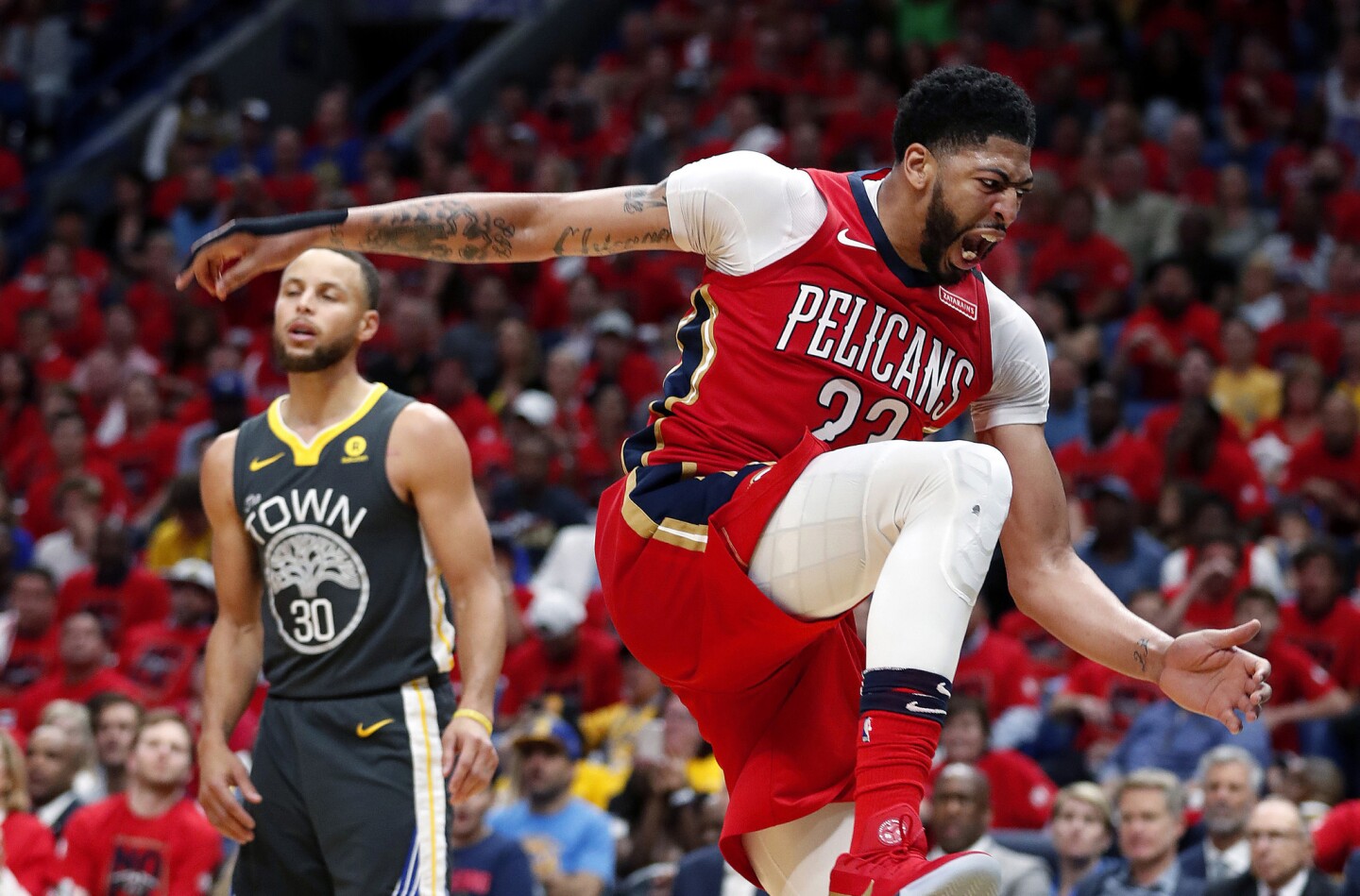 Pelicans forward Anthony Davis reacts after a slam dunk during the second half of Game 3 of a second-round NBA basketball playoff series against the Golden State Warriors on May 4, 2018.
(Gerald Herbert / Associated Press)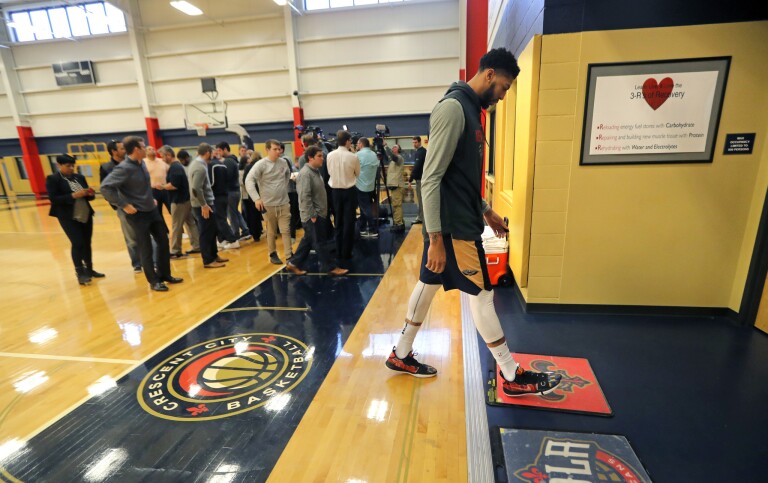 Pelicans forward Anthony Davis leaves the court after talking to reporters on Feb. 1, 2019, shortly after his trade demand became public.
(Gerald Herbert / Associated Press)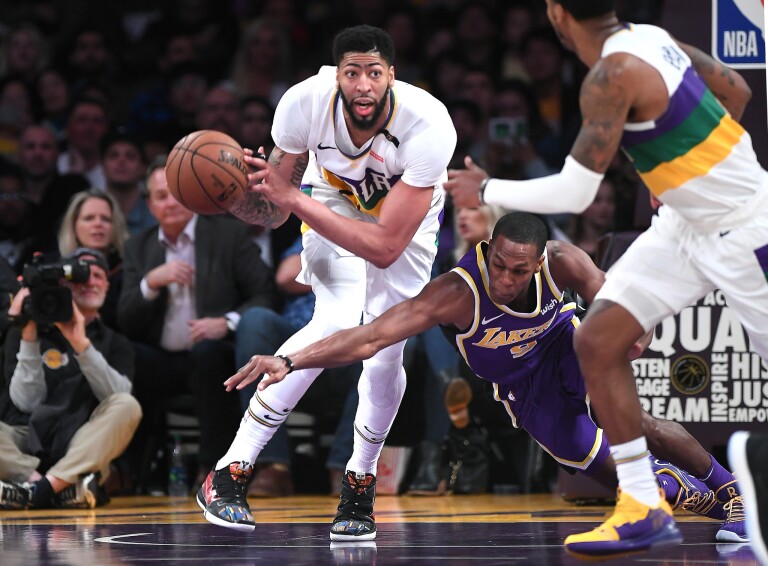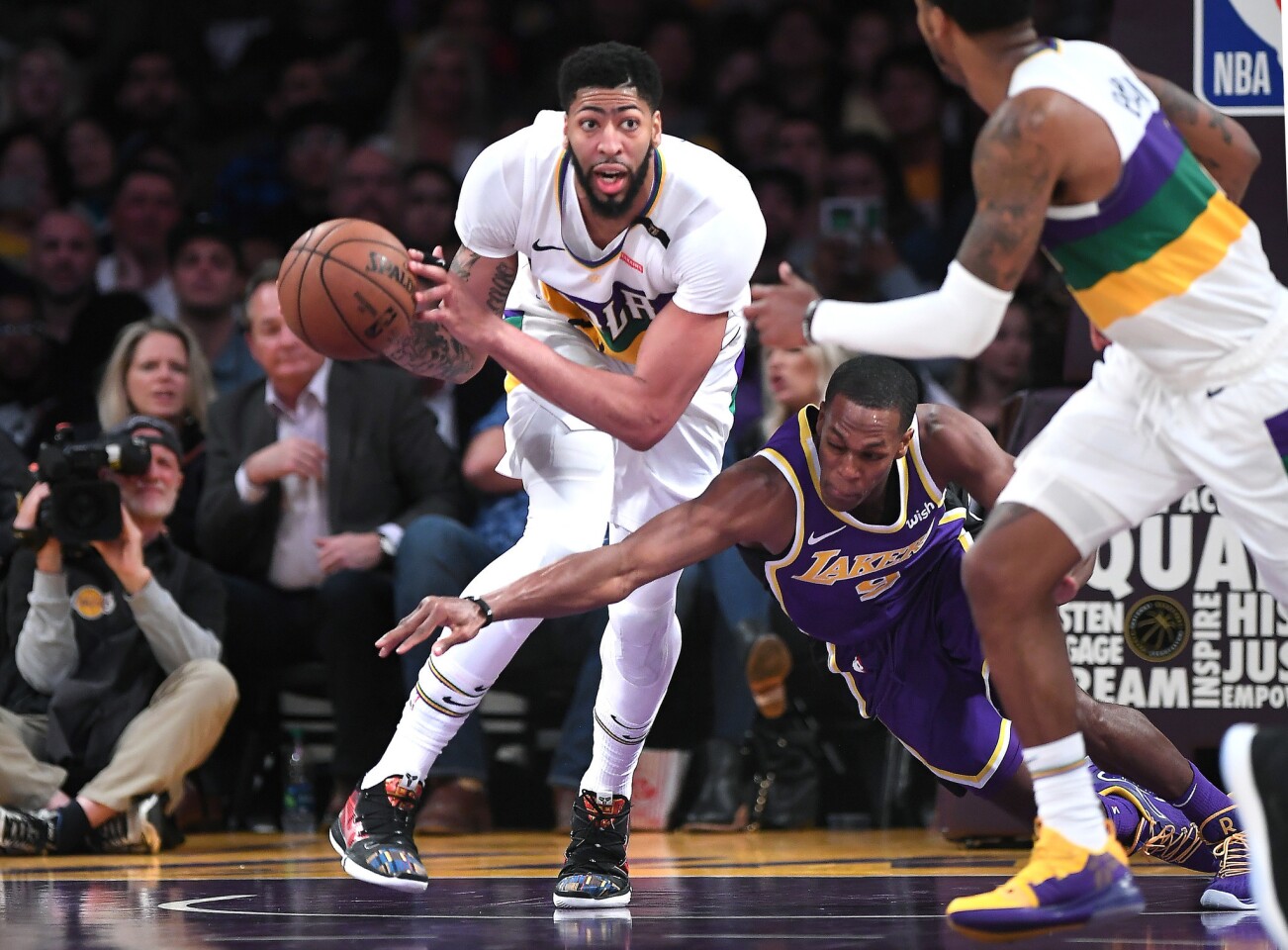 Pelicans forward Anthony Davis has the ball stripped by Lakers guard Rajon Rondo during a game in 2019.
(Wally Skalij / Los Angeles Times)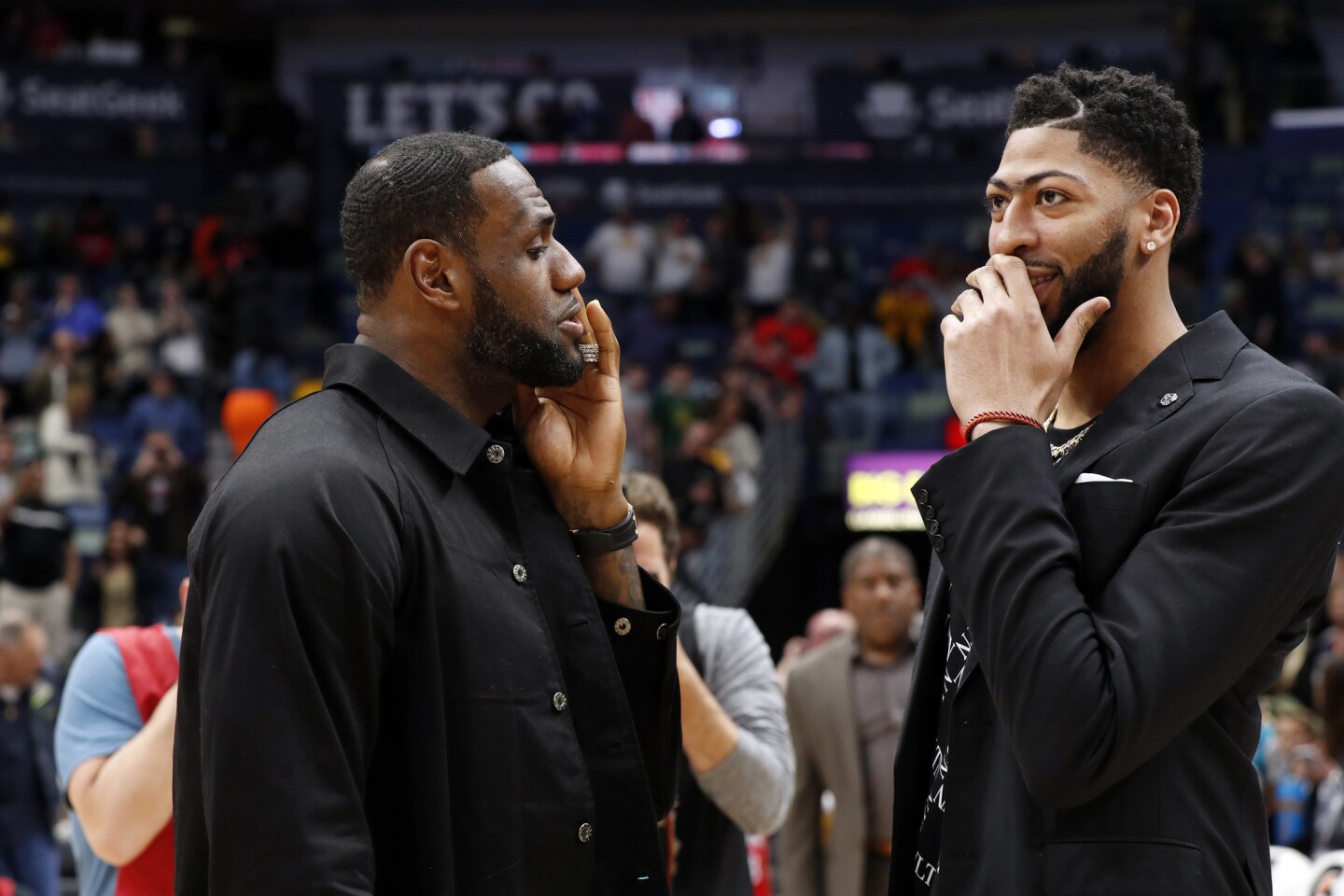 Lakers forward LeBron James and Pelicans forward Anthony Davis after a March game in New Orleans. The Lakers won 130-102.
(Tyler Kaufman / Associated Press)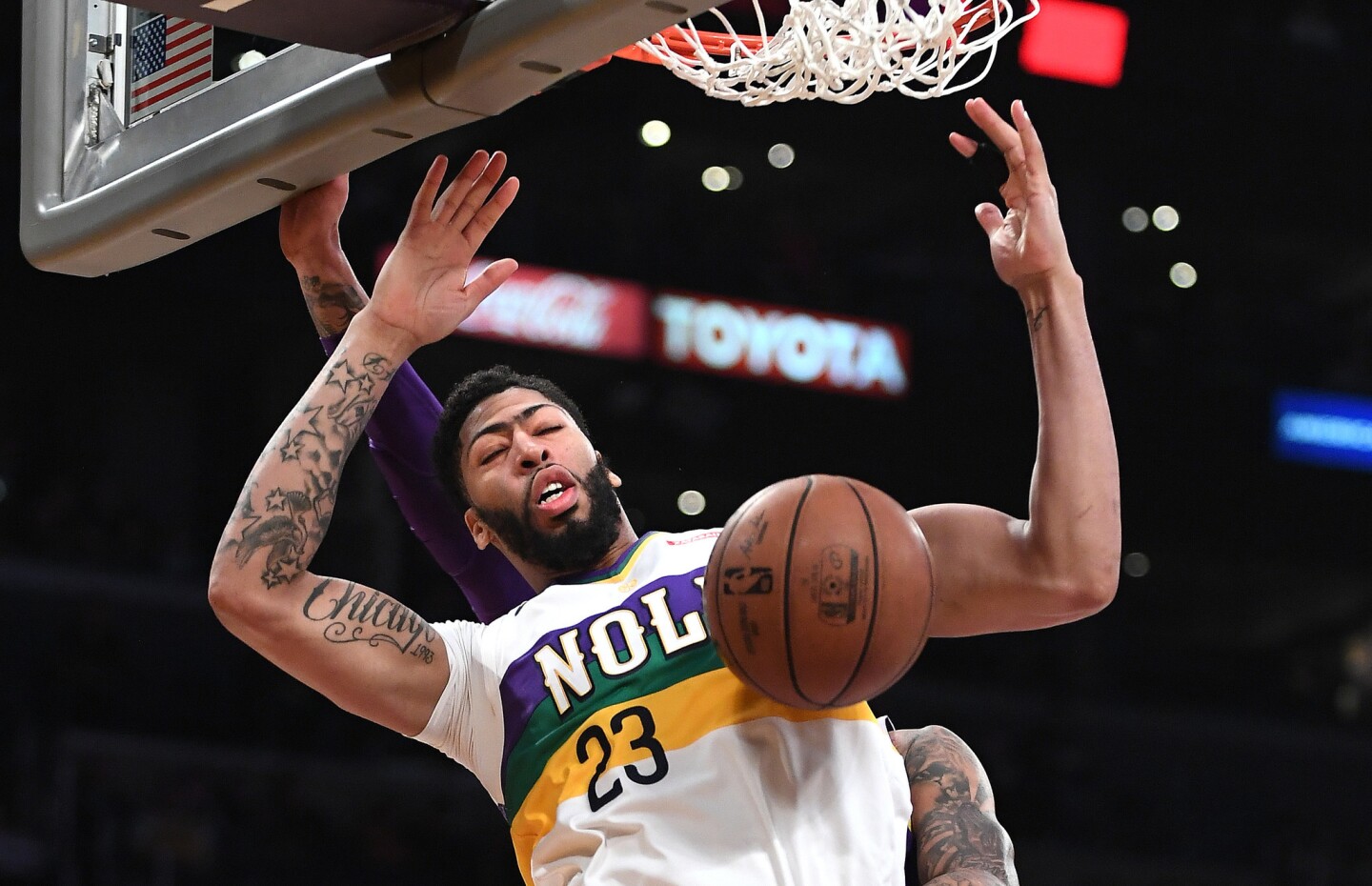 Pelicans forward Anthony Davis dunks against the Lakers during a game last season.
(Wally Skalij / Los Angeles Times)
Rather than sign shooters, the Lakers signed playmakers to one-year deals. At first the Lakers front office of general manager Rob Pelinka and president of basketball operations Magic Johnson sold that as an effort to take pressure off LeBron James. Johnson later said they tried to sign shooters, but as they were only offering one-year deals to preserve salary cap space for this summer, none of the shooters available on the market was willing to sign.
The trade also means the Lakers have now parted ways with each of the four lottery picks they have drafted in the past five years — all of them traded except Julius Randle, the seventh pick in 2014, whose rights were renounced during free agency last year. They have given up all of their first-round picks except Kyle Kuzma (selected 27th in 2017) and Moe Wagner (selected 25th in 2018).
Not long ago, the franchise celebrated their lottery luck, which allowed them to keep their first-round pick for three years in a row. They selected second overall in 2015, 2016 and 2017, drafting D'Angelo Russell, Ingram and Ball. Had those picks been outside the top three, they would have been unprotected and gone to other teams as part of the ill-fated trades that led to Steve Nash and Dwight Howard becoming Lakers.
Russell and Ingram were products of the past regime — former general manager Mitch Kupchak and former executive vice president of basketball operations Jim Buss drafted them. The Lakers, under Pelinka and Johnson, traded Russell on June 20, 2017, to Brooklyn along with Timofey Mozgov and his bloated contract to free up cap space for 2018. Two days later they selected Ball in the draft
.
Johnson, prone to grandiose statements, called Ball the face of the franchise during his introductory news conference. It was a line that irked some in the Lakers organization, and one that quickly stopped being true.
That summer the Lakers made available all of their young players in potential trades. When James signed, he became the face of the team, and the Lakers' urgency to add another star increased.
In February, in a first attempt to acquire Davis before the trade deadline, they offered packages that in some way or another included Ingram, Kuzma, Ball, Hart, Ivica Zubac (who was later traded to the Clippers) and several draft picks.
While Pelinka privately tried to assure his young players that he hadn't actually tried to trade them, the message was clear — the Lakers viewed their young players as assets, not as developmental pieces.
On Saturday they cashed in almost all of those assets.
Follow Tania Ganguli on Twitter @taniaganguli
---
All things Lakers, all the time.
Get all the Lakers news you need in Dan Woike's weekly newsletter.
You may occasionally receive promotional content from the Los Angeles Times.