Kobe Bryant returns to Staples Center for jersey retirement, but he never really left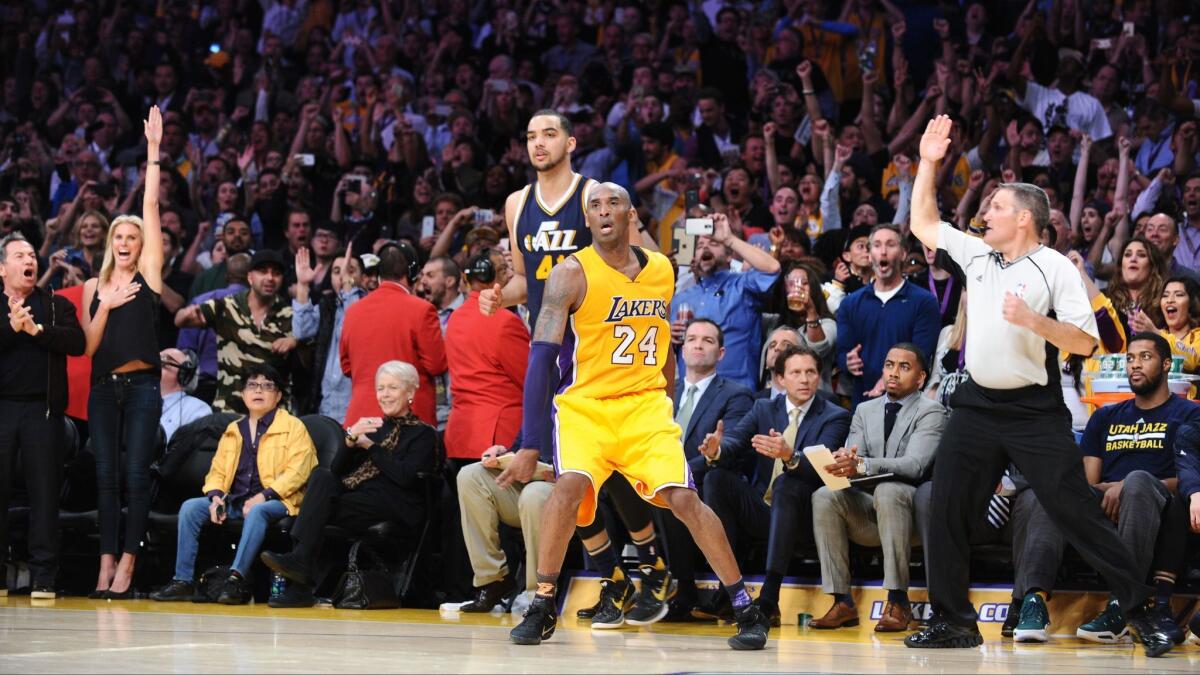 Toward the end of Kobe Bryant's career, Rob Pelinka decided he had to save Bryant from himself, and, well, save himself from Bryant.
So he pulled out a copy of the NBA's collective bargaining agreement and scoured the uniform player contract for language that would keep Bryant from jumping out of an airplane with a parachute, and forcing his agent to do it too.
Pelinka found it.
So Bryant got wiser the next time. Shortly after his retirement, the two set out on a helicopter ride and Bryant didn't tell Pelinka of his daredevil plan. Bryant and the pilot looked at each other and Bryant nodded subtly. Suddenly, to Pelinka's horror, the helicopter zoomed into military maneuvers designed to terrify the passengers , with the coup de grace coming near the end when the pilot shut off the engine in midair.
"My life was flashing before my eyes," Pelinka told The Times. "I almost had a heart attack. Kobe's just sitting there calm and collected."
The helicopter floated toward the ground. After a few moments of thrill/panic, the pilot turned the engine back on and brought the two old friends to safety.
These kinds of experiences are common for Bryant and Pelinka. Their relationship is just one way the Lakers and Bryant remain intertwined since his retirement at the end of the 2015-16 season. On Monday at Staples Center, at halftime of the Lakers' game against the Golden State Warriors, the team will retire both jerseys he wore, Nos. 8 and 24, during his 20-year career.
It's the organization that I grew up loving. I studied the history of it ever since I was a little kid.
— Kobe Bryant on the Lakers
Since Bryant retired in April 2016, he might have physically been gone from Staples Center, but he never really left. Now there will be a new reminder there every day of what he meant to the Lakers.
"It's the organization that I grew up loving," Bryant told The Times. "I studied the history of it ever since I was a little kid. I'm fully aware of the jerseys that get retired up there. … I've just been very, very fortunate to play with an organization that we've just been with each other for the entire ride. To have this day come, I'm just very thankful that I've been drafted to such a class act organization."
Bryant heard the news of his jersey retirement through Molly Carter, the chief marketing officer of Kobe Inc. .
His response?
"Holy [expletive]," Bryant said.
And his response when he heard the Lakers planned to retire both jerseys?
"Holy [expletive]," Bryant said.
It's a fitting gesture for a player whose presence permeates the organization. Winning five NBA championships can do that. As the years passed and the eras of Lakers basketball changed, Bryant remained.
In his later years his symbolism became even greater than his presence on the court. He turned teammates into giddy fans — just as some of them were as kids.
Lakers forward Larry Nance Jr. remembers Bryant strolling into the practice facility during the summer of 2015. Nance was a rookie playing pickup with his new teammates when the whole gym froze. He describes the moment like a child might describe meeting his favorite player.
"It was just kind of like, 'Oh my God. We're on the same team as Kobe!'" Nance said.
Nance remembers fellow rookie D'Angelo Russell playing it cool. He remembers Jordan Clarkson and Julius Randle, who already had played with Bryant, not having much of a reaction.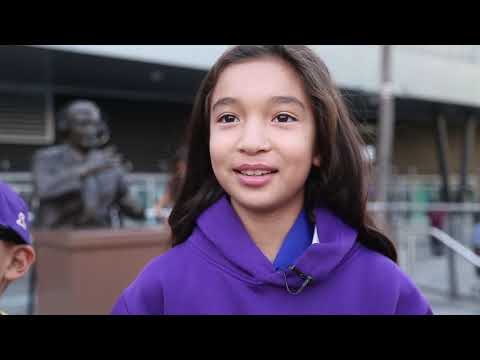 Kobe Bryant fans talk about their favorite Kobe facts at "Kobeland," a street festival celebrating the retirement of Bryant's '8' and '24' jerseys. (Claire Hannah Collins / Los Angeles Times)
"But for me and Anthony Brown who had zero shame, [we thought], 'Oh my God!'" Nance said. "We're in the locker room, like … Oh this is so cool. But that aura, that swagger that you saw on TV is exactly what he is in person."
Bryant also made sure Nance knew who the boss was. There was one famous moment during Nance's rookie year when Bryant emerged from the locker room and needed a seat on the bench, so Nance was banished to the floor.
Bryant was feted for most of his final season after announcing his retirement on Nov. 29, 2015. He finished his career with a 60-point outburst in a nationally televised win over the Utah Jazz on April 13, 2016. Then he left, but he didn't really.
The locker he'd inhabited was still his locker. When bequeathed to Brandon Ingram, it came with weight.
"Every day I go into the tunnel, I think about how blessed I am to be in this position, how this guy spent 20 years in the same position," Ingram said. "I have to say it's an honor."
But the most direct connection between Bryant and the Lakers isn't on the basketball court anymore. Bryant doesn't even watch every Lakers game these days — he watches what he can when he isn't shuttling his daughters to their afterschool activities, or working on building the studio to produce his new media ventures.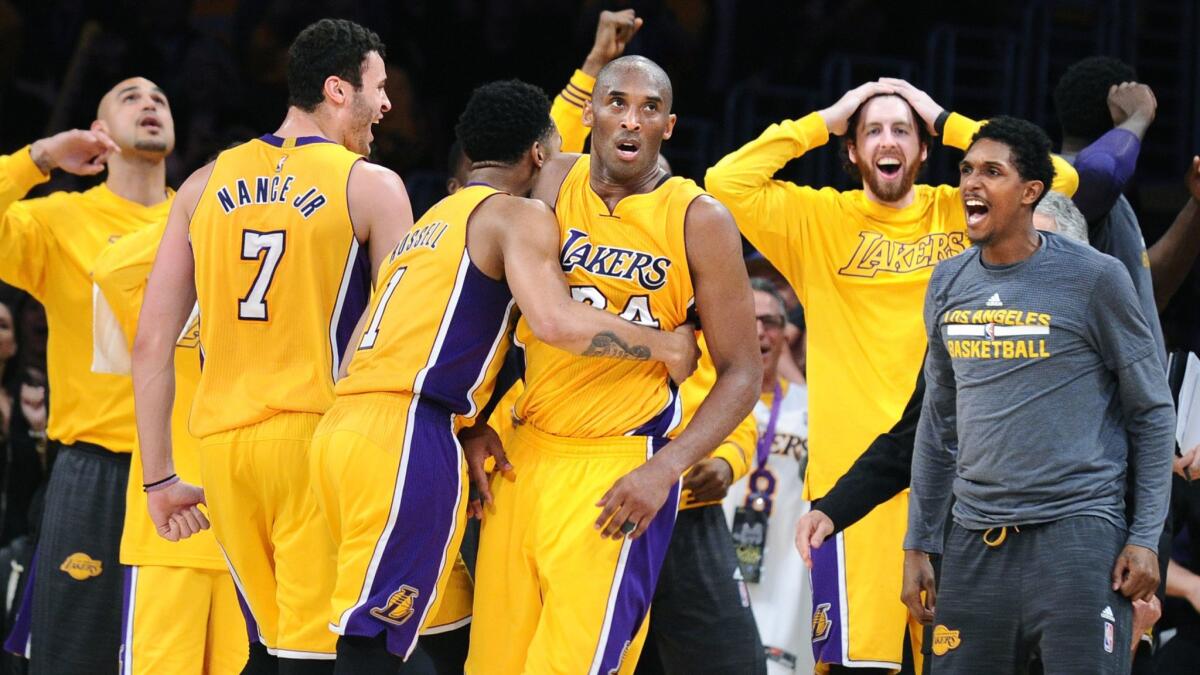 His most direct connection to the organization is Pelinka, the Lakers general manager, who came highly recommended for that position by Bryant.
"Rob is the godfather to our daughter Gianna," Bryant said. "We live down the street from each other. He and I are talking all the time. That's just the relationship we have."
Said Pelinka: "He's one of my best friends. I always say to people: 'How often do you talk to your best friends?' I talk to him a lot."
They talk about their families and their young children. They talk about movies and books — Bryant recently gave Pelinka a copy of The Alchemist by Paulo Coelho, with whom Bryant recently had dinner. Bryant will send video of his daughter Gianna's basketball games, and show him how the girls are executing the triangle offense.
And of course, they'll talk about the Lakers.
"When two friends chat you naturally get advice," Pelinka said. "There are moments [of that] on both sides. He'll continue to call me for advice on things that pop up for him and of course I'll do the same."
LAKERS TONIGHT
VS. GOLDEN STATE
When: 7:30
Where: Staples Center
On Air: TV — Spectrum SportsNet, Spectrum Deportes, NBATV; Radio — 710, 1330
Update: The Golden State Warriors narrowly escaped the Lakers the last time the teams met at Staples Center, back on Nov. 30. This time they'll be without stars Stephen Curry and Draymond Green.
Follow Tania Ganguli on Twitter @taniaganguli
All things Lakers, all the time.
Get all the Lakers news you need in Dan Woike's weekly newsletter.
You may occasionally receive promotional content from the Los Angeles Times.