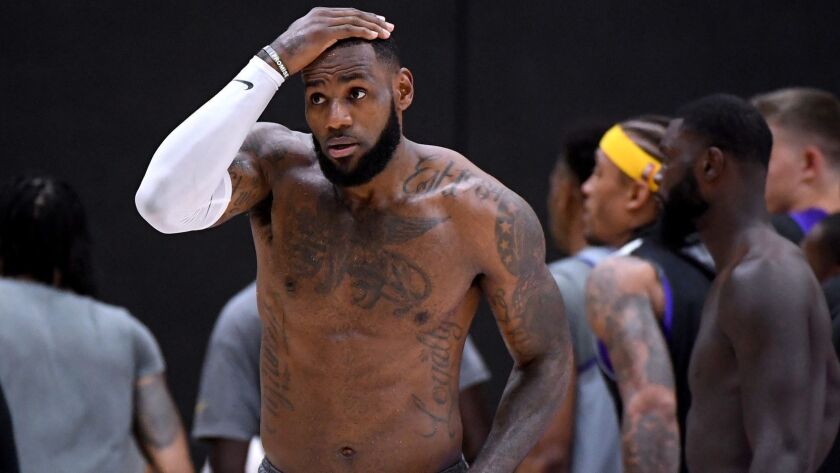 LeBron James got the ball near the top of the three-point arc and suddenly an assortment of voices rose in protest. It was the kind of good-natured argument that can break out in a game between friends when someone has an objection, sorted out quickly so the game can continue.
When the ball finally made its way back to James, the Lakers' newest superstar sank a three-pointer.
It was a shooting contest with players split into teams of four. Kyle Kuzma, Lance Stephenson and Brandon Ingram joined James. Their opponents were Rajon Rondo, JaVale McGee, Michael Beasley and Kentavious Caldwell-Pope.
"We won," Rondo said. "It was competitive. We were just having fun with a game, just get the competitive juices going at the end since we didn't get the scrimmage, we did it as far as competition and shooting."
The Lakers' first official practice was Tuesday, and they began the process of melding their recently assembled players into a veteran-laden team. James began the process of surveying his new home.
"I'm not a very patient guy, but I understand that I have to be patient right now," James said. "I got to be patient with myself too because this is a new start for me. This is my first year here. This is my first year in the new system. I know how to play the game of basketball, but this is all new to me too. So I have to be patient with myself. Not only with my teammates, but more with myself."
The wonder with which James is met in many facets of his public life was naturally not matched by his teammates.
"People were just competing," coach Luke Walton said. "I think they've embraced him as a teammate, so he obviously carries the most weight out there … but more from a teammate/peer standpoint than of being in awe of him."
There wasn't much time for that during the Lakers' first official practice. Walton put the players through a physical and mental test, implementing his defensive philosophy before anything else, just as he had in his previous two seasons as the Lakers' head coach.
The difference this year was in who received the information. While the Lakers' 2016 and 2017 training camps were mostly populated by teenagers and men in their early 20s, this year's roster includes several 30-somethings.
"The vets, they just talk," Walton said. "And they teach the whole time. The nuances of the game, they know."
The very first drill the Lakers did Tuesday, James asked questions about why the drill was run in a particular way. Walton liked that because it allowed the whole group to learn from James' curiosity.
"Just little things like that you see right away having vets on the team," Walton said.
The Lakers' new leader of the team didn't address his new teammates.
"It was all Luke today," James said.
For now, James is taking his time acclimating to his new surroundings. He's learning about his teammates and his coaches.
Asked about his impressions of Walton as a coach, James begged for more time than the two hours he'd had so far to interact with Walton in an official capacity. He knows from experience that a coaching relationship can be fluid.
To illustrate that, James hearkened back to his first high school coach.
"I mean, if you would ask me what my relationship would be with my first high school coach when I was in the ninth grade, I would have told you it would be terrible because he cussed us out every single day in practice — Keith Dambrot, I love you. I love you," James said. "But our relationship grew more and more and he ended up being the best coach I ever played for. So, just give me some time."
Follow Tania Ganguli on Twitter @taniaganguli
---