Anthony Davis trade would cost Lakers Lonzo Ball, Kyle Kuzma and more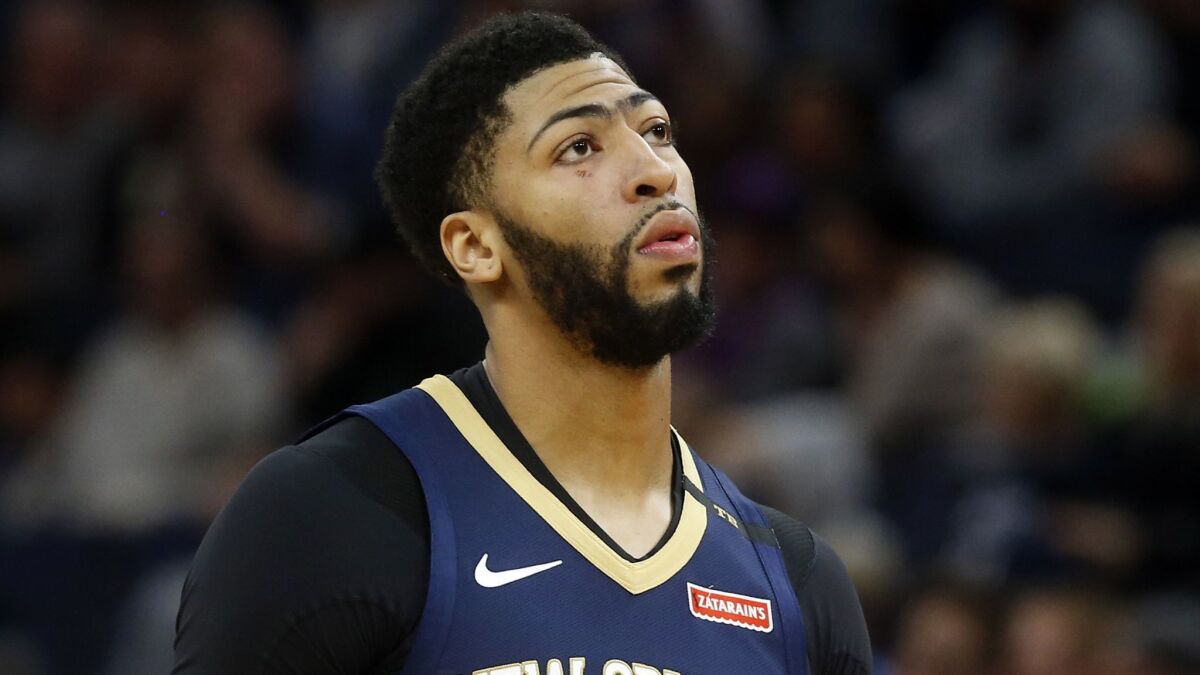 The New Orleans Pelicans are open to trading five-time All-Star Anthony Davis to the Lakers — but it would come at a hefty price.
According to sources unauthorized to speak publicly, a Lakers offer for the 6-foot-10 Davis would have to start with Lonzo Ball, Kyle Kuzma, Ivica Zubac and a first-round draft pick. Davis, averaging career highs of 29.3 points, 13.3 rebounds and 4.4 assists, requested a trade from the struggling Pelicans last week.
"Anthony has nothing but respect for the organization that he's currently with and will be with until they decide that they want to honor the request that we've made," his agent, Rich Paul of Klutch Sports, told the Times. "So at the end of the day I think it's about what's best for both Anthony and the organization going forward. This gives direction. Everyone has a clear understanding, and we go from there."
Paul, who also represents LeBron James, has not given the Pelicans a list of preferred destinations, but he will inform interested teams whether Davis would sign an extension with them. The NBA trade deadline is Feb. 7.
"We will do this on our terms and our timeline," the Pelicans said in a statement. "One that makes the most sense for our team and it will not be dictated by those outside of our organization. We have also requested the League to strictly enforce the tampering rules associated with this transaction."
The Pelicans accused the Lakers of tampering in late December when James answered an ESPN question about a possible trade by saying it would be "amazing" to play with Davis. The NBA said it's not tampering when a player says he'd like to play with a player on another team.
"It's tampering, OK? It's tampering," Pelicans coach Alvin Gentry said about James' comments a few days later. "So should we start having AD say, 'Why don't we trade for LeBron?'"
That same day, Gentry said the Pelicans would not trade Davis under any circumstances.
On Monday, NBA spokesman Mike Bass said the league "commenced an investigation" "upon reading the reports regarding Anthony Davis." Bass declined to say exactly what is being investigated.
It could be an investigation into tampering — something the Lakers' front office has been fined for twice in the last two years. Or the league could be looking into statements made by Paul. The NBA has fined players whose representatives have made on-the-record statements demanding trades, calling it detrimental to the league.
Sign up for our Lakers newsletter »
Davis, just 25 and in his seventh season, is considered one of the best players in the NBA. Despite Davis' elite play, the Pelicans (22-28) have struggled this season. Davis currently is sidelined with a fractured finger, and New Orleans has lost three straight in his absence.
The Lakers have struggled amid injuries too for the last month. James, Ball and Kuzma all are sidelined, raising the question of whether the Lakers would make a trade. James is nearing his return after more than a month rehabbing a groin injury.
James' connection to Davis has led to speculation about Davis' next stop. When Davis signed with Klutch Sports last summer, many wondered if it was a harbinger to a move to the Lakers.
But in each of the last two summers, the Lakers missed out on a superstar many assumed was destined to join them't do so. Paul George told the Indiana Pacers he intended to wind up with the Lakers, but was traded to the Oklahoma City Thunder instead. He signed a long-term deal with the Thunder this summer. Southern California native Kawhi Leonard forced his way out of San Antonio but was sent to the Toronto Raptors.
In both cases, the Lakers were hesitant to part with their young players to trade for a player they thought they could get in free agency without giving up assets. Brandon Ingram and Ball were in the conversation for George. The team had no plans to trade Kuzma in a potential deal that involved Leonard.
The Lakers in recent weeks have been adamant that they would not trade Ball. It's unclear if that stance has changed now that Davis might be available. The Lakers' front office met Monday to discuss their options.
They'll have competition in trying to acquire Davis — especially if the Pelicans wait until this summer, when the Boston Celtics could be involved.
To acquire Davis now, the Celtics would have to trade Kyrie Irving because of a rule related to the designated rookie extension, or the Derrick Rose Rule. A team cannot acquire through trade two players signed with the designated rookie extension, and both Davis and Irving were signed under the provision.
To have both on its roster, Boston would have to wait until after July 1 to give Irving a new deal and then trade for Davis.
Davis makes $25.43 million this season, $27.09 million next season and $28.75 million in 2020-21. Because the Lakers' young players are on much thriftier rookie contracts, the money would match up and allow the trade to be made only if the Lakers added another big salary to the deal. Kentavious Caldwell-Pope is the second highest-paid Laker, making $12 million this season on a one-year contract.
Anthony Davis dazzles in L.A., possibly giving fans preview of a coming attraction »
Paul and Klutch Sports also represent Caldwell-Pope and have been looking for a destination for the 25-year-old guard where he could have a bigger role, but it's unlikely New Orleans would provide the right fit, and Caldwell-Pope has veto power over any trade.
For the last three seasons, the Lakers' young players have had to play with the cloud of trade rumors hanging over them, and Monday, they again did their best to ignore it.
"You look on social network and look on everything else, you have all these stories of this player, this player, this player," Ingram said after practice. "But no one in this room or the players or the coaches or the general manager doesn't say a word about it. So like I said, we only listen to the important people in this building."
---
All things Lakers, all the time.
Get all the Lakers news you need in Dan Woike's weekly newsletter.
You may occasionally receive promotional content from the Los Angeles Times.