Lonzo Ball is introduced as a Laker with the highest of expectations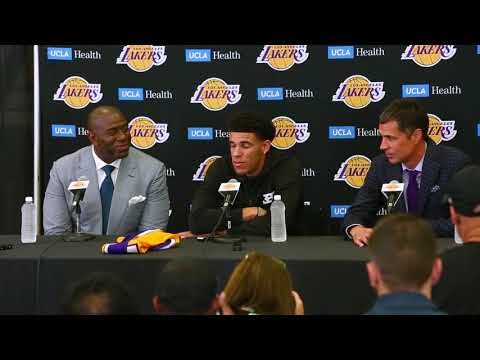 Lonzo Ball, the second overall pick in the 2017 NBA draft, is introduced as the newest member of the Los Angeles Lakers.
Magic Johnson had no qualms about the bold statement he was about to make.
He called Lonzo Ball "the new face of the Lakers."
He said Ball will "lead us back to where we want to get to."
He said he expected a Ball jersey retired at the Lakers facility one day, alongside his own and those of other Hall of Famers.
Jerry West's and Kareem Abdul-Jabbar's among others.
He also made a tongue-in-check request.
"Lonzo, leave me one or two records," Johnson, the Lakers president of basketball operations, said playfully. "Don't break all my records."
The Lonzo Ball era began Friday with sky-high expectations placed on a 19-year-old who the Lakers believe can handle them. In turn, he is a 19-year-old who believes he can rise to meet those expectations.
"That's been asked of me for my whole life," Ball said. "I'm used to it. I'm coming here with a winning attitude."
The Lakers selected Ball second overall in Thursday night's draft, using a draft pick the franchise earned by losing 56 games last season and winning 26. On Friday, Johnson and general manager Rob Pelinka introduced Ball and presented him his jersey — No. 2, just like he wore at Chino Hills High and at UCLA.
They did most of the talking. Ball has never been one of many words.
"This day for us I think is a culmination of a lot of incredible things," Pelinka said. "I remember being in the SUV with Earvin the day the lottery balls came out. Just thinking we had a 15% chance to be up here in a day next to this unbelievable person and player. It's crazy to think of it coming true. We feel like Lonzo is a transcendent talent."
After finishing with the third- worst record in the NBA, in part due to a five-game winning streak in April, the Lakers had less than a 50% chance of even keeping their top pick. The Boston Celtics had the best chance and the Phoenix Suns had the second-best chance. Had the Lakers' pick dropped out of the top three, it would have been transferred to the Philadelphia 76ers.
They exhaled as a front office when the lottery balls bequeathed them the second pick in the draft, and a strong chance at drafting Ball. They set to work getting to know Ball as a player, and liked what they saw.
"The way he passes the ball, you look at quarterbacks like Tom Brady and Aaron Rodgers that just have a gift," Pelinka said. "There's clearly a gift with what he's been blessed with. We knew on a basketball standpoint there were no questions."
To clear the way for Ball, the Lakers traded D'Angelo Russell, whom the Lakers drafted second overall two years ago to be their point guard.
"D'Angelo was an excellent player; hey, he has the talent to be an All-Star," Johnson said. "But what I needed was a leader. I needed somebody also that can make the other players better."
Johnson has first-hand knowledge of what it takes to be the kind of passer who makes teammates better. He was drafted to do just that by the Lakers in 1979. He joined a talented, veteran team and helped it win a championship in his rookie year.
Ball's challenge will be different. The Lakers fully intend to fill their roster with star-caliber veterans, but don't expect to be able to truly do that until the summer of 2018 with its robust free-agent class.
The trade that sent Russell to the Brooklyn Nets also sent Timofey Mozgov and his contract worth more than $16 million per year for the next three years. In return they received Brook Lopez, a good player who fits the Lakers' system, but also one whose expiring contract will help the Lakers have room under the salary cap to fit two max contracts next summer.
Lakers first-round draft pick Lonzo Ball addresses the media during his introductory news conference at the team's training facility in El Segundo.
(Wally Skalij / Los Angeles Times)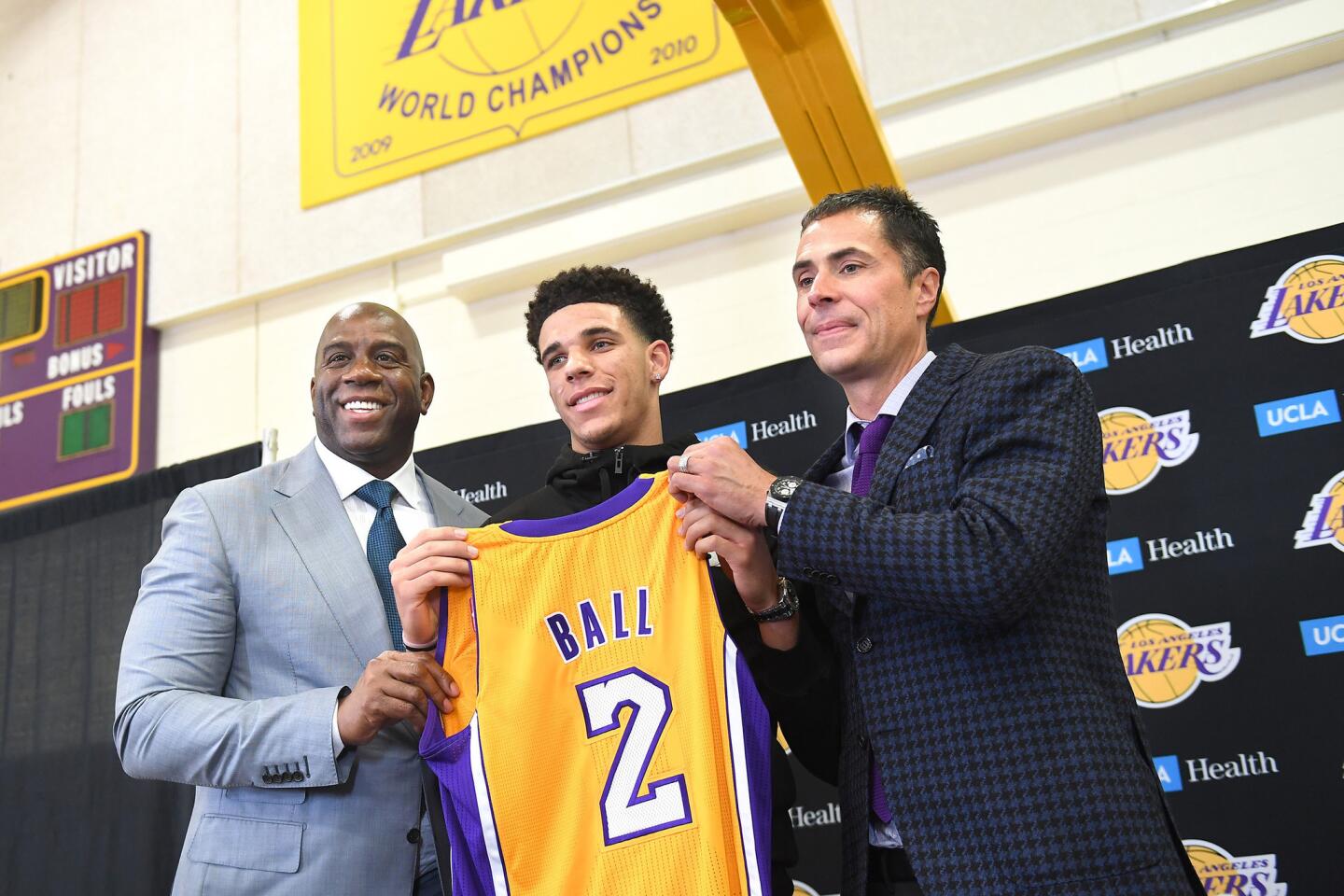 Lonzo Ball is flanked by Lakers legend and team executive Magic Johnson and GM Rob Pelinka as he's presented his jersey.
(Wally Skalij / Los Angeles Times)
Lonzo Ball's father, LaVar Ball, sits with his other sons, LaMelo, left, and LiAngelo, center, at the Lakers' news conference.
(Wally Skalij / Los Angeles Times)
Magic Johnson, Lonzo Ball and Rob Pelinka get ready for the Lakers' introductory news conference for their first-round draft pick.
(Wally Skalij / Los Angeles Times)
LaVar Ball sports his Big Baller Brand sandals and socks during his son's news conference in El Segundo.
(Wally Skalij / Los Angeles Times)
Magic Johnson, the Lakers' president of basketball operations, congratulates Lonzo Ball after the introductory news conference in El Segundo.
(Wally Skalij / Los Angeles Times)
Lonzo Ball is greeted by center Ivica Zubac before an introductory news conference at the team's training facility.
(Wally Skalij / Los Angeles Times)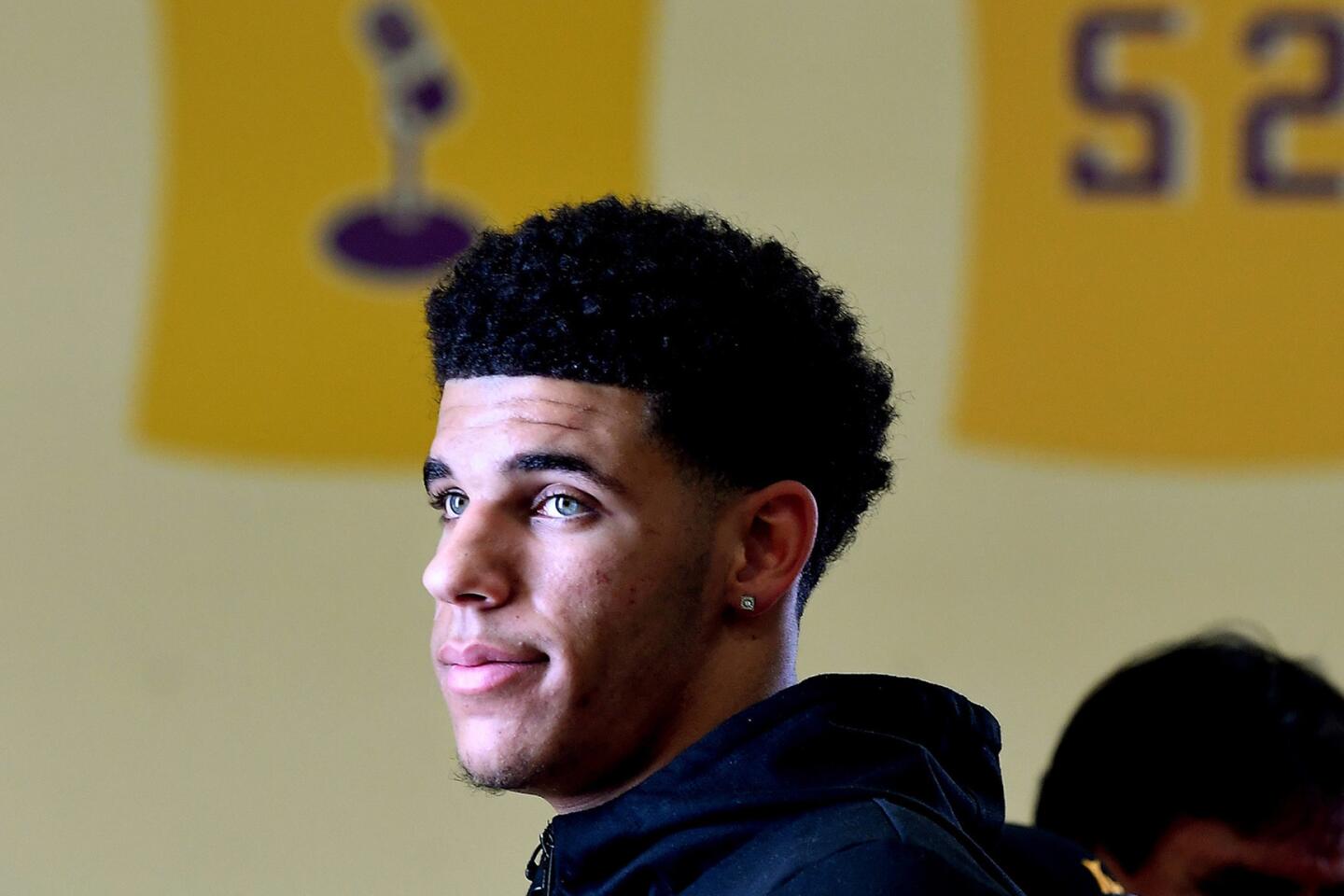 Lonzo Ball stands near a wall featuring the jerseys of Lakers greats after his introductory news conference.
(Wally Skalij / Los Angeles Times)
"We know that the goal here is to compete for championships, that's what we wanted to do and with the leading teams in the league today, to be able to look them in the eye and challenge them, we need two superstar players to come here and join this platform and join our core group of guys here," Pelinka said. "And that's our plan and we're going to put all of our energy and all of our handiwork toward that."
The Lakers are the frontrunners to land Indiana's Paul George, a 27-year-old Southern California native who has made clear he wants to play for the Lakers. That could still happen via trade, or in free agency next summer. LeBron James is also expected to become a free agent next summer.
But two superstars alone aren't enough to compete for championships. The NBA champion Golden State Warriors have four stars — Stephen Curry, Kevin Durant, Draymond Green and Klay Thompson. The Cleveland Cavaliers have three in James, Kyrie Irving and Kevin Love.
That's where this year's draft comes in. In Ball, the Lakers are hoping they've drafted the third.
Follow Tania Ganguli on Twitter @taniaganguli
ALSO
Lonzo Ball takes his first steps as a Laker at Dodger Stadium and throws out the first pitch
Chris Paul and Blake Griffin both opt out of contracts with Clippers to become free agents
All things Lakers, all the time.
Get all the Lakers news you need in Dan Woike's weekly newsletter.
You may occasionally receive promotional content from the Los Angeles Times.