Lonzo Ball 'isn't running from the competition' after Rajon Rondo joins Lakers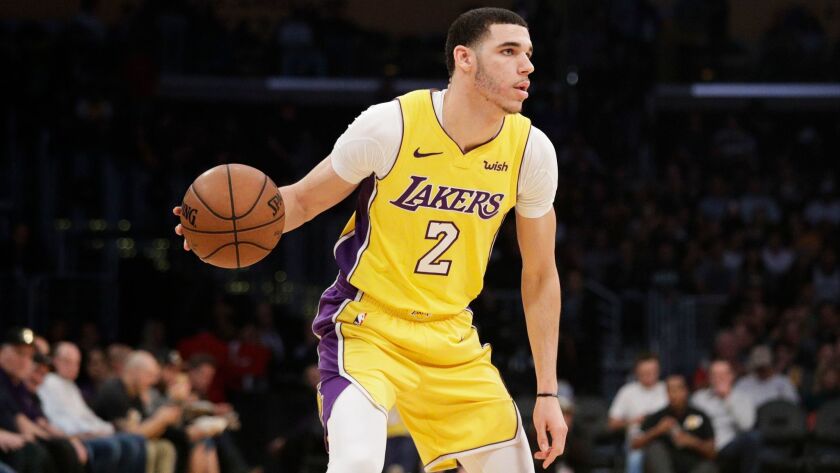 Rajon Rondo doesn't see himself as a backup. Lonzo Ball has been the Lakers starting point guard since they drafted him second overall last year.
Something's got to give.
The Lakers and Rondo reached agreement Monday on a one-year deal worth $9 million. The 32-year-old was told he would have a shot at the point guard job. Thirteen months after the Lakers anointed Ball as the face of the franchise, it appears they have a point guard competition.
And Ball got the message.
"Zo isn't running from the competition," said a source close to Ball not authorized to speak publicly.
Monday was another active day at Lakers headquarters in El Segundo as team officials worked to complete the roster, all with LeBron James' blessing in absentia.
By the end of the day they had accumulated 12 players, not counting two draft picks who have yet to sign. They also renounced their rights to restricted free-agent forward Julius Randle, allowing him to reach an agreement with the New Orleans Pelicans on a two-year deal worth $18 million.
The Lakers have about $5.6 million in salary cap space left. They can create $11 million more cap space if they waive forward Luol Deng and stretch his contract, and $18 million more if they can find a trade partner to take Deng.
On Sunday after reaching an agreement with James, the Lakers added center JaVale McGee and guard Lance Stephenson and re-signed guard Kentavious Caldwell-Pope. Stephenson and James have clashed in the past, so Stephenson's agent reached out to James' agent before a deal was struck. According to sources familiar with the conversation but not authorized to speak publicly, he wanted to make sure James was OK with having Stephenson as a teammate.
Adding San Antonio forward Kawhi Leonard is still an option. Those trade talks are open, though not as aggressive as they were last week.
In the meantime, the Lakers filled their roster with veterans willing to take one-year deals — a much more viable prospect for a team with a rosy outlook than one expected to struggle. The Lakers found it easier to lure those players than it was last season for a young team with no stars that ultimately won 35 games.
One such player was Rondo. The Lakers spoke with him last summer, but no deal came together. Rondo, who was coming off a tumultuous year with the Chicago Bulls in which he publicly called out teammates and was suspended for conduct detrimental to the team, ended up signing with the Pelicans, his fifth team in three years.
His season in New Orleans was far more pleasant. Rondo started 63 of the 65 games he played, averaged 8.3 points, 8.2 assists and four rebounds, and helped the Pelicans win 48 games and return to the playoffs. He was well liked by teammates and an irritant to opponents.
The Lakers knew Rondo well from his nine seasons with Boston, which included two NBA Finals matchups, and got reacquainted last season when Rondo and Isaiah Thomas scuffled during a game. Thomas, another former Celtic, said Rondo taunted him about a video tribute he was set to receive from Boston on the same night as Paul Pierce's jersey retirement ceremony. Neither Pierce nor Rondo, who won a title together in 2008, felt Thomas deserved a tribute video to take away from Pierce's night.
Ball, on the other hand, has a much more laid back personality. He's heading into his second season after averaging 10.2 points, 7.2 assists and 6.9 rebounds in an up-and-down rookie season.
Ball had a 29-point, 11-rebound, nine-game performance in his second career game and at 20 became the youngest player to record a triple-double. But he played in just 52 games, missing 30 because of a shoulder injury and injuries to his left knee. The Lakers struggled to replace his minutes, so one of their goals this summer was to sign a veteran point guard to add depth.
Ball is recovering from a left knee injury that is not believed to be serious. He had a platelet-rich plasma injection in early May, and the Lakers have asked Ball to increase his strength to improve his durability.
Now, they're also asking him to earn his starting spot.
Follow Tania Ganguli on Twitter @taniaganguli
---
All things Lakers, all the time.
Get all the Lakers news you need in Dan Woike's weekly newsletter.
You may occasionally receive promotional content from the Los Angeles Times.