Kobe Bryant, who was almost a Bull, has fond memories but no more rivalry with Michael Jordan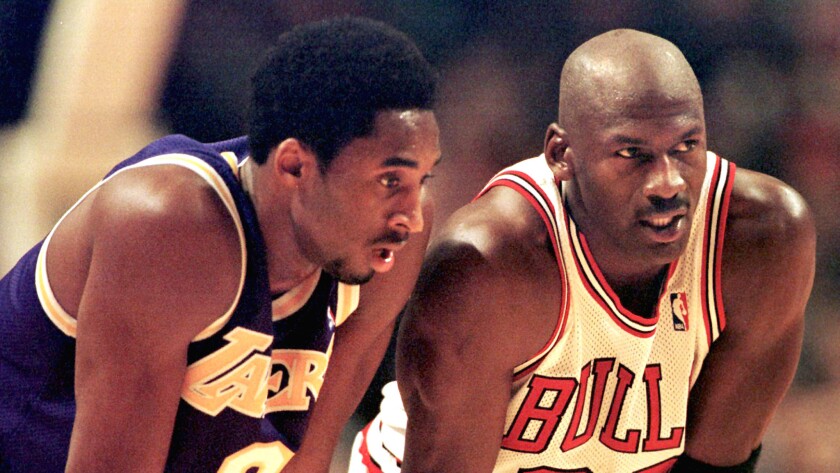 Reporting from Chicago —
Those were harrowing days for the Lakers in the unsettling spring and summer of 2007.
They were not a playoff team then, jettisoning Shaquille O'Neal three years earlier in favor of a petulant but wonderfully talented 25-year-old Kobe Bryant.
Unhappy with all the losing in Los Angeles while O'Neal partied, and won, in Miami, Bryant demanded a trade after the Steve Nash-led Phoenix Suns eliminated the Lakers in a quick 2007 first-round playoff series.
Bryant held all the aces, including a no-trade clause. He could choose his destination. The team at the top of his list is the one the Lakers play Sunday — the Chicago Bulls.
Bryant's final game against the Bulls provides one of two legitimate "what-if" scenarios in his career.
He almost jumped to the Clippers as a free agent in 2004 and badly wanted to join the Bulls three years later. The problem for Bryant was any trade with the Lakers would have gutted the Bulls.
Chicago would have sent promising young players Luol Deng and Ben Gordon, leaving too little behind. This was unacceptable to Bryant, who, remember, actually wanted to join a good team.
Cooler heads prevailed, Bryant's in particular, as coach Phil Jackson and Lakers owner Jerry Buss tried their best to convince him to stay.
The Lakers would eventually acquire Pau Gasol in February 2008, go to three straight NBA Finals, win two of them, and hang on to one satisfied Bryant.
Of course, Bryant couldn't help crediting himself partly for the Gasol deal.
"It takes pressure sometimes to make a diamond," he said in April 2008, classic Bryant at the time. He added that General Manager Mitch Kupchak had climbed in his eyes from an "F to an A-plus" by acquiring Gasol.
Bryant's recollections of Chicago had a big bow tie around them when he was asked for them Friday.
"There's an unbelievable history that they have there, a special significance to me personally," he said. "Growing up and watching Michael [Jordan] and Scottie [Pippen] and all those guys play, and having learned so much from watching them perform, there's so many great memories for me."
Jordan, indeed.
Bryant patterned so much of his game after the six-time champion, telling anyone who would listen to a fresh-faced rookie that he would accomplish two things in his career — win more championships than Jordan and score more points than him.
He accomplished the latter, not the former, which used to burn at him but not as much any longer. He views Jordan as an ally these days, not an idol to be hunted down.
Earlier this season, Bryant said any hint of a rivalry with Jordan would be "the most ridiculous thing."
"I couldn't have achieved what I achieved without him being in my corner," he said.
On Friday, after yet another loss by the Lakers (11-45), Bryant again found the soft focus in the recollecting part of his mind.
He told an anecdote involving him and future NBA player Jermaine O'Neal from the 1996 draft combine in Chicago.
The Bulls were about to win their fourth championship, and Bryant and O'Neal excitedly obtained tickets to see the Bulls play Seattle in an NBA Finals game at United Center.
There was one problem.
"Somebody tricked us and said they had great tickets. They were up in, like, the nosebleeds," Bryant said. "It felt like we were going to fall, that's how high up we were."
With the Lakers foundering and the Bulls (28-26) struggling to stay in the playoff race, Bryant's last visit to Chicago might be the only story of Sunday's game.
Bryant is listed as probable after sustaining a dislocated middle finger on his right hand Friday against San Antonio. He was injured late in the game while steadying himself after losing his balance and almost falling on the court.
Bryant kept playing after getting the finger popped back into place by trainer Gary Vitti.
"We find these things extremely funny," Bryant said. "I go to the bench and he looks at my finger and he goes, 'Oh yeah, that's a good one.' Then he pops it back into place. We just kind of laugh about it."
X-rays after the game showed there was not a fracture.
LAKERS NEXT UP
AT CHICAGO
When: 5 PST.
Where: United Center.
On the air: TV: ESPN, TWC SportsNet, TWC Deportes; Radio: 710, 1330.
Records: Lakers 11-45; Bulls 28-26.
Record vs. Bulls: 0-1.
Update: Chicago is stumbling, barely hanging on to the Eastern Conference's eighth and final playoff spot while fighting off injuries. All-Star guard/forward Jimmy Butler is out at least one more week because of a strained knee. Reserve forward Doug McDermott scored a career-high 30 points as the Bulls ended a five-game home losing streak with a 116-106 victory Friday against Toronto.
MORE LAKERS NEWS
Kobe Bryant produces drama but Lakers can't beat the Spurs
Lakers practice isn't part of the schedule for Kobe Bryant these days
Strange silence is coming from the Lakers regarding Bryron Scott's future
Follow Mike Bresnahan on Twitter: @Mike_Bresnahan
---
All things Lakers, all the time.
Get all the Lakers news you need in Dan Woike's weekly newsletter.
You may occasionally receive promotional content from the Los Angeles Times.