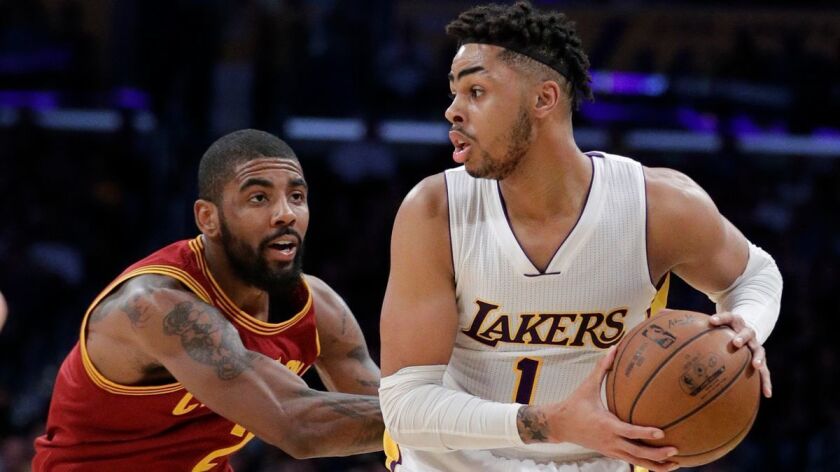 D'Angelo Russell caught everyone's attention, including the superstar guard on the other bench.
After the Lakers' 125-120 loss to Cleveland, a game in which both Russell and Cleveland's Kyrie Irving eclipsed 40 points, Irving sought Russell.
"He said he supported me," Russell said. "He knows I want it. Just told me to keep working."
Exactly a week from his last start, Russell had a point to make. And he sure did.
Russell scored 40 points in his first start at shooting guard this season. He did it against the defending NBA champion Cleveland Cavaliers. He did it for the first time in his career. And he did it at a younger age than any Lakers player ever has in the franchise's history, according to the Elias Sports Bureau.
"I'm a basketball player," he said, "not a point guard or a shooting guard."
The Lakers fell to 20-50 while the Cavaliers improved to 46-23.
Irving led all scorers with 46 points. LeBron James had 34 with seven assists and six rebounds, and Kevin Love scored 21 points for the Cavaliers before leaving the game in the second half.
The Lakers excelled as a team both offensively and defensively, given they were playing a team with three well-rested stars. Neither Irving, James nor Love played on Saturday night against the Clippers. The Cavaliers lost that game by 30 points.
On Sunday, all three players returned, but the Cleveland struggled anyway. Starting with eight minutes 52 seconds left in the second quarter, through the entire third and for most of the fourth, the Lakers led the Cavaliers.
"It wasn't nice to look at because I know who we are," Cavaliers Coach Tyronn Lue said.
The Lakers led by as many as 11 points in the fourth quarter before Cleveland worked its way back. James scored a transition layup to tie the score at 104 with 5:06 left in the game. From there, Irving and James took over and secured the win. Both of them, though, praised Russell.
"He's a great young player," Irving said. "… I understand what he means to the Lakers. It's always good to have some great competition out there.
Russell also had six assists, two steals and only one turnover. He became the youngest player since James did it in 2004 to score 40 points, with six assists and one or no turnovers.
The new lineup came, in part, due to circumstance.
Last week, Walton took Russell out of the starting group and replaced him with Jordan Clarkson at point guard. As Russell struggled to adjust to his new reality, his play suffered.
That changed Friday against the Milwaukee Bucks. At the urging of Lakers Coach Luke Walton, general manager Rob Pelinka, associate head coach Brian Shaw and president of basketball operations Magic Johnson, Russell was more aggressive.
Heading into Sunday's game, Walton and his staff were considering starting Russell, rather than Nick Young, who'd started the previous two games at shooting guard. Then, Young called in sick, making the staff's decision easy.
Russell shined right from the beginning. He made six of eight shots in the first quarter and his first four three-point attempts. In all, his seven three-pointers in the game matched a career high.
"I just feel like every time I got the ball I was in a position to either score or make a play," Russell said. "Being a point guard, you come down, you have to pass the ball and wait 'til it gets back to you … to look like you're at least doing your job. You can't come down and shoot the ball every time at the point guard position. At the shooting guard position you're either making a play or you're scoring and that's doing good for your team."
By the end of the season, the Lakers hope to have a clear idea of how successful Russell can be as a shooting guard. To that end, Walton plans to stick with this lineup that pairs Clarkson at point guard with Russell at shooting guard.
"That's dope," Russell said. "Hopefully we can get some experience together and figure it out."
Follow Tania Ganguli on Twitter @taniaganguli
---