Embattled Mike D'Antoni resigns as the Lakers' coach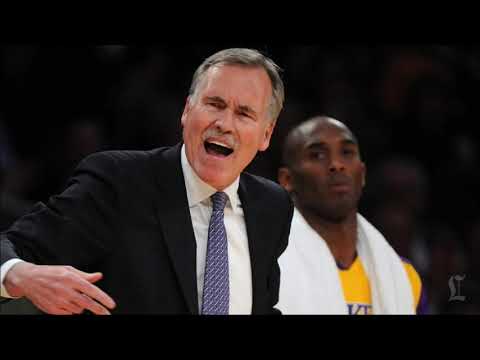 Speculation is brewing on who might take over for embattled Lakers coach Mike D'Antoni after the team announced his resignation.
Mike D'Antoni resigned Wednesday as the Lakers' coach, ending a tumultuous two-year run with the team and putting a finishing touch on one of their worst seasons ever.
D'Antoni had one more guaranteed year for $4 million but was dismayed when the Lakers declined to pick up his option for the 2015-16 season at another $4 million.
Veterans Kobe Bryant and Pau Gasol disliked his small-ball approach, leading to some disharmony in the locker room as the Lakers were 27-55 and set the franchise record for most losses.
The Lakers' coaching search will be "completely wide open," but they are not expected to have a new coach in place by the May 20 draft lottery, according to a person familiar with their thinking.
Even though the Lakers have dim prospects for next season, making their coaching job somewhat less attractive than usual, they might pursue a high-salaried, big-name NBA coach. Or they could go after a low-salaried NBA assistant with upside on a shorter contract.
The draft lottery could tilt them one way or another. If they move up to the No. 1 overall pick from their current position of sixth, of which there is a 6.3% chance, a more polished coach could be in their future.
But if the Lakers slip on lottery night, a shorter-term hire becomes more likely. There's a 30.5% chance they fall to seventh in the draft and remote possibilities of dropping to eighth (4%) or ninth (0.1%).
Either way, Magic Johnson, an unpaid Lakers vice president, was ecstatic to hear about D'Antoni's resignation.
"Happy days are here again!" Johnson wrote on Twitter. "Mike D'Antoni resigns as the Lakers coach. I couldn't be happier!"
D'Antoni also didn't have the support of Lakers fans who witnessed a system that scored plenty of points despite a slew of injuries but didn't produce victories. The Lakers were 29th out of 30 teams defensively, surrendering 109.2 points a game.
Of the Lakers' last four coaches, only Phil Jackson left on his own terms, retiring from coaching after the 2010-11 season.
Rudy Tomjanovich was paid $9 million when he abruptly resigned midway through the 2004-05 season. The Lakers initially owed Mike Brown $7 million when they fired him five games into last season but recouped about $2.5 million of it when Brown was hired to coach Cleveland, as per NBA rules.
As part of his resignation, D'Antoni will receive less than half of the $4 million he was set to earn next season.
The Lakers made the playoffs last season but were swept in the first round by San Antonio as Bryant watched from the sideline because of a torn Achilles' tendon. They didn't come close to playoffs this season, finishing with the Western Conference's second-worst record.
Bryant played only six games but joined forces with Gasol as critics of D'Antoni's system. Gasol openly disliked it, leading to some tense exchanges through the media between Gasol and D'Antoni.
D'Antoni and his agent, Warren LeGarie, pushed the Lakers to pick up his 2015-16 option year to add stability to his tenure. The Lakers declined to do it for a coach who was 67-87 with them.
"In order for Mike to have done his job, we felt that having the option year picked up would have changed the narrative," LeGarie said Wednesday. "They knew that Mike would have been the coach and there would have been a different reaction."
The Lakers set a team record for futility by going 14-27 at home, and their 48-point loss to the Clippers was their largest ever to any team. They also set team records for largest losses to San Antonio (34 points) and Minnesota (36 points).
The Lakers had nine non-sellouts at Staples Center, a surprising number, and their ratings on Time Warner Cable SportsNet dropped 55% from last season.
Despite it all, D'Antoni was unsure about resigning until Wednesday.
"It was an impossible decision for Mike," LeGarie said. "He loved the guys on the team, the young guys. He clearly felt he had impacted their development and they had a real good buy-in on this. But clearly there wasn't enough there to get us past some of the issues."
D'Antoni is still interested in coaching, according to a person familiar with his thought process.
"Given the circumstances, I don't know that anybody could have done a better job than Mike did the past two seasons," Lakers General Manager Mitch Kupchak said in a statement. "On behalf of the Lakers, we thank Mike for the work ethic, professionalism and positive attitude that he brought to the team every day."
mike.bresnahan@latimes.com
Twitter: @Mike_Bresnahan
All things Lakers, all the time.
Get all the Lakers news you need in Dan Woike's weekly newsletter.
You may occasionally receive promotional content from the Los Angeles Times.