Lakers have a lot riding on the NBA draft lottery, but GM Mitch Kupchak doesn't want to talk about it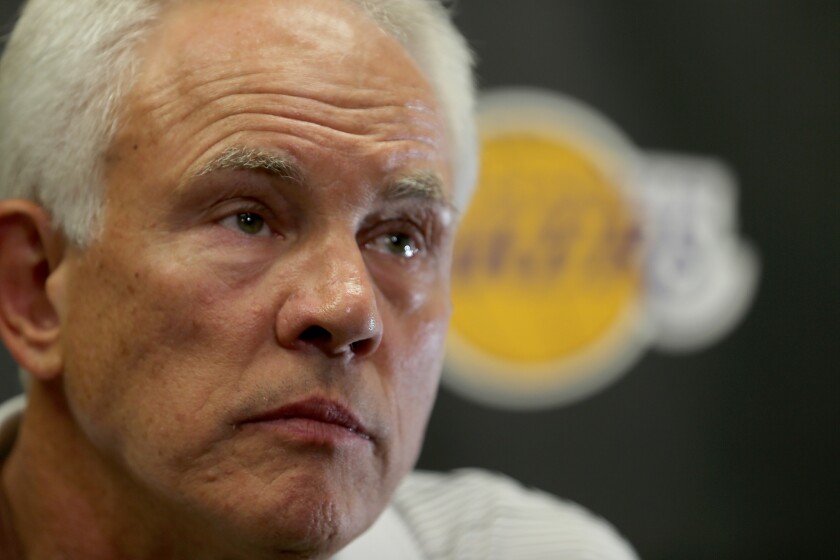 Mitch Kupchak refuses to talk about the Lakers' lottery possibilities. He doesn't want to jinx anything.
He's not the type to turn and run when a black cat approaches, but there's a reason the Lakers' general manager is heavily superstitious right now. There's a lot at stake Tuesday in the NBA draft lottery.
The Lakers will find out at about 5:15 p.m. PDT whether they'll keep their top three-protected first-round pick.
They have a 55.8% chance of keeping it and a 44.2% chance of their executives, coaches and fans dropping into the fetal position. It would not be good to lose the pick after managing only 17 victories over 5 1/2 grueling months.
They'll still have a second-round selection but, really, that's not what anybody celebrates after the worst season in franchise history.
"Right now, all we have is the 32nd pick," Kupchak said recently. "I'm not really going to talk about the other pick because we don't have it. I mentioned earlier that I'm superstitious. I don't like the whole karma part of that.
"I'm not nearly as superstitious as my predecessor was, Jerry West. There was a light at the Forum, a traffic light that he would never drive underneath. So I'm not that superstitious. But I'm superstitious enough not to want to talk about a pick we don't have."
That's OK. Plenty of other people are discussing it.
The Lakers have a 19.9% chance at winning the top pick, which will be Louisiana State's Ben Simmons or Duke's Brandon Ingram. There's an 18.8% chance of the Lakers taking the No. 2 spot and a 17.1% chance of finishing third.
If a mere two teams pass them Tuesday, their pick goes to Philadelphia. The 76ers acquired it last year from the Phoenix Suns, who acquired it from the Lakers in 2012 for Steve Nash.
It's very easy to be passed by two teams. It happened last year when New York, after posting the league's second-worst record, fell to the fourth spot on lottery night.
"If it doesn't work out where we get the pick, we get [a first-round] pick next year and we still have the ability to improve the team this summer," Kupchak said, trying to tamp down expectations.
It's too late, though.
Many Lakers followers will watch the live lottery show on ESPN before the Eastern Conference finals opener between Toronto and Cleveland.
The lottery results will be known an hour earlier by a handful of league executives, media members and one representative from each team, who will all be sequestered in a hotel conference room near the large ballroom where the TV broadcast will take place.
Inside the conference room, ping-pong balls numbered 1 through 14 will be dropped into a plastic drum and jumbled via air current.
When four balls are drawn, there will be 1,001 possible combinations, 1,000 of which will be assigned to participating teams based on their regular-season record.
Philadelphia had the NBA's worst record and received 250 of those combinations for a 25% chance of winning the No. 1 pick, followed by the Lakers, Boston (15.6%) and Phoenix (11.9%). Ten other teams are also in the lottery with steadily decreasing chances corresponding to their regular-season records.
The four balls will be placed back in the drum after the top pick is determined and the process is repeated for the second and third picks. If the same team's four-number combination is drawn more than once, the result is discarded and another one selected. If the lone unassigned combination is drawn, there will be another draw for that pick.
The Lakers are still much more likely to improve via free agency than the draft, but the latter route has become increasingly important to them. Two starters last season were their first-round draft picks in 2014 — Julius Randle, seventh overall — and 2015, No. 2 overall selection D'Angelo Russell.
The draft really hasn't helped Minnesota or Philadelphia regain respectability in recent years, but Portland secured its backcourt of the future by drafting Damian Lillard (sixth overall, 2012) and C.J. McCollum (10th overall, 2013).
Since the lottery increased to 14 teams in 2004, the team with the second-worst record has won the top pick only once, kept the second pick once, dropped to third three times and fell to fourth or fifth on seven occasions.
Cleveland was the team to move from second to first, doing it in 2011 and taking Kyrie Irving. The Lakers can only hope they have the same luck Tuesday.
mike.bresnahan@latimes.com
Twitter: @Mike_Bresnahan
Times staff writer Broderick Turner contributed to this report.
---
All things Lakers, all the time.
Get all the Lakers news you need in Dan Woike's weekly newsletter.
You may occasionally receive promotional content from the Los Angeles Times.