Column: Lakers are lucky bans were not longer
The only thing missing from the NBA's report on the confrontation between the Lakers and the Houston Rockets on Saturday at Staples Center was the launch angle and exit velocity of the spittle Lakers guard Rajon Rondo launched toward the face of an angry Chris Paul.
The incident, part of a melee that erupted with 4 minutes 13 seconds left in the fourth quarter and the Rockets leading by a point, made LeBron James' first regular-season home game as a Laker memorable beyond the undeniable buzz he brought to the building and the fearsome presence he brought to the court.
The altercation — call it "The Fisticuffs on Figueroa"— also set back the Lakers' efforts to blend together a lineup that clearly needs time to jell after losing its first two games.
The NBA on Sunday suspended Lakers forward Brandon Ingram for four games, Rondo for three games and Paul for two games for their actions, a relatively light punishment for Ingram and about right for Rondo and Paul. Tempers flared when Ingram, angered over being called for a foul following a collision with crafty Houston forward James Harden, shoved Harden. After getting a technical foul and confronting official Jason Phillips, Ingram was guided down court and away from the hostilities. However, he sprinted back to throw a roundhouse punch at Paul after Rondo and Paul got in each other's faces. Ingram is lucky he didn't get suspended for five games or more.
"He came back in extremely aggressively and then threw a very aggressive punch to somebody who wasn't looking. That's a very dangerous play," Kiki VanDeWeghe, the NBA's executive vice president of basketball operations, said about Ingram during a conference call with reporters on Sunday.
As for the other combatants, Rondo ended up with a scratch under his right eye, likely from the finger Paul thrust at his face, and Paul claimed Rondo had spit on him. Rondo denied it, but the Rockets sent the league video of moisture leaving Rondo's mouth and landing on Paul's face. VanDeWeghe, who was a spectator at Staples Center on Saturday night and led the league's investigation, said the spit had, in fact, been real. Rondo and Ingram did not speak to reporters after the Lakers' 124-115 loss to Houston on Saturday or after the team's practice on Sunday.
"Ingram has been suspended for aggressively returning to and escalating the altercation and throwing a punch in the direction of Paul, confronting a game official in a hostile manner, and instigating the overall incident by shoving Rockets guard James Harden," the NBA's news release said. "Rondo has been suspended for instigating a physical altercation with, and spitting and throwing multiple punches at, Paul. Paul has been suspended for poking at and making contact with the face of Rondo, and throwing multiple punches at him."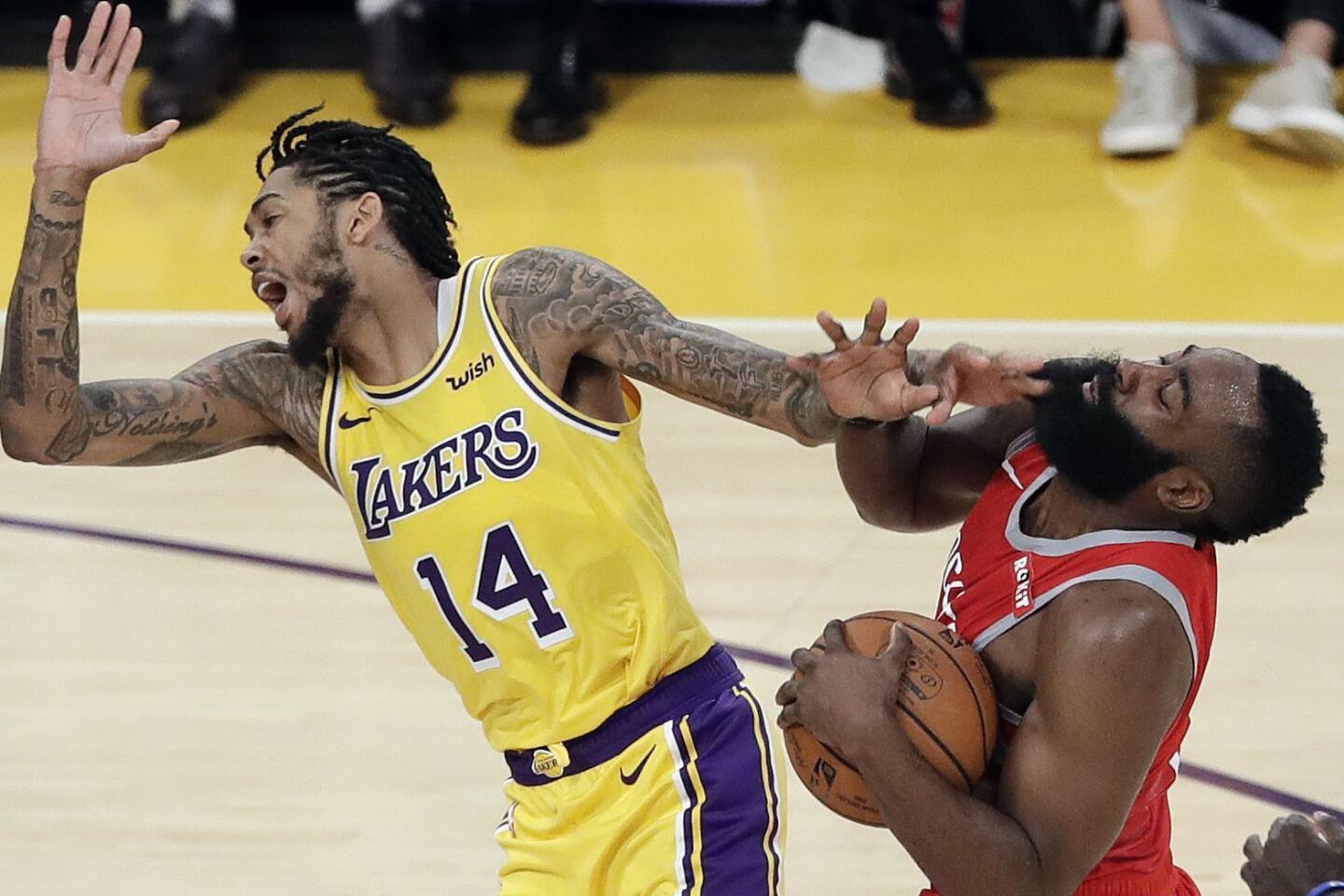 Rockets guard James Harden collides with Lakers forward Brandon Ingram, who was called for a foul on the play with 4 minutes left in the fourth quarter. That led to an exchange of words before Ingram shoved Harden, igniting a brawl.
(Marcio Jose Sanchez / Associated Press)
Lakers guard Lonzo Ball tries to separate teammate Brandon Ingram and Rockets forward Carmelo Anthony after Ingram ignited a brawl by shoving Rockets guard James Harden.
(Kevork Djansezian / Getty Images)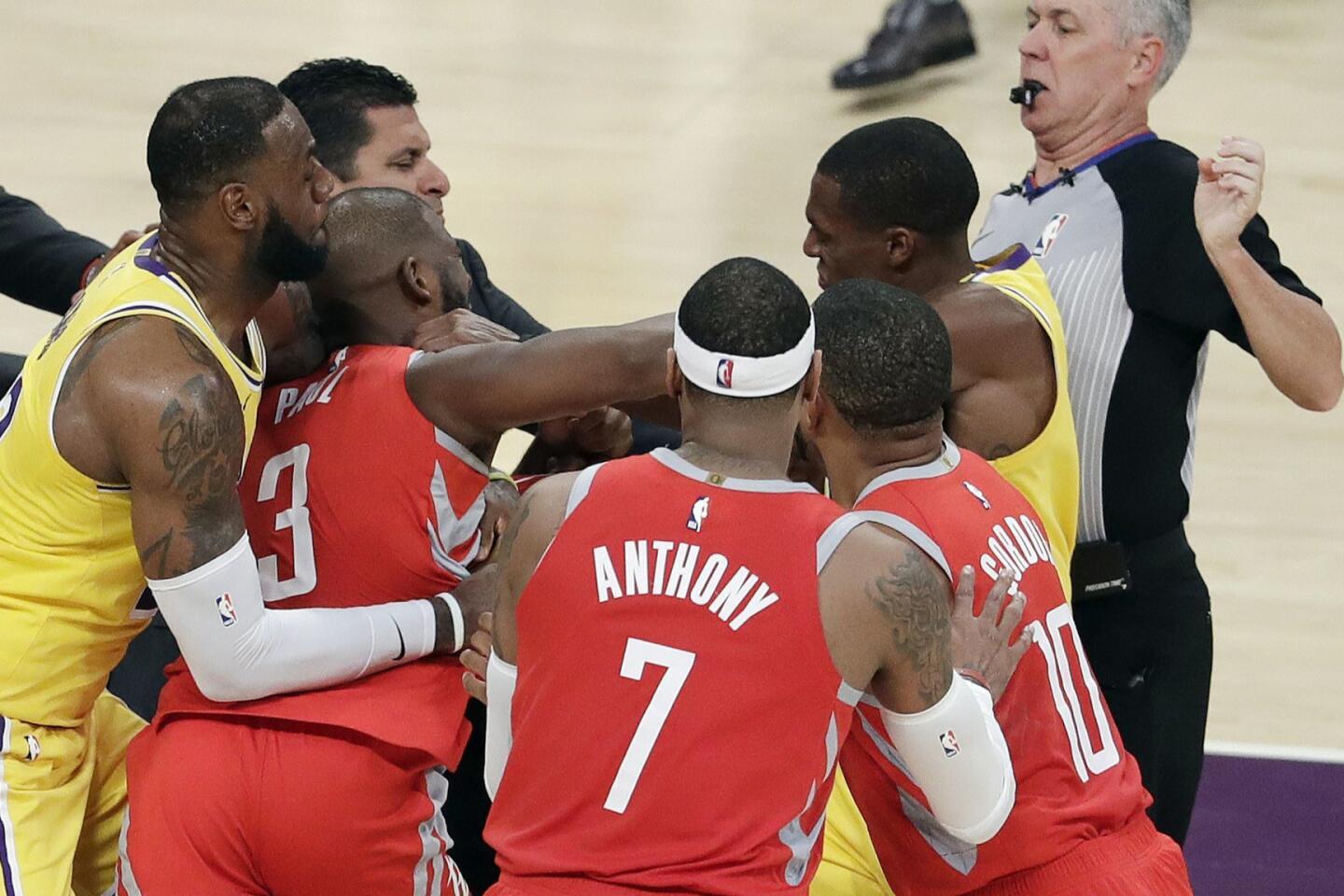 Rockets guard Chris Paul, second from left being restrained by Lakers forward LeBron James, trades punches with Lakers guard Rajon Rondo, who next to the referee. Rondo and Paul were both ejected.
(Marcio Jose Sanchez / Associated Press)
Players try to separate Chris Paul and Rajon Rondo after Paul appeared to poke Rondo in the face as they exchanged words.
(Marcio Jose Sanchez / Associated Press)
Rockets guard Chris Paul, left, is held back by Lakers forward LeBron James after Paul and Rockets guard Rajon Rondo (not pictured) exchanged punches.
(Marcio Jose Sanchez / Associated Press)
Lakers forward LeBron James talks to Rockets guard Chris Paul as he's escorted off the court after getting ejected for throwing punches.
(Kevork Djansezian / Getty Images)
This wasn't Paul's first confrontation at Staples Center: Last January, after the Rockets lost to Paul's former Clippers team, Paul was one of four players who reportedly tried to access the Clippers' locker room via back hallways to continue on-court hostilities against then-Clipper Austin Rivers. Security stopped them from making a full-scale invasion.
NBA fights don't often hit the levels seen Saturday night, but this was a super-charged occasion. Houston's James Ennis III had ratcheted the temperature up a few dozen degrees when he clotheslined Lakers reserve Josh Hart with 9:47 left in the fourth quarter, drawing a flagrant foul 1. An ejection there might have headed off what happened later. "Sometimes, tempers flare," Hart said. Asked if Ennis should have been tossed, Hart was cautious. "That's not my call," he said.
For the first 43-plus minutes, the theme of the evening was James' regular-season home debut and the buzz that made Staples Center more alive and hopeful than it has been in years.
Finally, after spending years selling hope and their history and the potential of their lottery picks, the Lakers were giving their fans something real, something proven, in James, and he responded to the occasion. He dunked. He rebounded. He was a fearsome presence.
Despite a nine-for-22 shooting performance he sparked excitement that had been missing here for too long and he kept the Lakers close to the Rockets, an elite team in the West. That they unraveled after the fight and lost the game shouldn't go unnoticed. And it must be corrected.
James rejected the suggestion that he's disappointed at being winless two games into the season. "Understand that we are going to have some struggles, some early struggles," he said, "and nobody said it was going to be easy....
"We got a long way to go to get to the Rockets, to get to a lot of teams in the Western Conference, they've been together for so long. We will learn from our mistakes and continue to get better."
They'll have to continue that process without Ingram for the next four games. They should consider themselves lucky it won't be longer than that.
All things Lakers, all the time.
Get all the Lakers news you need in Dan Woike's weekly newsletter.
You may occasionally receive promotional content from the Los Angeles Times.