Lakers offer condolences to Kupchak family on death of teenage daughter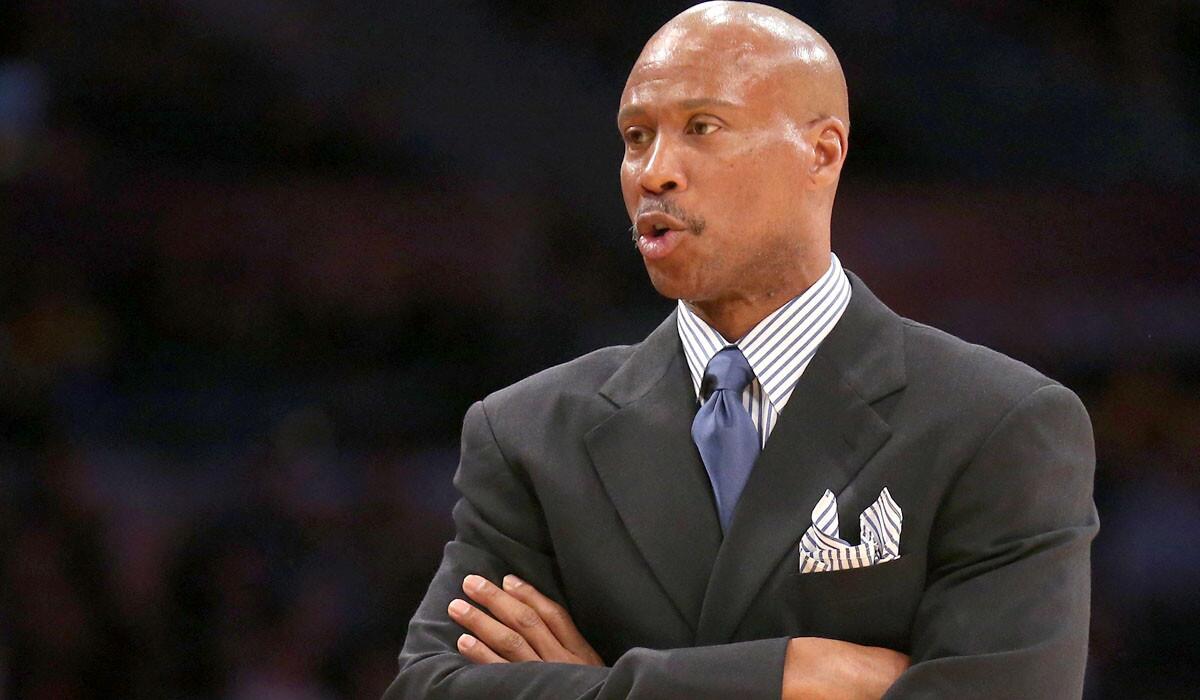 Reporting from Portland, Ore. —
The news about the death of Lakers General Manager Mitch Kupchak's teenage daughter has been hard for everyone in the Lakers' family, Coach Byron Scott said before the team played Portland.
Alina Claire Kupchak, the 15-year-old daughter of Mitch and his wife, Claire, died Monday morning after a lengthy illness, the team announced.
"It hurts," Scott said. "It just kind of puts basketball in a different light. It's not that important. Obviously Mitch is going through something, him and his wife and the whole Kupchak family, losing your daughter.
"We sat down as coaches this morning and it wasn't a whole lot of words that could be said. Because as a parent, all of us who have kids, especially us fathers who have daughters, I can't imagine being here and my daughter is not. That's not the way it's supposed to happen. We sent our condolences to the Kupchak family."
Scott said he sent a text to Kupchak on Monday morning to let him know that he was "praying for him."
Scott and Kupchak were teammates during the 1980s with the Lakers.
"It's like most families, you all come together," Scott said. "You just be there for that person. I'm pretty sure I can speak for everybody that's been a part of that Lakers' family. Everybody is here for Mitch and Claire right now. We're there for the Kupchak family. No matter what he may feel or what he may need, we're there supporting."
Kupchak has been with the Lakers for about three decades, first joining the team as a power forward who helped them win a championship in 1985.
After taking over the GM job when Jerry West retired, Kupchak helped guide the Lakers to four NBA championships (2001, 2002, 2009 and 2010).
"My condolences go out to a super friend and teammate, Mitch Kupchak and his wife, Claire on the passing of their 15 year old daughter Alina," Magic Johnson tweeted Monday.
Doc Rivers, Clippers coach and president of basketball operations, also offered his support.
"On behalf of the Los Angeles Clippers, I would like to send my condolences to the Kupchak family," Rivers said in a statement. "The Clippers organization sends our best during this difficult time."
Wesley Johnson injury update
Scott said Wesley Johnson's strained right hip flexor that kept him out of Monday night's game at Portland was "not as bad as it could be."
Scott said Johnson could return by the end of the week or early next week.
"In talking to him and Gary Vitti, our trainer, last night, we were thinking it was going to be a few weeks," Scott said. "But it looks like it could be a little less than a week."
Etc.
The Trail Blazers held a moment of silence before the game for Stuart Scott, the longtime ESPN anchor who died of cancer Sunday.
Twitter:@BA_Turner
All things Lakers, all the time.
Get all the Lakers news you need in Dan Woike's weekly newsletter.
You may occasionally receive promotional content from the Los Angeles Times.