Lakers cruise to a 111-88 victory over the Grizzlies, and Isaac Bonga scores his first point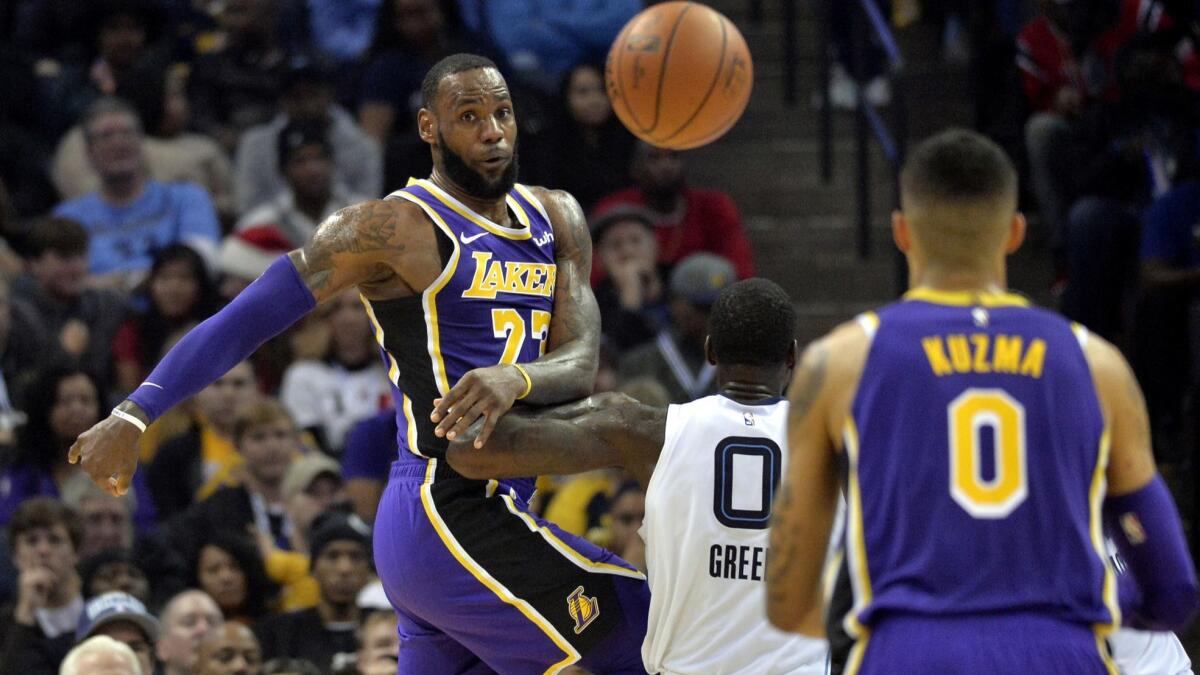 Reporting from Memphis —
LeBron James had finished playing for the night when the crowd began to stir near the Lakers bench. Here, as in every arena, there were plenty of fans wearing his jersey. One woman in particular caught James' eye.
Her name is Briane Miller and she's as an assistant equipment manager for the Hustle, Memphis' G League affiliate. She's worked Grizzlies games for the last three years.
"Every year I've come here she's always worn a very exclusive pair of my shoes, and I've always noticed it," James said. "And I've never said anything to her. And tonight I said something to her for the first time and she was like, 'Yeah, I've always been Team LeBron. Always.'"
He gave her his game-worn shoes and hugged her, then she walked away, crying with her hands in front of her face.
There was time for James to do that during the game because the Lakers dominated the Grizzlies, who've been one of the Western Conference's better teams this season. But with both teams on the second night of a back-to-back, the Lakers won easily 111-88.
At 16-10, with seven wins in their last 10 games, the Lakers are only a game and a half out of the top spot in the Western Conference.
James finished with 20 points, nine assists and eight rebounds. Kyle Kuzma also scored 20 points, including four three-pointers, with nine rebounds and six assists. He and James both made half of their shots. Tyson Chandler contributed 14 rebounds, including 10 defensive rebounds.
"Anytime you come in this building you expect it to be physical," James said. "You expect to play at their pace, because that's just the way they play. And you know you got to win. You got to win here. They're not going to beat themselves, and that's what happened tonight. They didn't beat themselves. We came in and won a ballgame. We got stops, we shared the ball and we rebounded."
Memphis loves to play a slow, plodding style and drag its opponents down into the muck; the Grizzlies entered the game with the slowest pace in the NBA.
They did that as Saturday night's game began, but the Lakers worked through it. They led by 11 after one quarter and 19 at halftime.
"Started a little sticky early in the game, but as soon as Kuzma started making the extra pass, it got contagious and everyone else did," Lakers coach Luke Walton said.
At halftime, the Lakers led the rebounding margin 36-11. The Lakers had 15 second-chance points, the Grizzlies none.
The Lakers went more than four minutes without scoring early in the third quarter, but the Grizzlies had dug themselves too big a hole.
Down 28, Memphis cut the Lakers' lead to 16. Walton subbed Kentavious Caldwell-Pope into the game with 7:21 remaining in the quarter, and Caldwell-Pope hit a three-pointer 20 seconds later to end the Lakers' dry spell. It was one of four he hit in scoring 16 points.
The Lakers went into the fourth quarter with a 25-point lead and extended it. But when a 10-0 Memphis run cut the lead to 19 with 9:08 left, Walton called a timeout and put his starters back in to secure the win.
The starters left for good with about four minutes left, leaving the Lakers with a youthful lineup that had three rookies, including 19-year-old guard Isaac Bonga, their youngest player. James paused before leaving the game to remind Bonga to tuck in his shirt.
With 2:32 left, Bonga went to the line to shoot a technical foul shot. When he made it, James, JaVale McGee and Chandler began jumping and hollering from the bench, the same way they did last Sunday when Moe Wagner scored his first NBA points.
Bonga smiled bashfully at his teammates' reaction. It was a game they all could enjoy.
Follow Tania Ganguli on Twitter @taniaganguli
All things Lakers, all the time.
Get all the Lakers news you need in Dan Woike's weekly newsletter.
You may occasionally receive promotional content from the Los Angeles Times.