Five takeaways from the Lakers' 132-113 win over the Atlanta Hawks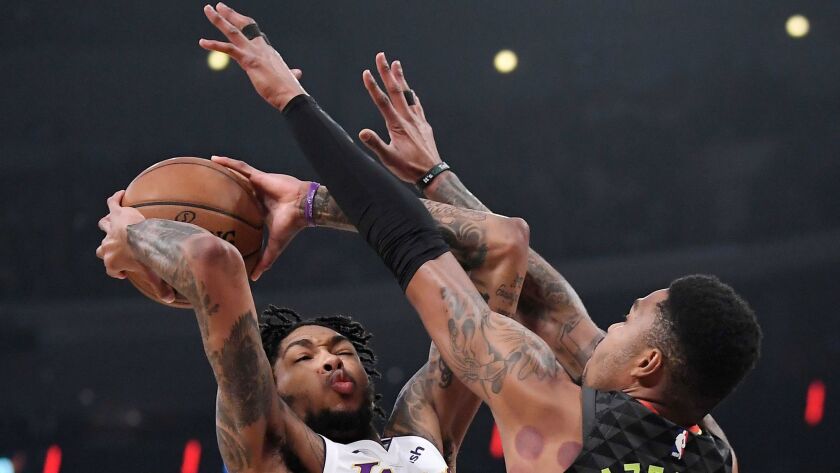 The losing streak is over, just one shy of the franchise's record of 10 straight losses, which they have achieved twice.
To say the Lakers needed this would be to oversimplify the matter. They have needed a win for several games, but losing this one would have indicated many bad things for where the team is now.
Atlanta, after all, is not a good team and they seem to be tanking.
Here are five takeaways from Sunday night's 132-113 win over the Hawks.
1. Kyle Kuzma is becoming the voice in the locker room that says the plain truth. Three games ago when the Lakers lost to the Oklahoma City Thunder, he said the team "flat-out quit." Friday against the Charlotte Hornets, he said the Lakers were playing "like garbage." On Sunday after a win, Kuzma was candid again. He noted that the Lakers were going to need to do this against "no offense, better teams." He's right.
2. The Lakers avoided a problem that has plagued them this season — they didn't play down to their competition. Their record would indicate they are at a similar place as Atlanta is right now, but the Lakers are both a better team and one with more incentive to win considering they won't have their first-round draft pick this year. Their record is also reflective of some games they lost that they should have won. This is a better team than the Hawks, but their recent history showed that just because that was true didn't necessarily mean they would win handily or at all. But after falling behind 10-2, the Lakers woke up and changed things. Before long they had a 10-point lead which turned into a 26-point lead eventually — their largest lead of the season.
3. The Lakers made 80% of their free throws! I don't normally like to use exclamation points in stories, but that deserved one. The Lakers are still the worst free-throw shooting team in the NBA, but making 80% on Sunday night is a milestone. Julius Randle made seven of eight free throws and Brandon Ingram made six of seven.
4. Even before I finished asking the question, I could see Ingram's response formulating in his mind. LaVar Ball told ESPN that Luke Walton had lost the locker room. So I asked Ingram if at any point during the losing streak he felt that Walton lost the locker room. "No I don't think so," Ingram said. "I think he guys still came in every single day and practiced hard. We still had focused shootarounds and just a matter of us translating it to the game and I think we did that tonight." For what it's worth, Lonzo Ball also said Sunday morning that he did not think Walton lost the locker room.
5. Corey Brewer kept his iron man streak alive. Brewer entered for the game's final 2:53, which made Sunday's game the 316th consecutive game in which he's played. It is the longest active streak in the NBA of consecutive games played.
Follow Tania Ganguli on Twitter @taniaganguli
---
All things Lakers, all the time.
Get all the Lakers news you need in Tania Ganguli's weekly newsletter.
You may occasionally receive promotional content from the Los Angeles Times.