LeBron James scores 51 as Lakers roll past Heat 113-97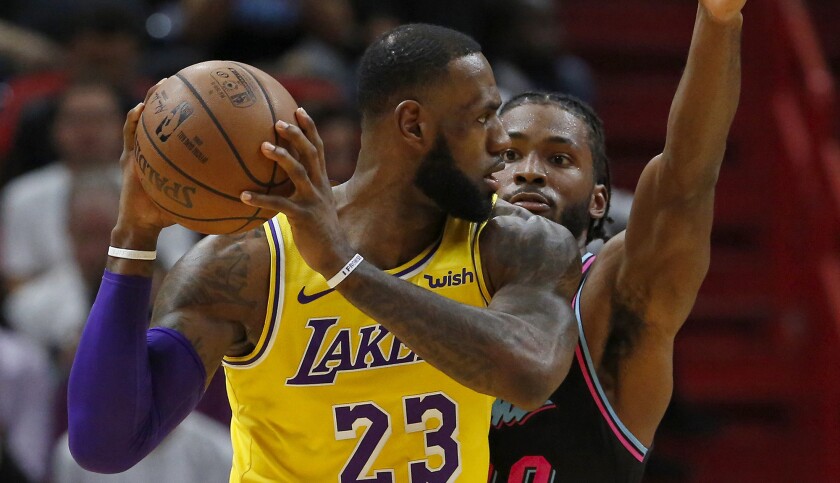 Reporting from Miami —
LeBron James eased past the half-court line and watched the clock wind down on a game the Lakers were going to win, basking in his brilliant 51-point performance against his former team.
Sitting on 48 points with 16.5 seconds left, James — with Miami's Derrick Jones Jr. defending him and Rodney McGruder running at him — hoisted a 32-foot three-pointer.
When the ball dropped through the nets and the Lakers were seconds away from a 113-97 win over the Heat at American Airlines Arena on Sunday, James pointed at his team's bench.
He had spent four years playing for the Heat, leading Miami to two NBA championships. The crowd didn't seem to forget, cheering him during and after his final three-point shot, and even chanting "MVP" at times.
"Well the environment is a basketball and a hoop. That's my environment," James said. "But it's always great to be here, come back here and see a lot of familiar faces. We had some not-so-good times, we had more great times. So it's always a respect factor and a love for the people of Miami, especially the people who work here. We put in a lot of time."
James was efficient in his dismantling of the Heat, going 19 for 31 from the field, six for eight from three-point range, and seven for 10 from the free-throw line. He also had eight rebounds and three assists.
In the process, James recorded his 12th career game of scoring 50 points or more, moving him past Allen Iverson for the sixth-most in NBA history.
He also became the fifth player in league history to score at least 50 points with three different teams, the Cleveland Cavaliers, Heat and now the Lakers.
"I've played for three very, very historic franchises in that time," James said. "Obviously in Miami we did some historical things. In Cleveland, we was able to do some historical. And so my teammates, my coaching staff, they just trust in me to go out and make plays and I just try to be as efficient as possible when I'm on the floor and make things happen."
From the start, James was on his game.
He had 28 points by the half, missing just four of his 15 shots and two of his three-pointers.
His play helped the Lakers open an 18-point lead that grew to 21.
Lakers coach Luke Walton called it "a special night" for James.
"He was, from the jump ball … he was in attack mode, he was making shots," Walton said. "When players are as good as LeBron and they're having a night, it just looks easy for them. It's not easy, but they make it look easy because they're that good.
"But I still thought he did a really nice job of playing and taking the shots when they were good shots, and moving the ball along when he was getting double-teamed or they were playing good defense on him. He did it within the way we want to play and it was just an incredible individual night for him but a really good night for our team as well."
James' teammates were in awe, many of them willing to talk about who is the greatest player to play in the NBA.
"And there's only one other guy in the planet that you can compare him with and that's MJ [Michel Jordan]," Tyson Chandler said. "At this point, he's arguably fighting for the greatest of all time."
James was asked about his place in NBA history and where he stands now.
"I've always been a guy to let the game talk for itself, speak for itself and my body of works speaks for itself still to this day 16 years in," James said. "If there's ever a discussion, them games like this will make sure we'll figure it out."
As far as James pointing at the bench after his final three-pointer, he said it was Lance Stephenson who urged him to shoot in the first place.
"Lance told me to finish the game off and 'I bet you won't shoot a three,'" James said. "He said, 'Go for the three. I bet you won't go for the three.' So I went for the three. So I was pointing right at Lance."
Twitter: @BA_Turner
---
All things Lakers, all the time.
Get all the Lakers news you need in Tania Ganguli's weekly newsletter.
You may occasionally receive promotional content from the Los Angeles Times.