Brandon Ingram is transforming before the Lakers' eyes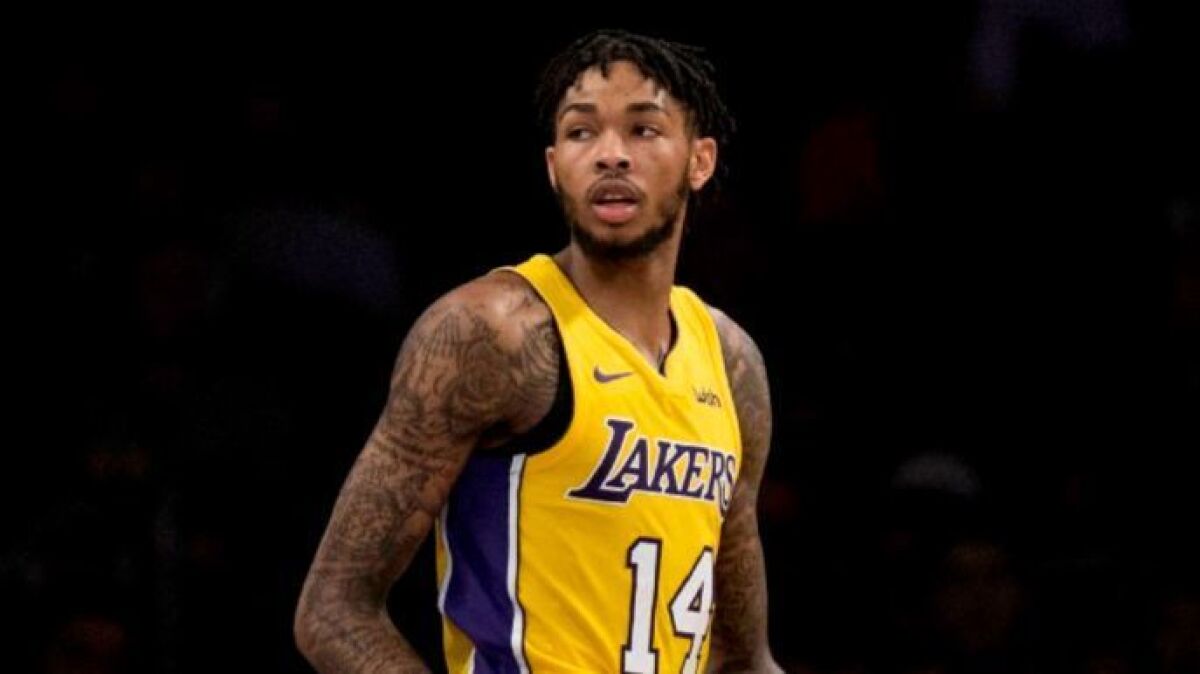 After the Lakers lost Sunday to the Houston Rockets, Brandon Ingram caught himself as he spoke about the Lakers' young players as if he wasn't one.
"All we can do is give advice to the young guys," Ingram, 20, said. "Of course I'm a young guy too, but give it to the rookies."
That was another part of Ingram's evolution. He's learning to lead, he's gaining confidence and he's figuring out how he can truly be a scoring threat. Last week, for the first time in his career, Ingram scored at least 20 points in consecutive games. After scoring a career-high 32 against the Golden State Warriors, he scored 20 against the Denver Nuggets.
He's at his best when the stage is biggest, and others have noticed.
"If he keeps developing the way he's developing," Lakers veteran Corey Brewer said, "he's definitely going to be an All-Star in the next two or three years."
That kind of expectation came with Ingram into the NBA. The former Duke forward was the second pick in the draft last year, and many wanted immediate results. The Lakers insisted on patience. Ingram wasn't even their starting small forward until February.
During the offseason, they steadfastly maintained their belief in Ingram, refusing to include him in potential trade packages. The Lakers' front office was new to Ingram, but the coaching staff wasn't. It was on the strength of their faith in him that the organization remained bullish on him.
Now, it's not just inside the building that Ingram is being noticed. Warriors star Kevin Durant said he was impressed with the young Laker's development. During that game, Portland Trail Blazers guard C.J. McCollum said on Twitter: "Ingram gonna be a probleeem."
The 6-foot-9 Ingram came into the NBA weighing 190 pounds, too skinny to be as effective as the Lakers knew he would be later in his career. He struggled with his shot, taking contact and finishing at the rim. Two of those issues have been negated significantly as he has added strength.
"I think he knows how [to get to the rim] now," Brewer said, giving a glimpse at Ingram's mentality. " 'When I come off, I know I'm going to be able to get past this guy. I know if I go to the rim it's going to be a big guy coming over but I've got to finish.'
"He's using his body a lot better. Last year he was getting hit and he couldn't finish. This year he's getting hit and he can finish."
Ingram showed off his ability to score in the paint against the Warriors as he faced Durant. Durant has served as an adviser to Ingram, familiar with the plight of a too-skinny teenager trying to play forward in the NBA.
"I think I lost myself into the game a little bit and just trying to compete and think that the competitive nature came out when we were scoring… trying to get to the rim," Ingram said of the game against the Warriors. "I think that some of my best games are when I just have a clear head."
Against the Rockets, Ingram's streak of 20-point games ended, but Lakers coach Luke Walton almost liked that game better than Ingram's higher-scoring efforts.
"I'd rather him have games like this than [against Denver]," Walton said. "I think he finished with 20 [in Denver] but tonight he had five assists and nine rebounds. That to me is who Brandon is. He's more of a basketball player than he is just a scorer.
"We're at our best when he's in the game trying to not only get to the rim and put pressure on but also looking to be a playmaker for his teammates when the defense collapses. I think [against the Nuggets] the defense collapsed a lot on him and they forced some turnovers because he wasn't ready to make those passes and he didn't make those same mistakes tonight."
One part of Ingram's game that still needs improving is his shooting. Excluding shots taken at the rim, where the majority of his points are scored, he has made only 32% of his shots.
"He's getting to the rim with ease now," Brewer said. "Once he improves his jump shot he's going to be almost unguardable."
Follow Tania Ganguli on Twitter @taniaganguli
All things Lakers, all the time.
Get all the Lakers news you need in Dan Woike's weekly newsletter.
You may occasionally receive promotional content from the Los Angeles Times.