Ivica Zubac hitting his stride for Lakers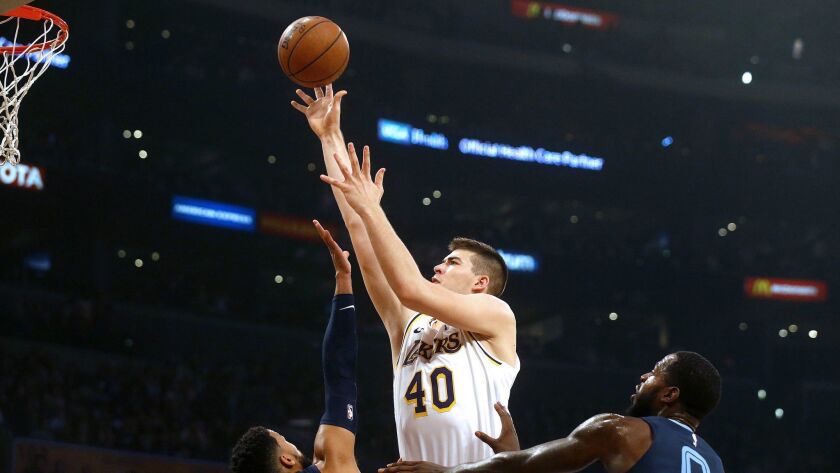 Ivica Zubac worked all summer to make his body leaner and his game more effective in hopes that his third season in the NBA would be one during which he showed he belonged.
His body had other plans.
"I just got sick like three days before training camp as I was coming back before the [Croatian] national team," said Zubac, who turns 22 in March. "All that time difference change, different weather. It got me bad. I don't know how I got through the training camp because it was super hard."
Zubac lost about 20 pounds as he dealt with an illness that made him feverish and sluggish. He might as well have lost all 270 pounds of himself. In the Lakers world, it essentially made him invisible. He wasn't getting playing time. He wasn't performing like he knew he could. He wasn't getting a chance to contribute. All anyone talked about was that JaVale McGee was the Lakers' only viable option at center.
As Zubac got stronger, he started to feel more like himself. On Thursday, Zubac became a critical force in the Lakers' overtime win over the Oklahoma City Thunder. Zubac scored a career-high 26 points, making 12 of 14 shots, and had 12 rebounds. Most importantly, he battled with Thunder center Steven Adams, imposing his physicality on Adams.
"He was big around the rim and he's got a really nice soft touch down there," Lakers coach Luke Walton said. "Some of it's his teammates are looking for him, when he gets that ball around the rim, he's pretty good at finishing. But where he's really grown is becoming more physical. I think playing behind Tyson [Chandler] and JaVale this season has really helped with that. Because he's setting solid screens every time now."
Sign up for our Lakers newsletter »
The Lakers drafted Zubac at 19, knowing he'd take some time. He played in 38 games as a rookie — though his family streamed every Lakers game from their home in Bosnia and Herzegovina just in case. He started 11 games his rookie season. Zubac didn't start any games last season but he played in 43.
As this season started, Zubac was almost non-existent. But he says he never thought he wouldn't make the team.
"I always knew I'm gonna be there," Zubac said. "Even when I was sick, I was showing the coaches what I could do. I always have confidence in myself even though everyone doubted me. All the fans and everyone. I knew they can't see what happens in the practice. I knew I just gotta wait for my chances in the game and I'm gonna prove what I am able to do when I get on the floor."
McGee was the Lakers' starting center when the season began, and Zubac hardly got any playing time. When they needed to go away from McGee, they went with small ball lineups that featured Kyle Kuzma at center.
They signed Chandler in the first week of November, desperate for some help. Chandler saw in Zubac a player who needed some help with his confidence.
"Zu is just such a great kid," Chandler said. "Has a great attitude. You want to see him do so well. I love seeing him succeed out there. I'm going to keep on being in his ear, I'm going to keep on encouraging him because I really believe he has a bright future in this league and I think he could do some special things out there."
Chandler was 33 when Zubac entered the league. When he became Zubac's teammate, he noticed a young player who needed a confidence boost, like many other young players in the league. McGee saw that in Zubac, too.
"It's confidence over anything," McGee said. "If somebody's telling you you ain't … for years, you're gonna believe you ain't ... . If somebody behind you telling you're great, you gonna be great. You gonna play like they telling you you are, so that's all it was."
McGee tried to bolster Zubac's confidence. So did Chandler, who remembers what it was like to be a young player struggling to understand his role.
Chandler came into the league at 19 out of high school and said he relied on Chicago Bulls teammates Charles Oakley and Scottie Pippen to teach him what it meant to be an NBA big man. He'd sit next to Pippen on the plane during road trips, picking his brain as much as possible, grabbing him a beer when needed.
Now Zubac sits next to Chandler on the plane — but isn't asked to deliver beers.
And Zubac learned how to work past other people's doubts.
"My first year everyone loved me," Zubac said. "I was not getting that kind of love in my second year. This summer, beginning of the year … you can see all of that. I was even at some point I got frustrated with it and I stayed off social media for a long time trying to get my mind clear.
"I was just waiting on that chance because I knew when I get in the game I can prove to everyone that I can play."
On Thursday, he showed just how much he could do.
Etc.
The Lakers cleared Rajon Rondo for full-contact practices on Friday. Rondo has been out since tearing a ligament in his right ring finger on Christmas. He had surgery on Dec. 28 and wasn't allowed to travel with the team until Wednesday's trip to Oklahoma City and Houston. The Lakers didn't practice on Friday in Houston.
UP NEXT
AT HOUSTON
When: 5:30 p.m., Saturday
On air: ABC
Update: The injury-riddled Rockets are riding transcendent play by James Harden, who has scored at least 32 points in every game since he had a 50-point triple-double against the Lakers in December.
Follow Tania Ganguli on Twitter @taniaganguli
---
All things Lakers, all the time.
Get all the Lakers news you need in Dan Woike's weekly newsletter.
You may occasionally receive promotional content from the Los Angeles Times.