After Warriors stint breathed life into JaVale McGee's career, he's ready for a big opportunity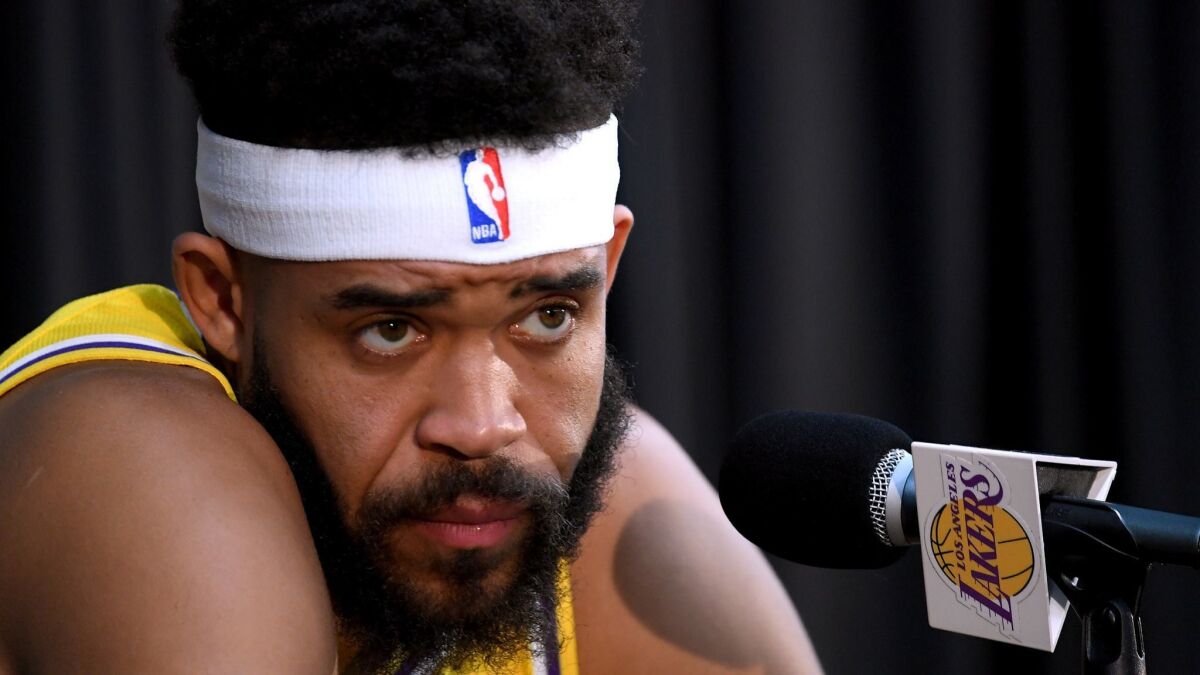 Some players try to reduce the gravity of playing against LeBron James as a way to insulate themselves. They insist he isn't that big a deal. They say he's just another guy. They try not to acknowledge what makes him such a unique player.
JaVale McGee is not one of those people. He believes that's why he can succeed.
Last year the Golden State Warriors asked McGee to face James at times in the Finals, starting him for Games 2, 3 and 4.
"I was just honored to be in the situation to be able to guard the best player in the league one on one and be able to do it well," McGee said. "It's a blessing. That's part of the motivation. Most people are like, 'Oh, this is just a regular guy.' No he's not. He's not a regular guy. He's one of the best players in the NBA. You have to treat it that way."
The two years he spent in Golden State gave McGee a second wind in his career, not to mention two championship rings. Now James is a teammate, something McGee still doesn't take for granted. And he's going to have a bigger opportunity playing than he has in years.
It's exciting for McGee, 30, who two years ago wondered if his career was about over.
"Personally I'm just trying to take advantage of every moment that I get," McGee said. "Sometimes I think some things just happen and are meant to be. It's just one of those situations. … My career was dwindling down and I got to be in Golden State for two years and show I still have it."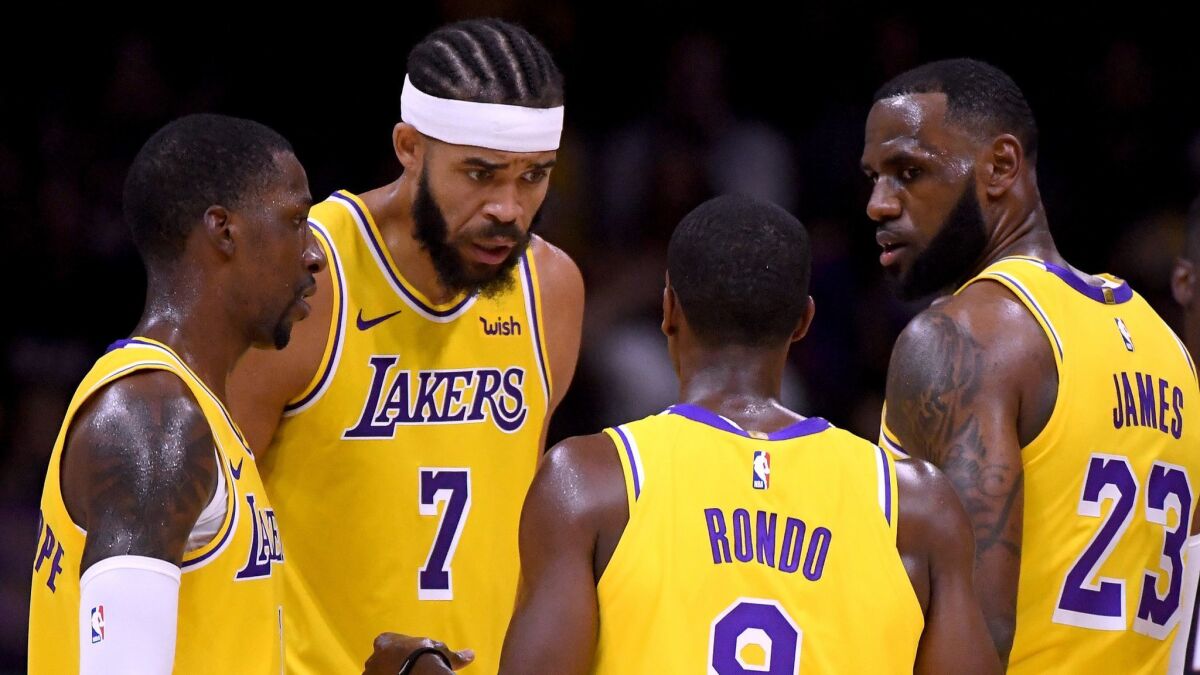 Center is probably the most enigmatic position the Lakers have right now.
McGee will be their starter. Michael Beasley is an option. Kyle Kuzma has tried his hand as small-ball center. Ivica Zubac is entering his third year, but he hasn't been able to rise enough in the coaches' esteem to garner much playing time. The Lakers drafted center Moe Wagner out of Michigan in the first round, but Wagner will miss the preseason with a knee injury.
"I think offensively it would be great for us if Kuz can handle that," coach Luke Walton said. "We can get out on the fly and space the floor. But it's something we don't know yet. The same with Beasley. Zu: what does that look like with that second unit?"
Kuzma has been eager to learn, and is improving. But Walton isn't sure if Kuzma playing center will be a consistent option heading into the regular season. More likely, the second-year player will simply have a new skill set to showcase when, as a forward, he switches onto big men on defense.
The 7-foot McGee is happy to offer advice to his smaller teammates as they learn how to face bigger players.
"Be fast rather than strong," McGee said is part of his advice.
It's something he has tried himself. His play sped up after he discovered he had asthma during his second year in the NBA. Until then, those around him simply thought he was out of shape.
One year McGee reported at 280 pounds and thought that was his key to success.
"I couldn't jump. I couldn't run. I felt tired," said McGee, a first-round pick of the Washington Wizards in 2008. "I was like maybe being big isn't my thing."
So McGee became vegan and lost 20 pounds, quickly. There's no whey protein in McGee's diet — his protein supplements come from plants like peas. He says he hasn't eaten chicken in two years.
By the time the Warriors signed McGee, he had been on three teams since his rookie contract — and that was all within a four-year span. There McGee got a good look at the small-ball trend that was sweeping the NBA.
"They're trying to get us out of here," McGee said of himself and his fellow big men. "They literally took the whole position off the All-Star ballot. So just think about that. We don't even have a choice. We have to go against guards and we're not gonna score 40."
That journey has all led him to the Lakers to play alongside James. But first, McGee had some personal business to take care of.
This summer McGee wanted to try new things.
After years of the same old experiences — a summer of basic activities in Miami, New York and Los Angeles— he didn't want to see the same people and the same venues.
So he went to Barcelona just to check it out. He still went to New York, but this time he stopped by New York Fashion Week, met models and designers and studied their crafts. And he spent part of his summer in a little village in Uganda that didn't have a water source, where his foundation called Juglife was going to build a well.
"Fortunately we won an NBA championship so our summer was short," McGee said. "I just wanted new experiences. What else can I do that I haven't done?"
That question has helped McGee evolve, and the Lakers will be counting on all he has learned.
Follow Tania Ganguli on Twitter @taniaganguli
All things Lakers, all the time.
Get all the Lakers news you need in Dan Woike's weekly newsletter.
You may occasionally receive promotional content from the Los Angeles Times.