Lakers get second road win when they're up to task of slowing Cousins and beating Kings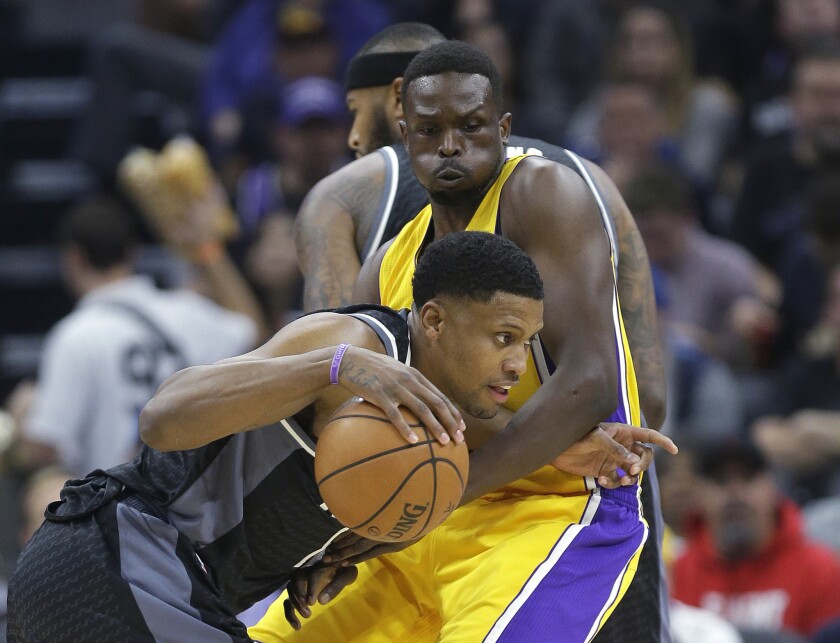 Kings forward Rudy Gay, left, tries to drive past Lakers forward Luol Deng during the first quarter.
(Rich Pedroncelli / Associated Press)
Lakers point guard D'Angelo Russell is defended by Kings point guard Ty Lawson during a drive in the first half.
(Rich Pedroncelli / Associated Press)
Kings forward Rudy Gay pulls down a rebound against Lakers forward Larry Nance Jr.
(Rich Pedroncelli / Associated Press)
Lakers center Tarik Black tries to score against the defense of Kings forwards Matt Barnes, left, and Anthony Tolliver in the first quarter.
(Rich Pedroncelli / Associated Press)
Lakers forward Julius Randle scores on a breakaway dunk against the Kings in the first quarter.
(Rich Pedroncelli / Associated Press)
Kings forward Rudy Gay tries to cut off a drive by Lakers forward Luol Deng during the first quarter.
(Rich Pedroncelli / Associated Press)
Reporting from Sacramento —
Facing one of the best big men in the game, the Lakers knew this one would be a fight.
But as they matched the Sacramento Kings and DeMarcus Cousins blow for blow, they showed themselves ready for the bout.
The Lakers defeated the Sacramento Kings, 101-91, for their second road win of the season.
They improved to 5-4. The Lakers have won four games in a five-game stretch for the first time since November 2013.
Lou Williams led the Lakers with 21 points, scoring 13 in the fourth quarter. D'Angelo Russell added 17, Nick Young 16, Julius Randle 15 and Timofey Mozgov 10. The Lakers are 5-1 when they have at least five players score in double figures.
The Lakers began their second trip in a once-hostile city, facing a Kings team trying to get its winning percentage to .500.
The energized Kings raced to an early lead on the back of Cousins. By the end of the first quarter, Cousins already had scored 10 points while no Laker had scored more than five.
A constant specter throughout the early part of the season continued to torment the Lakers early.
They turned the ball over 12 times in the first half, leading to 20 Kings points.
For a time, that was the difference in the game as the Lakers trailed by 19 points late in the second quarter.
"We weren't ready to play. Honestly," Lakers Coach Luke Walton said. "We've had a bad habit, even going back to preseason of starting games slow. It's not acceptable. Our guys have proven that when they play hard and they're engaged in what they're doing, they're capable of beating anyone on any night. So to come out and start games without that type of mindset is something we can't live with."
Even before halftime that started to change. Driven by Randle's energy, the Lakers drew to within 10 by way of a 9-2 run.
"That's when Julius showed them," Walton said. "I didn't do anything. Julius started to bring the fight."
The Kings' lead remained solid for much of the third quarter, until a 7-2 run cut it to three.
Larry Nance Jr., who sat out the Lakers' last game because of a concussion, fought hard to get the Lakers back into the game.
In the final five minutes of the third quarter, Nance had three rebounds, two steals and a cutting dunk on an assist from Jordan Clarkson.
"It took me a couple minutes in the first half to even get back in the swing of all right I'm back on the basketball court," Nance said. "… I got recovered from that and it was just energy. They made a few errant passes that I could pick off and kind of got our team rolling a little bit."
Late in games, stars have hurt the Lakers. Paul George did so in Indianapolis. Russell Westbrook did so throughout the Lakers' loss to the Oklahoma City Thunder.
Cousins threatened to do so in the fourth quarter Thursday.
He hit a three-point shot to tie the score at 80-80, then followed with a layup to tie it again at 82.
The Lakers responded with a 10-0 run punctuated by a banked-in three from Young. That led to a Kings timeout and excited a sizable group of Lakers fans at Golden 1 Center.
Walton closed out the game with a lineup of Brandon Ingram, Young, Mozgov, Williams and Randle.
"We have to stop shooting ourselves in the foot," Randle said. "We're not going to be able to come back like that all the time. We need to come out and be that aggressive more. Be aggressive on the defensive end, get stops and get out."
The Kings had won seven in a row against the Lakers, but they wouldn't make it eight.
Cousins, who finished with 28 points and nine rebounds, plucked away Williams' inbounds pass as the fourth quarter closed, but the Kings couldn't score off the turnover.
Twitter: @taniaganguli
ALSO
Five takeaways from the Lakers 101-91 win over the Kings
He has always been there for fans, and now writer Joe Resnick receives honors he earned
U.S.-Mexico World Cup qualifier is a clash of the past and the present
---
All things Lakers, all the time.
Get all the Lakers news you need in Dan Woike's weekly newsletter.
You may occasionally receive promotional content from the Los Angeles Times.