Five takeaways from the Lakers' 101-86 win over the Sacramento Kings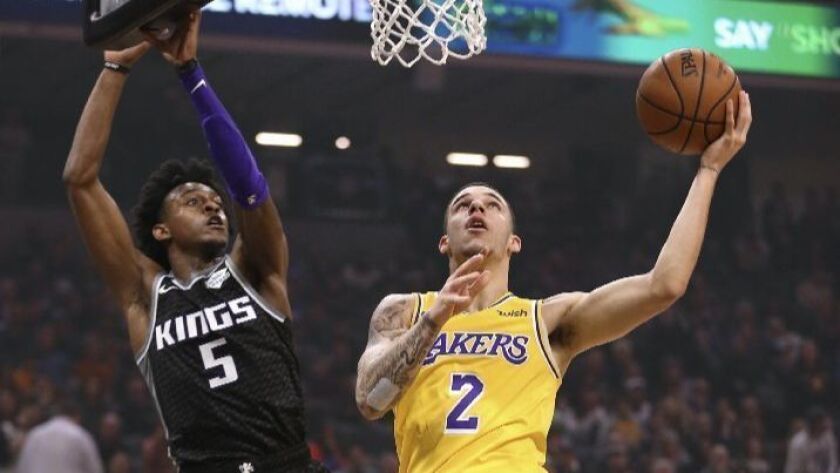 Sacramento had been playing pretty well and heading into this game, it seemed like one the Lakers could lose.
But on Saturday night they did something they'd done only once before this season. They put their foot on a team's figurative neck and kept it there.
The Kings threatened a few times, but the Lakers never truly let them back into the game. Here are five takeaways from Saturday night's 101-86 win in Sacramento.
1. As a team the Lakers didn't shoot very well, but that was especially true for Lonzo Ball. Ball began shooting 1-of-7 and finished 2-of-10. He missed all six three-pointers he took.
"Just trying to find my place," Ball said. "This year's a little different than it was last year, still trying to figure out what I can do out there, just try to play my spots."
Lakers coach Luke Walton noted that while it's great that the team has so many ball handlers, that's been an adjustment for Ball, who is so used to having the ball in his hands.
2. Because of the smoke in the building, Walton kept a close eye on everybody's minutes, but especially his big men. JaVale McGee and Tyson Chandler each played exactly 23 minutes. None of the players admitted to being affected by the smoke except for LeBron James. James said he had a headache pregame and can't think of any other reason for it.
McGee said this: "My stomach was hurtin' like I was hungry or something but it was from the smoke for sure." This caused Michael Beasley and Lance Stephenson to giggle beside him.
3. For the second game in a row we saw the Lakers rewarded for signing Tyson Chandler. In his first three minutes in the game, Chandler got four rebounds. He changes the whole tenor of their defense because of how he fortifies the inside when McGee isn't in the game.
4. LeBron James has seemed to be a little more aggressive in looking for his own shot over the past few games. The Lakers shooting woes likely didn't help this, but James didn't have his first assist until deep into the game. He didn't get his second of two assists until the fourth quarter. James still contributed plenty with 25 points and seven rebounds, but it's not the type of game he has often.
5. The Lakers are starting to get to know each other defensively, which also means they know when to help each other.
"We were just in sync," Kyle Kuzma said. "We knew the game plan and everybody followed it and we had each other's backs. There was a time I was in an [isolation play] with De'Aaron Fox and I knew Rondo was on my left side and he gave me confidence. So, building that chemistry is going to help."
Follow Tania Ganguli on Twitter @taniaganguli
---
All things Lakers, all the time.
Get all the Lakers news you need in Tania Ganguli's weekly newsletter.
You may occasionally receive promotional content from the Los Angeles Times.