Must Reads: Lakers' signing of LeBron James began with a Jerry Buss dream
Eight years ago Jerry Buss had a dream.
LeBron James as a Laker.
It was the summer of 2010 and the Lakers were not going to be players in free agency. They had just won their 16th championship, beating the hated Boston Celtics. They had their team. Besides, they had no salary cap space to add a star.
Buss thought about calling James anyway. Over lunch with his kids, he mentioned the idea, offhandedly.
"It'd be good to know that guy," his son Joey recalled him saying.
League rules allowed teams to meet with any free agent. Why not meet with James to introduce him to the Lakers' vision? Why not sow the seeds of a future partnership?
"LeBron was always somebody that he was interested in," said Buss' daughter Jeanie, the Lakers co-owner.
The idea took eight years to materialize. The 2010 meeting never happened. Two years later, after James won his first championship, the Buss family patriarch was in the grip of an illness that eventually took his life.
Jerry Buss never saw James turn into a three-time champion, a savior in Cleveland and an entertainment mogul. He also never saw the team he stewarded through 10 championships fall to the depths of the last five years. He didn't see a player who was like a son to him, Magic Johnson, come back to the franchise in an effort to suspend its free fall.
The recovery has been painful, and it is not complete. But eight years after Buss first suggested James should be a Laker one day, he is one. His arrival is a beacon assuring fans that the franchise is traveling in the right direction.
"It just feels right," said Jesse Buss, Jerry's youngest son, who is the Lakers' assistant general manager and director of scouting. "It feels like, finally. It means a lot since it's really the first chance since he passed away that it kind of seemed like similar to something he would have done."
James' decision is a start, a possible first step in the healing of a proud franchise.
::
Superstars have always been the Lakers' way.
Jerry Buss thought having one — player or coach — made everything easier. Especially the business of winning championships.
It's what got him so excited in 1996 when then-general manager Jerry West told him about a teenager named Kobe Bryant. Buss was on vacation with his youngest children at the Royal Hawaiian, whose staff knew the family so well they'd let the kids store their toys at the hotel between trips. He rushed back and forth from the beach for updates from West.
That summer they also signed Shaquille O'Neal, who dreamed of Lakers stardom from the first time he saw a room full of celebrities stare in awe at Magic Johnson.
Johnson remembers how delighted Buss was at the idea of securing O'Neal.
He was a little kid. He couldn't wait to sit in front of Shaq.
— Magic Johnson on Jerry Buss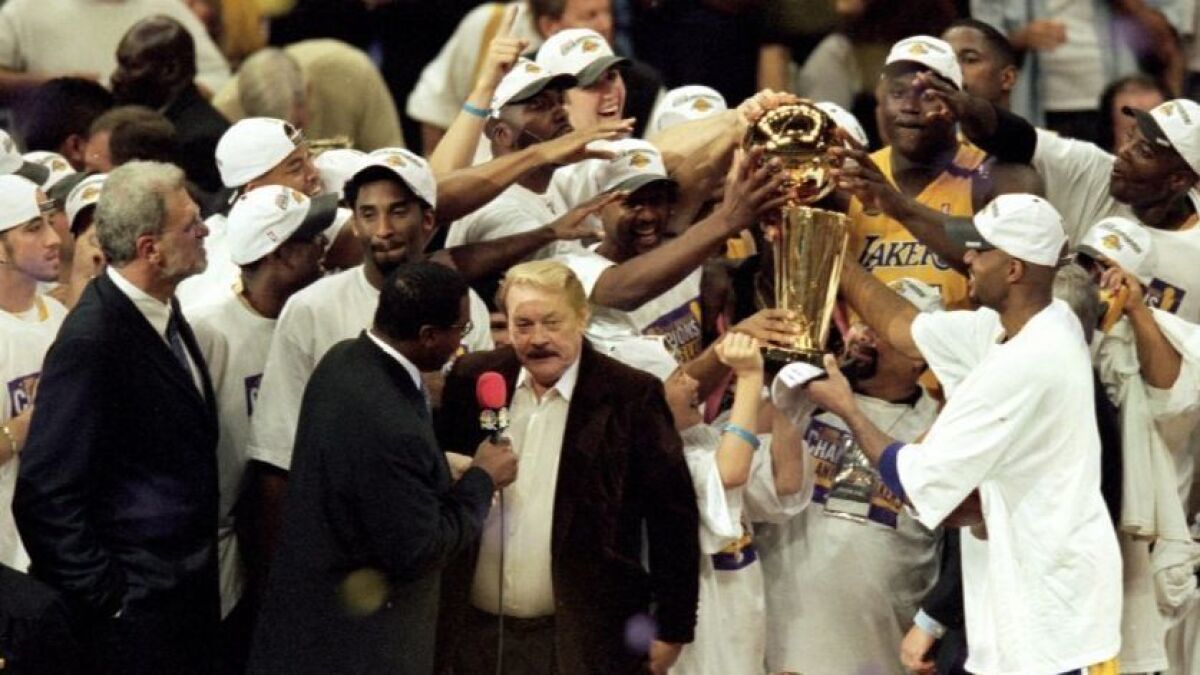 "He was like a little kid," Johnson said. "He couldn't wait to sit in front of Shaq. I have been through a lot of those times when we were recruiting guys and I could see how animated and excited he got."
Buss loved telling star players about his vision, and he always felt confident in his pitch. His recruiting ability, plus deft moves by the executives he hired, helped bring some of the league's biggest stars to the Lakers.
The maverick owner showed that confidence the very first time he met Johnson. The NCAA tournament star had been drafted onto the team — he had no choice in the matter — but Buss knew Johnson would love being a Laker.
As the years passed, Johnson sometimes spoke with free agents to tell them what it was like. It was good preparation for a time when the franchise would need him to sell.
Bryant nearly left before his final two championships, but Buss promised he could build another championship team. He sent a telegram from vacation assuring him so.
"The day we traded for Pau [Gasol], Kobe called and said, 'I can win a championship with this dude,'" Jesse Buss recalled.
They won two, in 2009 and 2010.
That summer, James left Cleveland for Miami, joining Chris Bosh and Dwyane Wade to create a superteam. He met with the New York Knicks, New Jersey Nets, Clippers, Cavaliers, Heat and Chicago Bulls.
Two years later, after James won his first championship, the Lakers brought in two players meant to reload their title hopes — Dwight Howard and Steve Nash. Those moves depleted the team's resources for years to come, and produced no championships.
Jerry Buss died from kidney failure on Feb. 18, 2013.
Howard left in free agency that summer. The Lakers finally finished paying for the trade that brought them Nash when their 2018 first-round pick went to the Philadelphia 76ers.
Meanwhile, James' star grew brighter. He went to the Finals every year with the Heat, winning two championships. Then it was time to become a free agent again.
::
In 2014, the Lakers made their first earnest attempt at James.
They'd gone 27-55 the previous season with Mike D'Antoni as coach, the championship years shrinking in the rear-view mirror.
To prepare for that summer's free-agent market, they called on Hollywood. Hoping to attract Carmelo Anthony, they asked Joel Silver, who produced movies such as "Die Hard" and the "Lethal Weapon" franchise, to create a trailer of the Knicks star's life. It was narrated by actor Tobey Maguire.
Anthony met with the Lakers for 2 1/2 hours in Jeanie Buss's office. Late the same day, general manager Mitch Kupchak and chief operating officer Tim Harris boarded a red-eye flight to Cleveland to meet with James' agent, Rich Paul. Kupchak pitched the basketball vision. He asked Harris to come along in case there were business questions.
"I had never met Rich before," Harris said. "He was curious about how the Lakers business ran."
Silver made a video for James too, also narrated by Maguire. But the Lakers' meeting with Paul was simple; the video was never brought up because it was meant for James.
James met personally with two teams — the Heat to say goodbye and the Cavaliers to say he was coming back.
It was a terrible summer for the Lakers.
Anthony stayed in New York. Even Gasol moved on, rejecting a Lakers' offer.
They struck out again in 2015 and in '16, awarding bloated contracts to Timofey Mozgov and Luol Deng when better free agents chose elsewhere.
They missed the playoffs five years in a row.
"To start out of the gate when he passed away to miss the playoffs that many years in a row was kind of devastating," Jesse Buss said.
Kupchak, who had been with the organization for 31 years, didn't survive as general manager, and Jim Buss missed a self-imposed deadine to revive the Lakers as executive vice president of basketball operations. A family legal struggle ensued before Jeanie, the oldest daughter among six Buss siblings, was able to assert control.
During the 2016-17 season, Jeanie, Joey and Jesse Buss went to dinner with Johnson. With the franchise in a downward spiral, Jeanie sat with her old friend at the Palms in Beverly Hills and listened as he told her brothers — both more than 20 years younger — stories about what their dad was like before they were born.
Dad was the recruitment element. The charismatic element. The draw.
— Joey Buss
"That's the kind of history that you can't [create]," Jeanie said. "That's a gift. That's like family. I don't know, it just was a real good time frame of just spending time and talking about the philosophy of how my dad saw things with the Lakers. It felt comfortable."
Joey had thought for years that the Lakers needed someone to replace the role his father played in building past great Lakers teams.
"Dad was the recruitment element," Joey said. "The charismatic element. The draw."
Johnson could fill that role. Jeanie hired him to help calm the storm, first as a consultant to bridge a growing gap between her and her brother Jim. Then, when that didn't work, to replace Jim.
Last summer, the Lakers seemed on the path toward stability. They selected three players in the first round — Lonzo Ball, Kyle Kuzma and Josh Hart. Their young nucleus showed promise during the season. Ownership remained committed to coach Luke Walton. And suddenly word started leaking that free agents had interest again.
But they still needed some of the old star power. If they couldn't actually attract that, had things really changed?
::
When Johnson first came to the Lakers as an executive, his eyes were too big for the small space the Lakers had under the league's salary cap. He thought he could sign three free agents to maximum deals this summer. Others warned him that almost never happened.
Rob Pelinka, hired to replace Kupchak, spearheaded the drive to create the room beginning last year. The Lakers traded Mozgov's remaining three years at $16 million a year, with D'Angelo Russell, who had been a lottery pick in 2015. This winter, they cleared more space by trading Jordan Clarkson and Larry Nance Jr. to the Cavaliers, potentially giving them enough room to sign two stars.
Knowing the danger of pinning too much hope on one player, they never specifically said they were going to get James. But he was a target, as was Paul George, a top shooter and defender from Palmdale who was on record as wanting to be a Laker.
The problem was, George was put off when the Lakers failed to trade for him in 2017, before he became a free agent this summer.
During a documentary aired on ESPN, George noted that the Lakers "didn't grab" him, sitting by as the Indiana Pacers traded him to the Oklahoma City Thunder. While the Lakers were unwilling to part with their young stars for George, the Thunder dealt one of theirs, Victor Oladipo.
As the period to sign free agents approached, Jeanie Buss withdrew from business to attend a personal matter on behalf of a friend who had recently lost a parent. On June 30, she turned off her cellphone for most of the day.
When she returned to business, she learned James wanted to meet with Johnson.
That night George chose the Thunder, never meeting with anyone else.
"You're kind of down you miss out on somebody," Jeanie said. "And you're thinking, oh, no, is it going to be another summer where we thought we had a good chance to get somebody and all of a sudden it doesn't materialize for us?"
Much of the Lakers' front office planned to get together at the team facility for the start of free agency at 9 p.m. on June 30. Johnson, more morning person than night owl, wasn't confirmed to join them.
But he was working.
Dr. Buss was the ultimate closer. And so I was trying to steal a page out of his book.
— Magic Johnson
Johnson met with James that night at the four-time MVP's home in Brentwood. Johnson was bubbling with anticipation, just as excited as Jerry Buss used to be for those kinds of meetings. James was already leaning toward the Lakers, but wanted to meet with Johnson before making his final decision.
"Dr. Buss was the ultimate closer," Johnson said. "And so I was trying to steal a page out of his book and try to bring the greatest player in the world to the Lakers."
::
The next day, general manager and team president received a similar text message from Rich Paul: congratulations, along with the animation of confetti an iPhone sends with that word.
Pelinka wondered if it really meant what he thought it meant.
Earlier in the day, as Johnson optimistically recounted his meeting with James to Jeanie Buss and Walton, Pelinka was on the phone with the star's agent, discussing the details of a potential contract.
Now, this.
"It was shock," Jeanie said. "Not that I wasn't confident going into it. For it to actually happen, it was like, whoa. OK. We're back now."
Jeanie, Johnson and Pelinka got on a three-way phone call filled with joy, exuberance and relief.
Thinking about it later, Pelinka struggled to hold back tears.
"I grew up in a little house in Lake Bluff, Ill.," Pelinka said, his eyes reddening. "My dad was a public school teacher."
Pelinka had been Bryant's agent. Then he went to work with Johnson. Now he would work with James. He sniffled and quietly said, "grateful."
Jesse Buss was out to lunch with friends. He found out about James from a post on Twitter and dropped his phone.
Composing himself, he stood and announced, "We got him."
One of his buddies tackled him.
::
Jeanie Buss loves telling the story about Magic Johnson's first trip to her dad's house. How the former Michigan State star told her he planned to leave the Lakers as soon as possible to play for his beloved Detroit Pistons.
But her dad knew that after opening day he would change his mind forever.
"He just had that kind of confidence, [that feeling] that can't wait till opening night," Jeanie said of her father. "It feels kind of like that. To see LeBron in a Laker jersey is gonna be really exciting."
She sat on a chair in her office with her back toward reminders of the Lakers' splendor: Six gleaming trophies on the windowsill behind her, daubed with fingerprints. The other five were off being refinished to replenish the shine that dulls with each public appearance.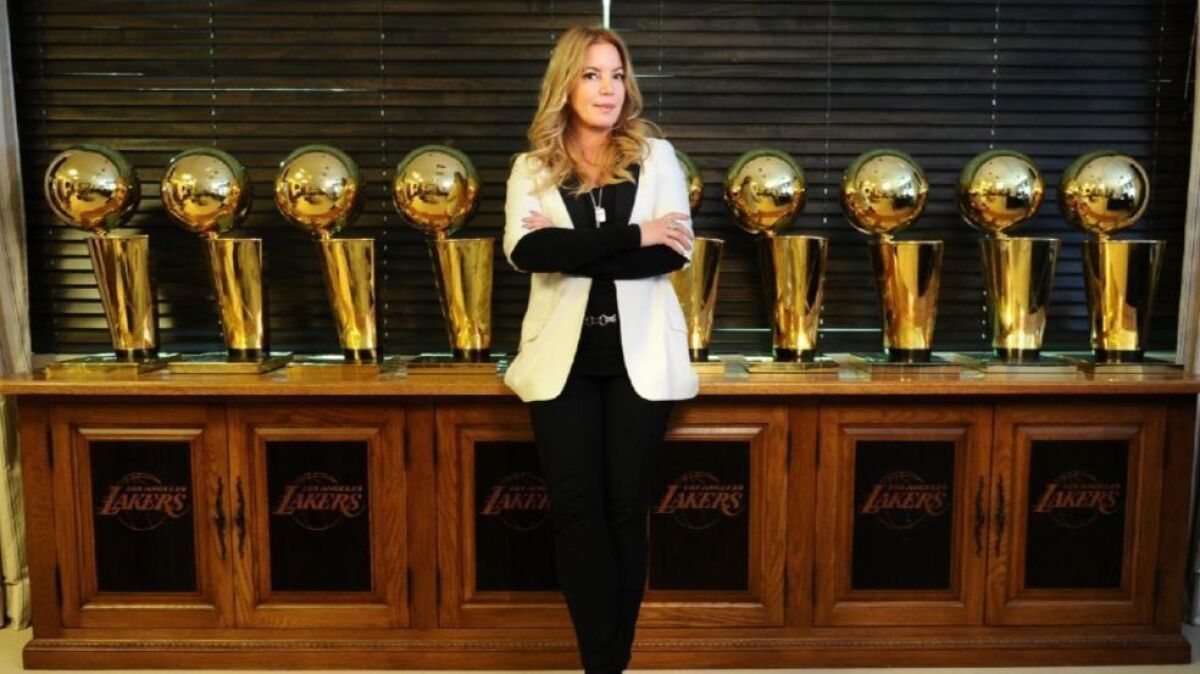 As the team's governor, she has always considered the Lakers civic property, her family as caretakers.
"We haven't done anything yet," she said.
But two days before, Pelinka had said James' choice was the "ultimate validation" for all the moves he and Johnson made in the year and a half they had worked together. Asked if she thought James' signing was validation for installing Johnson as the Lakers' president of basketball operations, Jeanie said she did.
"You know, everything that he does is to make the Lakers better," Jeanie said. "It's so wrapped up into who he is that you know there would never be an opposite agenda other than that. And that agenda matches up with what I was looking for."
It fits nicely in the arc of the franchise's history.
Jerry Buss brought Magic Johnson to the Lakers, and Magic Johnson brought them LeBron. In doing so, he fulfilled a dream Jerry Buss never got to see realized, eight years after he dared say it out loud.
Follow Tania Ganguli on Twitter @taniaganguli
All things Lakers, all the time.
Get all the Lakers news you need in Dan Woike's weekly newsletter.
You may occasionally receive promotional content from the Los Angeles Times.