Column: The Great One and The King: Two transcendent athletes changing L.A. landscape 30 years apart
First game: LeBron James of the Cleveland Cavaliers looks on during the game against the Sacramento Kings at Arco Arena on Oct. 29, 2003, in Sacramento.
(Jed Jacobsohn / Getty Images)
Soaring over Tim Duncan: LeBron James of the Cleveland Cavaliers goes in for a slam dunk over Tim Duncan of the San Antonio Spurs on Nov. 3, 2006, at the AT&T Center in San Antonio, Texas.
(Stephen Dunn / Getty Images)
NBA playoff debut: LeBron James of the Cleveland Cavaliers tries to get a shot off over Michael Ruffin of the Washington Wizards in Game 1 of the Eastern Conference Quarterfinals during the 2006 NBA Playoffs at Quicken Loans Arena in Cleveland.
(Gregory Shamus / Getty Images)
First MVP in 2009: Fans show support of LeBron James of the Cleveland Cavaliers as he holds up the Maurice Podoloff Trophy after being named the 2009-10 NBA MVP prior to playing the Boston Celtics in Game 2 of the Eastern Conference Semifinals during the 2010 NBA Playoffs at Quicken Loans Arena in Cleveland.
(Gregory Shamus / Getty Images)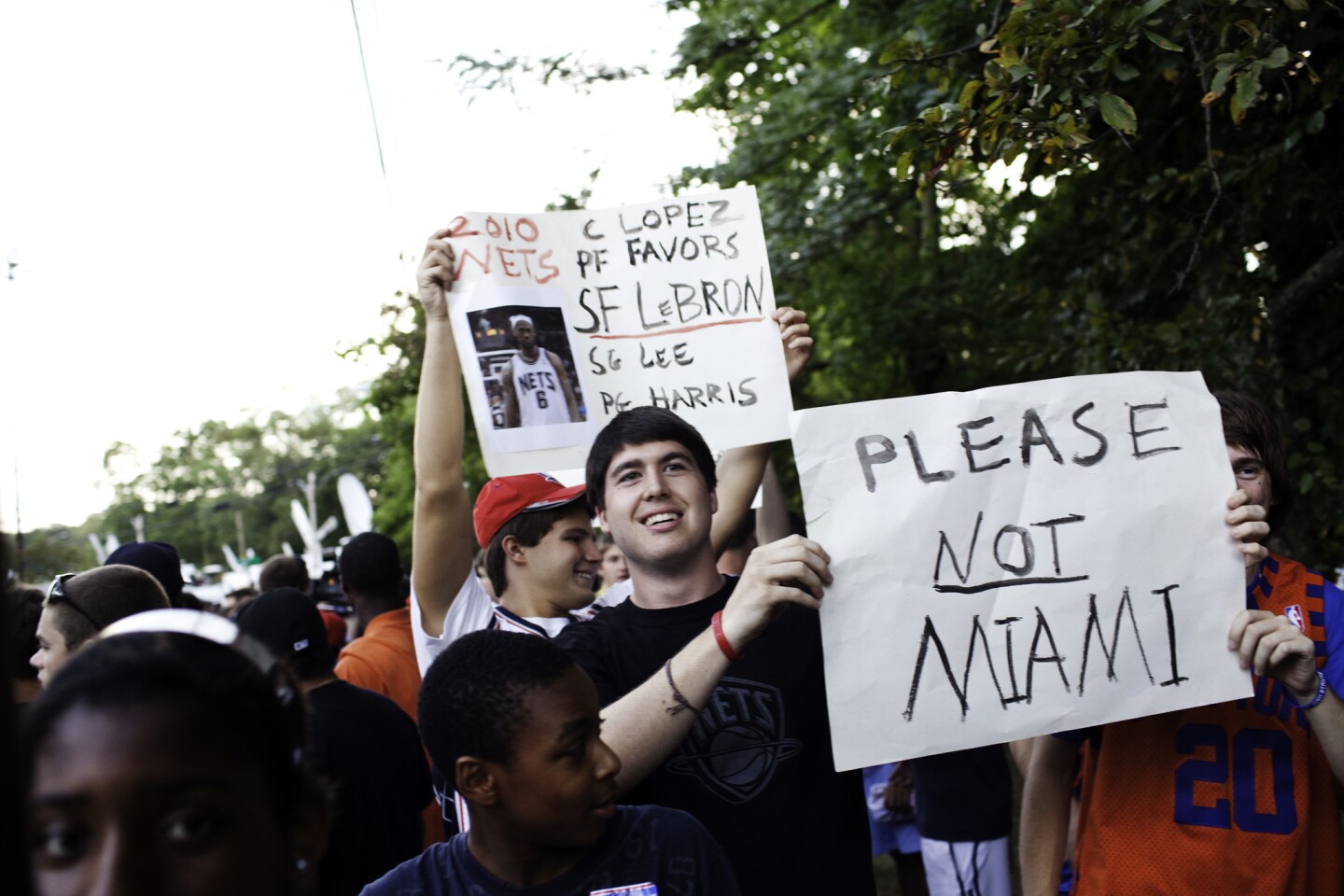 The decision: Eric Murosk stands in a large crowd of fans assembled outside the Boys & Girls Club of Greenwich hours before LeBron James was to arrive in Greenwich, Conn. Free agent NBA player LeBron James announced live on ESPN from there that he will be playing for the Miami Heat in the coming season.
(Christopher Capozziello / Getty Images)
The decision: LeBron James attends the LeBron James Pre Decision Meet and Greet on July 8, 2010, in Greenwich, Conn. Proceeds from the $2.5-million event were donated to the Boys & Girls Clubs of America.
(Larry Busacca / Getty Images)
LeBron James helped the Miami Heat win two NBA titles in four Finals appearances.
(Don Emmert / AFP/ Getty Images)
First championship: NBA Finals MVP LeBron James of the Miami Heat holds the championship trophy after defeating the Oklahoma City Thunder in Game 5 of the NBA Finals on June 21, 2012, at the American Airlines Arena in Miami.
(Don Emmert / AFP/Getty Images)
Block party: LeBron James of the Miami Heat blocks the shot of Tiago Splitter of the San Antonio Spurs in the fourth quarter during Game 2 of the 2013 NBA Finals at American Airlines Arena in Miami.
(Christian Petersen / Getty Images)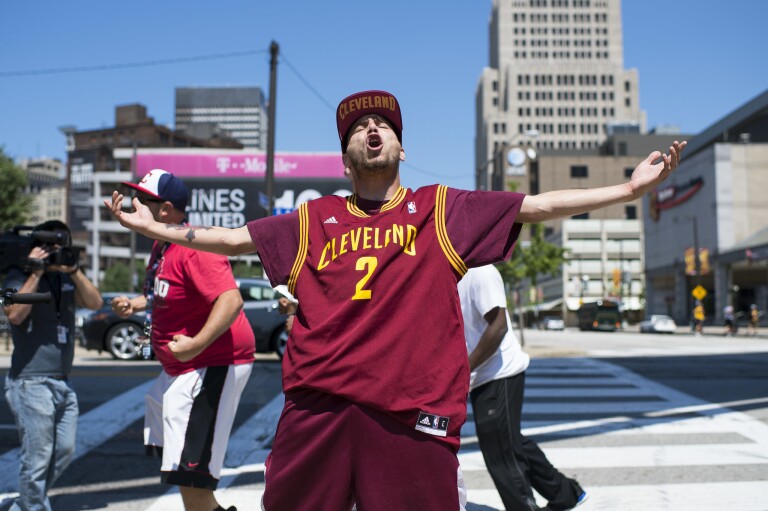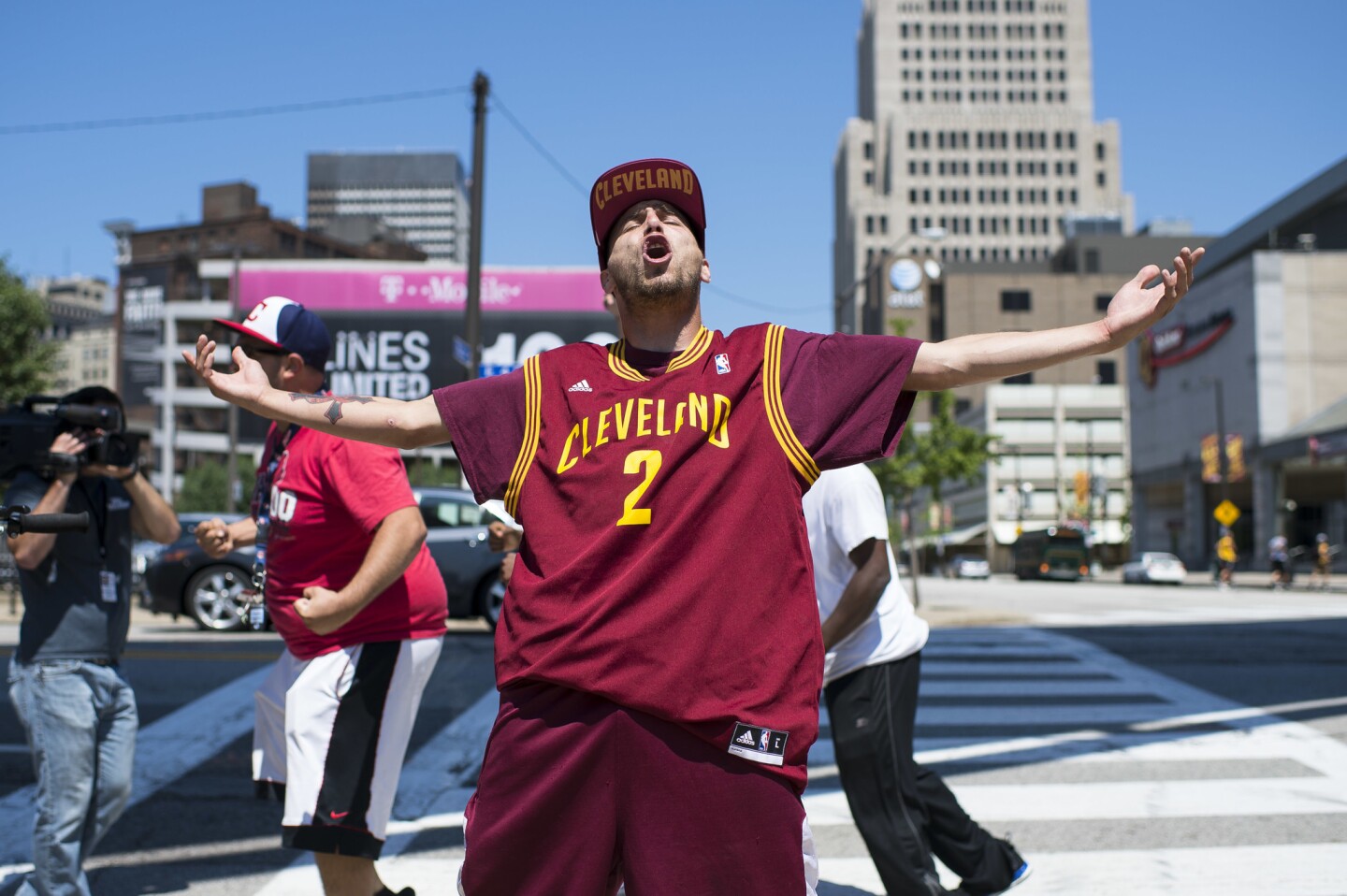 Return to Cleveland: A Cleveland Cavaliers fan reacts to the news of LeBron James' return to Cleveland on July 11, 2014, in Cleveland.
(Angelo Merendino / Getty Images)
Pinned: LeBron James of the Cleveland Cavaliers blocks a shot by Andre Iguodala of the Golden State Warriors in Game 7 of the 2016 NBA Finals at Oracle Arena in Oakland.
(Thearon W. Henderson / Getty Images)
Every 30 years, it seems, the summer skies over Los Angeles open up and drop a transcendent, game-changing athlete into our midst.
Wayne Gretzky arrived in August 1988, traded to the Kings from the Edmonton Oilers in a deal that initially shocked the hockey world and eventually reshaped it. "The Great One" was in his prime, 27 years old, with four Stanley Cup championships, eight most-valuable-player awards and 49 NHL scoring records to his credit.
LeBron James, who became a free agent a few weeks after his eighth consecutive appearance in the NBA Finals, on Sunday agreed to a four-year, $154-million contract with the Lakers. The NBA's second-leading active scorer is 33 but played all 82 games for Cleveland last season and all 48 minutes of the Cavaliers' Game 7 Eastern Conference finals victory over Boston. "King James" will bring three championship rings, four MVP awards and the attention of millions of basketball fans who wonder whether he can restore the Lakers' faded luster.
Gretzky knows greatness when he sees it, and he sees it in James.
"He's pretty special. I don't know if we've seen an athlete so unique as he is. He's in a different world because he's so special," Gretzky said Monday.
The last otherworldly athlete to land here was Gretzky. Superstars have passed through in trades and via free agency but none had the impact Gretzky had competitively — he retired in 1999 with 61 NHL scoring records and more assists than the runner-up had points — and in planting the seeds of hockey in supposedly inhospitable places. Gretzky, ever modest, would have none of that.
LeBron James comes to the Lakers: complete coverage »
"I'm not in his league," Gretzky said, "but it's nice of you to say."
James already has restored the Lakers' credibility but it's unclear how far he can carry them in the stacked Western Conference. Still, his task will be simple compared to Gretzky's job as an ambassador and salesman for a largely strange game.
Gretzky tirelessly explained and promoted hockey in California and precincts beyond, inspiring kids to skate and creating a lasting ripple effect. Because of Gretzky's skills and the pleasant face he gave a sometimes rugged sport, the NHL had the basis to expand to the south, to the Sun Belt and beyond. James doesn't have to sell basketball here.
Luc Robitaille, the Kings' president and a Hall of Fame left wing, called the Lakers' addition of James "unbelievable," and said he hopes to watch their newest marquee player next season. But he remains sure James' feats, though potentially great, won't leave as deep an impression as Gretzky's did.
"The Lakers are always the Lakers. I think the fact that maybe they haven't had a winning franchise the last four or five years, from that standpoint, you know right away now you're going to at least compete," Robitaille said. "It's different because when Gretz came it literally changed the game of hockey. This is kind of rebooting the Lakers. We've always known the Lakers are all about winning and they just showed it one more time that they're doing it."
Gretzky demurred again when asked whether James' job will be simpler.
"I don't know if that makes it easier because the expectations are to win," Gretzky said. "I think the difference is he went to Miami one time so this is sort of his second time through, going a different route. And basketball as a whole is probably a little bit more popular than hockey, so from that point of view it's a little bit different but the expectations are the same."
Gretzky said he met James once.
"To me, if he's not the greatest athlete in the world right now he's obviously in the top three and it's exciting for everybody in L.A.," Gretzky said. "Everybody I know that follows basketball, which is almost everyone, is really excited."
The thread that links Gretzky and James is Earvin "Magic" Johnson, a Lakers player in 1988 who supported Gretzky by buying Kings season tickets and now is head of the Lakers' basketball operations.
"Earvin is so much like Dr. [Jerry] Buss, he would do anything to win," Gretzky said, referring to the Lakers' late longtime owner, "and he deserves a lot of accolades for getting LeBron to agree to come here. It's probably so exciting for fans of basketball who love the Lakers and want them to succeed. This guy's a monster. He's a real special athlete. And when you have a guy like that, a lot of good things happen not only to the team but around the organization. I think it's wonderful for everyone."
There's something else Gretzky and James have in common: The uncommon ability to astonish. Bob Miller, the retired longtime Kings broadcaster, phrased it well while speaking of Gretzky.
"The appeal and excitement of going to the Forum to see him was, 'What might I have a chance to describe tonight that I've never seen before?' A lot of nights he fulfilled that anticipation," Miller said.
Gretzky gave us many great moments. James will, too. Another transcendent athlete will grace the landscape, and not a moment too soon.
---
All things Lakers, all the time.
Get all the Lakers news you need in Dan Woike's weekly newsletter.
You may occasionally receive promotional content from the Los Angeles Times.