Brook Lopez shows his frustration as Lakers fall to Magic, 127-105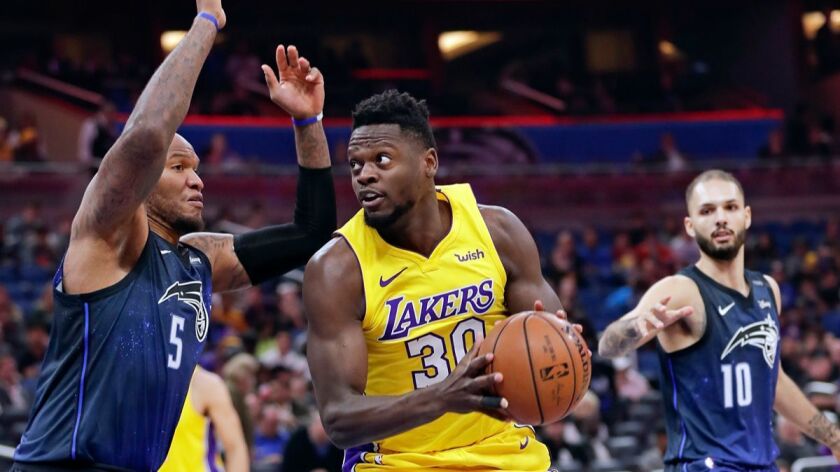 Reporting from Orlando, Fla. —
Things were getting worse and worse for the Lakers, and all Brook Lopez could do was watch from the bench.
He looked on, sullenly, as the Magic stole the ball and increased their lead to 28 points. Then, just as rookie center Thomas Bryant checked into the game, Lopez spotted a towel near the baseline. He rose from his seat to pick it up, draped it over his head and wiped his eyes, which were red. Moments later he stood up to greet his teammates during a timeout, then walked off the court, hiding himself from whatever came next.
A Lakers spokesperson said Lopez went to the bathroom, but he remained agitated after the game. Lopez declined two requests to speak to reporters and sped out of the locker room.
In a game during which Lopez looked like he hit a breaking point, the Lakers lost to the Magic 127-105. They collapsed defensively, allowing the Magic to score a franchise record nine three-pointers in the third quarter.
In their 50th game this season, the Lakers lost to a team hurting for a win. The Magic are now 15-35. They led by as many as 29 points in the fourth quarter. It was Orlando's fourth win in their past 24 games. It was Orlando's second game in two nights. The Lakers, who hadn't played since Sunday in Toronto, had no excuse to look as listless as they did.
"We weren't committed to guarding anyone tonight," Lakers coach Luke Walton said.
The Lakers found themselves within striking distance at halftime — only seven points down. But that quickly changed. Orlando scored seven points in the span of 44 seconds early in the third quarter, and Walton had seen enough. He replaced his entire starting lineup.
"It didn't feel like our guys were ready to play, and the message was if you're not ready to play or you don't want to play, you're not going to play," Walton said. "So we went to the second unit and then eventually kind of got guys back into the game."
Four of the starters eventually returned to the game. Lopez did not. Walton said that by the time he planned to put Lopez back in the game, it was so out of hand he opted to give rookie Thomas Bryant minutes instead.
So Lopez sat on the bench and stewed.
This has been a frustrating season for Lopez, who is playing a career low in minutes by almost 10 minutes per game. He was an All-Star in the 2012-13 season. As the NBA changed and big men were expected to shoot three-pointers, Lopez changed along with it.
The Lakers liked that in him. They also liked that he had an expiring contract that would free up more than $20 million in salary cap space next summer. They acquired Lopez in the trade that sent Timofey Mozgov's albatross contract and D'Angelo Russell to the Brooklyn Nets.
When he arrived, Lakers general manager Rob Pelinka extolled Lopez's virtues as a person and a player, making clear it was more than his contract the Lakers liked.
But it didn't take long for the Lakers to move away from Lopez. He's scoring a career low 11.8 points per game. He is attempting three-pointers at a higher rate than he did last season (when he made 134 of 387), but making a lower percentage of them. Lopez has not played in the fourth quarter in 16 of the last 18 games. He has missed the entire fourth quarter of 25 games this season.
Now, six months before Lopez becomes a free agent, there's still little certainty for him about his role.
Follow Tania Ganguli on Twitter @taniaganguli
---
All things Lakers, all the time.
Get all the Lakers news you need in Tania Ganguli's weekly newsletter.
You may occasionally receive promotional content from the Los Angeles Times.