Column: Magic Johnson was never all in, so now he's all gone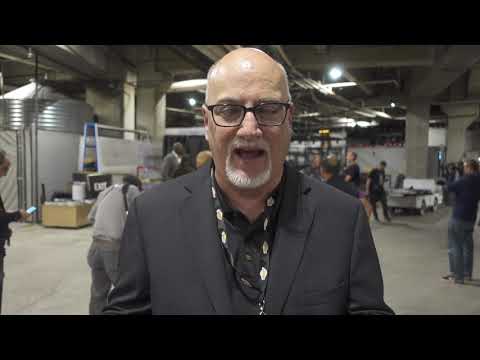 Los Angeles Times columnist Bill Plaschke reacts to Magic Johnson's decision to step down as the Lakers' president of basketball operations.
There was no warning. There were no rumors. There was nothing to indicate what was about to happen when Magic Johnson jovially stepped in front of the media early Tuesday evening in a Staples Center hallway.
He nudged me, grinned, and said, "Bill is here, we have to have a press conference.''
Then his smile disappeared, his laughter died, and he quit.
Just like that, in a move as stunning as any trick he pulled in more than two years as Lakers president of basketball operations, Magic Johnson made himself disappear.
In the middle of his personal quest to return the Lakers to glory, with his star recruit LeBron James sitting across the hall amid the hope that more stars will be joining him this summer, Magic Johnson walked away.
He made the announcement before telling owner Jeanie Buss. He held the news conference without the advance knowledge of team officials. This was his dream job, a role he could have reasonably filled for the rest of his life, yet he ended it all in nine words.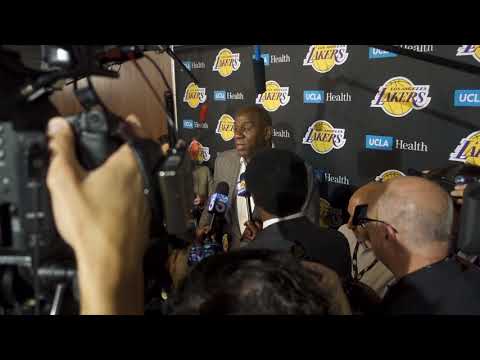 Magic Johnson announces he's stepping down as Lakers' president of basketball operations.
"Today I'm going to step down as the president,'' he said, and the gasps could be heard from that hallway to Figueroa.
For the next 45 minutes, he cried, he joked, he preached, he mourned and, mostly, he tried to explain the unexplainable.
Why would a renowned business builder walk away from a project so terribly unfinished? Why would a camera-loving drama king turn his back on arguably one of the most famous sports jobs in the country? After courting him for a year, why would he walk out on the King?
Sign up for our daily sports newsletter »
From Johnson's scattered reasons and ramblings, one could only construct theories that, taken together, probably come close to painting a full picture.
It is not a pretty portrait. It is the depiction of an organization in chaos. It is a portrayal of a mess that, let's face it, began when Johnson was unwisely given the job in the first place.
It was written here that he was never right for the position and, quitting in a manner as shocking as anything I've seen in 25 years covering this team, he proved it.
Johnson quit because he wanted to fire Luke Walton and owner Jeanie Buss disagreed. He quit because he didn't like the politics of the dysfunctional front office, expressly in regards to the actions of general manager Rob Pelinka, whom Johnson may have also wanted fired against Buss' wishes. He quit because he didn't like the rules restraints placed upon him by the league. He quit because he realized he couldn't give his full attention to both basketball and his numerous businesses.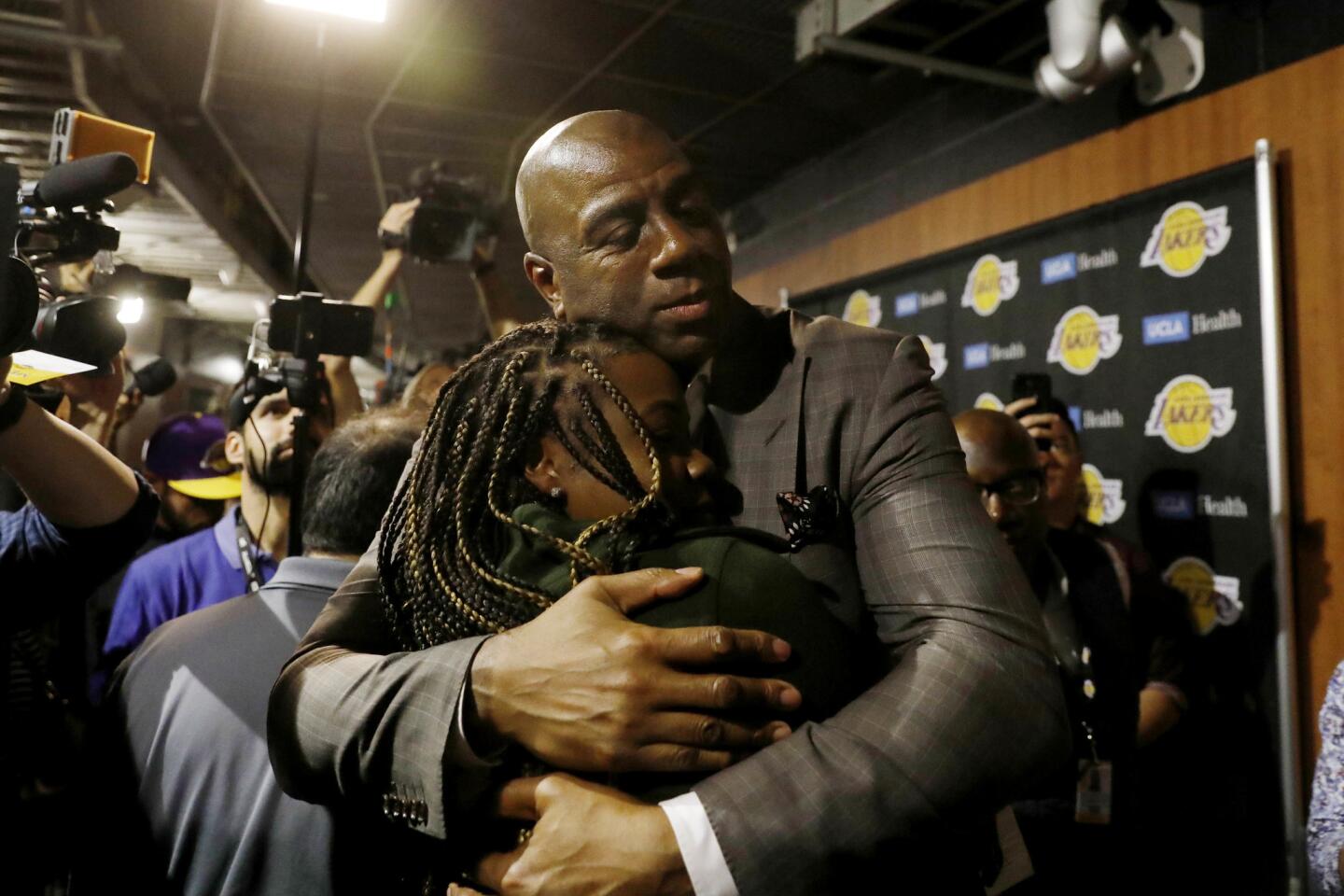 Magic Johnson hugs Lauren Jones, Los Angeles Sentinel reporter, after he steps down as Lakers' president of basketball operations at the Staples Center.
(Gary Coronado / Los Angeles Times)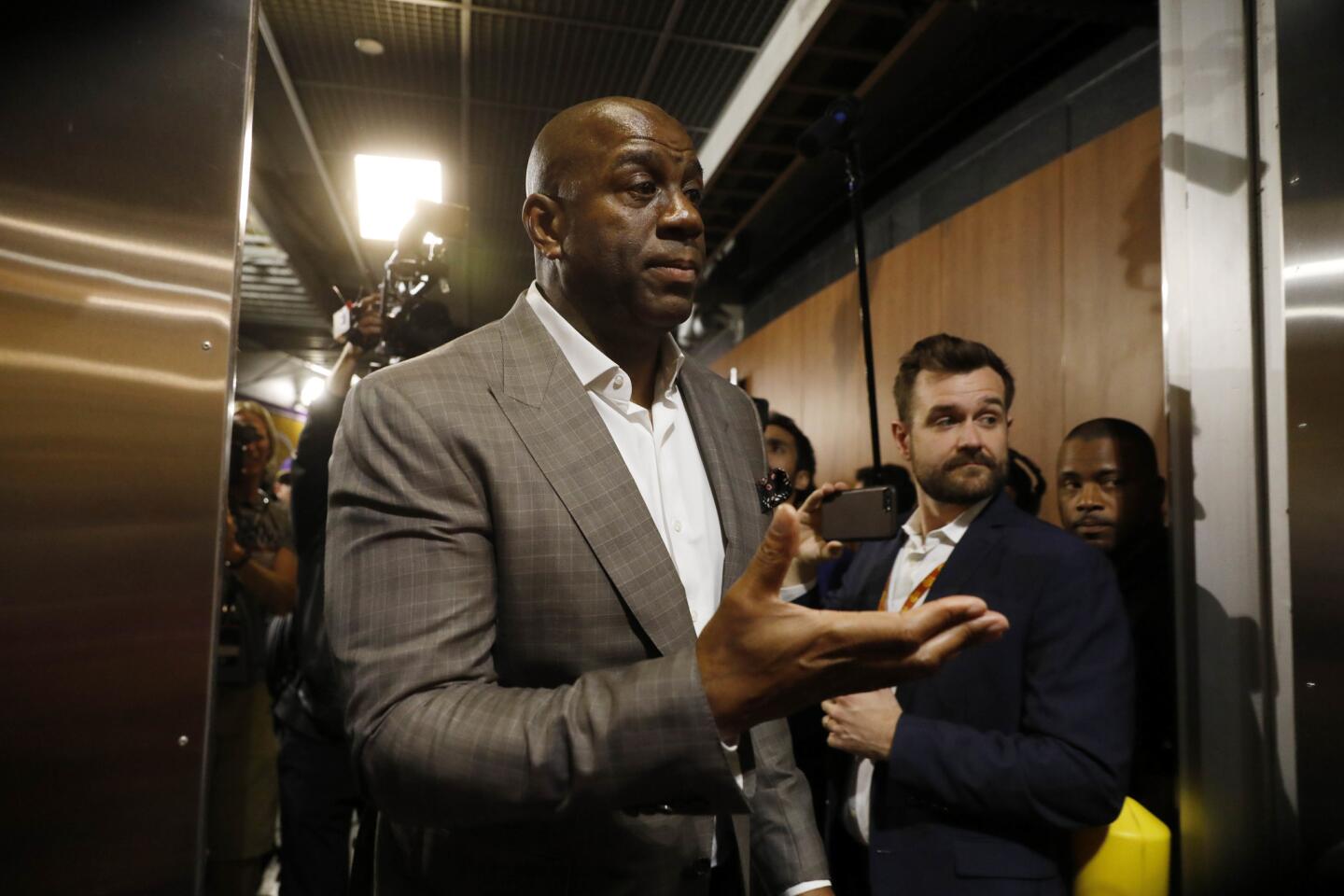 Magic Johnson steps down as Lakers' president of basketball operations.
(Gary Coronado / Los Angeles Times)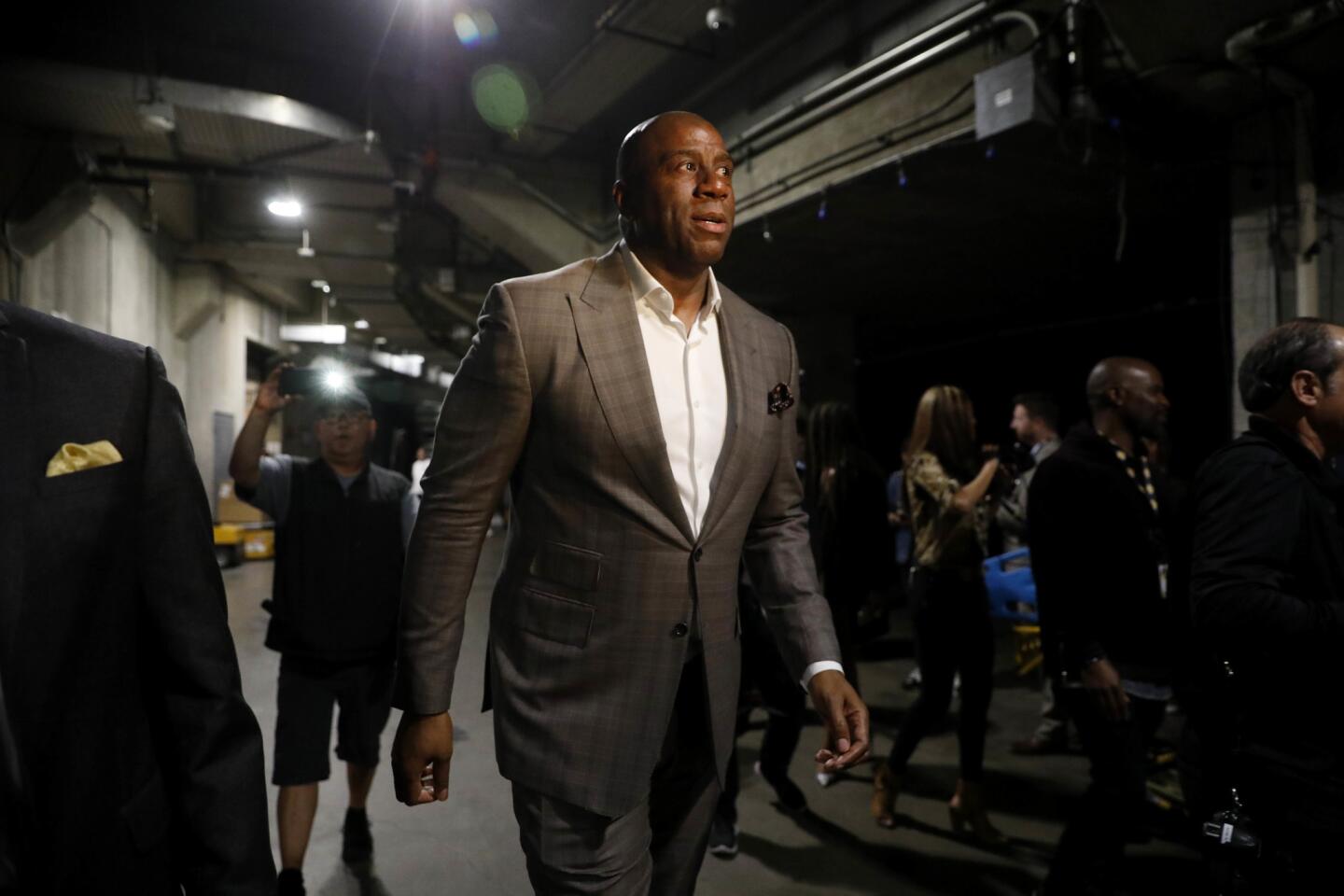 Magic Johnson steps down as Lakers' president of basketball operations.
(Gary Coronado / Los Angeles Times)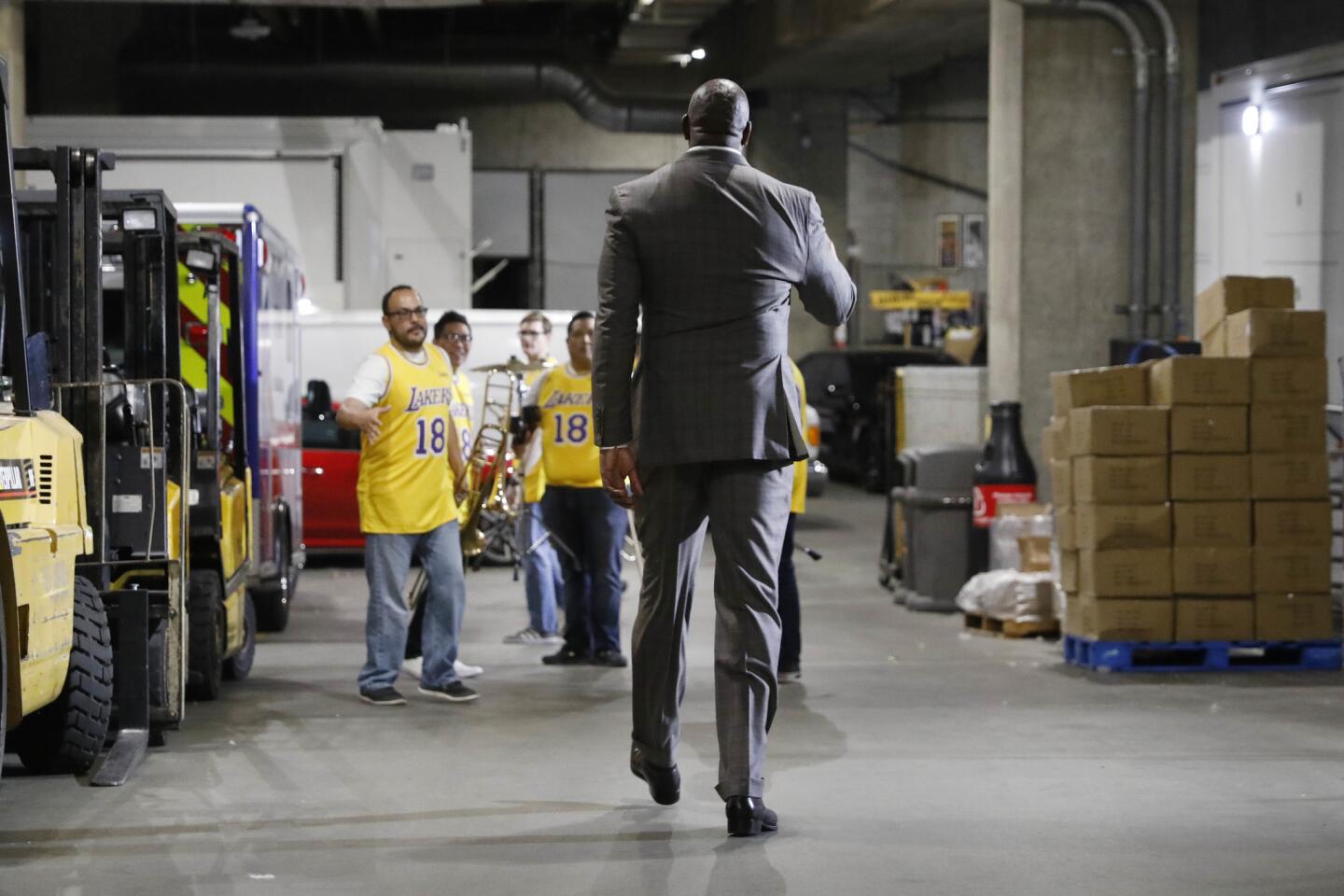 Magic Johnson steps down as Lakers' president of basketball operations.
(Gary Coronado / Los Angeles Times)
LeBron James, left, Kyle Kuzma, Tyson Chandler (5) and Josh Hart (3) of the Lakers.
(Gary Coronado / Los Angeles Times)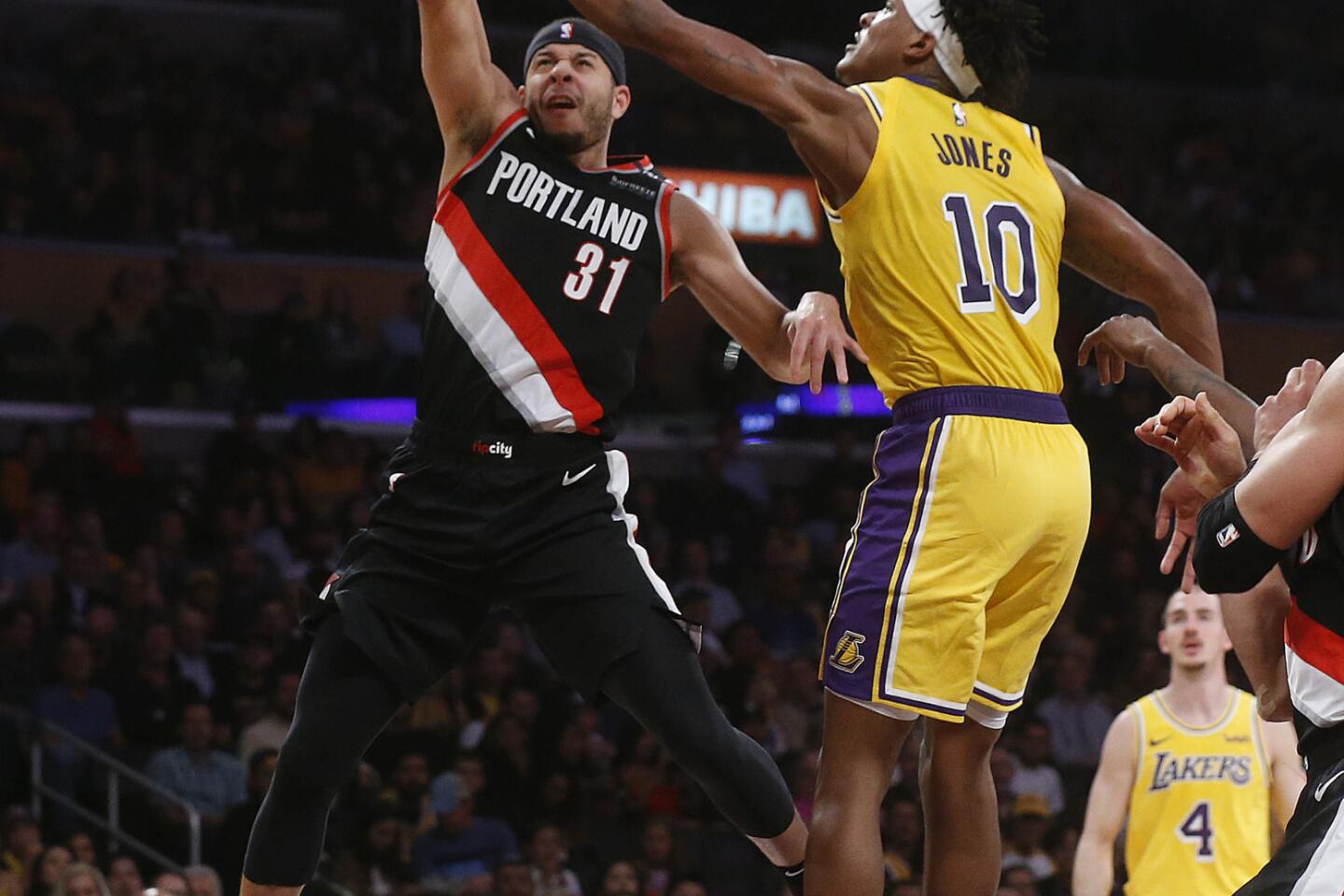 Lakers forward Jemerrio Jones (10) blocks a shot attempt by Portland Trail Blazers guard Seth Curry.
(Gary Coronado / Los Angeles Times)
Lakers head coach Luke Walton.
(Gary Coronado / Los Angeles Times)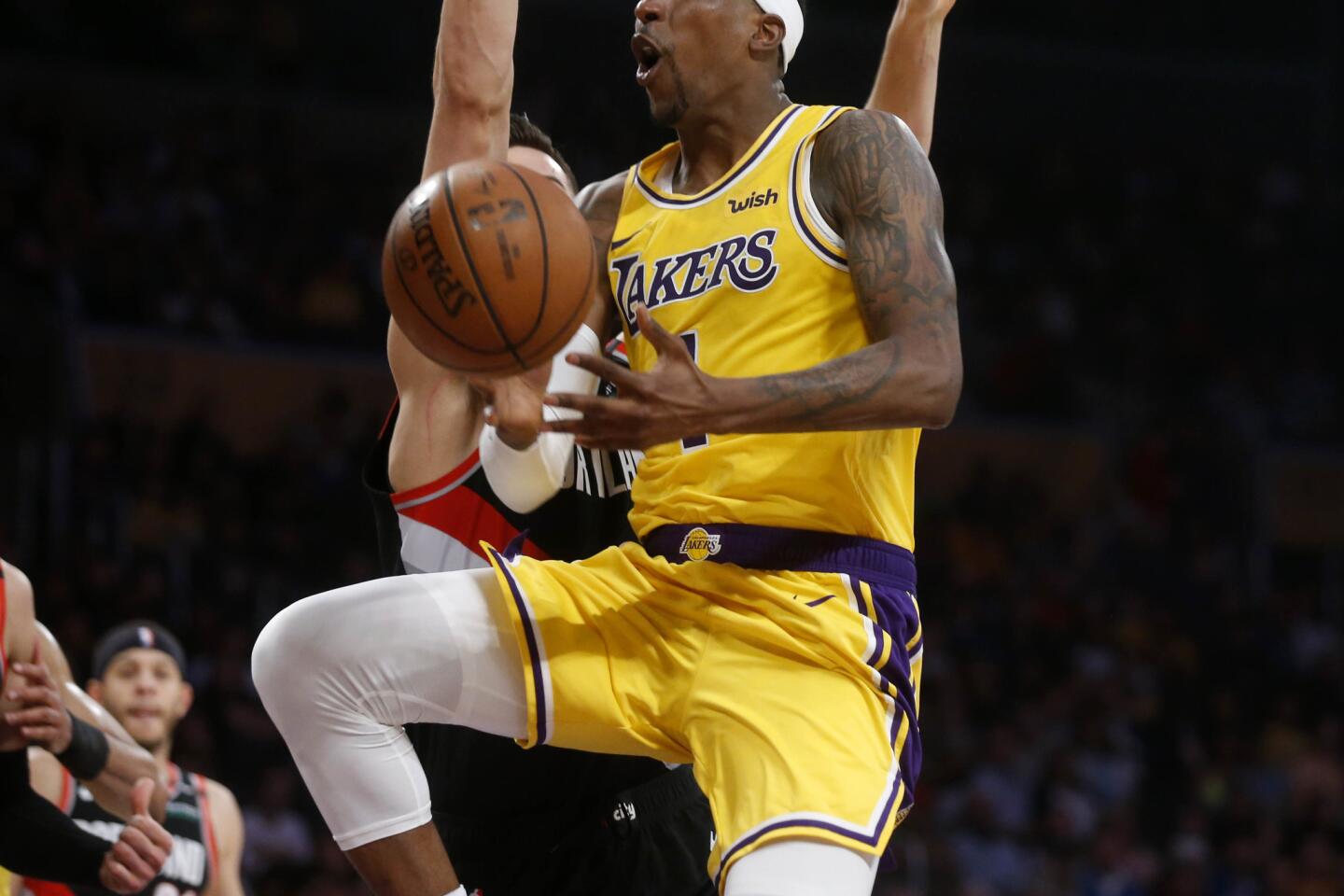 Lakers guard Kentavious Caldwell-Pope loses the ball while driving to the basket.
(Gary Coronado / Los Angeles Times)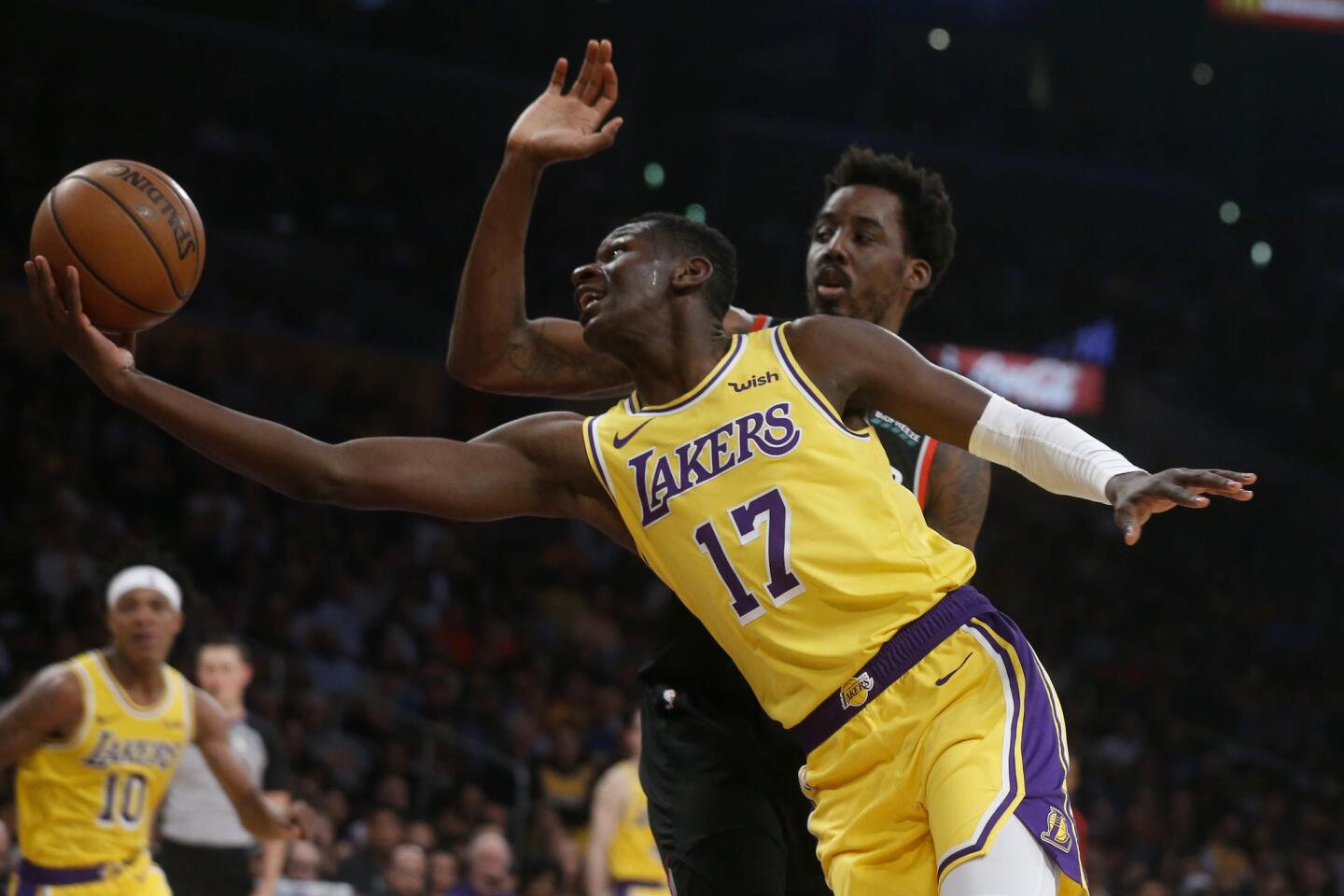 Lakers guard Isaac Bonga drives around Al-Farouq Aminu.
(Gary Coronado / Los Angeles Times)
At one point, the enormity of the situation brought tears to his eyes, as if he suddenly realized what he had just left.
"I cried before I came here, I'm about to cry now,'' Johnson said. "But it's hard when you love an organization as much as I love this organization, it's hard when you love a person like I love Jeanie.''
At first, he implied that he wanted to fire Walton on Wednesday, after the Lakers' season ended Tuesday night (in a 104-101 loss to the Portland Trail Blazers), but that Buss didn't agree, and that he couldn't bear to be at odds with his "sister."
"Tomorrow, I would have to affect someone's livelihood and their life … and then I don't want to put her in the middle of us, even though she said, 'Hey, you do what you want to do,''' he said. "I know she has great love for him, and great love for me.''
He then said that he didn't enjoy the politics of the job, implying that he didn't get along with Pelinka and didn't enjoy being criticized around the league.
"What I didn't like was the backstabbing and whispering … I didn't like a lot of things that went on that didn't have to go on,'' he said, later noting that Buss needs someone running basketball operations who is in her corner. "I think she is going to be hurt by not having somebody she can trust, that she knew that had her back.''
He noted that he had also grown weary of league rules that had resulted in tampering fines and prohibited him from promoting the game he loved.
"The Magic couldn't come out,'' he said. "I want go to back to … just having fun. I just want to be Magic and free and not be handcuffed. I knew if I stayed in the role, I'm giving up a lot of me.''
Finally, he talked about how closing billion-dollar deals in recent months have taken his attention away from basketball.
"I need to do what I have to do to continue to make our company grow,'' he said. "I was balancing pretty good until both needed a lot of time.''
So the Lakers bid farewell to what was always a bad idea. Johnson was always too distracted for the gig. His generous and inspirational spirit belongs not only to the Lakers, but the world. He was always too busy creating jobs and uplifting neighborhoods to spend the proper amount time evaluating talent.
He signed LeBron James but, really, James signed him. When tasked with building a team around James, Johnson and Pelinka royally botched it.
The Lakers could and should end up in a better place after this decision, but first there will be carnage.
How does Pelinka survive such bashing? Does this mean Walton's job is really safe, or does Johnson's admission that he wanted him fired ruin his credibility in the locker room and make it impossible for him to continue? How much will their recruiting be hurt without Johnson being the team's salesman? And how much will James want to stick around — or how much will the new basketball boss want him to stick around — if an additional star doesn't sign on?
Asked whether he had a parting message for fans, Johnson said, "We're headed in the right direction. Just, you know, hang in there, everything is going to be OK.''
The Lakers may eventually get there. But after foolishly believing they could rely on Magic, they are a long, long way from OK.
Get more of Bill Plaschke's work and follow him on Twitter @BillPlaschke
All things Lakers, all the time.
Get all the Lakers news you need in Dan Woike's weekly newsletter.
You may occasionally receive promotional content from the Los Angeles Times.