Five takeaways from the Lakers' 108-107 win over the Orlando Magic
Luke Walton wanted to make sure that Monday night's loss to the Portland Trail Blazers didn't turn into a losing streak.
It didn't.
But just barely.
Here are five takeaways from the Lakers' 108-107 win over the Orlando Magic.
1. Brook Lopez can be a difference-maker in the right situation. "He definitely saved us tonight," Lonzo Ball said of Lopez. It was the Lakers' last game against Orlando during which Lopez's frustrations seemed to bubble over while he sat on the bench. He appeared to have to excused himself after a timeout during which he did not get an opportunity to go back into the game. The Lakers later said Lopez was simply going to the restroom, which was a little bit curious since his teammate Larry Nance Jr. ran after him. Regardless, Lopez was in a tough spot then. On Wednesday night, in their second matchup against the Magic, Lopez was transformative for the Lakers. They needed him against a Magic lineup with some talented big men. Lopez scored 27 points (though curiously had no rebounds), leading the team in scoring.
2. Lopez's contribution was especially important because Julius Randle was feeling under the weather, according to Walton. Randle still managed a double-double, but barely played at all in the fourth quarter.
3. Lonzo Ball had a number of chase-down plays that resulted in steals or blocks during the game. Ball had two steals and one blocked shot. He was called for fouls a few times when attempting to make those plays. Regardless, that came as no surprise to Walton. "When he plays, he makes winning plays all over the court," Walton said. "To me that falls in the category of making little plays like that that end up being, in a one-point game, make the difference."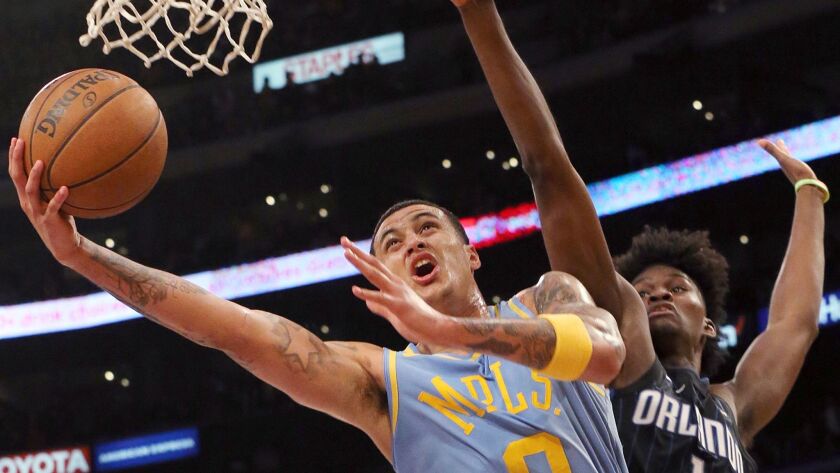 4. Kyle Kuzma had a very nice game, scoring 20 points on nine-of-16 shooting. He is playing out of position at small forward, but adjusting to that. "Guarding wings 'cause I've never done it in college until now," Kuzma said of his biggest adjustment. "That's the biggest adjustment. It makes me lock in defensively. I know I have to be on my p's and q's." Kuzma also admitted there are times when he wanders over to where he would be if he was playing power forward, but that's getting easier.
5. Isaiah Thomas had the highest plus/minus rating of any Lakers player at 10. Lopez said Thomas was spectacular in facilitating and making plays for his teammates. Thomas scored 13 points, making three of six threes. He had nine assists, which is a season high.
Follow Tania Ganguli on Twitter @taniaganguli
---
All things Lakers, all the time.
Get all the Lakers news you need in Dan Woike's weekly newsletter.
You may occasionally receive promotional content from the Los Angeles Times.