Lakers escape with victory after Mavericks erase 18-point deficit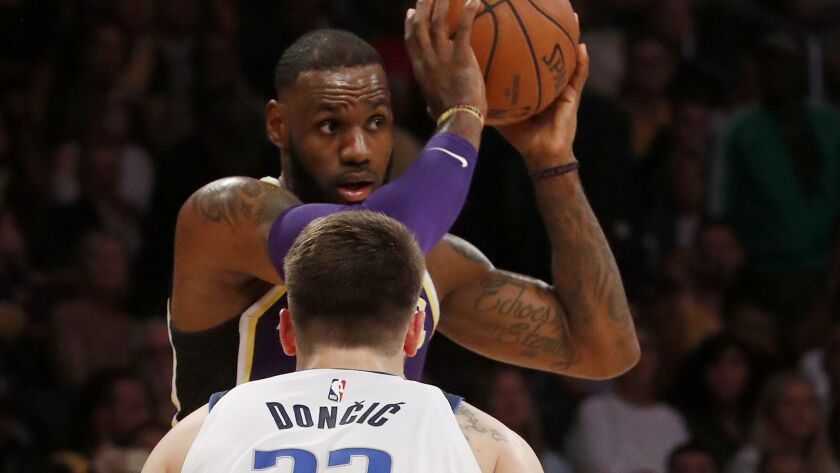 LeBron James made a layup with 4:16 left in the fourth quarter to give the Lakers a 14-point lead over the Dallas Mavericks. They went the rest of the game without scoring another field goal.
They survived.
With 7.2 seconds left, Mavericks rookie Luka Doncic, all of 19, scored to tie it at 113. His idol, James, took the ball next and tried to counter with his own layup but was fouled as he drove to the basket. James missed the first free throw with 2.1 seconds remaining, but made the second, filling Staples Center with relief.
The Lakers beat the Mavericks 114-113 in a game they led by 18 points in the first quarter.
"We were disappointed in the way we won," JaVale McGee said. "I was saying when we came in, can we blow somebody out please? Like we were up a lot."
The win followed back-to-back losses by the Lakers in San Antonio and Minnesota. With it, the Lakers improved to 3-5, having beaten the Mavericks, Phoenix Suns and Denver Nuggets.
"I'm extremely happy we're going through this," James said after scoring a game-high 29 points. "You can talk about it, you can preach about it, you can watch film about it, but the best teacher in life is experience. These guys are getting this experience of playing these tight close games and then tonight we were on the other side of it.
"We lost a couple, same situation against San Antonio we lost. … It's great to learn from."
Of their 20 turnovers, the Lakers committed seven in the fourth quarter, a period during which they were outscored 32-20.
"Down the stretch you have to be able to rely on your defense to win the game," Lakers coach Luke Walton said. "The first and third quarters tonight defensively I thought we were pretty darn good as well. I thought we had two good quarters and two awful quarters."
James made 11 of 19 shots after sinking seven of his first nine. He added six assists — five of them in the first quarter — and five rebounds.
McGee played 35 minutes and blocked five shots — after the fifth McGee winked at a camera filming from the baseline. McGee also added 16 points and 15 rebounds, outscoring Mavericks center DeAndre Jordan, who spent the first 10 years of his career with the Clippers and scored only 10 points, eight of them in the second half.
"He was obviously huge for us in his individual performance tonight," Walton said of McGee.
Doncic, the third overall pick in this year's draft, entered the game averaging 20.4 points, but he missed his first six shots Wednesday night. Doncic finally scored in the third quarter and finished the game with 14 points, seven assists and five rebounds.
After the game, he waited near the Lakers' locker room to get the jersey James wore in the game.
Dallas fell to 2-6 and has lost five games in a row.
For the second game in a row, the Lakers started a lineup of Brandon Ingram at shooting guard, Kyle Kuzma at power forward and James at small forward, along with Lonzo Ball (12 points, seven assists) at point guard and McGee at center.
The game did not feature a characteristically slow start from the Lakers. After a missed layup by McGee, they went on an 8-0 run to start the game. Half of those early points came from Kuzma, who finished with 18 points, eight rebounds and three assists.
Despite a dominant first half, the Lakers found themselves up only four with 30 seconds left in the game. Harrison Barnes made a three-pointer to bring the Mavericks within one.
"I made a dumb mistake," James said. "The cardinal sin rule is to give up a corner three up four, so I can't stand myself for that. I gave up a wide-open three to Harrison Barnes when we were up four late in the game tonight. That just can't happen. You can put that one on me."
After Kuzma made one of two foul shots, Doncic tied it moments later. Then James made the second of two free throws with 2.1 seconds left to give the Lakers a win they needed.
"I mean, could've done a lot of things better, obviously," Ball said. "To start us off, when we lost a 20-point lead. But this whole year we've been losing before, so at least we won tonight. That's a positive. I'll move forward."
Follow Tania Ganguli on Twitter @taniaganguli
---
All things Lakers, all the time.
Get all the Lakers news you need in Dan Woike's weekly newsletter.
You may occasionally receive promotional content from the Los Angeles Times.