Rigors of the road can be disorienting for Lakers players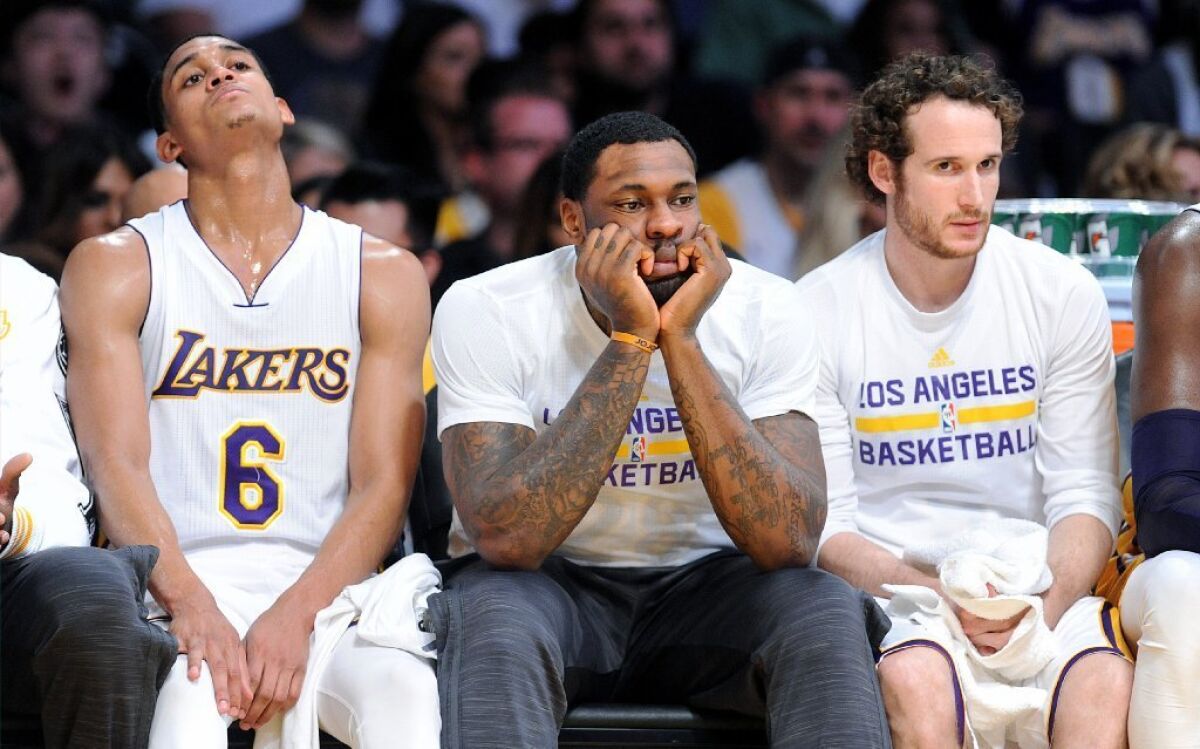 One November morning during his rookie year, Larry Nance Jr. arrived dutifully at a film session.
Nance was sure he was still in New York, but all the clips showed the Miami Heat.
"Are we gonna fly there later today?" Nance thought.
Nope. The Lakers were already in Miami. It was Tuesday and they were playing the Heat that night.
It was only Nance's seventh game as a pro, but he already understood a basic truth of life in the NBA: players and coaches almost never know what day of the week it is. Sometimes they don't even know where they are.
"I will tell people in conversation all the time the wrong day of the week," Lakers Coach Luke Walton said. "'Well, today's Tuesday, why don't we just do it Wednesday, Thursday or whatever.' They'll be like, 'Luke, are you serious? Today's Thursday.' "
NFL weeks have a rhythm — most teams have Tuesdays off and make Wednesday the official first day of a game week, Saturday is for travel and Sunday is game day. When baseball teams travel, they spend several days in a city.
Basketball has no such rhythm. Games can be scheduled on any day of the week, and teams practice whenever they can. Preparation for one game blends into the next.
Within a 48-hour span last week, the Lakers were in Washington, D.C., Boston and New York. Twice this season, they've flown across at least two time zones the day after a game in Sacramento.
It's all part of the rigors of the NBA schedule. And it all leads to a very confused set of men.
"I don't know what today is," Memphis Coach David Fizdale said recently. "Does that help? Because I really could not tell you."
It was a Tuesday — one leg of a four-game trip for the Grizzlies — but Fizdale could have said the same at home in Tennessee. When it's his turn to pick up his four mutts — Apollo Creed, Chalky White, Penny Buttons and Magic Eight Ball — from doggie day care, there often is mayhem.
Orlando Coach Frank Vogel doesn't bother figuring out what day it is until August, midway through the NBA off-season. Luckily, his wife's birthday and their anniversary are in that month.
Portland Coach Terry Stotts finds the alarm function on his phone to be crucial.
Lakers guard Lou Williams calls his cousin his alarm clock. That cousin is also his chef and an all-purpose helper who makes sure Williams is everywhere he needs to be on time.
Nance doesn't like leaving the house at all, so he typically double checks his obligations to make sure he has the right day. Rookie Brandon Ingram's brother keeps an eye on anything outside basketball that Ingram has scheduled.
Williams says he really struggles with remembering his hotel room from one day to the next.
Nance combats that by photographing his room number. When he checks out of a room and has to pay for room service, he consults the most recent picture on his phone to ask for his bill. This often raises security concerns, and requests for identification.
D'Angelo Russell encountered a less scrupulous hotel employee in Charlotte this season when he forgot his room number. When they opened the door for him, he walked inside to find that none of the belongings were his.
While some players yank at the locked doors of Chick-fil-A when it's famously closed on Sundays, Russell hasn't had that problem lately.
"I kind of wrecked my car in the Chick-fil-A parking lot twice, so I don't go to Chick-fil-A anymore," he said. "Just the drive-through. I always try to turn and I scraped the side of my car twice."
He had to think for a few seconds, but Russell correctly identified Feb. 13 as Monday. His girlfriend offered plenty of reminders because of Valentine's Day. With the Lakers playing games on Feb. 14 and 15, Russell had to make sure he had a dinner reservation for Monday night.
Weekends matter to everybody else.
"It always brings me back when my friends are like, 'Hey it's Saturday! We got off work today!' " Nance said. "I'm like, 'That's right.' "
Saturdays are a problem for Walton. The Lakers rarely play that day, and never at home. If he's been tasked with making dinner plans on a Saturday, that can become a fiasco.
"I end up getting frustrated because no restaurants have reservations, there's people everywhere, and I just assumed it was Tuesday," Walton said.
He tries to keep track of Mondays, Wednesdays and Fridays, too. That's when his toddler son, Lawson, goes to school. Lawson isn't old enough to take advantage of his dad's confusion.
"I actually look forward to the day he starts trying to get over me like that," Walton said.
There's also a very Los Angeles-specific identifier for Walton on some days: If there's no traffic it's probably a weekend. The Lakers sometimes make weekend practice times earlier, knowing players won't have to fight traffic to get there.
Three weeks ago, Metta World Peace was running late for a dental appointment. He called the office to apologize and let them know he was on his way. One problem: He didn't have an appointment that day.
World Peace often forgets where the Lakers are and whom they're playing.
"When you're in the NBA you don't care about days of the week," he said. "Days of the week are not important."
As he said that, Nick Young overheard and mumbled that he usually doesn't know.
"Friday?" Young said, guessing what day it was as he looked toward World Peace.
"Wednesday?" World Peace countered, looking just as perplexed.
It was Thursday.
Follow Tania Ganguli on Twitter @taniaganguli
---
All things Lakers, all the time.
Get all the Lakers news you need in Dan Woike's weekly newsletter.
You may occasionally receive promotional content from the Los Angeles Times.