Newsletter: Lakers! Team has been having some problems with injuries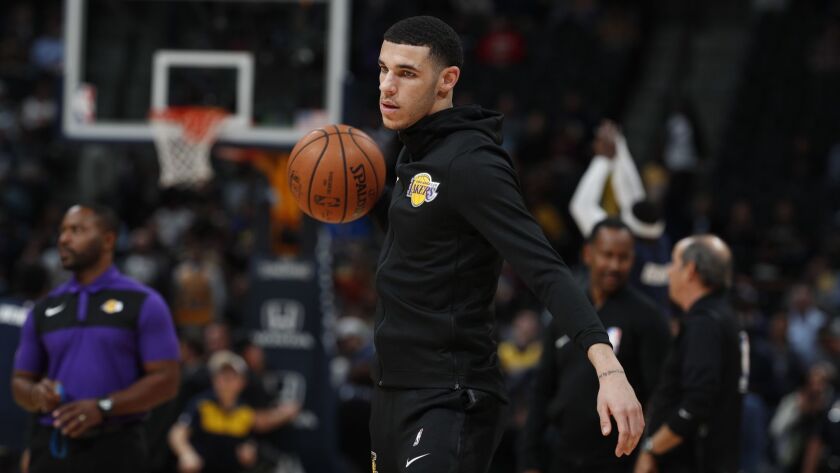 Hi this is Tania Ganguli, Lakers beat writer for the L.A. Times, here with your (bonus!) weekly newsletter.
Tonight begins a long homestand for the Lakers, who have been having some problems with injuries.
They've been without Rajon Rondo, who broke his right hand two weeks ago. Tuesday night, Lonzo Ball sprained his left ankle, and even Alex Caruso — who could have been helpful up from the NBA G League — sprained his ankle during a South Bay Lakers game. Luke Walton gave a wry chuckle when mentioning that one after Wednesday's practice, a nod to players' bad luck lately.
Losing Rondo hurt, as we discussed in our last newsletter. Losing both point guards can get ugly.
The Lakers were only down three when Ball suffered his injury against the Nuggets, and six by the time they were able to get him out of the game to have his ankle looked at. They ended up losing by 32 points.
After Tuesday's game, Ball insisted he'd play tonight. He wanted to play longer in the game than the coaches allowed. But there have been other times when Ball thinks he'll be fine and his body doesn't cooperate.
"He is tender to the touch, which would be expected on any ankle sprain," Walton said Wednesday afternoon. "But he said he feels good. He's not limping around. He came in early, got treatment and just lifted."
What else went wrong Tuesday night?
I was remiss on Monday in not spending more time on the Lakers' free-throw shooting. A reader reminded me afterward.
It's been bad. It was bad Tuesday night. The Lakers missed half of the 10 free throws they took in the first quarter, going 12 for 18 in the game. The Nuggets, meanwhile, made 14 of 15. This wasn't a game in which that would have made much of a difference, but it's been a problem all season.
The Lakers also got out-rebounded 60-39 by the Nuggets.
"Just rotations defensively, being on a string," Tyson Chandler said, when asked about the team's technical problems. "One guy rotates, another guy's got to get the other guy's back. It kind of happened all night. That's why I gave up so many offensive rebounds because you get out of position as bigs and then we just got to do a better job of it."
Walton agreed.
"Our rotations were bad last night, yeah," Walton said. "We've been making some really nice progress, especially on that end of the floor and rebounding being one of our staples as far as finishing off a defensive possession. It's just, we got sloppy and we got lazy with not just our rotations."
Since last we spoke…
— Lance Stephenson will face his old team tonight. He told me that although the Lakers encourage his fun-loving personality, he has to make sure the fun he has isn't detrimental to the team.
— Josh Kroenke, son of Stan, sent LeBron James a throwback Nuggets jersey this summer and told him he'd look good in it. The two are friends and James got a kick out of it. But he didn't really consider the Nuggets.
— Rondo's recovery was supposed to take longer than a month. Instead, he's already fighting to get back on the court.
— The Lakers got blown out by the Nuggets in a game in which they made only five of 35 three-pointers.
A shorter links section than last time for this bonus newsletter. We'll be back next week with more after the Lakers play a few games at home.
Until next time. As always, thanks for reading, and pass along any feedback or questions you have.
---
All things Lakers, all the time.
Get all the Lakers news you need in Dan Woike's weekly newsletter.
You may occasionally receive promotional content from the Los Angeles Times.