Lakers' culture has everyone on the same page when it comes to communication and strategy
When Luke Walton started playing for the Lakers in 2003, the plane ride home was for unwinding. He'd play spades against Karl Malone, Gary Payton and Rick Fox. Walton usually fared pretty well in the card games despite being on a rookie's budget.
"They played more reckless," Walton said. "I played the game safe. … Folded a lot. Waiting for my hand."
Those were different times. Today, the Lakers all get tablets with game film downloaded on them.
"I was telling Bron the other day, we were on the plane, I've never seen damn-near 12 guys watching film," Rajon Rondo said of a conversation with LeBron James. "As a team, I haven't seen that many guys combined in the last 4-5 seasons, I think. So, it was very refreshing to see. Understanding that this team is committed."
That is the result of the culture Walton has tried to build since becoming the Lakers' coach in 2016. This season, it is bolstered by veterans who embrace it.
Walton wants a roster full of players who love basketball so much they wouldn't rather do anything else. He wants people on the team so committed to their goal that they want to help each other. And he wants players to understand the game so well that they can collaborate with him on what they do.
That culture will begin a season of tests Thursday when the Lakers play their opener on the road against the Portland Trail Blazers.
"Part of the culture that I believe in is we are open, we want our players' personalities and who they are and what their strengths are to be a huge part of what we do," Walton said. "So that's already there. We embrace that, and we have other things that are already here that we expect whoever comes in to be on board with that."
Walton hasn't had to change much of his general philosophy.
"I don't think it's much of a change," Brandon Ingram said. "It's a better connection. A better connection with our guys, trying to figure out what each other want on the basketball floor whether it is where guys do well on the floor to put them in the right position."
Collaboration is part of Cleveland Cavaliers coach Ty Lue's philosophy, too, and it worked well when he coached James, who was always part of the discussion on what the team would do.
What Walton learned in his first two seasons as a coach was that not every player could handle being given such a responsibility. Some of the younger players he coached needed more structure and to be told what to do more than veterans.
That's not the case with three players who have won championships in the fold — James, Rondo and JaVale McGee.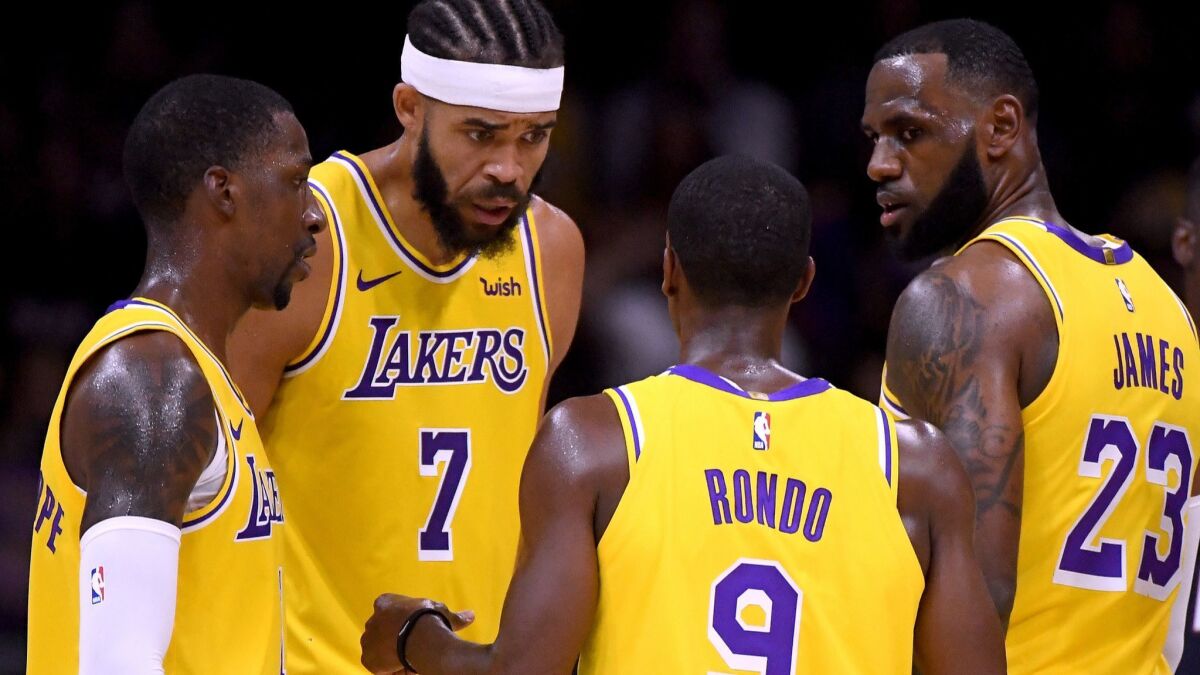 "He's very approachable," James said. "Our coaching staff is very approachable. I think at the end of the day he respects what I've done and what Rondo's done in our career. He respects our mind. But ultimately he's gonna make the final decision when it all comes down to it but he respects what we think."
That collaboration only works with players hungry to know more and learn more, and he has that in many of his players. Walton sometimes has Kyle Kuzma texting him after midnight regarding things he's curious about. Always defensive questions.
"Kuz knows not to send me offense," Walton said. "We're working on his defense."
Rondo's contributions to that collaboration often happen during a game. He reviews video on a tablet while sitting on the bench. Then he conveys what he knows.
And while he insists his teammates don't listen to him, "but when LeBron talks …"
Rondo related a story from the Lakers' flight to Los Angeles from San Jose. James was breaking down some film and the whole plane was locked into his words.
Rondo looked around at the crowd hanging on James' words.
James, indeed, changes the dynamic in the Lakers locker room. But not in a way that changes the culture.
"I think his presence fits right in with our culture," Ingram said. "Just having a voice to speak over everyone, even the coaches, and I think Luke emulated that as soon as he got here. Just trying to let everyone have a voice and try to get opinions from different people."
Follow Tania Ganguli on Twitter @taniaganguli
All things Lakers, all the time.
Get all the Lakers news you need in Dan Woike's weekly newsletter.
You may occasionally receive promotional content from the Los Angeles Times.