LeBron James and Anthony Davis put on a show, but Lakers get victory over Pelicans with defense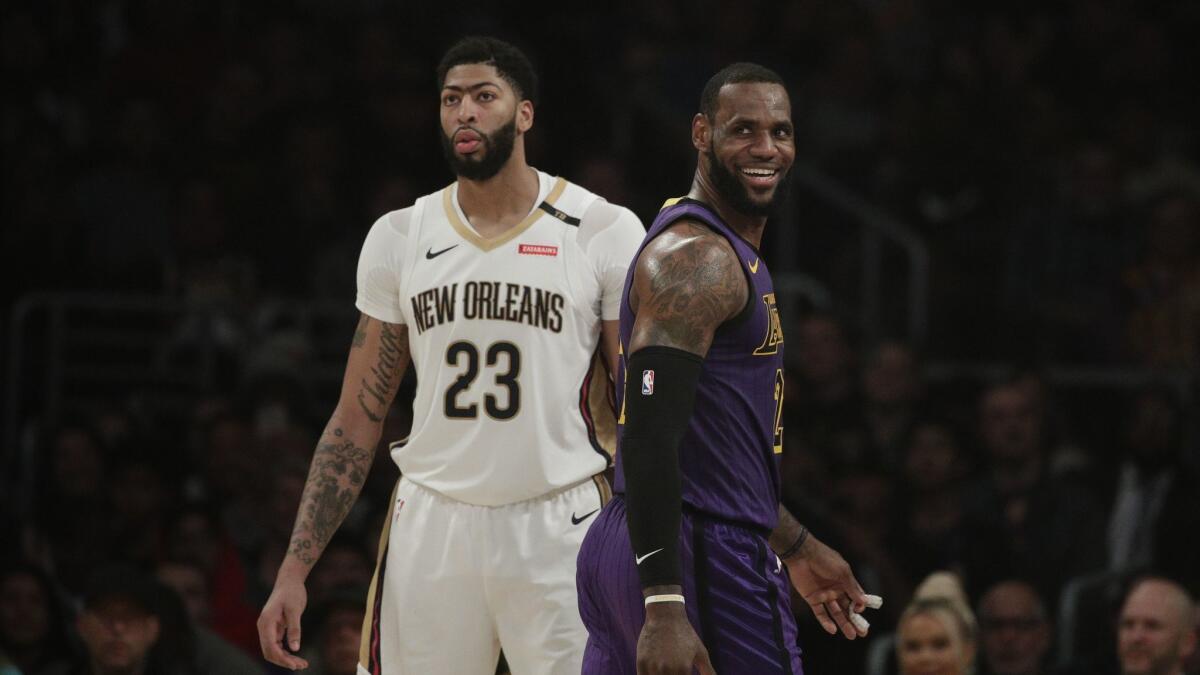 LeBron James waited for his opportunity to respond.
After the Lakers' 112-104 win over New Orleans on Friday night, in which he and Anthony Davis both put on a show, James verbally sparred with one reporter who asked if he thought he did anything wrong earlier this week when he spoke about how "amazing" it would be to play with the Pelicans star.
Then he requested some audience participation.
"Ask me, would I like to play with Kevin Durant? Ask me right now," James said.
Would you like to play with Kevin Durant?
"Absolutely," James said. "Ask me if I'd like to play with Jimmy Butler. Say it right now. Ask me about Kyrie Irving, Giannis [Antetokounmpo]. Ask me about [Joel] Embiid, Ben Simmons. Go ahead, all of 'em. Luka Doncic. Ask me right now. C'mon, guys; this is not rocket science. It's not rocket science.
"These are great players. Absolutely. I would love to play with a lot of great players. That is just who I am. People get caught up in bunches sometimes when they wish they could control what you say, and they can't control me, at all. And I play by the rules."
And with that, James finished his closing thoughts on the debate about whether he'd tampered with another team's star.
Both superstars lived up to their billing at Staples Center, despite having fought through illnesses earlier in the day. James notched his third triple-double of the season and the 76th of his career with 22 points, 12 rebounds and 14 assists, seven of them in the first quarter. Davis showed why most players would answer the same way James did, scoring 30 points and grabbing 20 rebounds.
Just like Paul George and James were last year, Davis too was cheered by an ever-optimistic crowd that hopes he'll be a Laker one day. Davis, though, won't be a free agent for at least two summers, and the Pelicans have said forcefully that they won't trade him.
Kyle Kuzma led the Lakers with 23 points, Brandon Ingram had 18 in his return to the lineup and all five starters scored in double figures. Ivica Zubac made his first start of the year and had season highs with 16 points with 11 rebounds.
Julius Randle, in his first game against the Lakers since leaving in free agency, scored 21 points.
Davis and James both missed shoot-around because they felt ill. The Lakers were without center JaVale McGee, who missed his third straight game with a respiratory infection and flu-like symptoms. While Zubac and Tyson Chandler also were not feeling well earlier in the day, both played, with Zubac playing more minutes (32) than he did in his five other games this month combined.
Despite the illness going around, the Lakers' rotation was healthier than it had been in a while, with Ingram (sprained ankle) and Rajon Rondo (broken hand) both returning. Rondo had been sidelined since Nov. 14.
"It was really nice having our guys back," coach Luke Walton said. "Brandon made winning plays all game long. … I thought he did a really nice job of watching what the team has been doing while he's been hurt and coming in and playing the same way. Rondo gave us a big spark in the first half."
Rondo scored seven points in five first-half minutes. Zubac was the Lakers' leading scorer in the first quarter, with eight points. Davis, meanwhile, scored 11 first-quarter points and the game was tied at 34 after one quarter.
Randle led the way in the second quarter, leading all scorers with 11 points, but by then James' shot had begun to warm up. He scored nine points in the second quarter with four rebounds, two assists and two steals, en route to a 69-65 halftime lead.
"Offensively it was a brilliant first half for us," Walton said. "I think we had 20 assists in the first half."
The Pelicans scored only 39 points in the second half.
"The defense we played in the second half, that's what I'm talking about," Walton said. "That's the team we have to be."
Follow Tania Ganguli on Twitter @taniaganguli
All things Lakers, all the time.
Get all the Lakers news you need in Dan Woike's weekly newsletter.
You may occasionally receive promotional content from the Los Angeles Times.