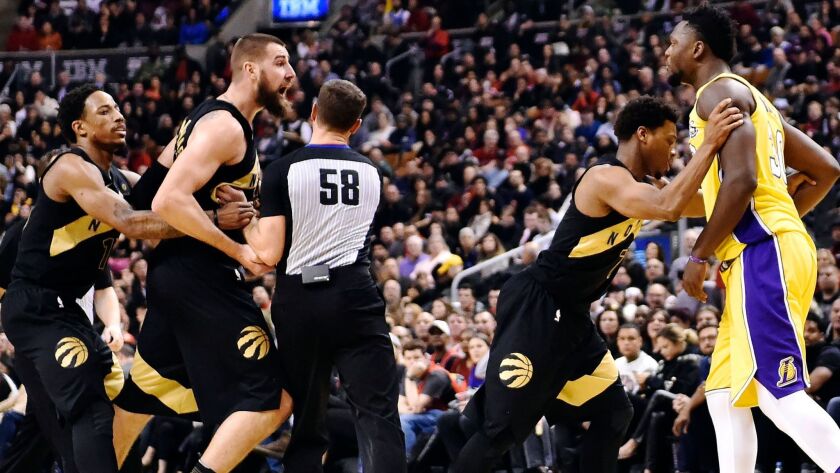 Reporting from Toronto —
Today is Day 5 of the Lakers' mostly Eastern Conference road trip and they've only played two games.
They spent an extra night in Chicago after playing Friday night, and are staying an extra day in Toronto. Monday, the Lakers won't have an official practice. They'll save that for Tuesday, when they get to Orlando.
Sunday night, the Lakers faced one of the Eastern Conference's best teams, and one that's 18-4 at home. They didn't collapse against the Raptors, but Toronto had too many ways to beat them.
Here are five takeaways from the Lakers' 123-111 loss to the Raptors.
1. Julius Randle showed some of the toughness the Lakers have been asking of him. He tangled with Jonas Valanciunas during the game, leading to a little pushing and shoving, and after it said he loves playing like that. "I don't know, I just play physical and some people don't like that," Randle said. About two weeks ago, Walton said he wanted Randle to be the person who sets the tone for physicality with the team. Since then, he's been pleased at how Randle has embraced that challenge. "It is more just [being] our aggressor so that we have somebody that is physical on our team that stands up when we get pushed around," Walton said. "And I think he has done a really nice job of that."
2. The life of a player on a 10-day contract can be tough. Nigel Hayes spoke to reporters before Sunday's game about how he was keeping a positive attitude despite not getting minutes during his 10-day contract. Until that point, the Lakers had only given him one minute of playing time, in their blowout win over the New York Knicks. Hayes got nine more minutes Sunday, then was told after the game that the Lakers did not plan to extend him another 10-day offer. Hayes is a forward and the Lakers weren't going to have openings in their rotation for someone at his position unless they had a rash of injuries.
3. This road trip has offered the two ends of the spectrum for 10-day contracts. In Chicago, the Lakers faced David Nwaba, the guard they signed to a 10-day contract last year. Nwaba, who had been with the Lakers' development league team, earned a second 10-day contract and then a deal through the end of the year and for this season.
4. The Lakers can still fall victim to allowing poor shooting to dictate the rest of their play. They made less than 30% of their shots in the first quarter against the Raptors, while allowing 50% shooting. As Toronto began to pull away, the Lakers' defense let up more and more.
5. Kyle Kuzma, like the rest of his teammates, had trouble shooting, especially from three-point range. Kuzma and Jordan Clarkson both went 0 for 4 from three. Kuzma did have one highlight in the game when he dunked on Jakob Poeltl, a college teammate. "It was pretty cool, we dreamed about all playing in the NBA while we were in college," Kuzma said. "I got a little dunk on Jakob tonight so that was pretty cool, I let him hear it a couple times."
Follow Tania Ganguli on Twitter @taniaganguli
---