Kobe Bryant's biggest regret might be 2004 Finals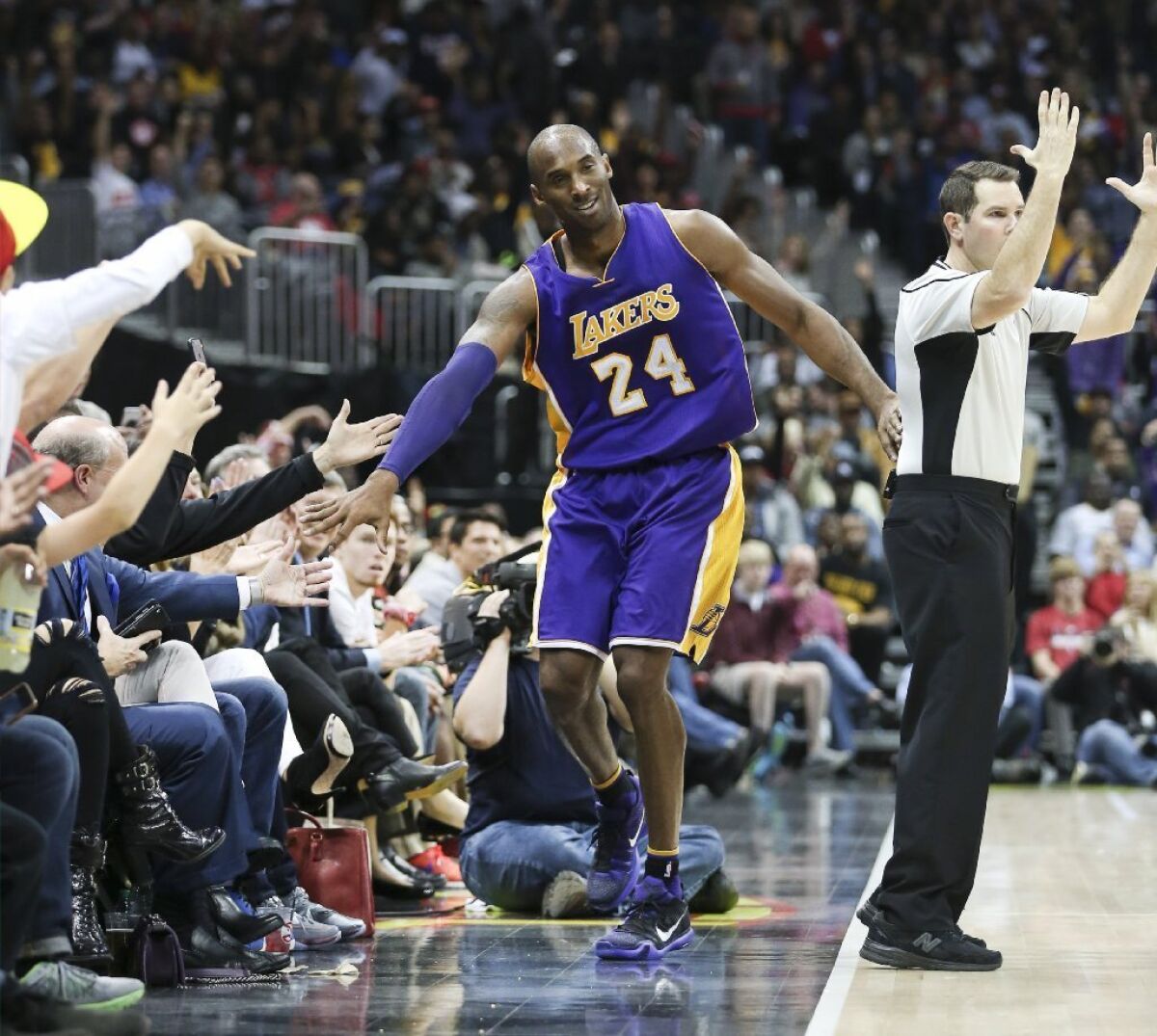 REPORTING FROM DETROIT —
To know Kobe Bryant is to understand one thing. He patterned his basketball career after Michael Jordan, with one major exception — he wanted to top Jordan in everything, primarily NBA championships.
It looked good for Bryant after the Lakers won a second consecutive title in 2010. He had five rings at age 31, with help that year from Pau Gasol's finesse, Lamar Odom's versatility, Derek Fisher's tranquillity and Metta World Peace's toughness.
A sixth never came for Bryant. He'll finish with one fewer championship than Jordan.
He says he's OK with it now, seemingly resigned to coming up a little short.
"Listen, I worked as hard as I [expletive] possibly could. I did everything I could," Bryant said Saturday. "I'm fine with that."
He says it calmly, not with eyes ablaze. There's nothing left to prove.
It doesn't, however, mean Bryant has forgotten the NBA Finals he lost.
There was the 39-point demolition the Boston Celtics handed the Lakers in the clinching Game 6 of the 2008 Finals. More on that later this month, when Bryant visits TD Garden for the final time.
There was also that unsettling loss to the Detroit Pistons in the 2004 Finals, a five-game series that easily could have been a sweep. It's a theme Bryant would rather forget as he makes his last trip to the Palace for Sunday's game.
The Lakers had Bryant and Shaquille O'Neal at the time, the unstoppable inside-out tandem that had already taken three of the last four championships. They had acquired Karl Malone and Gary Payton. They also had Phil Jackson, on his way to becoming the best coach in NBA history.
But they didn't have the raw energy of the Pistons, whose defense and rebounding carried the day. Ben Wallace and Rasheed Wallace did the tough work down low. Chauncey Billups and Richard Hamilton couldn't be stopped in the backcourt.
"It still eats at me. It absolutely does," Bryant said of that series. "And I'm upset that I gave Richard Hamilton something to brag about, because up until that point, he never beat me. And that just kills me."
Hamilton, like Bryant, was a Philadelphia prep star. Hamilton's shooting was part of the reason the Lakers lost. So was the Pistons' defense.
"They pressured us and we weren't ready to go deep into our offense," Bryant said. "The stuff that wins us championships is being able to go into our 'automatics.' We just weren't prepared to do it and they kicked our...."
A deeper look would reveal a broken team. O'Neal and Bryant were continually bickering, hastening O'Neal's departure that summer in a trade with Miami. Jackson had health issues and became, to his eternal chagrin, less of a daily presence that season.
The Lakers needed Bryant's late-game heroics just to forge a tie after the first two games at Staples Center. The Pistons drubbed them the next three games by an average of 14 points.
"You see teams with so much firepower. Talent doesn't get it done," Bryant said. "You've got to be able to execute."
The common belief among Lakers followers is that Malone's health cost the Lakers that series. He was slowed by a knee injury, forcing Jackson to go with Slava Medvedenko at power forward. He was no Malone.
Malone would not have helped, in Bryant's opinion.
"I don't think it would have made much of a difference," Bryant said. "We didn't know how to run the offense. We didn't understand when to backdoor step, when to run a blind pig, when to run a reverse action.… We didn't understand any of that.
"Throughout the year, we weren't religious about how we executed our offense. We tried to rely on talent a lot more than the offense itself. We managed to pull a rabbit out of a hat and beat San Antonio. We were down 0-2 [in the conference semifinals]. But it caught up to us."
Bryant these days
Bryant has been reduced to lofting hordes of three-point shots in games, his high-flying days long gone. He's aware of it.
"There's stuff that you're used to doing — I'm just going to go by this guy. You're, like, 'Wait a minute. No, I can't do that. I'm just going to back him down'" in the post, Bryant said. "Your mind can see certain things going on. In the past, one step, you get there. Now it's not the case. You've got to figure out a new way to get to the same spot. It's crazy."
Bryant, though, hasn't quite figured out how to score with accuracy in his final season. He is shooting 30.5% overall, 22% from three-point range.
He's trying to keep his legs as fresh as he can. There's a lot of mileage there, obviously.
When the Lakers played Washington on Wednesday, Bryant, 37, started jumping up and down next to the bench, doing some leg kicks to try to stay warm. He compared it to some of Jim Carrey's overzealous exercise activities in the movie "Cable Guy."
Bryant has to spend a long time getting loose on game days. This is new for him.
"I've got to stretch to touch the backboard," he said.
He never had to stretch when he was younger.
"Zero. I'd come into the gym and windmill [dunk]," he said. "It was like, nothing. I'd literally ... wake up, out of bed and do 360s. How crazy is that?"
Nance injury
An MRI exam revealed swelling in the right knee of rookie power forward Larry Nance Jr. He was listed as questionable for Sunday's game. Atlanta Hawks forward Paul Millsap accidentally rolled into Nance near the end of the Lakers' 100-87 loss Friday to Atlanta.
Up Next
LAKERS AT DETROIT PISTONS
When: 3 PST.
Where: The Palace, Auburn Hills.
On the air: TV: TWC SportsNet, TWC Deportes; Radio: 710, 1330.
Records: Lakers 3-16; Pistons 11-9.
Record vs. Pistons (2014-15): 2-0.
Update: Detroit center Andre Drummond is experiencing a breakthrough season, averaging 18.5 points and 17 rebounds. Point guard Reggie Jackson has been strong as well, averaging 20.1 points and 6.6 assists. The Pistons were one of only two teams the Lakers swept in the 2014-15 season series. Philadelphia was the other.
Follow Mike Bresnahan on Facebook and Twitter @Mike_Bresnahan
All things Lakers, all the time.
Get all the Lakers news you need in Dan Woike's weekly newsletter.
You may occasionally receive promotional content from the Los Angeles Times.