Lakers, among NBA cellar-dwellers, have 19.9% chance of winning the lottery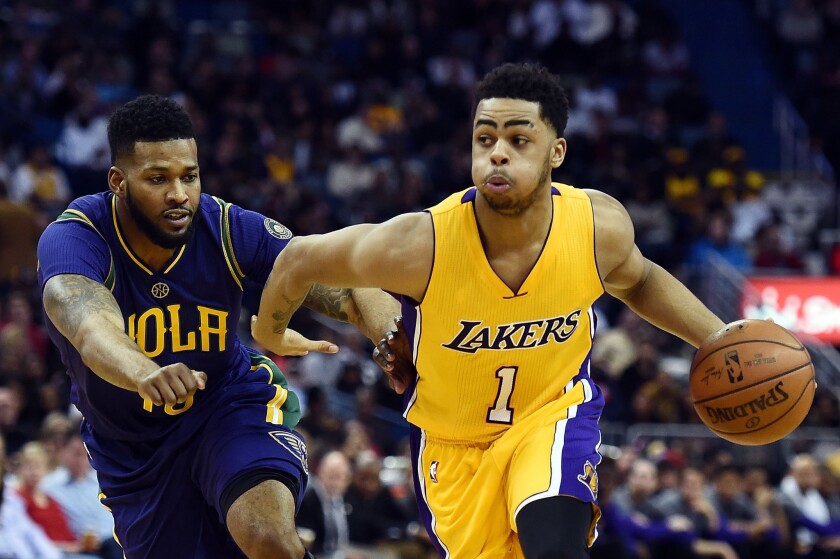 Reporting from INDIANAPOLIS —
There was a very important game for Lakers fans over the weekend.
Oklahoma City vs. Golden State? No.
Lakers vs. San Antonio? Getting closer.
The Philadelphia 76ers beat the Brooklyn Nets in a showdown of two fellow cellar-dwellers, a game with lottery intrigue for many Lakers followers.
With fewer than 30 games until the 2015-16 season ends for the Lakers, it's never too early to figure out where they sit in lottery land, along with their sad companions.
Louisiana State forward Ben Simmons remains the class of the draft, followed by thin but versatile Duke forward Brandon Ingram. The third-best player might be Providence point guard Kris Dunn.
Here are the lottery standings, along with applicable winning percentages and ever-important schedule strength the rest of the way.
May the worst team lose!
1) Philadelphia (8-43)
Despite their riveting 103-98 victory Saturday over the Nets, the 76ers remain the lowest of the low.
On the good side, they're only two victories from not being the worst NBA team ever in an 82-game season. Congrats?
Current chances of winning the No. 1 overall pick: 25%.
Games left vs. teams under .500: 17.
2) Lakers (11-42)
The Lakers almost won three in a row with their young players looking better and Kobe Bryant no longer playing as if he was in his 40th NBA season.
But they lost in the final minute to San Antonio and remained below Brooklyn. An added lottery bonus: The Lakers have the roughest remaining schedule of the bottom teams.
They lose their draft pick if they fall out of the top three when the pingpong balls are drawn in May (thanks, Steve Nash), so they get a special extra row of percentages.
Current chances of winning the No. 1 pick: 19.9%.
Current chances of falling out of the top three on lottery night: 44.31%.
Games left vs. teams under .500: 11.
3) Brooklyn (13-39)
The Nets could free-fall if they trade Thaddeus Young or Brook Lopez before the Feb. 18 deadline. Then again, they're pretty terrible with the two veterans.
Current chances of winning the No. 1 pick: 15.6%.
Games left vs. teams under .500: 18.
4) Phoenix (14-38)
This is the team that lottery enthusiasts envision falling below the Lakers.
The Suns have been a mess since losing Eric Bledsoe for the season and have already fired Coach Jeff Hornacek.
Fun times ahead: Phoenix and the Lakers play two more times, March 18 and March 23.
Current chances of winning the No. 1 pick: 11.9%.
Games left vs. teams under .500: 14.
Hibbert's return to Indiana
Move aside, Bryant.
Monday will be a one-game "hello again" tour for Lakers center Roy Hibbert.
He still has friends in Indiana, still considers Paul George to be like family.
But he got thrust from the Pacers last summer after playing his first seven NBA seasons with them.
Pacers President Larry Bird and Coach Frank Vogel strongly suggested in end-of-season interviews they could no longer guarantee Hibbert, 29, a starting spot.
His days in Indiana were unofficially done on a busy day last June when the Pacers drafted center Myles Turner from Texas and Hibbert exercised a player option for $15.6 million for 2015-16.
He was traded to the Lakers about a week later for a 2019 second-round pick. He hasn't made the impact the team hoped, averaging 6.5 points, 5.3 rebounds and 1.6 blocked shots.
It'll be somewhat interesting to see how Pacers fans react when he is introduced before Monday's game at Bankers Life Fieldhouse.
NEXT UP
LAKERS AT INDIANA PACERS
When: Monday, 4 p.m. PST.
Where: Bankers Life Fieldhouse.
On the air: TV: TWC SportsNet, TWC Deportes; Radio: 710, 1330.
Records: Lakers 11-42, Pacers 27-24.
Record vs. Pacers: 0-1.
Update: Indiana continues to lurk in the bottom tier of possible Eastern Conference playoff teams. Paul George is having a memorable bounce-back season, averaging 23.4 points, 7.1 rebounds and four assists after sustaining a broken leg in 2014. Kobe Bryant played poorly in a 107-103 loss to Indiana in November, missing 16 of 20 shots.
Twitter: @Mike_Bresnahan
---
All things Lakers, all the time.
Get all the Lakers news you need in Dan Woike's weekly newsletter.
You may occasionally receive promotional content from the Los Angeles Times.