Kobe Bryant's enemies list dwindles as he becomes much more friendly in his final NBA season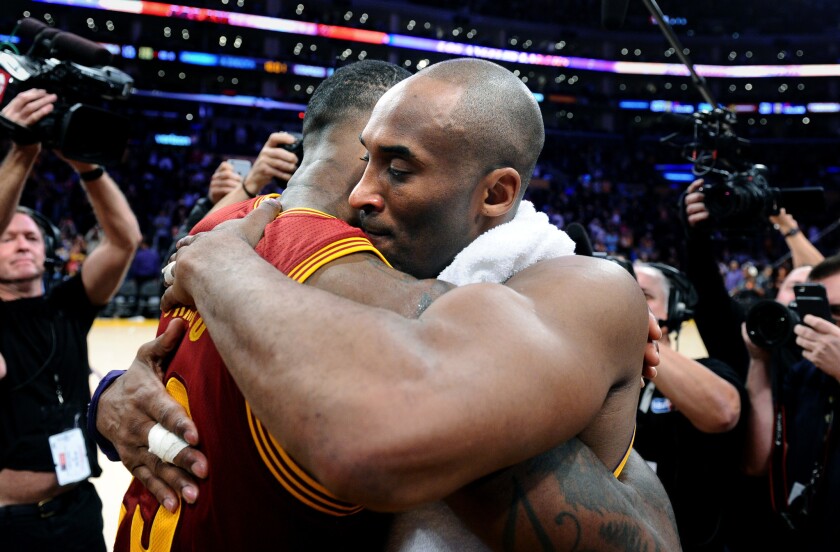 If nothing else this season, Kobe Bryant's humor has been unwavering since he declared his intent to retire.
Where there used to be a raging fire, there's a comfortable seat in front of a perfectly stoked hearth.
Bryant used to spar with Lakers opponents, trash-talking them on the court and rarely complimenting them off it. He would verbally attack his own teammates at practice, so much so that Phil Jackson once called him "barbaric" toward them, a mind-set in place as recently as last season with his infamous "soft like Charmin" rant.
See the most-read stories in Sports this hour>>
He also viewed daily reporters as opponents, often delivering as little as necessary while still upholding NBA-mandated interview obligations.
"I don't like anybody that much," Bryant acknowledged Thursday when asked if he had any "friendly rivals" on the court.
And yet there's been a different side to him since Nov. 29, when he released his goodbye letter and decided to call it quits after this season.
He smiles now. A lot.
"It's a little different because . . . there's not the championship at the end," Bryant said. "I sit [here] years ago and I'm talking to you [media] guys, I understand what's at stake. It's not funny to me. It's not a game to me. It's very, very serious to me. So that's why I wouldn't be up here smiling and joking around.
"We could smile after we win a championship and do all that sort of stuff. Now obviously, that's not the case."
Time will move quickly now for Bryant, one month almost to the day remaining in his 20th and final NBA season.
Thursday was his last game against LeBron James. Sunday brings another perennial All-Star to Staples Center, New York's Carmelo Anthony.
Bryant and Anthony were kind of/sort of/maybe almost teammates in 2014 when Anthony was impressed by the Lakers' Hollywood-themed free-agent pitch. He ultimately couldn't be pried from his hometown Knicks.
Anthony also had Chicago ahead of the Lakers but if money had a lot to do with it, he couldn't be blamed — New York gave him $129 million over five years compared to the $95.9 million over four the Lakers could have given.
Bryant's criticism of the Lakers' front office, which reached a zenith with his 2007 trade demand and subsided when Pau Gasol arrived in February 2008, was nonexistent during the failed pursuit of Anthony.
"Look, they're going for it," Bryant said at the time. "They're pulling out all the stops to ensure that we put a contender on the floor next year, and that's all you can ask for."
Championship contention couldn't be further from the plan right now, and this would be called a good week with a highly charged upset of Golden State and solid follow-up against Orlando. Then the Lakers (14-52) fell back to reality after when they allowed 120 points to Cleveland.
New York is struggling as well, having fired coach Derek Fisher 1½ seasons into his five-year deal and currently stumbling around as the third-worst team in the Eastern Conference.
Bryant will see another familiar face Sunday, Knicks interim Coach Kurt Rambis, but the final game against Anthony will get top billing.
"Obviously I know what they're going to be running," Bryant said of the triangle offense installed by Jackson as the Knicks' president. Then he threw out his latest one-liner.
"I'll probably help Carmelo out, tell him where to go in certain spots on the floor."
Follow Mike Bresnahan on Facebook and Twitter @Mike_Bresnahan
---
All things Lakers, all the time.
Get all the Lakers news you need in Dan Woike's weekly newsletter.
You may occasionally receive promotional content from the Los Angeles Times.