Lakers are getting sparks from second unit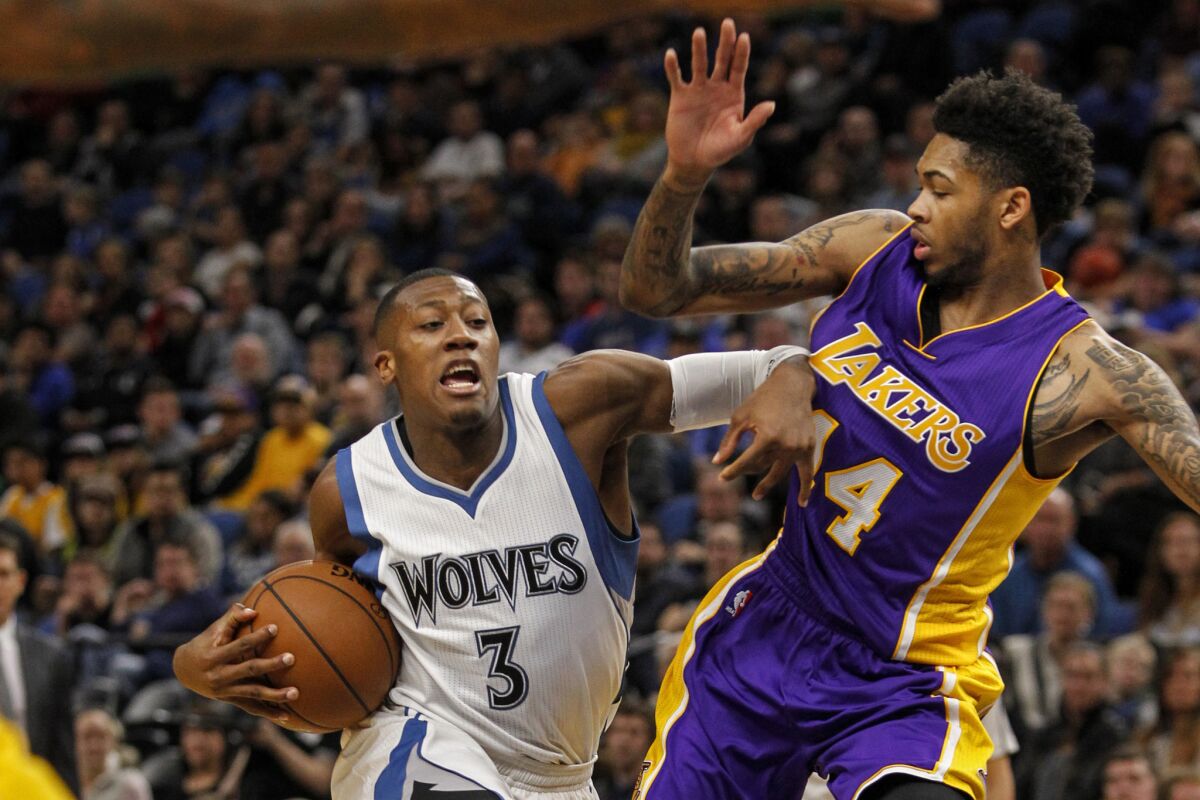 A few trends have surfaced during the Lakers' 6-5 start to the season, but none more pronounced than the role of their second unit.
That group features Jordan Clarkson, Lou Williams, Larry Nance Jr., Tarik Black and Brandon Ingram. That specific group has been used in nine of the Lakers' 11 games, according to the NBA's statistics, and played 73 minutes. It has a plus/minus rating of 27.8.
"They've been good since preseason," Lakers Coach Luke Walton said. "Think that we give them a good amount of minutes and they make the most of it. At some point in every game they go on runs and they bring it. Whether we need a spark or don't, they bring a spark to the game."
Walton does play his second unit more than most teams do, as the Lakers don't concentrate their minutes too heavily with their starters. That second group has capitalized on that. Heading into Monday's games, the Lakers ranked first in bench scoring with 51.3 points per game. The next best team is the Brooklyn Nets, whom the Lakers will face Tuesday. Brooklyn averages 45.4 bench points per game.
Their impact goes beyond scoring. The Lakers' second unit is rebounding, blocking shots and notching steals at a higher rate than the Lakers' starters. Williams averages 1.6 steals per game, Nance 1.5 and Clarkson 1.4, the top three on the team.
Williams and Clarkson rank first and second all time for the Lakers in scoring off the bench through 11 games. Williams has 181 points so far this season, while Clarkson has 165.
"For a guy like [Clarkson], who's been a starter, who just had an opportunity to get a big contract, he probably had different plans for his role coming into the season. For him to buy into it, for him to have success coming off the bench and just for everybody to have fun and buy into the system it's been great for us all," Williams said. "Just going out there, him looking at me and saying, 'Hey man, you still can do the same thing coming off the bench. Just try to make the most of your minutes when you're out there and inside the lines.' He's grown to love it."
Early lags
Walton liked the Lakers' intensity to start Sunday's game against the Minnesota Timberwolves, though he admitted there was a drop-off not long after the start. Generally, though, the Lakers have struggled at the start of games.
"I think we start off waiting for them to dictate the pace of the game," Nance said. "The more we can start pushing and implementing our pace on the game, that [will help]."
It's been an issue for the Lakers all season, but their three-game trip showed those trends clearly. They shot 48.7% in the first halves of games while shooting 54.2% in the second halves. They're averaging four more rebounds per game in the second half than the first, four more assists and two fewer turnovers.
UP NEXT
LAKERS VS. BROOKLYN NETS
When: Tuesday, 7:30 p.m. PST.
Where: Staples Center.
On the air: TV: Spectrum SportsNet, Spectrum Deportes; Radio: 710, 1330.
Records: Lakers 6-5; Nets (4-6)
Record vs. Nets (2015-16): 2-0.
Update: The Lakers have won 15 of their last 18 games against the Nets, rare domination for this franchise lately. Brooklyn will be playing the second game of a rare road-road back-to-back in the same arena. They faced the Clippers on Monday night at Staples Center
---
All things Lakers, all the time.
Get all the Lakers news you need in Dan Woike's weekly newsletter.
You may occasionally receive promotional content from the Los Angeles Times.