David Nwaba's unique journey from the D-Fenders to the Lakers and back again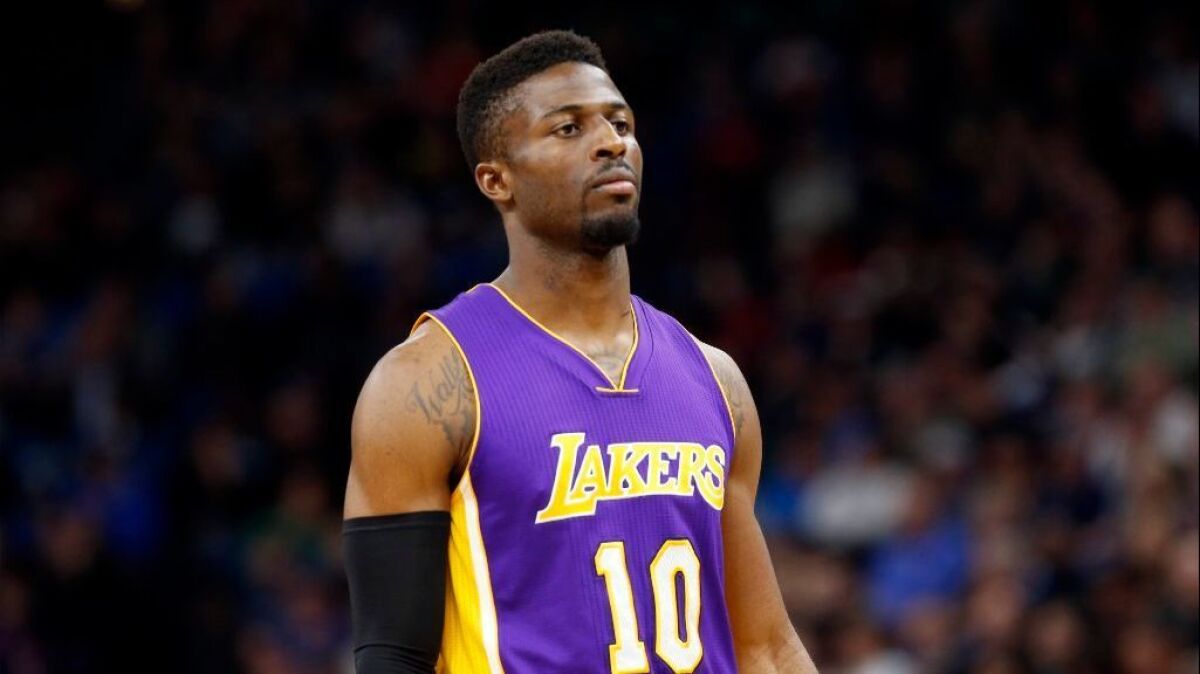 Two hours before the sun rose over Los Angeles on Friday morning, David Nwaba and L.A. D-Fenders general manager Nick Mazzella boarded a plane in McAllen, Texas, a town pushed right up against the border between the U.S. and Mexico.
Nwaba was coming off a doubleheader. He'd played 28 minutes for the Lakers in their win over the San Antonio Spurs on Wednesday night, then rode in an SUV with Mazzella for more than 3½ hours from San Antonio to the border. On Thursday night Nwaba played for the D-Fenders, the Lakers' Development League affiliate, in their playoff opener against the Rio Grande Valley Vipers.
On Friday he returned to Los Angeles, hoping for a personal tripleheader. He was active for the Lakers' game against the Sacramento Kings on Friday night, but Coach Luke Walton thought better of it and didn't play him.
On Saturday, Nwaba rejoined his D-League teammates for Game 2 against the Vipers, who won Game 1 of the best-of-three series.
"Hopefully everything works out where we win it all," Nwaba said.
As the Lakers season ends, many competing interests surround the organization. They do have to worry about the first-round draft pick they could lose if it falls out of the top three in the May 16 lottery. They also want to keep developing players and considering which ones will be part of their future.
For Nwaba, the motivation is simple: prove he belongs. He's one of a handful of Lakers whose NBA futures might depend on their play in the last few weeks of a season that ends Wednesday.
"It doesn't seem like he cares about anything but winning and defense really," Walton said of Nwaba. "… He's getting more comfortable offensively but he's so committed to what he's doing on the defensive end for us. It's really clear to see what the game is like when he's out there and when he's not."
Nwaba first impressed Mazzella at a workout at Xposure L.A. in Orange County. That earned Nwaba an invitation to the D-Fenders' open tryout.
His performance there earned the L.A. University High and Cal Poly alumnus an invitation to their training camp.
"We brought him not knowing if he was going to make our D-Fender team, and he just got better and better every single day and kept impressing us," Mazzella said. "Parts of his game we didn't even know he had he would bust out and we were just so impressed."
Things like a spin move with a no-look pass to a teammate for a dunk in a preseason game added to his esteem in the organization. Nwaba spent most of the season with the D-Fenders, who won their division.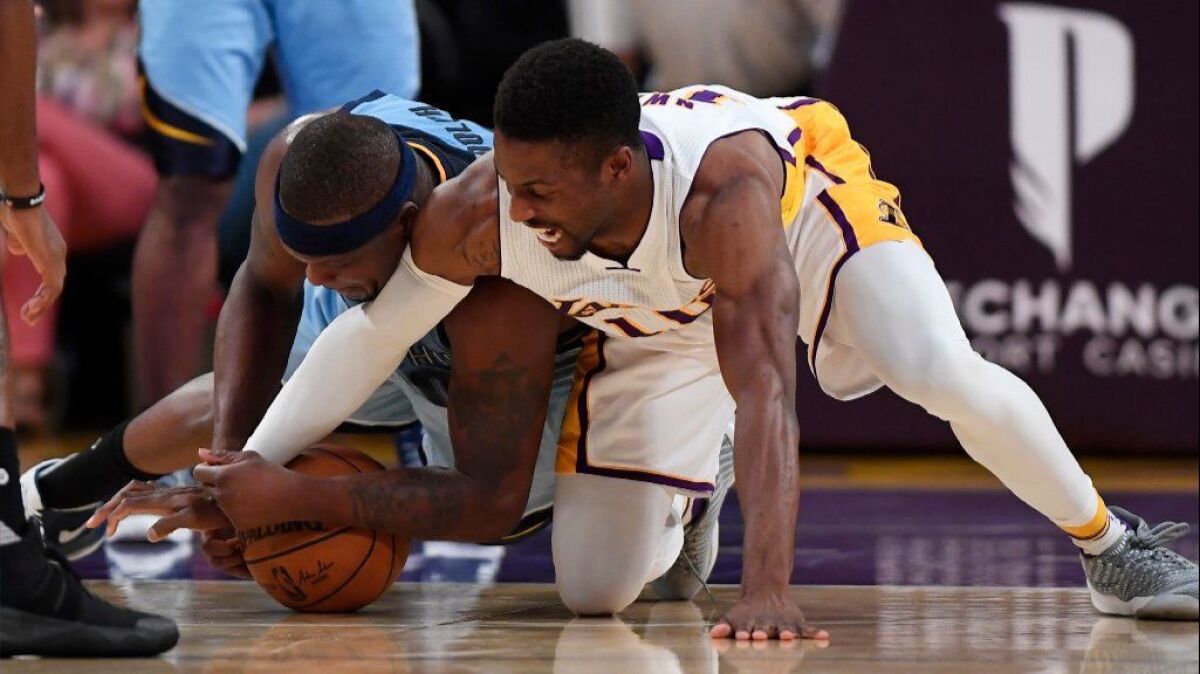 The Lakers signed Nwaba to the first of two 10-day contracts on Feb. 28. Once the second contract expired, the Lakers signed him through the end of the season with a team option for next season.
All the while, Nwaba never really stopped being part of his old team. He still lives with D-Fenders guard Vander Blue.
"I still see these guys and I had film with them a couple days ago," Nwaba said. "Still see all those guys. They're all still great people. We're all still cool."
He instantly became one of the Lakers' best and most committed defenders. His athleticism and 7-foot wingspan didn't hurt either.
Walton became impressed with Nwaba's instincts defensively. Players quickly realized they'd want him with the team during drills in practice.
"The thing that allows some people to get in or not is acceptance of what they need to do really well," Walton said. "… I think the guys that are hungry enough and want it enough will just become masters at doing their role. And because they get so good at that they now have a place on each team."
Nwaba looks to players like Memphis Grizzlies guard Tony Allen, who has made a 13-year career out of being a defensive specialist. Nwaba, who grew up in Los Angeles and is the first player from both his high school and college to play in the NBA, shook out his early jitters, quickly.
"I feel like I'm not hesitant in what I do, whether I'm picking up, playing aggressive on a defender, [it] just makes me want to stop that person, not have him score," Nwaba said. "I don't think about it on the defensive end as much as I do on the offensive end. It is instinct. It's something I really like to do and just don't think about, just play."
Mazzella believes Nwaba could have a long NBA career if he develops a consistent jump shot. The D-Fenders GM thinks it might happen even if he doesn't. It also means something to him that Nwaba wanted to be part of the D-Fenders' playoff effort.
"I feel like he hasn't ever left," Mazzella said. "…He went from a guy that was at our tryout to a guy that's now playing Staples Center. I think the D-Fenders … if he ends up having a 10 year career, down the road this team will have a special place in his heart."
LAKERS TONIGHT
VS MINNESOTA TIMBERWOLVES
When: 6:30, Sunday
Where: Staples Center
On the air: TV: Spectrum SportsNet, Spectrum Deportes; Radio 710, 1330
Records: Lakers 24-55, Timberwolves 31-48
Record vs. Timberwolves: 1-2
Update: It's game 80 and the Lakers are on a three-game winning streak. The last time the Timberwolves visited Staples Center was the day a statue for Shaquille O'Neal was unveiled at the arena. With the building energized, the Lakers won. Minnesota has lost six of its last nine, including that game.
Follow Tania Ganguli on Twitter @taniaganguli
---
All things Lakers, all the time.
Get all the Lakers news you need in Dan Woike's weekly newsletter.
You may occasionally receive promotional content from the Los Angeles Times.