Lonzo Ball has no problem taking the blame for Lakers' early failures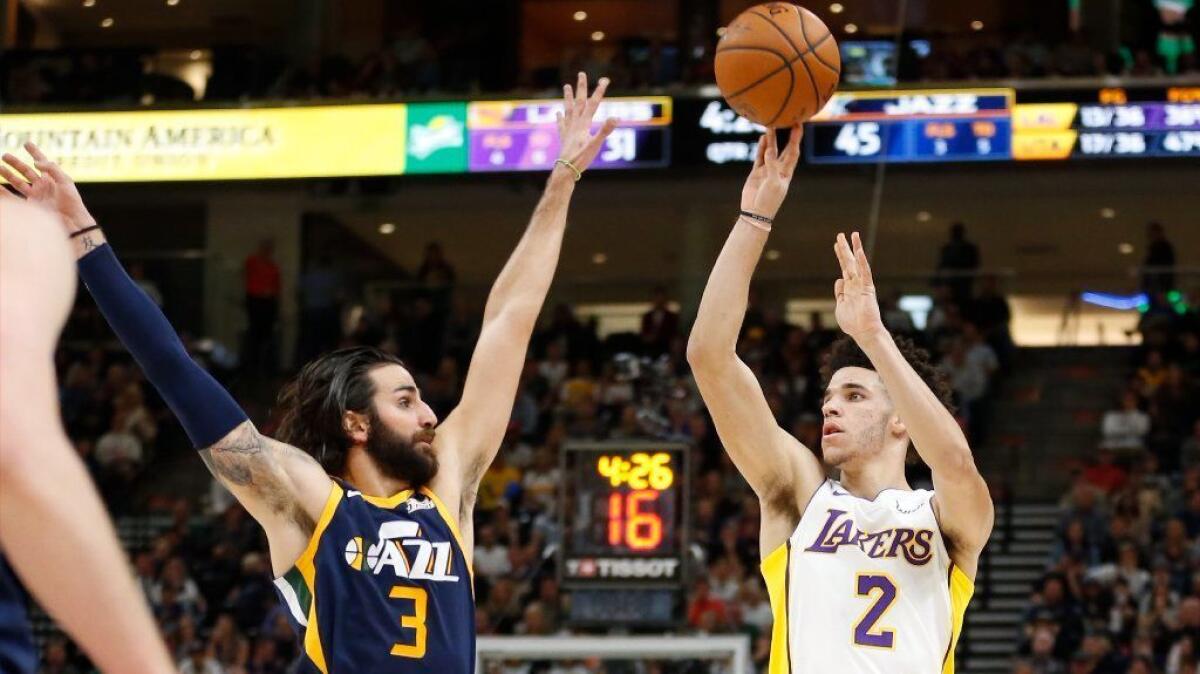 With games on his birthday and the day after, Lonzo Ball gathered with family, teammates and friends at a local Dave & Buster's on Sunday to celebrate his 20th birthday.
"Melo was actually whupping my ass in the little basketball game," Lakers guard Jordan Clarkson said with a laugh, referring to Ball's 16-year-old brother LaMelo. "He hit me for like $200."
The party offered Ball a chance to relax. A day later he returned to practice having shaken off the weight of the past two nights' losses.
This season isn't two weeks old yet and with one more loss by the Lakers (2-4), Ball will match the number of losses he experienced in the past two years. Through the Lakers' early failures, one constant has emerged: Ball takes the blame publicly and sincerely. It's a quality that resonates with his team.
"That is how I was brought up; I am not going to change," Ball said. "…It is a team game, we all play for each other; obviously we win and lose as a team, but I like to take the blame when we lose."
Ball learned about accountability from his father, LaVar. He also grew up idolizing LeBron James, whom he saw shouldering the burden whenever his teams struggled.
"He still plays the same way to the day," Ball said. "He always takes it."
James posted a birthday message for Ball on Twitter on Friday. That evening the Lakers played the Toronto Raptors and Lakers coach Luke Walton benched all of the starters, including Ball, twice in the game's critical moments. Ball finished with five points, four turnovers, six assists and seven rebounds.
Ball said after the game it was his fault — that he didn't get back on defense like he was instructed.
That evening the Lakers traveled to Utah, then lost to the Jazz on Saturday. Ball finished with nine points, five turnovers, four assists and two rebounds.
After the game, Walton spoke to his team about two plays that he felt changed the momentum of the game — a dunk and then a three-pointer by Jazz rookie Donovan Mitchell. When the locker room opened to reporters, Ball said those two plays were his fault, and so the loss was, too.
"It's not his fault we lost," Walton said Monday. "…I love that he wants to take responsibility for it, that's what leaders do, they put it on their back, but it's not on him that we lost that game. He did a lot of things very well that night, too."
The sincere desire to take the blame is a leadership quality that can seem forced in some players, and one the Lakers didn't see in former point guard D'Angelo Russell. They traded Russell to the Nets just before the draft. Days after drafting Ball, Lakers president of basketball operations Magic Johnson complimented Russell as a player, but said "I needed a leader."
Ball isn't excessively vocal, though he does come out of his shell as he grows more comfortable with people. The Lakers lauded his playing style as one that lends itself to leadership. His accountability does, too.
"He's very honest," Walton said. "Even when he talks to the media, he doesn't give long answers but he speaks what he feels and he speaks his truth. So if he says that, I believe he's saying that because he believes it, not because it's what people should say."
His teammates notice, too.
"He wants to be a leader," Clarkson said. "I have seen some of his comments. We all made mistakes throughout the whole game. He owned up to his and it is just part of the game. Process of learning. He is gonna be fine."
Ball's teammates were part of his support system through and after the game. Clarkson said he spoke with Ball to keep him positive at halftime.
"The coaches here are great; [I] talk to the coaches, teammates, I got a lot of family I can talk to," Ball said. "A lot of resources."
His manager, Darren Moore, who watches most practices from a suite above the court where guests often sit, is constantly with him. Asked who his go-to was for support after tough games, Ball said it was Moore.
He said he often speaks to his father to recover mentally, too.
This weekend Moore told him to learn from his tough games and move on from them. His father suggested he look forward and think about winning his next game.
By Monday's practice, Walton saw no remnants of the anguish Ball felt after Saturday's game.
"From the short amount of time I've spent with him since he's been with us, he doesn't normally hang on to things too long," Walton said. "… He seems like mentally that part of the NBA he's good with as far as how many games we play and being ready every other night for another challenge."
VS. DETROIT PISTONS
When: Tuesday, 7:30 p.m. PST
On air: TV — Spectrum SportsNet, Spectrum Deportes, Radio — 710, 1330
Update: Lakers rookie forward Kyle Kuzma, a Michigan native, was limited in Monday's practice with a left hip contusion. The Lakers said he is expected to be available to play. The Pistons are coming off back-to-back road wins over the Clippers and Warriors.
Follow Tania Ganguli on Twitter @taniaganguli
All things Lakers, all the time.
Get all the Lakers news you need in Dan Woike's weekly newsletter.
You may occasionally receive promotional content from the Los Angeles Times.