Lakers riding the highs and lows of having Lonzo Ball as starting point guard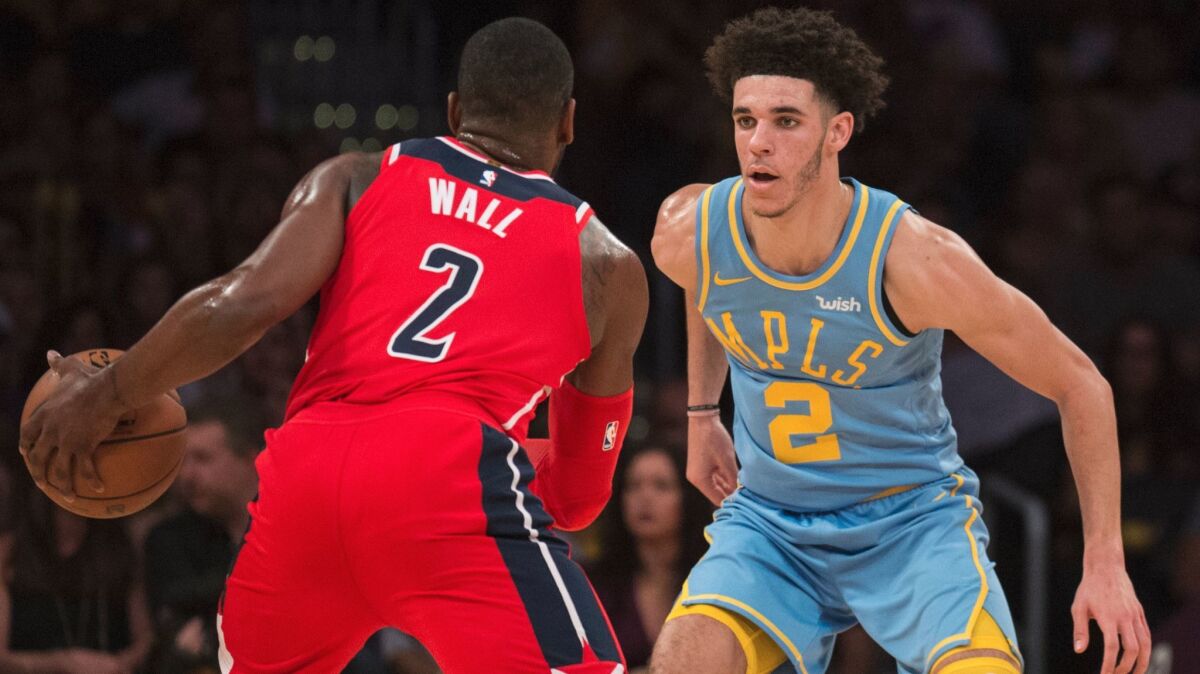 When a point guard is taken high in the draft, that doesn't guarantee he will start right away, or start consistently.
The Sacramento Kings drafted De'Aaron Fox fifth overall this year and didn't immediately make him their starter. Same for the No. 5 pick of 2014, Utah's Dante Exum. The Lakers drafted D'Angelo Russell second overall in 2015 and started him right away, but then brought him off the bench after 20 games. And Memphis' Mike Conley, the No. 4 pick in 2007, also was in and out of the starting lineup his first two seasons.
That isn't the method the Lakers have chosen for their No. 2 overall pick, Lonzo Ball. Instead, Ball is getting the same treatment that Stephen Curry got with the Warriors, John Wall got with the Wizards and Damian Lillard got with the Trail Blazers.
Ball has been the Lakers' starting point guard from Day 1, and even as he's worked through some early kinks in his game, the Lakers haven't considered changing that.
"The benefit is he gets the game experience," Coach Luke Walton said this week. "Whether it's close games, it's blowouts, it's playing against top elite point guards that do different things. John Wall, as good as it gets at getting to the rim, a [Russell] Westbrook, a Steph Curry. So he gets all that in-game experience on the go and gets to learn from it all."
Ball will face Curry this week for the first time. He's already played against Lillard, Wall, Conley and Russell.
Both good and bad have come with the responsibility heaped upon him. Ball has notched two triple-doubles making him the first Lakers rookie to have multiple triple-doubles since Magic Johnson.
Ball's shooting percentage of 31.5 is the worst among rookies who have averaged at least 10 minutes per game. His 25% three-point shooting ranks last among rookies who have attempted more than one three-pointer per game. And because of his starting role and draft position, none of that goes unnoticed.
"Being a rookie you usually have more time to adjust to NBA life. You get little opportunities here and there and you grow from those. You have vets that kind of take you under their wing and show you how it's done at this level and it's more of a patient process," Walton said, noting it's not the same for Ball.
"He's handling it well so I think this way is working for him because I think it's going to accelerate his timetable as far as taking steps in his own personal game, but it's got its give and take."
Defense slipping
In the Lakers' 113-102 loss at Sacramento on Wednesday, they allowed 20 more points than the Kings had been averaging, continuing a trend that's seen them slip to middle of the pack defensively over their past three games.
"For the vast majority of the game we just didn't show up defensively on that end," Lakers center Brook Lopez said. "That's something we can control and we've been great at for a majority of the season; just wasn't there tonight."
Lopez is right. Overall the Lakers are still in the top five in defensive rating, which calculates how many points a team gives up per 100 possessions. Their defensive rating is 101 and only the Celtics, Thunder and Trail Blazers are better.
Resting up
Kyle Kuzma knows his body and mind need a break from basketball. But when he spoke after Wednesday's game, he knew himself well enough to know he'd probably wind up in a gym
"I feel fine, of course a break will feel good," Kuzma said. "… Probably won't take a break. But should take a little bit of one. It's a long season, [got to] make sure my body is ready.
The nineteen games the Lakers have played would get you through about two thirds of a college basketball season, but they aren't even through a quarter of their season.
They'll return to practice on Saturday for the first organized activity since Wednesday's game. When they do, Walton wants the rest to have recharged them enough to work on things they used to do well but have struggled at lately.
"It'll be about cleaning up our shell defense, cleaning up our screening, cleaning up our boxing out," Walton said. "Pretty much the basics of the game that we were doing a really good job of early in the season and we've had a little bit of slippage as the season's gone on."
Follow Tania Ganguli on Twitter @taniaganguli
---
All things Lakers, all the time.
Get all the Lakers news you need in Dan Woike's weekly newsletter.
You may occasionally receive promotional content from the Los Angeles Times.